#647: Thing Of Beauty by Hothouse Flowers
Peak Month: July 1993
10 weeks on Vancouver's CKLG chart
Peak Position #6
Peak Position on Billboard Hot 100 ~ did not chart
YouTube: "Thing Of Beauty"
Lyrics: "Thing Of Beauty"
Liam Ó Maonlaí was born in 1964 in County Dublin, Ireland. He grew up in suburban Dublin and in his teens he won an award for playing the bodhrán, an Irish drum. In 1979 he formed a punk rock band called The Complex, which he left in 1981. Fiachna Ó Braonáin was born in Dublin in 1965. Other original bandmates included drummer Jerry Fehily (born in Cork, Ireland, in 1966), saxophonist Leo Barnes (born in 1956), and bass guitarist Peter O'Toole (born in 1965 in Dublin). Fehily only began learning the drum at the age of 17. O'Toole left school when he was sixteen and got jobs delivering bread, making fiddles and working as a lumberjack. "We'd been in the same band before," O'Toole says of O'Maonlai, "but we'd never actually met. It was that sort of band — there were loads of people." O'Maonlai, Ó Braonáin, Fehily, Barnes and O'Toole made up the core of Hothouse Flowers when they formed in 1985.
There was also a second drummer, John Paul Tansey, and a second bass player named Michan Walker. But Walker quit the band in '86, and Tansey left the following year.
In 1987, the mostly vegetarian-hippie revival band, Hothouse Flowers, had a Top Ten hit in Ireland titled "Love Don't Work This Way", peaking at #7. In 1988 Hothouse Flowers released their debut album People. It was the most successful debut album in Irish history, debuting at number-one on the Irish album chart. Hothouse Flowers first single from the album, "Don't Go", was a life-affirming number marked by its urgent vocal and its brisk piano runs. It was viewed by over 200 million people when the band performed it on a Euro-vision Song Contest special. "Don't Go" climbed to #2 in Ireland, #6 in New Zealand and Sweden, #11 in the UK, #16 in Austria, #18 in Montreal and #19 in Vancouver (BC). A followup single, "Feet On The Ground", peaked at #1 in Ireland. While "Easier In The Morning" climbed to #6 in Ireland late in 1988.
In 1989 Ó Braonáin appeared as a guest musician on the American folk-rock Indigo Girls single "Closer To Fine".
In 1990 Hothouse Flowers released their second album, Home. It topped the Australian album chart and made the Top Five on the UK album chart. Their debut single from the album, "Give It Up", climbed to #3 on the Irish singles chart. Another track from the album, a cover of the Johnny Nash song "I Can See Clearly Now", climbed to #5 on the Irish singles chart in 1990. And a third single from Home, titled "Hardstone City", peaked at #7 in Ireland in 1991. Rolling Stone described the band as "Celtic soul à la Van Morrison and rock & roll à la Bruce Springsteen, as well as strains of traditional Irish music, country and gospel."
Later in 1991 Hothouse Flowers and the Dubliners joined forces to record a cover of the Bette Midler song "The Rose". The recording was in aid of the Irish Society for Autism and The Irish Epilepsy Association. The single climbed to #2 on the Irish pop chart.
In 1993 Hothouse Flowers released their third album, Songs From the Rain. The debut single, "An Emotional Time" shot to #5 on the Irish singles chart. However, the followup single failed to chart in Ireland and the UK. It was titled "Thing Of Beauty".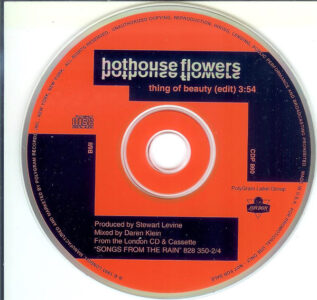 "Thing Of Beauty" was collectively written by the bandmates of Hothouse Flowers. The lyrics offer images of frost and falling snow in winter, the churning of a river as it dances over the stones, "the mystery of sound," "the glory of the sun," birds taking flight and "the secrets of the night." The latter a reference to making love, and the lyrics shift to an image of a mother beholding a thing of beauty, knowing "her child has grown." The band invites listeners to feel the things of beauty all around.
"Thing Of Beauty" charted in Vancouver and just a few other radio markets in Canada. It peaked in Vancouver at #6. On July 17, 1993, Hothouse Flowers appeared in concert on Seabird Island in Agassiz. They shared the stage with the Tragically Hip, Crash Vegas, Daniel Landis and Midnight Oil. Agassiz is a town in the Fraser Valley, British Columbia, about a 90-minute drive east of Vancouver.
As well in 1993 Hothouse Flowers bandmates, Leo Barnes and Liam Ó Maonlaí, were part of Peace Together. Other recording artists involved included Sinéad O'Connor, Peter Gabriel, and Feargal Sharkey. Peace Together was a project aimed to raise funds to support cross-community activities for young people in Northern Ireland.
Later in 1993 Ó Braonáin was a session musician on a Def Leppard track "From The Inside" on the album Retro Active. In 1996 he collaborated with folk musician Michelle Shocked to release the album Artists Make Lousy Slaves. And in 2007 he appeared in a duet with Belinda Carlisle on her album Voila. In addition to that, Fiachna also previously hosted "Poetic Champions", a radio show that aired on Radio Ireland's Today FM every Sunday night from 7-8pm. The program involved Irish musicians who discuss the various albums that had an influence on them and their careers.
In 1998 Ó Maonlaí appeared in the Irish film Waking Ned Divine as a performer. In 1999 Ó Maonlaí appeared in the dramatic Irish film I Could Read the Sky. Subsequently, he has appeared in a film drama in 2004 titled Timbuktu. In 2005 he released a solo album entitled Rian which is a collection of tunes and songs in Irish. In 2006 he appeared in a Hollywood film titled The Busker. And in 2008 he appeared in a documentary about his 3,000 mile travels across Mali, in west Africa titled Dambé: The Mali Project. Ó Maonlaí collaborated with Irish uilleann pipes player Paddy Keenan, and met numbers of musicians across Mali. He performed in the October 16,2009, Dublin to Gaza benefit concert. And in 2015 he was featured in a documentary short titled Men Improve with the Years.
In 2019 Hothouse Flowers, together with Moya Brennan of Clannad, opened a new venue in the Windmill Quarter in Dublin with a series of concerts. Peter O'Toole has continued to perform and in the spring of 2020, during the pandemic, he released a solo album titled Leaving White Cedar.
February 27, 2021
Ray McGinnis
References:
Pat Carty, "Hothouse Flowers Fiachna Ó Braonáin and Peter O'Toole Keepin' Busy," Hotpress, Dublin, Ireland, July 6, 2020.
"Hothouse Flowers and Moya Brennan Launch Windmill Live In Style," Hotpress, Dublin, Ireland, February 28, 2019.
"Hothouse Flower Blooms on Solo Album," RTÉ (Raidió Teilifís Éireann), Dublin, July 21, 2021.
Jeff Giles, "Hothouse Flower Power: With the Release of their Second Album, 'Home,' the Eclectic Irish Rockers Cultivate a World Following," Rolling Stone, August 9, 1990.
"Jerry Fehily – Irish Drummer Extraordinaire and Recording Artist," Irish Drummers.com, April 2017.
For more song reviews visit the Countdown.