#315: This Beat Goes On/Switching To Glide by the Kings
Peak Month: January 1981
12 weeks on CFUN's Vancouver Charts
Peak Position ~ #3
Peak Position on Billboard Hot 100 ~ #43
YouTube: "This Beat Goes On/Switching To Glide"
Lyrics: "This Beat Goes On"
Lyrics: "Switching To Glide"
The Kings were a band from Vancouver, British Columbia, and Oakville, Ontario. consisting of bass guitarist and lead vocalist David Diamond, guitarist Mister Zero, keyboard player Sonny Keyes, and drummer Max Styles. In 1977 keyboardist Sonny Keyes met John Picard in Vancouver. Picard then recruited fellow Oakville Trafalgar High School students, Max Styles and David Diamond, and the band was established.
It took three years before they got a record contract, but they kept playing small venues and getting a word-of-mouth buzz.
They released their debut album The Kings Are Here in 1980. From it came their only notable hit in Canada, that missed the Top 40 in the USA titled "This Beat Goes On/Switchin' To Glide".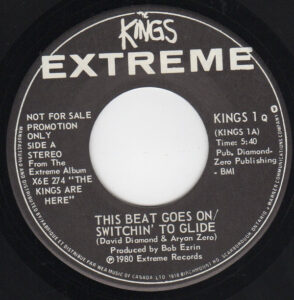 "This Beat Goes On/Switchin' To Glide" was cowritten by David Diamond and "Aryan Zero", one of John Picard's pseudonyms. The first song in the sequence, "This Beat Goes On", has the narrator calling up some of his many girlfriends – Judy, Trudy and Donna – when he is "feeling moody." The latter girlfriend, Donna, told the narrator of the song to phone him when he was in "Toronto." Mister Zero remembers that the idea of starting out the lyrics with "Hey Judy, get Trudy…" was from remembering a song by Shirley Ellis called "The Name Game". Zero thought there hadn't been a name song for awhile, and so that's where the idea of populating the lyrics at the start of the song with names came from. He also thought "ring me up in Toronto," was "so dumb, it was smart. It seems simple, but it's not." Somehow, the line resonated with a lot of radio listeners (both those who lived in the Greater Toronto area and who had visited Toronto, or could find it on a map of Canada).
In the song the narrator goes on to brag "I have lots of friends that I can ding at any time…" Mister Zero recalls the original lyrics were "Lots of dusty mentals' can be blown at any time…" He agrees the revised lyrics were much better.
Mister Zero and David Diamond on a Behind the Vinyl chat, remember the back story to the following line: "Hey ladies, ooh, you crazies. Well, me and Zero request you in the Mercedes." Mister Zero bought a 1964 Mercedes "for six-hundred bucks…a '64 220S." Diamond remembers the Kings had the grill from the Mercedes hanging in the studio when they recorded the song.
At the time the next line referred to people riding in the Mercedes making eyes at each other: "And then we'll ride, so zoomy inside. The sky's the limit, this time I'm switchin' to glide." Of course, at the time of this writing, after a year of many people being on Zoom calls, "zoomy" may mean different things to people not familiar with this song.
The narrator sings "I don't give a hoot about what people have to say. I'm laughin' as I'm analyzed. Lunatics Anonymous, that's where I belong. Sure, cause I am one till my strength is gone. Yeah, this beat goes on…" Lunatic is a late 13th century word meaning "affected with periodic insanity dependent on the changes of the moon." It comes from the Old French word lunatique "insane," or directly from Late Latin lunaticus "moon-struck," from Latin luna "moon." In the late 1870s in Western Europe a "lunatic" was type of hairstyle worn over the forehead. And from 1918 into the 1920s a "lunatic soup" was slang for drinking several different alcoholic drinks together. The organization "Lunatics Anonymous" was – at least in 1980 – not an actual group. The singer is simply describing his crazed energy and determination to dance, and/or play music until he drops after the sun comes up the next morning. He calls refers to himself and his compatriots staying up until after dawn "Lunatics Anonymous." And anyone who has stayed up all night (after being awake all during the day) knows that they are likely to feel wrecked and wiped out from doing this.
Mister Zero remembers the shift to "Switchin' To Glide". He liked the line "Nothing matters but the weekend, from a Tuesday point of view." This was what a typical worker (or student) may feel in the middle of the week, if they worked 9-to-5, Monday to Friday. But Mister Zero confides "'Like a kettle in the kitchen', that took me forever. 'I feel the steam begin to brew'. I was thinking, it's gotta rhyme, it's gotta be good. It's gotta be hooky and creative. It just took me so long to get that."
David Diamond remembers playing "The Beat Goes On" at a club in The Beaches neighbourhood in Toronto around 1979-80. And for the first time he played "Switchin' To Glide" as a segue emerging from "The Beat Goes On". Diamond liked it so much, he thought this was just the right way the band needed to play these songs – back to back, without any break.
Throughout the song keyboards by Sonny Keyes provided a solid kooky but solid groove. David Diamond remembers on his way to the recording studio he had heard ? (Question Mark) And The Mysterians 1966 number-one hit single "96 Tears". He found the electric organ in the song infectious and suggested Sonny Keyes play something with that kind of sound in "This Beat Goes On/Switchin' To Glide".
At the end of the song David Diamond ad-libbed "I'm bound to find some way out of this hole, you know. Out of this hole." In part the ad-lib was a commentary on the band having a recording engineer not fading the song out, so it just kept on getting longer. And Diamond was wondering how are we going to get this song to end. And that's when he came up with the ad-lib "out of this hole."
Mister Zero says that he fiddled with the song title. "I thought it can't be 'The Beat Goes On', 'cause there's already Sonny & Cher and everything. But maybe 'This Beat Goes On'. It was kind-0f a cheat." "It was really a lesson in songwriting over and over. Because we reworked it and reworked it." The Kings were more of a pub rock band, but "This Beat Goes On/Switchin' To Glide" had a bit of a new wave vibe and it was heard by many radio listeners as part of a 'new sound.'
At first Elektra Records in the USA only released "Switching' To Glide" as a single. It got some airplay, but not a lot of traction. Eventually, the label relented and let the Kings release "This Beat Goes On"/"Switchin' To Glide" as a single on one side, with a segue between the two songs. It was a risk as the single was five minutes and forty seconds long. However, the song started to climb the charts on WLS in Chicago, WMMS in Cleveland, CKLW in Windsor (ON) and WRIF in Detroit. The buzz the single was getting resulted in an invitation to perform in January 1981 on American Bandstand.
"This Beat Goes On/Switchin' To Glide" peaked at #3 in Vancouver (BC), #4 in Bakersfield (CA), #7 in Tempe (AZ), #9 in Chicago, #10 in Toronto and Windsor (ON), and #11 in Ottawa (ON), #12 in Minneapolis/St. Paul and Kansas City (MO), and #18 in Regina (SK). A second track from their debut album, "Don't Let Me Know", failed to chart outside of Hamilton (ON).
Mister Zero remembers the challenges the Kings faced in recording a followup album. "The demos we sent the record company were received very well, and everyone was enthusiastic about the project. We had eight originals and two covers in mind, the covers being our killer versions of [the Beach Boys] 'California Girls' and the old Animals track 'When I Was Young'."
However, the Kings were with a high-powered producer who was giving a lot of his time to KISS. The outcome was that the producer made a lot of changes during the production and mixing tracks on the record that altered the sound. Mister Zero laments "Then when the rough mixes were sent to the label in Los Angeles, they freaked out because the song arrangements were so different than the demos they had liked. It was a real mess. What happened was the label didn't like it and basically buried it." Consequently, the Kings second studio album, Amazon Beach, got little attention though it appeared briefly on Toronto's CHUM album chart.
The Kings were temporarily living in Los Angeles trying to record a third album. However, after leaving Elektra Records they failed to get a new contract. Soon, they were back in Southern Ontario. At some point later in the 80s drummer Max Styles left the band. But lead vocalist David Diamond, John "Mister Zero" Picard and Sonny Keyes kept on doing gigs.
Eventually, in 1993 the Kings recorded a third album titled Unstoppable. And in 1999 a live album was released titled Party Live in '85. It featured live recordings of the Kings' covers of "California Girls" and "When I Was Young". During the 90s Sonny Keyes pulled back and only performed with the Kings on occasion. The Kings released another studio album in 2003 titled Because of You, with just David Diamond and Mister Zero as musicians.
The Burlington Post reported in 2006 "Since The Kings broke out in 1980 with their first and most famous album, The Kings Are Here, they've written and recorded more than 100 songs and put on more than 1,900 live shows in 30 states and seven provinces." In 2006 the Kings were written up by New York Times reporter Steve Peak as being The Best Band You've Probably Never Heard on about.com.
The Kings performed at an annual downtown music festival called Midnight Madness in Oakville from the mid-90s until at least 2006.
Commenting on how the band was sounding when they performed live in concert, David Diamond told the Burlington Post in 2006 "I think we've evolved a lot over the years. We've come a long way since we started. We're definitely better songwriters now." While John Picard (Mister Zero) exclaimed "We were good then and I think we're even better now. We're not hockey players, so you don't have to stop when you're 30. We were pretty young when we started this thing."
In 2009 the Kings were the subject of a documentary titled The Kings: Anatomy of a One-Hit Wonder. In 2016 Sonny Keyes released a solo album titled Sightseeing At Rush Hour.
April 30, 2021
Ray McGinnis
References:
J.A. Bartlett, "This Beat Goes On: More With Mister Zero of the Kings," WNEW, New York City, April 29, 2009.
Krissie Rutherford, "The Beat Keeps Going On for The Kings," Burlington Post, Burlington, ON, July 18, 2006.
"New DVD Documentary 'The Kings: Anatomy of a One-Hit Wonder' Out March 24, 2009," Skope Magazine, March 4, 2009.
Rob Jones, "The Kings Play "This Beat Goes On/Switching To Glide"," Thedeletebin.com, May 13, 2010.
David Diamond and Mister Zero, "This Beat Goes On/Switchin' To Glide", Behind the Vinyl, October 11, 2016.
"Lunatic," Online Etymology Dictionary.
"C-FUN Top Thirty," CFUN 1410 AM, Vancouver, BC, January 24, 1981.
For more song reviews visit the Countdown.