#369: This Flight Tonight by Nazareth
Peak Month: October 1974
10 weeks on CKLG's Vancouver Chart
Peak Position ~ #4
Peak Position on Billboard Hot 100 ~ #117
YouTube: "This Flight Tonight"
Lyrics: "This Flight Tonight"
William "Dan" McCafferty was born in 1946 in Dunfermline, near Fife, Scotland. His musical influences include Chuck Berry, Little Richard, Elvis Presley and Otis Redding. He learned to play the bagpipes and the talkbox in his teens, as well as becoming a singer. He formed a band in 1961 called the Shadettes. By 1963 McCafferty was performing professionally full time before audiences. Manuel "Manny" Charlton was born in 1941 in La Línea de la Concepción on the Bay of Gibraltar in Spain. In his youth he learned to play guitar. Charlton was in the Mark 5 and the Red Hawks before joining the Shadettes. Pete Agnew was born in Dunfermline in 1946. He learned to play rhythm guitar and bass guitar in his youth. Agnew joined the Shadettes in 1961. Darrell Antony Sweet was born in 1947 in the South Coast of England in Bournemouth. He was a piper in his youth and also learned to play drums.
In December 1968, the Shadettes changed their name to Nazareth. This was not inspired by the Biblical birthplace of Jesus of Nazareth. It was inspired from a line a song called "The Weight" by the rock group The Band. The lyrics were "I pulled into Nazareth, was feelin' about half past dead…" In this case, Nazareth referred to Nazareth, Pennsylvania. (Robbie Robertson, the writer of "The Weight", chose to place the lyrics in Nazareth (PA) because it was the home of Martin Guitars. Robertson wrote the song on a 1951 Martin D-28 guitar. The song is narrated from the viewpoint of a Bible Belt American Southerner, with riffs on Biblical stories: the Holy Family having no place at the inn to stay, the Devil sticking around to tempt Jesus, the disciple Luke depiction and anticipation of a Judgement Day, and Jesus being a "man of peace." Others mentioned in the song: "Anna Lee," "Carmen" and "Crazy Chester" were people Levon Helm knew in his hometown Turkey Scratch, Arkansas).
In 1970 Nazareth moved from Scotland to London and released their debut self-titled album the following year. After their second album, the band went on tour with Deep Purple in 1972. This included a concert at the PNE Garden Auditorium in Vancouver on September 21, 1972.
The following year they charted three hits on the UK Singles chart: "Broken Down Angel" peaking at #9, "Bad Bad Boy" peaking at #10 and "This Flight Tonight" climbing to #11. The latter was a cover of a song written by Joni Mitchell on their Loud N Proud album which was a #4 hit in Vancouver (BC), #1 in Germany, #2 in Austria and #5 in Switzerland.
Nazareth also covered a Bob Dylan song, "Ballad of Hollis Brown", about a poor South Dakota farmer overwhelmed by desperation who kills his wife, children and finally himself. The song was a pointed tale of how people in modern mass society are cut off from each other. On June 12, 1974, Nazareth appeared in concert at the Pacific Coliseum in Vancouver.
In 1974 Narareth had some success with their single release "Shanghai'd in Shanghai", which peaked at #4 in Switzerland and #7 in Austria. Later that year "This Flight Tonight" became a Top Ten hit in Vancouver (BC).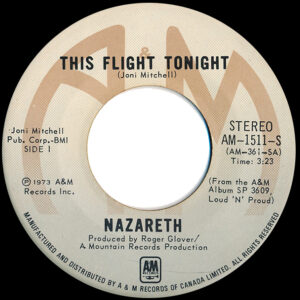 "This Flight Tonight" was written by Joni Mitchell. Roberta Joan Anderson was born in 1943, in Fort Macleod, Alberta. When she was 9 years old, Joni and her family moved to Saskatoon, Saskatchewan. She took piano lessons as a child. In her teenage years, since she couldn't afford a guitar, Joni taught herself to play the baritone ukelele which she bought for $36. She played at parties and also hung out at a local coffeehouse in Saskatoon called the Louis Riel. She later learned the guitar. In 1964 she began her professional musical career by playing clubs and festivals around Canada, including the Mariposa Folk Festival on the Toronto Islands. In Rhode Island during the summer of 1966, Joni played a short set to much acclaim at the Newport Folk Festival. In 1967 she recorded her first studio album and her second Clouds in 1968, won her a Grammy for Best Folk Performance of 1969. her third album, Ladies of the Canyon, went platinum in the USA. Her fourth album, Blue, was released in 1971. It contained her single release, "Carey", and the B-side of the 45 "This Flight Tonight". Blue was considered an inspired outcome of her early work, with grim anecdotes of the world around her providing a contrast to upbeat expressions of romantic love. Mitchell later remarked in an interview with Cameron Crowe of Rolling Stone, "At that period of my life, I had no personal defenses. I felt like a cellophane wrapper on a pack of cigarettes. I felt like I had absolutely no secrets from the world and I couldn't pretend in my life to be strong."
In 1971 Rolling Stone reviewed the album Blue and Mitchell's original version of "This Flight Tonight". Staff reviewers Timothy Crouse wrote: "In "This Flight Tonight," "A Case of You," and "Blue," Joni comes to terms with the reality that loneliness is not simply the result of prolonged traveling; the basic problem is that her lover will not give her all she wants. In "This Flight Tonight," Joni has walked out on her man, is flying West on a jet, and now regrets the decision. The lyrics, a clumsy attempt at stream of consciousness, are virtually unsingable and Joni's lyric soprano is hopelessly at odds with the rock and roll tune. But the chorus has just the wispiest trace of Bo Diddley and it sticks with you."
Joni Mitchell approved of the unexpected cover of "This Flight Tonight" by Nazareth when she performed in concert in London, UK. Joni paid Nazareth the greatest compliment after "This Flight Tonight" became a worldwide hit for the Scottish band, and peaking at #11 on the UK singles chart. As Mitchell began her concert in London, she "told the audience: 'I'd like to open with a Nazareth song'!" recalls Pete Agnew.
Narareth's version of "This Flight Tonight" made the chorus more of an anthem, and rock 'n roll fans could easily sing along to it on the radio and at their concerts.
"This Flight Tonight" peaked at #1 in Lourenço Marques (now Maputo), Mozambique, #4 in Vancouver (BC), and #19 in Hamilton (ON). While the single was on the charts in Vancouver, Nazareth appeared in concert at the PNE Agrodome on November 15th and 16th, 1974.
In 1975 Nazareth had another Top 40 hit on the UK Singles chart, a cover of British psychedelic band Tomorrow's hit "My White Bicycle", which peaked at #14 for the Scots. And the band returned to perform at the Pacific Coliseum in Vancouver on September 21, 1975.
Nazareth's cover of the Roy Orbison classic, "Love Hurts", began to chart in Vancouver (BC). The single topped the charts for three weeks in January-February 1976. It also became the band's only Top 40 hit in the USA, peaking at #8 on the Billboard Hot 100. Elsewhere, "Love Hurts" topped the singles charts in Belgium, the Netherlands, Norway and South Africa. It also climbed to #2 in Denmark, #4 in New Zealand, #6 in Sweden and #8 in Australia. Later, on September 26, 1976, Nazareth appeared in concert in Vancouver once more in the Pacific Coliseum.
In 1978 Nazareth had a #3 hit in South Africa called "Place in Your Heart". And Nazareth came back to Vancouver to perform at the Pacific Coliseum on May 20, 1978. Also in 1978 Alistair Macdonald "Zal" Cleminson joined Nazareth. He was born in Glasgow in 1949. He taught himself how to play guitar and by 1970 was in a rock band called Tear Gas. From 1972 to 1978 Cleminson was a member of the Scottish glam rock band The Sensational Alex Harvey Band. He briefly formed the Zal Band. Later in 1978 he began touring with Nazareth, and performing on several albums. One of these was the band's eleventh studio album titled Malice in Wonderland. The lead single from the album was "Holiday". It climbed into the Top Ten in Vancouver in April-May 1980. On May 23, 1981, Nazareth was back performing at the Pacific Coliseum in Vancouver.
After "Holiday" was released Zal Cleminson left Nazareth and toured with Midge Ure and Bonnie Tyler.
In 1983 the band released "Dream On", which peaked at number-one on the Polish Singles chart, #2 in Switzerland, #4 in Austria and #15 in Germany. Nazareth also had a #3 hit with "Love Leads To Madness" in South Africa, which also climbed to #13 in Toronto. That fall Nazareth performed in concert on October 1, 1983, in the Commodore Ballroom.
As a band that covered many other recording artists material, Nazareth had some notable covers in the 80s, although they were not hit singles. These include "Morning Dew 81", a hit for Lulu in 1968. They also covered Big Brother and the Holding Company's "Piece Of My Heart" and the Rolling Stones "Ruby Tuesday". On September 20, 1987, Nazareth was back in Vancouver for another concert at the Commodore Ballroom.
Manny Charlton left Nazareth in 1990. On November 5th and 6th, 1993, Nazareth returned for back-to-back concerts in Vancouver at the Commodore Ballroom.
Darrell Sweet died in 1999 of a heart attack. He was replaced by Pete Agnew's son Lee Agnew. And on June 6, 2003, Nazareth performed again at the Commodore Ballroom in Vancouver. And at the Plaza of Nations on October 14, 2006, Nazareth was back in Vancouver for their 14th concert. The band was back just nine months later on July 6, 2007, at the Commodore Ballroom. And in the Vancouver suburb of Coquitlam, Nazareth performed at the Red Robinson Show Theatre on July 26, 2008; Where they returned again on July 25, 2009, and July 2, 2010, and July 14, 2011. While on July 6, 2012, Nazareth did a concert at the River Rock Casino in the Vancouver suburb of Richmond. And for the eighth year in a row, Nazareth returned again to perform in the Vancouver area. This time they gave a concert on July 4th at the Commodore Ballroom, and on July 8, 2013, they performed one hours' drive east at the Chilliwack Cultural Centre.
In 2013 Dan McCafferty retired from touring with Nazareth. On June 28, 2014, Narareth performed in concert at the Commodore Ballroom, making it nine years in a row they'd visited the Greater Vancouver area. In 2018 Nazareth released their 24th studio album, Tattooed on My Brain. The current lineup has Carl Sentence on lead vocals, Pete Agnew on bass guitar, Jimmy Murrison on lead guitar and Lee Agnew on drums.
December 30, 2020
Ray McGinnis
References:
"Nazareth History," Nazarethdirect.co.uk.
Gary James, "Gary James' Interview With Pete Agnew of Nazareth," ClassicBands.com.
Pierre Perrone, "Obituaries: Darrell Sweet," Independent, UK, May 10, 1999.
Robert Webb, "Double Take: 'This Flight Tonight' – Joni Mitchell / Nazareth," Independent, September 13, 2002.
Timothy Crouse, "Blue," Rolling Stone, August 5, 1971.
"CKLG 'Thirty'," CKLG 730 AM, Vancouver, BC, October 11, 1974.
For more song reviews visit the Countdown.