#217: This Is Your Song by Don Goodwin
Peak Month: March 1974
13 weeks on Vancouver's CKLG Chart
Peak Position #4
Peak Position on Billboard Hot 100 ~ #86
YouTube: "This Is Your Song"
Lyrics: "This Is Your Song"
Don Goodwin was born in California and raised in Aspen, Colorado. In the spring of 1974 Goodwin was mentioned in the press as being 18-years-old. So, it's likely he was born in 1955 (or early 1956). A December 15, 1973, New On The Charts feature in Billboard reported this about the young recording artist. "Goodwin is a much-traveled 18-year-old who now lives in Aspen, Colorado, after moving 28 times with his family. His career is helmed by Paul Anka who saw Goodwin auditioning at a Las Vegas hotel. Silver Blue president Joel Diamond signed Goodwin after visiting Vegas and hearing "This Is Your Song" produced by Anka as a Goodwin demo. The single broke out in WIXY-AM, Cleveland, CKLW-AM Detroit, and KJRB-AM, Spokane. Written and co-produced by Anka, "(This Is) Your Song" surrounds Goodwin's distinctively light voice with a clever ballad arrangement building from a plucked bass figure."
"This Is Your Song" written by Paul Anka, was a B-side to Anka's 1973 non-album single "While We're Still Young". Anka's A-side was not a hit, and he decided to offer it to Don Goodwin, his protege.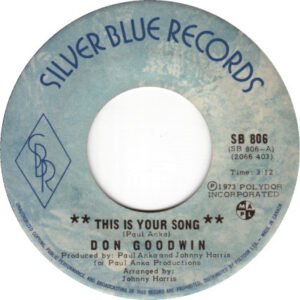 Paul Anka wrote the liner notes for Goodwin's album These Are Your Songs. As it happened, eight of the ten tracks Don Goodwin recorded on his debut album were written by Anka. In the liner notes, Paul Anka exclaimed: "It doesn't take you more than thirty seconds after you come face-to-face with DON GOODWIN to know that there is something about him that spells S-T-A-R. It happened to me anyway. So much so, that I decided to write "This Is Your Song", especially for him, and also to take the time out of my own career to personally write and produce DON's album. DON has a genuine warmth and sincerity that will not only keep him rocketed to the top of the recording charts, but also serve him well in his current TV and movie endeavors. All I can say is watch out for DON GOODWIN: he's easy to get hooked on."
On February 21, 1974, Paul Anka co-hosted on The Mike Douglas Show. And Don Goodwin was a guest on that broadcast. "This Is Your Song" is a song about a guy who is smitten with someone who wants to stay together in the relationship forever. This is because "your a home for a poem that's a long time coming." Moreover, "from the hills of my heart there's a melody playing," Goodwin sings. While the song the guy has come up with is for his sweetheart, it is actually his own song about the love he feels.
"This Is Your Song" climbed to #3 in Ottawa (ON), #4 in Vancouver (BC), #5 in Hamilton (ON), #8 in Peterborough (ON), #10 in Akron (OH), #11 in Cleveland, #14 in Toronto, and Des Moines (IA), and #16 in Windsor (ON).
After "This Is Your Song", Don Goodwin released a cover of Paul Anka's 1959 hit "Time To Cry" (#7 Vancouver, #4 Billboard Hot 100, #2 Italy). Goodwin's cover peaked at #11 in Toronto. In the June 8, 1973, issue of Billboard, a headline read "Goodwin Single Spurs Junket":
The good reaction to Don Goodwin's "Time To Cry" single in western Canada has prompted a promotion tour by the artist and his record company, Silver Blue Records. Silver Blue is distributed in Canada by Polydor. Goodwin, already with on his behind him, "This Is Your Song," written by Paul Anka, has been in the studio with producer Anka. On the completion of the session , Goodwin along with record company president Joel Diamond, will make the cross-Canada promotion jaunt.
Subsequently, Don Goodwin released a cover of Paul Anka's debut 1957 number-one hit "Diana". However, Goodwin's cover failed to catch on. A fourth and final single release, also written by Paul Anka titled "Baby, Baby I Do" was passed over by most Deejays.
What happened after Don Goodwin's brief time in the spotlight is off-the-radar online; At least in basic searches like "Whatever happened to singer Don Goodwin?" Google quickly offers up numbers of links to "Don Vincent" and other singers with the first name Don. And so it goes. If anyone does know more about Don Goodwin's background, and can fill in the gaps about his childhood or his adult life, please leave a comment below this article.
January 5, 2022
Ray McGinnis
References:
"New On The Chart," December 15, 1973.
Paul Anka, These Are Your Songs, Liner Notes for Don Goodwin's album on Silver Blue Records, 1974.
"Goodwin Single Spurs Junket," Billboard, June 8, 1974.
"CKLG 'Thirty'," CKLG 730 AM,Vancouver, BC, March 1, 1974.
For more song reviews visit the Countdown.