#763: Thorn In My Side by The Eurythmics
Peak Month: December 1986
10 weeks on Vancouver's CKLG chart
Peak Position #10
Peak Position on Billboard Hot 100 ~ #68
YouTube.com: "Thorn In My Side"
Lyrics: "Thorn In My Side"
The Eurythmics were the duo of Annie Lennox and David Stewart. They were part of the New Wave music with a heavy reliance on a synth-pop sound. They were especially successful in the UK with hits that included "Love is a Stranger", "Sweet Dreams Are Made of This", "Who's That Girl?" and "Here Comes the Rain Again". They had a successful duet with Aretha Franklin in 1985 titled "Sisters Are Doing It For Themselves".

Annie Lennox was born in Aberdeen, Scotland in 1954. She took to music and an interest in records from an early age. Lennox recalls, "When I was very young, we had a salmon pink Dansette record player. Someone gave me birthday money and the first record I think I bought was Mary Poppins followed by Procul Harum's "Whiter Shade of Pale". Both records are magical and transporting. I used to visit my grandparents in the countryside and would always go into the recesses of a cupboard to pull out a box full of old 78 rpm records which I'd play over and over again, especially the Vilja song from The Merry Widow, which I was obsessed with. My dad blew my mind when I was six years old because he built his own Gramophone. He had the albums for every Rodgers & Hammerstein musical and he switched his homebuilt record player on and you heard this crackling sound and then 'Boom!' I remember walking to school singing "I Enjoy Being A Girl". To buy a vinyl album, you had to record player and you have to have speakers, and this is a great thing because that means people are going to listen to your music not on a cell phone, but they're going to listen to it out of a sound system, which is what we all did when we were growing up. The important thing about vinyl releases is that people buy them and actually put them on the turntable and listen to a side, because we chose the tracks to be played in a particular order, and that was really important."
David Stewart was born in Sunderland, England, in 1952. By the time he was 15 he was dropping acid and hanging out with rock stars and playing in bands. At the age of 18, his band, Longdancer, got signed with Elton John's Rocket Records. In 1975, he met a "hippie woman" at a vegetarian restaurant named Annie Lennox. She served him a plate of cabbage. When she wasn't working as a waitress, Lennox was studying flute at the Royal Academy of Music. They soon got involved in a romance and formed a band called The Catch. Awhile, later they renamed their band The Tourists. The Tourists had a Top Ten hit in the UK with a remake of the Dusty Springfield song, "I Only Want To Be With You".
Eventually, the duo broke off their relationship. Stewart recalls, "Our idea of a breakup was Annie living upstairs and me downstairs. We were still meeting for tea." After The Tourists disbanded, Stewart became the guitarist for The Eurythmics. The band had an international Top Ten hit in 1983 with "Sweet Dreams (Are Made Of This)" which went to #1 in Canada and the USA. In 1984, "Here Comes The Rain Again" put the group back in the Top Ten in many countries. And "Sex Crime (Nineteen Eighty-Four)" was a Top Ten hit throughout Europe, but stalled at #81 on the Billboard Hot 100 in the USA. In 1985, "Would I Lie To You?" went to #1 in Australia, while "There Must Be An Angel (Playing With My Heart)" went to #1 in the UK and Ireland. In 1985 he produced the debut album by Feargal Sharkey, "A Good Heart".
In 1986, The Eurythmics had another Top Ten hit with "Thorn In My Side". It sold especially well in Sweden, New Zealand, Ireland and the UK.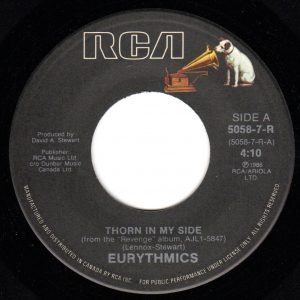 "Thorn In My Side" was co-written by Eurythmics band members Annie Lennox and David A. Stewart. The song was about an untrustworthy lover who was just a "bundle of lies." The singers' first mistake was to trust them, at first. They admit that they "should have known better." Clearly, there must have been some red flags. Perhaps there were statements made by the habitual liar, even on a first date, that didn't ring true. However, the singer overlooked whatever was complicated or sketchy. Over the course of the relationship, the chronic liar tries to hurt them. The only solution was "to run away from you." Looking back, when the singer thinks about their ex they "shiver to the bone."
In her article, Are You Choosing Someone Who Isn't Choosing You?, Christine Hassler writes that trying to make a relationship work with someone who isn't into you is a path to suffering. If the person you are dating is not committed to making a relationship work, there will be telltale signs. In the song, "Thorn In My Side", the singer has been feeling low. They got what they deserved by hanging around someone who constantly lied to them. Hassler writes, "If someone continues to be slippery and not really act that into you, do you walk away or start to think of ways that you could possibly convince this person to pick you? If you choose the latter, then you are entering into a future of senseless suffering." Whatever the behavior, if the person is acting in ways that leave you feeling low or make the dynamics between you complicated, it's time to reassess why you are involved. If, as in the song, you sense the other person is trying to hurt you, ask why you don't think there's someone else who can give you the respect you deserve?
"Thorn In My Side" was a marginal hit in the USA, stalling at #68 on the Billboard Hot 100. It only made #41 nationally on the RPM singles chart in Canada. However, it peaked at #5 in the UK. In Canada the songs best chart action was at #4 in Thunder Bay, Ontario, and #10 in Vancouver. It was the duos second single release from their album, Revenge.
By the later half of the 80's their sound shifted more toward rock n' roll with "Missionary Man" and "I Need a Man". Between 1983 and 1989 and again in 1999, The Eurythmics charted six albums in the Top Ten Canadian album charts. These were Sweet Dreams (Are Made of This), Touch, Revenge, Savage, Revival and Peace. A seventh album, We Too Are One, peaked at #12 on the Canadian RPM album charts in 1989. The duos final album, Peace, resulted in a 1999 tour where the proceeds were to Greenpeace and Amnesty International.
In 1987, "Beethoven (I Love To Listen to)" made the Top Ten in Sweden and New Zealand. And in 1989, "Revival" made the Top Ten in Sweden and Switzerland.
After the duo split in 1990 Stewart formed the Spiritual Cowboys and moved to France. He had two gold record albums in that country. Stewart worked with other artists in either a role as writer or producer for recordings by Nina Hagen, Bryan Ferry, Ringo Starr and Stevie Nicks. In 2002 Stewart worked with Nelson Mandela, Bono and Paul McCartney and Edge to offer a series of concerts to combat the HIV/AIDS crisis in South Africa. In 2012, Mick Jagger tagged Stewart to be part of the supergroup, Super Heavy. He also worked on two musicals: Barbarella and Ghost the Musical.
After the Eurythmics split, Annie Lennox had a successful solo career. She has received eight Brit Awards, a UK equivalent to the Grammy Awards in the USA. Her Brit Awards include her 1992 debut solo album Diva, Bare (2003), and Songs of Mass Destruction (2007). She had considerable success as a solo act including two #1 singles in Canada: "Walking on Broken Glass" and "No More I Love You's". In 2003, she met Nelson Mandela. She credits him for inspiring her to be an advocate for those in need. Charlotte Crips, writing for The Independent in 2017, reports, "after meeting Mandela, in 2004, she (Annie Lennox) became a passionate advocate for women and children, particularly those effected by HIV/Aids in Africa. " In 2010 Lennox was named the UNESCO Goodwill Ambassador for AIDS. On January 27, 2014, Annie Lennox and Dave Stewart appeared at the Los Angeles Convention Center. At an event billed as "The Night That Changed America: A Grammy Salute to The Beatles, they performed "The Fool On The Hill".
The last song Annie Lennox wrote was in 2010. In 2017, Lennox told The Independent, she has no future plans to make any more music. Lennox states, "I don't know if I'm done with music, but I have evolved into a person who needs to talk about things, more than sing about things."
July 18, 2018
Ray McGinnis
References:
Annie Lennox biography, Annie Lennox.com
Charlotte Crips, "Annie Lennox, Interview: the Singer Reflects on Eurythmics, Nelson Mandela and Global Feminism," Independent, November 9, 2017
Roisin O'Connor," 'How Did We Do All that?': Annie Lennox and Dave Stewart Discuss Eurythmics Legacy in New Interview," Independent, April 11, 2018.
Jim Faber, "Dave Stewart: 'What Annie Lennox and I Went Through was Insane'," Guardian, February 13, 2016
Christine Hassler, "Are You Choosing Someone Who Isn't Choosing You?," Huffington Post, September 27, 2013.
David Stewart, Sweet Dreams Are Made Of This, (New American Library, 2016).
"Top Thirty Hot Hits," CKLG 730 AM, Vancouver, BC, December 31, 1986.
For more song reviews visit the Countdown.