#11: Tillicum by Syrinx
City: Calgary, AB
Radio Station: CKXL
Peak Month: April 1971
Peak Position in Calgary ~ #1
Peak position in Vancouver ~ did not chart
Peak Position on Billboard Hot 100 ~ did not chart
Peak Position on Canadian RPM Pop Singles chart ~ #38
YouTube: "Tillicum"
John Mills-Cockell was born in Toronto in 1943. He studied music at the University of Toronto from 1963 to 1967, and piano and composition at the Royal Conservatory of Music in Toronto from 1964 to 1968, where he also taught electronic music. He undertook graduate studies at the University of Toronto's Electronic Music Studio in 1967 and 1968. In 1967, Mills-Cockell was involved as a musician with the University of Toronto's Perception '67 Arts Festival. It was there he met Alan Ginsberg. After a stint in the avant-garde mixed media project "Intersystems" in 1968, and forays into the rock forum the following year with the Kensington Market in Toronto, and the lesser-known Hydro Electric Streetcar Hydro Electric Streetcar in Vancouver. In late 1969 he co-founded Syrinx with Doug Pringle.
Doug Pringle learned to play saxophone and keyboards. He met up with Mill-Cockell in the late sixties. John Mills-Cockell contributed keyboards and organ. Alan Wells joined the band on percussion. Syrinx released a self-titled album in 1970. It peaked at #59 on the RPM Canadian Pop Album chart later that year. A second album, titled Long Lost Relatives, was released in 1971. Among the tracks was one titled "Tillicum". It was already known to Canadian viewers of the CBC.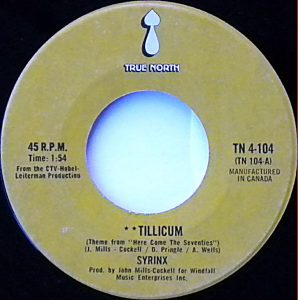 "Tillicum" was the theme song for CBC's Here Come The Seventies . "We recorded 'Tillicum' twice, because the CBC had suggestions about how it could be better," remembers Mills-Cockell. "They said it was kind of sad, because it was in a minor key, and that it could be faster. I was grumpy, but I said, 'Yeah, I guess so.' We went into the studio at nine the next morning, drank a bottle of rosé and recorded the song in two takes, as fast as we could." "I played my horn at night on the back deck of my loft," recalls Pringle. "The moment we knew we had made it was when we could hear 'Tillicum' being played back from the taxi depot across the street on CHUM radio."
Here Come The Seventies had a unique opening scene featuring a nude blonde girl, seen from behind. She'd walk from the beach into the surf until she'd disappears under the surface to swim underwater. This opening title had various clips of different thought provoking scenes superimposed over the model, of people and new technologies of the time, so as to distract from the nudity which was provocative for early 1970s Canadian television. Here Come The Seventies omnipresence between 1970 and 1973 led to "Tillicum" being released as a seven-inch single, which hit #38 on the national charts in Canada.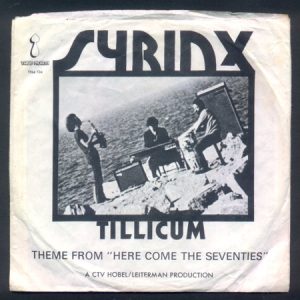 "Tillicum" peaked at #1 in Calgary, and #13 in Winnipeg.
After Syrinx began recording their second album, Long Lost Relatives, tragedy struck: a fire in the studio destroyed the band's equipment. A benefit concert featuring Bruce Cockburn, Beverly Glenn-Copeland, and April Wine raised more than enough funds for them to retool. Mills-Cockell used this windfall to purchase new toys, including an ARP synthesizer, a Vox organ, and an EMS Synthi Hi-Fli. "That would have been a terrible end to the band, but these things happen," Pringle says. "It was a sort of cosmic intervention. When the truck arrived with our shiny new equipment, it was a great day." "We decided to dust ourselves off, pick ourselves up, and keep going," Mills-Cockell echoes. "I don't remember any gap."
From 1972 to 1974, Mills-Cockell spent in Europe. He soaked up old world influences for the recording of his first solo albums, Heartbeat and A Third Testament, released in 1973 and 1974. In 1977, he released his third solo effort, the synth-pop Gateway. Mills-Cockell was one of the earliest adopters of the Moog synthesizer, meeting several times with Robert Moog. Mills-Cockell is generally regarded as a pioneer in the field of electronic music. He has also composed scores for such feature films as The Clown Murders (1976), Deadly Harvest (1977), Terror Train (1980), Humongous (1982), and Striker's Mountain (1985).
In 1973, Pringle produced and hosted "The Dolphin's Smile", a 2 hour CBC radio documentary in which he interviews researcher Dr. John Lilly about the advanced acoustical language of whales. Inspired by the documentary, Doug travelled with his partner, painter Michaele Berman, to Johnstone Strait in British Columbia, where they would live in close contact with Orca whales in the wild. Returning to Toronto in 1976, Doug was commissioned by A Space Gallery to write and perform his electronic pop opera Brine, based on his experiences with whales. In the mid-70s, Pringle composed the score for the film The Far Shore, about Canadian painter Tom Thomson.
Late in the 1970s, Doug Pringle formed The Poles. Over the years Pringle has conducted workshops in interactive media at the Banff Centre, and scripted and directed The Making of The Phantom of the Opera for Cineplex Odeon. That production appeared at The Pantages Theatre in Toronto and was seen by over a million visitors. As well, since 1997 he has been involved in his own media and communications companies, principally with Peak Media Collective.
Alan Wells died in 2010 of lung cancer.
August 18, 2023
Ray McGinnis
References:
"About John Mills-Cockell," johnmillscockell.ca.
Jesse Locke, "The Astral Excursions of John Mills-Cockell," musicworks.ca, Spring 2017.
"Douglas Pringle," douglas pringle.com.
"Here Come The Seventies," broadcasting-history.com.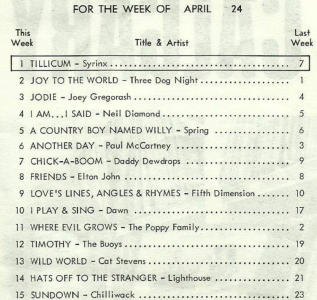 CKXL 1140 AM, Calgary, Alberta, April 24, 1971