#1314: Time by Jerry Jackson
Peak Month: June 1961
8 weeks on Vancouver's CFUN chart
Peak Position #13
Peak Position on Billboard Hot 100 ~ did not chart
YouTube.com: "Time"
Lyrics: "Time"
Jerry was born in the Northeastern USA and raised in a large, talented family consisting of six sisters and six brothers. His dad was a preacher who traveled extensively throughout the southern states in the USA. His mother, a missionary, provided excellent mentoring to their children at home. They had migrated from the southern USA with their first three children several years before Jerry was born. They were all raised under strict biblical principles.
After his mom and dad settled in the northeast, as a child Jerry was very enterprising. In addition to shining shoes, selling cut flowers and roasted peanuts, he often sang impromptu at various venues such as restaurants, grills, and even on the streets, earning money to help support the family. He usually did this by simply appearing, uninvited, and just bursting into song. Most of the time he was well received. However due to his young age there were times when he was rejected and other times even ejected. But Jerry was so passionate about his singing that he never allowed these challenges to discourage him. Through support within his talented family, he gained experience and recognition at an early age when his siblings formed a gospel group and chose Jerry to lead many of the songs.
Though his parents really wanted all of their children to embrace a Christian life and become active church members, Jerry had little interest in church activities. He dreamed of a musical career as a recording artist. So he continued to seek opportunities to perform in various cities and towns. When he was a little older, his desire to sing professionally led him to hitchhike with a buddy to Cleveland, Ohio. While there, he recorded a demo consisting of two songs. Eventually, he would use this recording to introduce himself as a singer/songwriter in New York, City. During his mid-teens, through a generous benefactor, who recognized his talents, Jerry was given the opportunity to attend a music school and receive voice training.
In his early teens, through the assistance and mentoring of his older brother John, Jerry got involved in the car servicing business, first by learning auto detailing and later auto repair. Some of the money he earned with these skills was later used to fund the launch of his recording career.
After canvassing several music agencies, Jerry finally made connections with Buddy Kaye, who would became his manager. Buddy Kaye was the founder of Budd Music and the writer of several earlier hit songs recorded by Perry Como, Pat Boone, and several other vocalists. The contractual agreement between Buddy and Jerry included a promise to acquire a recording contract for Jerry within six months.
Soon after, through Buddy's efforts, Jerry found himself under contract with Top Rank Records, an English Film Company with recording facilities in New York City. The initial sales of his debut recording, "A Chance to Prove My Love", a song he had written himself, were going quite well. However, due to what appeared to be inadequate promotional efforts, sales gradually diminished, and a potential hit floundered.
A number of months later Buddy Kaye and songwriter/arranger Phil Springer teamed up and wrote two songs. The first was "Time" and the second "Se Habla Espanol". Jerry's unique vocal interpretations of these songs resulted in two recordings everyone at the studio was excited about. With these recordings in hand, Kaye approached Kapp Records in New York City. Kapp had Louis Armstrong, Roger Williams and other artists on their roster. Kapp's staff became very excited upon hearing Jerry's performance of "Time" and "Se Habla Espanol". As a result of their interest, an immediate contract was negotiated with plans to release and promote these songs on the Kapp Records Label as a double-sided hit.
Upon release, the sales pattern was going very well, and all indications were that these recordings would become chart toppers. In the meantime, Jerry returned to the studio to record two additional Buddy Kaye and Phil Springer songs entitled "I Don't Play Games" and "You Might Be There With Him." But with the release of this new single, the promotion which had been dedicated to "Time"/"Se Habla Espanol" was shifted to the newer single. This resulted in inadequate time to properly promote the first single. As a result there was a decline in the sales of "Time" that seemingly had been on track to become a hit. Back in 1961 it was quite unwise to try to promote more then one 45 RPM single by the same artist simultaneously.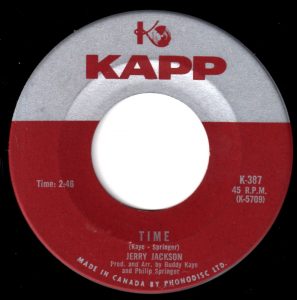 The single peaked at #13 in Vancouver and into the Top 30 in Cleveland and New York City. But it garnered little attention elsewhere in the USA and did not chart on the Billboard Hot 100. "Time" was covered by UK singer, Craig Douglas, whose version peaked at #9 on the UK singles chart, making it his fifth of seven Top Ten hits in the British Isles.
One of the co-writers for "Time" was Buddy Kaye. He was a songwriter born in New York City in 1918. Kaye had his first big songwriting success with "This Is No Laughing Matter" for the Charlie Spivak Orchestra, featuring Garry Stevens and the Stardusters in 1942. Kaye wrote "Till The End of Time" for Perry Como, a number one hit in 1945. In 1946 Kaye had Top 20 successes with "Full Moon And Empty Arms" for Frank Sinatra and "Don't Be A Baby, Baby" for the Benny Goodman Orchestra. In 1947 Buddy Kaye had a Top 10 hit with Andy Russell's recording of "I'll Close My Eyes". A few years later Kaye was going to the bank with "A You're Adorable (The Alphabet Song)" which was a number two hit for Perry Como & The Fontaine Sisters in 1949. In 1951 Kaye wrote "A Penny A Kiss" a #8 hit for Tony Martin and Dinah Shore. In 1955 the McGuire Sisters had a #6 hit called "Rhythm 'n Blues" penned by Buddy Kaye. In 1962 Kaye wrote "Speedy Gonzales" for Pat Boone. The song went to #6 and was Pat Boone's last Top 40 hit. Buddy Kaye also penned several Top 40 hits for Dusty Springfield, "All Cried Out" and "Little By Little".
For Buddy Kaye co-wrote "Time" with Phil Springer who had penned several successful songs himself. These included "Santa Naby" for Eartha Kitt who took the song to #4 in 1953, and "Moonlight Gambler" which was a #3 hit for Frankie Lane in December 1956.
His follow up single on Kapp was "I Don't Play Games". The single got on the playlists in San Bernardino, Seattle, New York and Milwaukee. But only charted for a few weeks in each radio market in the summer of 1961. Next Jackson re-released a song he recorded in 1959 titled "If I Only Had Known How Keep her (She Would Never Have Gone To You)". The song debuted in January 1962, at #22 on WABC in New York, but dropped off the record charts in the Big Apple two weeks later. "La Dee Dah (Ha Ha Ha)" made the Top 30 in Springfield, Massachusetts, in March 1962. But, again, spent just a few weeks on the record survey before disappearing. (This was a different song than the same titled tune from 1958 by Billy & Lillie). Having some traction in Springfield, Jerry Jackson got "She Lied" into the Top 40 on WSPR in December 1962. And in March 1963, "Turn Back" made it to #63 on the WSPR Successful 70.
Next, Jackson got a contract with Columbia Records in New York City. Clyde Otis was his producer. Otis was very successful, having produced recordings Brook Benton, Nat King Cole and Dinah Washington. It was at Columbia, Jackson wrote several songs that he recorded. One of these, "Are You Glad When We're Apart?", was a hit in the UK. Otis got Jerry Jackson to record "Shrimp Boats Are A'Comin", "Blues in The Night", "You're Mine and I Love You"and others. Only "Shrimp Boats Are A' Comin'," got any airplay, and that was in Halifax, Nova Scotia, and a brief chart run in Windsor, Ontario. In the winter of 1964, Jerry Jackson made it to #13 in Baltimore with "Tell Her Johnny Said Goodbye." The song also made the Top 20 in Cincinnati, Dayton and Toledo, Ohio.
Next, Jackson signed with Cameo Parkway Records in Philadelphia. However, the same pattern dogged Jerry Jackson with potential hits floundering. Jerry had a beautiful voice that recalled other R&B artists like Roy Hamilton, Brook Benton and Jerry Butler. His style and delivery of each single he recorded filled promoters with anticipation. This was why numbers of different recording companies were eager to sign him to their label. Once they heard him sing they were confident he had what it took to be a hit-making artist. Capitol Records hoped Jerry Jackson would finally have a hit record with "Miss You" in 1968. The song climbed to #6 in Beaumont, Texas.
However, Jerry Jackson never saw his singles climb the Billboard Hot 100. Jackson always wondered why his recordings didn't net at least one hit record. Timing and proper promotion were factors he mused about. The hits just never materialized. At first he was surprised, then disappointed and bewildered. He noticed that many other artists with less talent rose to the top of the charts.
Outside of North America Jackson had received some interest in Europe. Jackson also recorded "If I Loved You" for Monte Carlo Records on the island of Monaco. In 1967 an Italian record label, Det Records, released The Warm Moods of Jerry Jackson in Italy. He eventually dedicated his life to gospel singing. In 2009, Jerry Jackson recorded My Spiritual Journey Part 1.
October 21, 2016
Ray McGinnis
References:
Jerry Jackson bio, Jerry Jackson Sings.com
Buddy Kaye Songwriter of Hits for Sinatra and Como, NY Times, November 23, 2002.
Randall Roberts, 'Santa Baby' Composer Phil Springer, 91, Still Can't Figure Out Why His Sexy Christmas Song Endures, LA Times, December 22, 2017.
"C-FUN-Tastic 50," CFUN 1410 AM, Vancouver, BC, June 17, 1961.
For more song reviews visit the Countdown.