#690: Out Of Time by Chris Farlowe
Peak Month: October 1966
6 weeks on CKLG's Vancouver Charts
Peak Position ~ #1
1 week Hit Bound
Peak Position on Billboard Hot 100 ~ #122
YouTube.com: "Out Of Time"
Lyrics: "Out Of Time"
Chris Farlowe was born in Islington, in suburban London, in 1940. His birth name was John Henry Deighton. During World War II he learned to join in at family sing-alongs where his mum played piano. In the late '50's Farlowe was part of a skiffle group named the John Henry Skiffle Group. Skiffle was a genre of music that drew on jazz, roots, blues and folk influences. They entered and won a number of local talent contests and played at local venues. He became an amateur boxer and eventually a carpenter while he continued to play in a band he formed called Chris Farlowe and the Thunderbirds. The name Farlowe was inspired by the American jazz guitarist, Tal Farlow, while Thunderbirds was after the name of a popular American car. The Thunderbirds included Nicky Hopkins, Dave Greenslade, Ricky Chapman, Albert Lee, Pete Solley and Carl Palmer. In 1961, the band recorded a number of demos that were produced by Jimmy Page.
In 1962, Chris Farlowe and the Thunderbirds got a deal with Decca Records. They released a single titled "Air Travel", which failed commercially. Dissatisfied with Decca's promotion, Farlowe switched to Columbia Records in 1964. With Columbia, he released three singles, including a cover of the 1958 hit by Jimmy Clanton titled "Just A Dream." In 1965, Farlowe again switched record labels, this time to Immediate Records. His first release was a cover of the 1956 Sanford Clark rockabilly hit, "The Fool". His second release on Immediate was "Think", a song written by Mick Jagger. It was Farlowe's first single to appear on the UK Singles charts. Farlowe and The Thunderbirds had been hanging out at the Flamingo Club where Chris met future Rolling Stones manager Andrew Loog Oldham.
Next, Mick Jagger produced a record for Chris Farlowe called "Out of Time", from the Rolling Stones album Aftermath.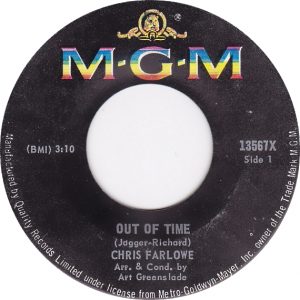 With its opening string arrangement by British conductor, Arthur Greenslade, the song took off. It peaked at #1 in the UK and climbed to #1 in Vancouver. It also peaked at #4 in Lemoore, California, #5 in Fresno, California, #6 in Los Angeles and San Francisco and #8 in Troy, New York. However, it did not break into the Billboard Hot 100, stalling at #122 beneath the chart. The song was later covered by the Bee Gees, Del Shannon and The Ramones. On Farlowe's version of "Out Of Time", Mick Jagger provided backing vocals and Jimmy Page played acoustic guitar. As well Joe Moretti, who played guitar on "Mellow Yellow" for Donovan, was a featured guitarist on the hit.
"Out Of Time" is about a female who used to date a guy. Since the breakup, she's been in her own social world. Now, she's left that behind and returned in the hopes of getting back together with her ex. He's disdainful in his assessment of her: "You don't know what's going on/You've been away for far too long/You can't come back and think you are still mine." In addition to letting her know her timing is bad, he describes her variously as "out of touch," "old fashioned," "obsolete" and "unfaithful." As well, although she thought she was "a clever girl," it's clear she is not ~ by the guys estimation ~ very tuned in.
It seems very unlikely, given the guys harsh assessment of his ex girlfriend, that they'll ever get together. She's lucky to be rid of him and find someone who doesn't think she's "out of touch" "obsolete," etc. Moreover, he tells her "you can't come back and be the first in line." Apparently, women are lining up to date this guy who quickly moves on to the next person he's fascinated with. This guy has his own take on timing.
The poet, Holly Riordan, offers some wisdom about "timing" on her blog. "You could meet the love of your life at the worst possible moment and miss out on years that you could have spent living happily together. And that is not your fault. You cannot blame yourself when timing gets in the way, because the problem was out of your hands. You didn't do anything wrong. Neither of you did anything wrong. Sometimes, shit just happens. But the thing about timing is that if they are the right person for you they will end up returning to your world. You will end up together eventually. You will cross paths again."
On the Rolling Stones album, Aftermath, there were numerous tracks that cast a female in a poor light. "Under My Thumb", features the outcome of a power struggle in a relationship. Now, the boyfriend can ogle at any woman he sees while his girlfriend has to keep her eyes to herself whenever a good looking guy walks by. Another song titled "Stupid Girl", Mick Jagger snarls about a girl who powders her nose, the way her vanity shows, the way she digs for gold and the way she grabs and holds. Jagger later conceded that he was trying to write about some very dysfunctional relationships he had with women, including groupies.
After "Out Of Time", Chris Farlowe's "Ride On Baby" and "Handbags And Gladrags" both made the Top 40 on the UK singles chart in 1967. However, Farlowe never made the Top 30 again. After "Handbags And Gladrags", his #1 hit from 1966, "Out Of Time" made it back on the UK singles chart in 1975, peaking at #44.
In 1972, Farlowe joined the band Atomic Rooster, mostly made up of band mates from the defunct Crazy World of Arthur Brown. Then he was in a serious car accident and took two years to recover from his injuries. In 1978, Farlowe sang vocals for the soundtrack of Gangsters, a BBC TV series.In the years that followed Farlowe teamed up with his colleague, Jimmy Page, to perform on the soundtrack for Death Wish II in 1982. By 1990 Farlowe was recording commercials for Asti Martin, Ovaltine and Coca Cola. This also began nearly three decades of continuous touring.
Currently, Chris Farlowe continues to perform his monster hit, "Out of Time", along with newer material spanning blues, rock and jazz. The Merseysider had an interview with Farlowe in 2013. This was in advance of performances of the Solid Silver Sixties Show concert he was appearing on March 26th in Southport and April 19th in Liverpool. They wrote, "Chris Farlowe (is) widely regarded as Britain's finest ever blues and soul singer." Others appearing on stage in Liverpool were The Tremeloes and Chris Montez. Since 2015, Farlowe has appeared on several occasions in concert with Van Morrison. Upcoming concert dates into the spring of 2019 include sharing the stage with the Herman's Hermits, The Fortunes and The Swinging Blue Jeans
October 31, 2018
Ray McGinnis
References:
Chris Farlowe bio
Out Of Time: A Film About Chris Farlowe, Chris Farlowe The Film.com
"Jimmy Page releases unheard Chris Farlowe and the Thunderbirds album," Chris Farlowe The Film.com, May 13, 2017
Holly Riordan, "Sometimes Bad Timing Makes A Big Difference," Thought Catalogue, May 23, 2018
"Chris Farlowe Joins Van to Sing Born To Sing," BBC, September 4, 2015
"Chris Farlowe on the Birth of British Blues, Plus Exclusive Audio of Jimmy Page's First Production," Dangerous Minds.net, April 4, 2017
"Chris Farlowe Interview," Merseysider Magazine, Liverpool, UK, March 2013.
"Boss 40," CKLG 730 AM, Vancouver, BC, October 15, 1966.
For more song reviews visit the Countdown.