#445: Time Out Of Mind by Steely Dan
Peak Month: June 1981
9 weeks on CFUN's Vancouver Chart
Peak Position ~ #4
Peak Position on Billboard Hot 100 ~ #22
YouTube: "Time Out Of My Mind"
Lyrics: "Time Out Of My Mind"
Donald Jay Fagen was born into a Jewish household in Passaic, New Jersey, in 1948. The first record he bought was "Reelin' and Rockin'" by Chuck Berry in 1958. In 1959, when he was eleven years old, a cousin of Donald Fagen suggested he explore jazz music. So he attended the Newport Jazz Festival. Fagen recalled later "I lost interest in rock 'n' roll and started developing an anti-social personality." By 1960, after he'd turned twelve, Fagen began frequenting the Village Vanguard jazz club. He was able to see Charles Mingus, Thelonius Monk, and Miles Davis. He learned to play the piano, and he played baritone horn in the high school marching band. Fagen also drew inspiration from the Boswell Sisters, Henry Mancini, Ray Charles, Sly and the Family Stone and a variety of Motown recording acts.
After graduation, in 1965, Fagen entered college at private liberal arts school called Bard at Annandale-on-Hudson, New York. At Bard College he studied English literature, and in 1967 befriended a guitar player named Walter Becker. The pair, who met in a coffee house on campus called the Red Balloon. They formed a band called the Leather Canary, that included future actor Chevy Chase. The trio morphed into the Don Fagen Jazz Trio, and then the Bad Rock Band. Fagen and Becker also played in concert as backing musicians with Jay and the Americans. Fagen went by the name Tristan Fabriani, which he used on stage when he played keyboards for Jay and the Americans. Over the years, Donald Fagen has created other aliases when giving credit to work he had done for himself or others. These names include Illinois Elohainu, Phonus Quaver, and Harlan Post.
In 1971 Fagen wrote a song recorded by Barbra Streisand for her Barbra Joan Streisand album. In 1972 he co-founded a band with Walter Becker named Steely Dan. In true counter-cultural style, the name was borrowed from a dildo of the same name in William Burroughs' novel Naked Lunch. (A 1976 track from The Royal Scam titled "The Fez" was about the benefits of wearing a condom). Walter Carl Becker was born in 1950 in Queens, New York. By Donald Fagen's account "Walter had a very rough childhood." In high school Becker learned saxophone and next guitar. Becker and Fagen met in 1968 at Bard College at Annandale-on-Hudson, New York. They formed a band called Leather Canary that included Chevy Chase on drums. In the summer of 1969 the pair, using pseudonyms, were part of the touring band for Jay and the Americans. Becker and Fagen also began to work together as a songwriting duo. In 1971 they wrote the soundtrack for a Richard Pryor comedy feature film titled You've Got to Walk It Like You Talk It or You'll Lose That Beat.
Steely Dan included a number of other musicians Fagen and Becker auditioned to give them a fuller sound. had a Top Ten hit in February 1973 titled "Do It Again". A followup single, "Reeling In The Years", stalled at #11. They climbed to #4 on the Billboard Hot 100 in August 1974 with "Rikki Don't Lose That Number". Unhappy with touring, Fagen and Becker decided Steely Dan would stop touring and focus solely on recording in the studio. Of their touring musicians, only two – Michael MacDonald and Jeff Pocaro – would remain in the recording studio until 1980.
Michael MacDonald was born in 1952 in Ferguson, Missouri. He played in a number of bands in high school and moved to Los Angeles in 1970. In 1974 he joined Steely Dan, but when Fagen and Becker decided to stop touring, MacDonald joined The Doobie Brothers in 1975. He was the lead vocalist for Doobie Brothers hit singles "Takin' It to the Streets", "Minute by Minute", "What a Fool Believes" and "Real Love". Meanwhile, MacDonald returned to the recording studio for the Steely Dan albums Katy Lied (1975), The Royal Scam (1976), Aja (1977) and Gaucho (1980). And the non-touring Steely Dan had a number of hits, notably "Peg" and "Hey Nineteen".
Jeffrey Thomas Porcaro was born in 1954 in Hartford, Connecticut. Learning to play drums at age seven, he got a break and was hired as part of Sonny & Cher's touring band when he turned seventeen in 1971. He was with Steely Dan in 1974. After Steely Dan stopped touring, Porcaro toured with Boz Scaggs until he co-founded Toto in 1977. He also was a session musician on hundreds of records. These include Rickie Lee Jones on "Chuck E.'s In Love", John Sebastian on "Welcome Back", Seals & Crofts on "Diamond Girl", "Get Closer" and others, Leo Sayer on "You Make Me Feel Like Dancing", "How Much Love" and "When I Need You", Boz Scaggs on "Lowdown", "Lido Shuffle", "Breakdown Dead Ahead" and "Jojo", Carly Simon on "Nobody Does It Better", Eric Carmen on "She Did It", Warren Zevon on "Werewolves of London", Elton John on "Empty Garden", and Christopher Cross on "Arthur's Theme (Best That You Can Do)".
With the release of Gaucho in November 1980, Steely Dan released "Hey Nineteen". The single climbed to number-one on the Vancouver (BC) pop chart in February 1981, and #10 on the Billboard Hot 100. Their next single release from the album was "Time Out Of Mind", featuring Michael MacDonald on vocals and Jeff Porcaro on drums.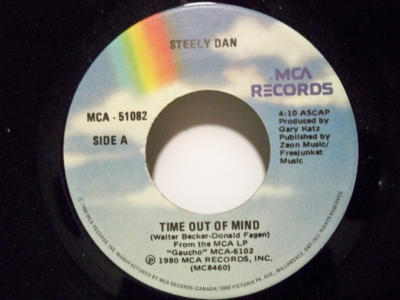 "Time Out Of Mind" was cowritten by Walter Becker and Donald Fagen. The first verse begins with a father telling his son to be "ready for love." But the focus quickly shifts in the chorus as the singer tells us he's going to "chase the dragon," a slang phrase for smoking opium, and also for describing the first time someone uses heroin. In this altered state, water may turn to cherry wine and silver to gold, "time out of mind."
The lyrics that follow mention a "mystical sphere direct from Lhasa." On a comment thread on songmeanings.com it is said "Black Tar heroin usually comes in a little ball or clump that looks like a pebble, and Lhasa as mentioned previously is in Tibet, which is a region known for the production of the drug." The next line describes how "The water may change to cherry wine." Songmeanings.com explains, "In order to smoke black tar heroin, you have to dilute it with water and create a paste which can be spread on the aluminum foil, almost the consistency of toothpaste which has a ruby color, similar to cherry wine." A subsequent line describes how "The silver may change to gold." Songmeanings.com adds, "Once the substance is spread on the foil and heat is applied, the foil turns amber/golden from the burning of the drug, which creates the smoke." In this state of euphoria, heroin users describe falling in love with the drug and the escape from reality it provides. "Time Out Of Mind" indeed. But did record buyers know about the hidden meaning in the lyrics?
"Time Out Of Mind" peaked at #1 in Syracuse (NY) and Kansas City (MO), #2 in Las Vegas (NV), #5 in San Bernardino (CA) and Winnipeg (MB), #6 in Vancouver (BC) and St. Cloud (MN), #7 in Denver (CO), #8 in San Jose (CA) and Toronto (ON), #9 in Providence (RI) and #12 in Halifax (NS).
In 1982 Gaucho won Steely Dan a Grammy Award for Best Engineered Non-Classical Recording. They also received Grammy nominations for Album of the Year and Best Pop Performance by a Duo or Group with Vocals.
Steely Dan broke up in 1981 after "Time Out Of Mind" was released. By that time Becker had developed a drug habit, and moved to Hawaii to become an avocado farmer and kick his habit. While Donald Fagen went to the recording studio to release an album titled The Nightfly. His debut single from the album was "I.G.Y. (What a Beautiful World)".
Michael MacDonald had a Top Ten solo hit in 1982 titled "I Keep Forgettin' (Every Time You're Near)". In 1986 his duet with Patti LaBelle, "On My Own", topped the pop charts. In 2003, he earned two Grammy nominations for his album Motown. Over the years Michael MacDonald has received thirteen Grammy Award nominations, winning five.
Jeff Porcaro continued with Toto and co-wrote their number-one hit "Africa". Porcaro was drummer in the recording studio for "Human Nature", "Beat It" and "The Girl Is Mine" on Michael Jackson's Thriller album. Other notable contributions as a studio musician include for Lionel Ritchie on "Running with the Night", for Don Henley on "Dirty Laundry", for Melissa Manchester on "You Should Hear How He Talks About You", for Madonna on "Like A Prayer", "Cherish" and "Express Yourself", for Michael Bolton in his 1991 cover version of "When A Man Loves a Woman", for Cher with her cover of "The Shoop Shoop Song (It's In His Kiss)", and for Go West on "King Of Wishful Thinking". He had also been in the recording studio with Pink Floyd and Diana ross. Porcaro died of a heart attack in 1992. Before he died he had recently been in the recording studio with Bruce Springsteen and Dire Straits. Porcaro was 38 years old.
In 1988 Fagen wrote the score of Bright Lights, Big City, and a song for its soundtrack. He also produced an album for China Crisis. In addition to collaborating in the recording studio with Barbra Streisand, Donald Fagen had been a session musician for Poco, Rickie Lee Jones, Diana Ross, Boz Scaggs, Phoebe Snow, Martha Wainwright, and Todd Rundgren.
Over the years Donald Fagen has released four studio albums. His latest was in 2012 titled Sunken Condos. That year he toured with the Dukes of September, featuring Michael McDonald and Boz Scaggs. One of the concerts was recorded at Lincoln Center in New York City and broadcast on PBS Great Performances in 2014. In October 2013 Fagen published an autobiography titled Eminent Hipsters.
Walter Becker and Donald Fagen reunited in 1993 and went on tour. They recorded two final Steely Dan albums in 2000 (Two Against Nature) – which won them a Grammy Award for Album of the Year – and 2003 (Everything Must Go). Walter Becker recorded albums for China Crisis, Rickie Lee Jones and Krishna Das among others. He also recorded two solo albums: 11 Tracks of Whacks (1994) and Circus Money (2008). He died of cancer in 2017 at the age of 67.
September 2, 2020
Ray McGinnis
References:
"Donald Fagen Discusses the Loss of Walter Becker and Steely Dan's Future," Rolling Stone, December 19, 2017.
Rob Brunner,"The Origins of Steely Dan," Entertainment Weekly, March 17, 2006.
Chris Wilman, "From the Archives: The 1993 Interview When Walter Becker Opened up About Steely Dan's Subversive Intentions," Los Angeles Times, August 22, 1993.
Joel McIver, "Walter Becker Obituary," Guardian, September 4, 2017.
"Geoff Nicholls, "Obituary: Jeff Porcaro," Independent, UK, August 14, 1992.
Andy Greene, "Michael McDonald on the Doobie Brothers Entering the Rock Hall: 'They Deserve the Nod'," Rolling Stone, January 15, 2020.
"CFUN Top 30," CFUN 1410 AM, Vancouver, BC, May 2, 1981.
For more song reviews visit the Countdown.