#400: Tokyo Rose by Idle Eyes
Peak Month: May 1985
14 weeks on CKLG's Vancouver Chart
Peak Position ~ #9
Peak Position on Billboard Hot 100 ~ did not chart
YouTube: "Tokyo Rose"
Lyrics: "Tokyo Rose"
Tad Campbell was born in Vancouver (BC). After high school he found himself in Australia moonlighting for a band called the Daydream Islanders between shifts while working for a luxury liner that cruised around parts of the continent. In 1980 he replied to an ad looking for a guitarist, and ended up with the band playing for months at a resort in the Whitsunday Islands. A chambermaid at a hotel Campbell knew, Donna McConville, became the bands' lead singer. Though they had other Australian musicians in the line-up, when Campbell and McConville decided to move to Vancouver, the other bandmates chose not to follow. Back in Vancouver the pair got a new lineup and called themselves Idle Eyes. But the lineup kept changing. Tad Campbell recalls that "their first tour was cancelled when the drummer backed out the day they were supposed to leave." Part of the problem was that Idle Eyes was made up almost entirely of bandmates from New Zealand and Australia who had visa issues. Eventually, Donna McConville returned to Australia and became a backing singer for John Farnham.
By late 1982 the band lineup began to gel with British Columbia natives Phil Robertson on drums, Miles Fox Hill on bass guitar and Glenn R. Smith on guitar. John Webster, from Red Rider, joined the band on keyboards. Their first single release was in 1985 titled "Tokyo Rose".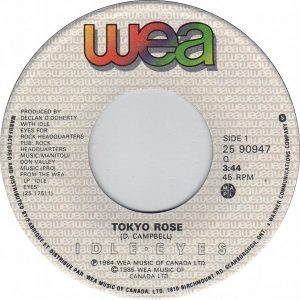 "Tokyo Rose" was written by Tad Campbell. The singer in the song sings about the shape they're in: "… this condition of cardinal sin." And there's a woman in the song who says things that get in his head and confuse him. He says to her that she tells "a story like Tokyo Rose."
Tokyo Rose was the generic name given by Allied soldiers in World War II for the female DJs who tried to shake the morale of soldiers on Japanese radio stations in the Pacific.
Soldiers stationed in the Pacific would listen to English-speaking Japanese radio stations for The Zero Hour music show that played popular American music, but would also contain war announcements by the female DJ's and comments on the American war effort. The war announcements on The Zero Hour were considered by the Americans to be Japanese propaganda. While many voices were used, the most popular woman identified was Los Angeles native Iva Toguri, who went by the DJ name of Orphan Ann. Allied soldiers shunned individual DJ names and referred to all female announcers as Tokyo Rose.
In July of 1941 Iva Toguri sailed to Japan to visit a sick relative. However, when Japan bombed Pearl Harbor there was no way for her to return to American during the war. And the U.S. State Department refused to certify her American citizenship. Anti-Japanese hysteria was at its peak, and many Japanese-Americans were sent to internment camps. Ironically, while she was in Japan, Iva Toguri was treated almost as a Japanese prisoner of war. She was forced to work as a DJ at the Japanese radio stations on The Zero Hour programs because she could speak English. In her broadcasts she refused to say anything against the United States. As her Japanese superiors had little understanding of English, Iva Toguri was able to make a farce of her broadcasts which were full of double entendres. In fact, she never spoke during the news casts, only in comedy sketches and to introduce recorded music.
In the years soon after the war, the mythical character "Tokyo Rose" became an important symbol of Japanese villainy for the United States. American cartoons, movies, and propaganda videos between 1945 and 1960 depicted her as sexualized, manipulative, and deadly to American interests in the South Pacific. In these depictions, Tokyo Rose typically revealed intelligence of American losses in radio broadcasts. These included a Looney Tunes cartoon in 1945 titled Tokyo Woes with a crooked-toothed Japanese woman speaking on a propaganda broadcast. In the cartoon, Tokyo Woes is given some bombs to hold and she and her fellow Japanese propagandists are blown up.
At the end of World War II, in September 1945 Iva Toguri Toguri was accused of being the "real" Tokyo Rose. She was detained by the U.S. military for a year. In 1949 she was put on trial, and became the seventh person in U.S. history to be convicted of treason. In the 1949 Broadway musical South Pacific a song titled "There Is Nothing Like A Dame", included these lyrics: "We get packages from home, we get movies, we get shows. We get speeches from our skipper, and advice from Tokyo Rose."
Toguri was eventually paroled from prison in 1956. In the 1957 movie The Bridge on the River Kwai, a Tokyo Rose broadcast is briefly heard on the demolition team's portable radio. In the 1958 movie Run Silent, Run Deep, a Tokyo Rose broadcast detailed ships and sailors lost at sea based on information gained from trash jettisoned by U.S. submarines. And in the 1959 comedy-war film movie Operation Petticoat, a Tokyo Rose broadcast warns the crew of a U.S. submarine to surrender.
Ron Yates, a reporter on the Chicago Tribune unearthed evidence that prosecutors had forced witnesses to lie about D'Aquino's role in the broadcasts. In 1977, President Gerald Ford issued her a pardon after learning that the testimony used to convict her was fabricated. While many considered her comments as a DJ were thin-veiled verbal attacks on the U.S., the evidence showed all comments made by Toguri were "innocuous." In 2006, the WWII Veteran Committee gave Toguri the ultimate apology and honor from the country that turned their back on her when they awarded her The Citizenship Award for love of country and courage. She died at age 90 the same year.
In the song "Tokyo Rose" we only know that the the woman who the guy is in bed with has a story like Tokyo Rose. Exactly what way the story is similar is left for the listener to imagine.
"Tokyo Rose" peaked at #9 in Vancouver (BC), #10 in Ottawa (ON), #13 in Montreal, #17 in Lethbridge (AB) and #21 in Toronto. Later in 1988, Joni Mitchell referred to Tokyo Rose in her song "Tea Leaf Prophecy".
As "Tokyo Rose" was climbing the charts, in 1985 Idle Eyes opened for Toto and later Tears For Fears. Later they opened for Bryan Adams on tour, and also Red Rider. Before the year was through Idle Eyes won a Juno Award for Most Promising Band. After 1985 John Webster left the band and was replaced by Bruce MacKenzie.
At the 1986 West Coast Music Awards Idle Eyes won in the following categories: Group of the Year, Album of the Year, Song of the Year (for "Tokyo Rose"), and Tad Campbell won for Songwriter of the Year. Campbell remembers that on May 2, 1986, Idle Eyes performed "for British royalty at the opening ceremonies of Expo '86 in Vancouver."
In late 1986 the band released their second album, Love's Imperfection. It included the debut single "Sandra", which had been released in the fall. "Sandra", climbed into the Top 20 on CKLG in Vancouver in October 1986. However, the record label didn't support the single with a music video. Despite the lack of support, Idle Eyes won two West Coast Music Awards for Song of the Year for "Sandra," and Group of the Year.
In 1987 Idle Eyes toured the USA, opening for Human League. But the band was subsequently dropped by WEA Records, and Tad Campbell recalls "the band [was] indebted to the tune of $400,000, they were frustrated, and took it out on Cliff Jones, firing him as their manager." Campbell helped finance Idle Eyes third album, Standing At The Edge, which was released in 1988. The album yielded two minor hits.
Idle Eyes went through a period of hiatus and reformation. In 1994 Tad Campbell returned, along with Smith, Hill and some new bandmates to release one final album.
In the years after Idle Eyes disbanded, Phil Robertson founded the Phil Robertson Trio. Robertson has also been a backing musician on TV specials for Ray Charles, Bryan Adams, Nelly Furtado, Sarah McLachlan and K.D. Lang. He has also played for Burton Cummings, The Canadian Tenors, Michael Bublé. Robertson has also been a session musician for Shari Ulrich.
Miles Fox Hill was a music recording engineer for the 1999 short film Samurai Swing. And in the 2003 film The Magical Life of Long Tack Sam, Hill played bass guitar for the soundtrack. Miles Hill has also been a session musician for Paul Janz.
In the mid-90s Campbell formed a band called Leghold Trap, and later a latin band named Millions of Brazilians. By the end of the decade he was in a band called Big Daddio, and in the early 2000s he was in the Karma Corps. In 2020 Tad Campbell was found guilty of sexually assaulting an underage girl who was around ten years old circa 1997. He is due to be sentenced in December 2020.
October 14, 2020
Ray McGinnis
Tad Campbell, "Idle Eyes Discography," Canadian Bands.com.
Kevin Wuench, "How a Misunderstood 'Villain' from WWII Inspired a Hit Song for Idle Eyes," Tampabay.com, January 13, 2017.
Justin McCurry, "'Tokyo Rose' Dies at 90," Guardian, September 27 2006.
"Phil Robertson: Drummer, Producer, Engineer," The Original Online Studio Drummer.
"Miles Fox Hill," IMDb.com.
Keith Fraser, "Idle Eyes Singer Tad Campbell Found Guilty of Sexually Assaulting Underage Girl," Vancouver Sun, August 27, 2020.
"CKLG Top 30," CKLG 730 AM, Vancouver (BC), June 6, 1985.
For more song reviews visit the Countdown.