#10: Too Bad by Doug and the Slugs
Peak Month: March-April-May 1980
Peak Position #2
17 weeks on Vancouver's CKLG chart
Plus 3 weeks Playlist
Peak Position on Billboard Hot 100 ~ did not chart
YouTube.com: "Too Bad"
Lyrics: "Too Bad"
Doug Bennett was born in Toronto in 1951. He worked as a graphic designer after his schooling and at the age of 22 moved to Vancouver in 1973. He got a job as a cartoonist and editor for the weekly alternative paper the Georgia Strait. He also played with a number of bands. By 1977 Bennett was in search of some new outlets for his creativity and was introduced to guitarist John Burton. Burton had been in a group called The Ugly Slugs. Bennett and Burton began performing locally and added bassist Dennis Henderson, drummer Ted Laturnus and and Drew Neville on keyboards. They became Doug and The Slugs.
Over the following year Henderson, Laturus and Neville were replaced by Steve Bosley (bass), John Watson (drums) and Simon Kendall (keyboards). Richard Baker joined Burton in the guitar section. Their live performances in Vancouver were infectious and a fan base soon followed them around from concert to concert. They got financial backing and a single, "Too Bad" was released in the fall of 1979.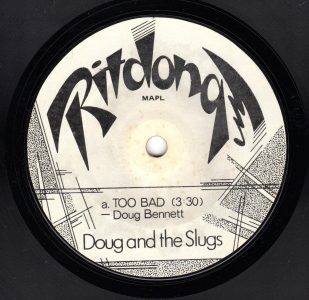 "Too Bad" was written by Doug Bennett. The song describes how someone who concocts "machinations," synonymous with rackets, schemes, frame-ups, and manipulations. In the midst of an unfolding machination, the schemer is caught and loses face with those in his social circle (maybe workplace too?). The schemer was too clever by a half, and turned out to be out of their depth. It seems that the schemer is a guy, given the advise that he save his "dialogue" for the "old men in the pool room" (where men play pool). The person on the receiving end of the scheme figured it out and watched the schemers "getaway" with fascination. And then the schemer went to a "hideaway" to wait until it was safe. But as they were already being tracked by those who had figured out their scheme, the schemer went into a "tail spin." Bottom line: the jig is up and the guy with his machinations and his schemes is "kaput," ruined.
"Too Bad" spent 17 weeks on the CKLG charts, including 12 weeks in the Top Ten in the winter of 1979-80. It was written by Doug Bennett. In 1981 "Too Bad" earned the band Composer of the Year and Single of the Year Juno Awards. They also won Best Album Graphics for Cognac and Bologna.
"Too Bad" peaked at #1 in Regina (SK), #2 in Vancouver (BC), #5 in Saskatoon (SK), #7 in Hamilton (ON) and Fredericton (NB), and #15 in Toronto.
They got exposure the following year with gigs in Toronto, Mississauga and Montreal. Their followup single from Cognac and Bologna, "Chinatown Calculation", was released in the fall of 1980. In Toronto, City TV featured Doug & The Slugs amusing music videos adding to their buzz. Later in 1981, the band released their second album, Wrap It! From this album came the single "Real Enough".
In 1982 the band released their third studio album, Music For the Hard of Thinking. The debut single from this album was "Making It Work". The tune made the Top 30 on the Canadian RPM singles chart. Astonishingly, it only got airplay in Vancouver's AM pop stations and didn't even make the pop charts here for this local band. In 1983 they won a Juno Award for Most Promising Group of the Year. A greatest hits album was released in 1985 followed by Popaganda and Animato. From Popaganda came "Day By Day", a single that climbed to #10 in Regina (SK), and "Love Shines" which peaked in Regina at #11 in the spring of '85.
In 1988 they released one of their most successful albums, Tomcat Prowl. It featured the only single, the title track, that would climb into the Canadian RPM Singles Top 30 after "Making It Work". "Tomcat Prowl" was produced by Brian MacLeod who had won Juno Awards for his previous work with The Headpins and Chilliwack. "Tomcat Prowl" is a song about a guy who is on the prowl to find a woman to provide some sweetness in his life after the daily grind.
In 1992 Tales From Terminal City was the band's final studio album release. Some local Vancouverites would have known of the stately Terminal City Club, founded in 1892, located in the heart of the financial district on West Hastings Street. Known for its excellence and elegance, the private club is steps away from the Vancouver Convention Centre, the Pan Pacific Hotel and the SeaBus Terminal/Waterfront Station. But this might have been lost on most Canadians considering buying the album.
Though Doug Bennett continued to tour with a rotating group of musicians in the following years, it was only in 2003 that former members gathered for two reunion concerts.
In 2009 formative Slugs bandmates, Baker, Bosley, Burton, Kendall, and Watson, reunited and gave singer Ted Okos the nod to be their lead singer. Though they still perform in concert as Doug & the Slugs, Doug Bennett is missed. Bennett died in 2004 due to complications related to cirrhosis of the liver. A Vancouver Sun obituary by John Mackie, Canada's improbable rock star: Toronto-born Singer-songwriter Doug Bennett an Everyman in a Sally Ann Suit, included some reflections by Slugs bandmate, keyboard player Simon Kendall: "He hadn't been looking after himself… his health has not been good for the last couple of years, so it wasn't a total surprise. But nobody realized how sick he was." Mackie wrote: "Kendall thinks Bennett struck a chord with the masses because of his persona, which was humourous and witty but also had an edge." Kendall added, "Especially in the early years, he really tried to stay off the beaten path, and I think he did a great job… He had some unique and very interesting lyrics. An anachronistic style, if you like. He was a bit of R&B, he was a bit 1940s, he was a bit Tex-Mex. As a writer, I think he deserves more credit than he gets for being intelligent. He wrote some beautiful and quite provocative songs."
June 30, 2023
Ray McGinnis
References:
"Doug and The Slugs – About," Doug And The Slugs.ca.
Shelley Arnusch and Cindy Filipenko, Doug And The Slugs Front Man Dead at 53, Pique News Magazine.com, Whistler, BC, October 22, 2004.
John Mackie, Canada's improbable rock star: Toronto-born Singer-songwriter Doug Bennett an Everyman in a Sally Ann Suit, Vancouver Sun, Vancouver, BC, October 19, 2004.
"CKLG Top 30," CKLG 730 AM, Vancouver, BC, April 3, 1980.
"C-FUN Top Thirty," CFUN 1410 AM, Vancouver, BC, May 17, 1980.
For more song reviews on this website visit the Countdown.