#1176: Too Late For Crying by Long John Baldry
Peak Month: February 1982
9 weeks on Vancouver's CFUN chart
Peak Position #18
Peak Position on Billboard Hot 100 ~ did not chart
Long John Baldry was a legendary figure in the early British blues scene. He was born in East London in January, 1941. a beloved mentor and performer, and one of the music world's great eccentrics. John had a knack for discovering talent. Ginger Baker, Jeff Beck and Brian Jones all worked with him early on. Elton John played piano in one of his bands, other Rolling Stones too – Charlie, Ron Wood, and Keith. In 1962, when The Rolling Stones were just getting started, they opened for him in London. Eric Clapton has said many times that John was one of the musicians that inspired him to play the Blues. And for their internationally televised special in 1964, The Beatles invited John to perform his version of 'I Got My Mojo Working'. Rod Stewart, referred to Baldry in his book, The Making of a Legend: "in those days the only music we fell in love with was the Blues, and John was the first white guy singing it, in his wonderful voice. It was the true Blues and everyone looked up to him."
In the late 1950s Baldry was one of the first British singers to perform folk and blues music, and in the early '60s he was the vocalist in two seminal blues bands, Alexis Korner's Blues Incorporated and the Cyril Davies R&B All Stars. The latter became Long John Baldry and the Hoochie Coochie Men. He later formed the groups Steampacket and Bluesology. The latter included an unknown young keyboard player who took the stage name Elton John in Baldry's honour. Although Baldry recorded more than 40 albums, he found little commercial success. His best-known songs were in 1968: "Let the Heartaches Begin" and "Mexico", both big hits in the UK and in South Africa. The former peaked at #20 in Vancouver.
In 1980 he recorded a duet with Kathi McDonald in Seattle, covering the Righteous Brothers hit, "You've Lost That Lovin' Feeling". Afterward, McDonald became part of his touring group for two decades. The cover made the lower reaches of the US Billboard charts but was a top 5 hit in Australia in 1980 (#1 in Melbourne and Brisbane and #3 in Sydney).
In his adopted city of Vancouver, Baldry had a Top 20 hit in 1982 called "Too Late For Crying". The song concerns an apparent break-up resulting in tears. But a persistent feeling tells him that the break-up is a mistake, concluding "all I know is you're the only one." After all the tears he has a sense he has to face the obvious, relax, and move toward a reconciliation.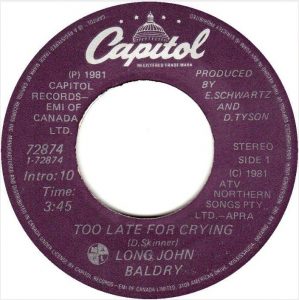 Talking to you on the telephone line,
I wanna be with you today.
I should have known a girl
could play those games,
take them right now,
I can't get away.
Too late for crying,
too late my dear,
tears on my pillow
won't bring you back here.
Too late for crying,
I tell you so,
this feeling inside me
just won't let me go.
All my friends say it is obvious,
what is happening to me.
I've got to face up to reality,
it's getting harder every day.
Too late for crying…
I believe in happiness, comes so very hard,
all I know is you're the only one.
Guess I have to tell myself that time is on my side,
ah, theirs no place to run.
Too late for crying…
In 1987 Baldry had a Top 20 hit in Regina of a cover of the Walker Brothers "The Sun Ain't Gonna Shine Anymore". His album, Right To Sing The Blues, won a Juno Award in the Blues Album of the Year category in the Juno Awards of 1997. Baldry's final UK Tour as 'The Long John Baldry Trio' concluded with a performance on Saturday, November 13, 2004 at The King's Lynn Arts Centre, King's Lynn, Norfolk, England.
Among his friends and industry peers, Baldry was openly gay from the early 60s. However, he didn't "come out" in public until the 1978 after becoming a Canadian citizen. A wise move, as Britain criminalized male homosexuality until 1967. Up until then, a conviction in the UK could lead to forced medication and jail time. Baldry died in Vancouver in July, 2005.
February 21, 2017
Ray McGinnis
References:
Dave Laing, "Long John Baldry: Guitarist and Singer Who was a Key Figure in the British Rhythm and Blues Movement," Guardian, July 23, 2005
Rod Stewart, The Making of a Legend, Long John Baldry.com (from Readers Digest, December 2004)
Mark Kowalk, Resurrecting Long John Baldry: Gay Man Paved the Way for the British Blues Explosion of the 1960s, Extra, December 20, 2007
Peter Feniak, "He Had a Right to Sing the Blues," Globe and Mail, Toronto, Ontario, October 20, 2007
Steve Newton, "30 Years Ago Today: Long John Baldry Tells me that he's not The King of Rock and Roll," Georgia Straight, Vancouver, BC, September 8, 2015
For more song reviews on this website visit the Countdown.