#1241: Touch The Hand by Bryan Adams
Peak Month: June 1992
10 weeks on Vancouver's CKLG chart
Peak Position #19
Peak Position on Billboard Hot 100 ~ did not chart
YouTube: "Touch The Hand"
Lyrics: "Touch The Hand"
Born in Kingston, Ontario, in November 1959, Bryan Adams parents immigrated from the UK in the 1950s. His dad, Captain Conrad J. Adams, was a diplomat in the Canadian foreign service. While growing up his family was posted to Portugal, Austria and Israel. By the age of 15 Adams was playing with the band Sweeney Todd as a frontman. By the time he turned 17, Bryan Adams had landed work as a background vocalist for the CBC. His first salary came from working for Robbie King, a keyboard musician with Motown. During his senior years in high school he began playing music with his guitarist, Keith Scott.
In 1978, at 18, Adams met Jim Vallance through a mutual friend in a Vancouver music store. Vallance was the former drummer and principal songwriter for Vancouver-based rock band Prism. Vallance had recently left Prism to build a career as a studio musician and songwriter. Adams agreed to meet at Vallance's home studio a few days later. This led to the start of a partnership that has lasted nearly four decades. That same year Adams signed a record deal with A&M records for one dollar. Experimenting with pop music fads, as he had with Sweeney Todd's glam rock, Adams first solo single was the disco song "Let Me Take You Dancing".
With the zenith of disco in 1979, Bryan Adams wisely shifted his musical talents to rock n' roll. One of his most successful hits in the 1980s, "Straight From The Heart", was written in the late 70s. Adams had a self-titled debut album in early 1980 which resulted in an indifferent response from rock music critics, though it distinguished his sound from his disco-themed first single release. In 1980 Bryan Adams performed in concert on February 6th at the Savoy Club in Vancouver, and on November 5, 1980, at Whispers in North Vancouver.
His second album, You Want It You Got It, established the mainstream rock sound he has been associated with ever since. The first single release from the album was "Coming Home" followed by "Fits Ya Good". The second single made it to #30 on the Canadian RPM singles chart. The song spent at least 8 weeks on the CHUM AM chart in Toronto where it peaked at #16. In Moose Jaw, the tune climbed to at least #13, based on partial chart information online (it may have climbed into the Moose Jaw Top Ten). It also was a Top 40 hit in Ottawa. But "Fits Ya Good" didn't make the Top 30 on CFUN for hometown boy Bryan Adams.
However, his third single, "Lonely Nights" expanded his fan base here in town. Adams launched a "You Want It, You Got It Tour" which included a concert at the Pacific Coliseum on May 21, 1982. He opened for Loverboy and the Kinks.
In 1983 Bryan Adams performed on four occasions in Vancouver: March 24th at the Commodore Ballroom, March 25th at The Roxy, September 1st at the Pacific Coliseum and September 3rd at BC Place Stadium. On this occasion, Adams was on stage with Journey and the Police.
His next album, Cuts Like A Knife, established an international following. It won him a Juno Award for Album of the Year in 1984. "Straight From The Heart" climbed to #15 on the Billboard Hot 100 and the title cut made it to #10. Adams also enjoyed significant singles and album sales in Australia, the United Kingdom, Switzerland, Sweden and Germany. Both "Cuts Like A Knife" and "Straight From The Heart" were nominated for Single of the Year at the 1984 Juno Awards.
On September 1st and 2nd, 1985, Bryan Adams gave two consecutive concerts at the Pacific Coliseum in Vancouver, together with Tina Turner.
Bryan Adams continued to expand his international following with the release of his fourth album, Reckless. The album was nominated for a Grammy Award in the Best Rock Performance – Male category in 1986. Reckless included six very successful singles: "Run To You", "Somebody", "Heaven", "Summer Of '69", "One Night Love Affair" and a duet with Tina Turner titled "It's Only Love". For that effort Adams and Turner received a Grammy Award nomination for Best Rock Performance by a Duo or Group. To round out a most successful year, Bryan Adams released a Christmas themed single titled "Christmas Time".
On May 3, 1986, Bryan Adams performed at the Expo Theatre as part of Vancouver's Expo '86 – a centennial celebration of the city.
In the late 80s and early 90s Bryan Adams gave three concerts at the 86th Street Music Hall in Vancouver. The first and second on October 18th and 19th, 1989, and the third on October 6, 1991.
Since then Bryan Adams has recorded eleven more studio albums that were all best-sellers. He has charted 33 singles into the Top 30 on the Canadian RPM singles chart. This includes eleven number one singles in Canada, beginning with his international selling signature hits "Everything I Do (I Do It For You)" and "Have You Ever Really Loved A Woman?" Both of these were nominated for Academy Awards in the category of Best Original Song. The former for Robin Hood: Prince of Thieves, and the latter for Don Juan DeMarco. "Everything I Do (I Do It For You)" was nominated for four Grammy Awards, and won for Best Song Written for a Motion Picture, Television or other Visual Media. The single is Adams most successful having sold over 15 million copies. While "Have You Ever Really Loved A Woman?" received two Grammy Award nominations.
To start out 1992, Bryan Adams gave a concert at the Pacific Coliseum on January 31st. In 1992 Bryan Adams' "Can't Stop This Thing We Started" received two Grammy Award nominations. He also released the single "Touch The Hand".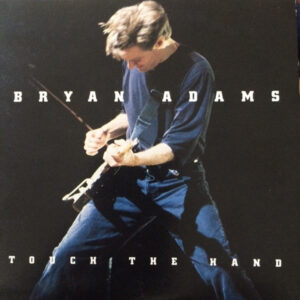 "Touch The Hand" is a track from Bryan Adams sixth studio album Waking Up the Neighbours. The song is about a man who is supportive of women taking a stand and being liberated. In this case, the male narrator of the song offers that he'd be happy to change roles. He'll "do all the shopping, collect your suit, press all the laundry, polish your boots." He imagines the domestic side of their relationship featuring her bringing him flowers, while he meets her at the door after having dinner ready soon after she arrives. As well, he has her slippers in the right place for her to put on.
The list in the reversal of roles expands with each verse in "Touch The Hand". Adams declares "Love to play the woman, love to play your wife." He wears an apron, washes dishes, lights her a cigarette, pours her a drink, turns on the shower, warms her bathrobe. But then the lyrics turn to an odd image as Adams sings "get your shaving lotion." Should the woman in his life want to get unwanted hair off her legs, wouldn't she just use Nair, or some similar product? In a traditional husband and wife relationship back in the day, perhaps the wife got her husband's shaving lotion (or cream) ready so he had a nice warm lather. But the literal role reversal here will only make sense unless the woman in this relationship has a chronic problem with facial hair.
"Touch The Hand" charted to #19 in Vancouver, and charted in San Francisco. While "Touch The Hand" was charting in Vancouver, Bryan Adams gave a concert at Brockton Oval in Vancouver's Stanley Park on September 7th.
In 1993 Adams received a Grammy Award nomination for "There Will Never Be Another Tonight" in the Best Rock Performance category. On March 18th and 20th, 1994, Bryan Adams gave two concerts in Vancouver at the Pacific Coliseum. And in 1995 Adams was in the running at the Grammys' for Best Pop Collaboration with Vocals with "All For Love". That year he gave a concert in Vancouver at General Motors Place on September 19, 1995.
In 1997 Bryan Adams was back at the Grammy Awards with two more nominations for "Let's Make This A Night To Remember" and "The Only Thing That Looks Good On Me Is You".
A third song nominated for Best Original Song at the Academy Awards was in 1997 for "I Finally Found Someone", a song from the film The Mirror Has Two Faces. The song also received a Grammy Award nomination for Best Pop Collaboration with Vocals in 1998. And on February 26, 1998, Adams performed in concert in Vancouver at General Motors Place.
Other notable songs played on oldies stations decades later are "All For Love," a collaboration with Sting and Rod Stewart, and "Please Forgive Me" – the latter nominated at the Junos for Single of the Year in 1995. In 1999 Bryan Adams won a Juno Award for Best Songwriter.
Starting out the new century, Bryan Adams performed in concert at the Queen Elizabeth Theatre in Vancouver on January 24th. And in 2000 he won a Juno for Best Male Artist. On October 10, 2002, and the following year on November 7, 2003, Bryan Adams performed in concert in Vancouver – both times at General Motors Place.
Adams has been awarded the Order of Canada for contributions to popular music and philanthropic work via his own foundation, which helps improve education for people around the world. And in 2006 Adams won a Juno Award for the Canadian Music Hall of Fame. That year he performed on January 18 at General Motors Place in Vancouver.
On March 20, 2008, Bryan Adams came to St. Andrews-Wesley United Church in Vancouver for a concert. On October 1st and 2nd, 2009, Adams gave concerts at the Orpheum Theatre. The following year on August 21, 2010, Bryan Adams appeared in concert as part of the Road to the PNE Tour in Vancouver's Empire Field. On June 12, 2012, January 14, 2015, and again on June 6, 2018, Bryan Adams performed in concert – each time at the Rogers Arena in Vancouver.
As of 2021 he has sold over 100 million records. Adams returns to Vancouver from time to time, but resides in his home in Chelsea, England, and also in his second home in Paris, France. Over the years Bryan Adams has been nominated for 61 Juno Awards, winning 20. His most recent Juno Award was given to him in 2020 for Shine A Light – his 14th studio album – in the category: Adult Contemporary Album Of The Year.
September 11, 2021
Ray McGinnis
References:
Matthew Stadlen, "Bryan Adams: 'My Love Life is Nobody's Business but my Own'," Telegraph, London, UK, October 2015.
Gary James, "Gary James' Interview With Bryan Adams," classic bands.com, 1982.
Bryan Adams, Canadian Bands.com.
"Bryan Adams: Concert Dates in Canada," setlist.fm.
"Vancouver's Official Top 40," CKLG 730 AM, Vancouver, BC, June 22, 1992.
For more song reviews visit the Countdown.