#1167: Town Without Pity by the Wildroot Orchestra
Peak Month: January 1982
7 weeks on CKLG's Vancouver Chart
Peak Position ~ #12
Peak Position on Billboard Hot 100 ~ did not chart
YouTube: "Town Without Pity"
Lyrics: "Town Without Pity"
Around 1971 a band called Wildroot formed in Vancouver (BC). An article by Canadianbands.com identifies Howie Vickers was the lead vocalist, Frank Allison was on guitar, Ian Berry was on keyboards and saxophone, Charles Faulkner was on bass guitar and Jim McGillveray was on drums. who formed in the 70s. Charles Faulkner was previously a member of Mother Tucker's Yellow Duck, a psychedelic rock band from Vancouver (1967-71). Jim McGillveray is credited with being one of the last members of the Painted Ship, a Vancouver (BC) band that folded in 1968. McGillveray, Ian Berry and Frank Allison were all previously members of Vancouver's New Breed, a band that formed in 1966.
Howie Vickers led a band called The Classics who formed in 1964. Initially, they were called The C-FUN Classics. The Classics were part of the regular line-up on Let's Go, a show on CBC-TV. Though the Classics released several singles the group needed room to grow and reformed as The Collectors. They would become one of the most innovative of Vancouver's recording acts through the rest 60s. In the spring of 1967, Vickers was asked to put together a house band at the Torch Cabaret in Vancouver. Along with Claire Lawrence on horns, they recruited guitarist Terry Frewer, drummer Ross Turney and Brian Newcombe on bass. Within a couple of months, fellow Classics member Glenn Miller replaced Newcombe on bass and Bill Henderson, a student at UBC, replaced Frewer on guitars. With Vickers now handling vocals, their sound changed from doing covers of R&B tunes to psychedelic rock. From 1967 to 1969 the Collectors charted over a half a dozen songs onto the local pop charts in Vancouver.
Howie Vickers left the Collectors in 1969. He released several singles as a solo artist, including "Rum Diddy", a Top Ten hit in Medicine Hat (AB) in the August 1970. Vickers was also a member of the Eternal Triangle, who had a Top 30 hit in Vancouver in 1966 titled "It's True".
Wildroot began to play at the Landmark Hotel Jazz Bar at 12th and Cambie, as well as Fowler's Rest Home. The band released a cover of the old Louis Armstrong and Fats Domino classic "Blueberry Hill". The single climbed to #13 on the CKLG Top 30 in June 1972. The band also wrote and performed commercial jingles for the local radio market.
As the decade came to an end, Wildroot had morphed into an actual big band. They also renamed themselves the Wildroot Orchestra. They included Peter Padden on vocals, Jim McGillveray on vocals and drums, Charlie Faulkner on bass guitar and vocals, Ted Borowieki on piano, Doug Edwards on guitar, Herb Besson on trombone, Blaine Dunaway and Jaimie Croil on trumpet and Tom Keenlyside on saxophone and reeds, Ian Berry on saxophone and keyboards, Frank Allison on guitar and vocals, Miles Black on keyboards and Howie Vickers on vocals. While Peter Padden had previously been a member of a Victoria (BC) band called The Coachmen from 1964-67.
In the spring of 1981 they released a cover of the 1940s big band hit by Glenn Miller titled "In The Mood". The single featured a cameo vocal by Tom Lavin of the Powder Blues Band. The single peaked at #6 on CKLG for four consecutive weeks. An executive with Attic Records heard the Wildroot Orchestra and they were signed up soon after. The Wildroot Orchestra made an album that included swing versions of pop songs. One of these was "Town Without Pity".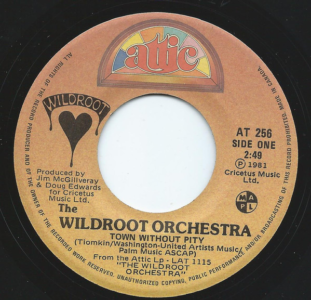 "Town Without Pity" is the theme song for the 1961 film of the same title starring Kirk Douglas. It was based on the 1960 novel Das Urteil (The Verdict) by German writer Gregor Dorfmeister who wrote under the pen name Manfred Gregor. The American adaptation of the film was written without credit by Dalton Trumbo, one of the Hollywood Ten who were blacklisted by the Congressional House Un-American Activities Committee in 1947. The film takes place in September 1960. Four American soldiers leave their army base late one afternoon near a small town in American Occupied Germany (an area that included Nuremburg, Munich, Frankfurt and Stuttgart) and visit the Florida Bar. They have a lot to drink and wander into a nearby forest where they notice sixteen-year-old Karin in her bikini. She has an argument with her 19-year-old boyfriend and swims across the river. The four soldiers gang-rape her while one of them knocks her boyfriend unconscious by the riverbank.
The soldiers are eventually convicted of rape, though one of the four (Corporal Jim Larkin played by Robert Blake) gets a lesser charge of six-years, given his attempt to plead guilty during the trial, against the advise of his lawyer (Kirk Douglas). Despite the conviction, many townspeople turn against Karin, presuming she deserved being raped by being provocative. Police stop Karin and her boyfriend Frank Borgmann who are trying to leave the town on a motorcycle. All the townsfolk stand and watch while it becomes clear they won't be allowed to leave. Recognizing that her parents are arguing all the time, mostly because of her, and her spoiled reputation, Karin runs from the scene with the police officer and drowns herself near the place where she was raped. In the film the town without pity concerns the townsfolk who choose to blame Karin for being raped.
The lyrics for "Town Without Pity" open with the line "When you're young and so in love as we and bewildered by the world we see, why do people hurt us so, only those in love would know what a town without pity can do." In the case of the film, Karin and Frank have known each other their whole lives. They are falling in love, but Frank is not interested in pursuing a sexual relationship, while Karin is. Their "love" is a bit complicated. The people who are hurtful in the film are the American soldiers. And the town without pity is represented in the uncharitable attitude the townsfolk have toward Karin.
But for people who didn't see the film Town Without Pity, the song played on the radio had a different nuance. The couple in the songs' lyrics have problems and need understanding hearts on the part of those who are family and friends. But the world they live in is full of "little minds" who talk about how bad the couple is if they "stop to gaze upon a star." Young people in love are "bewildered," perplexed and confused by the reaction to their efforts to get romantically involved. They want the adults in their lives "to help us, try to help us, before this clay and granite planet falls apart." The young couple in the song's lyrics are confronted with a town that doesn't support young love and chooses instead to judge it.
"Town Without Pity" was one of a number of songs in the '50s and early '60s that lamented a generational divide where adults didn't understand teenagers. Other songs include "Too Young" by Nat King Cole, "Puppy Love" by Paul Anka, and "Why Don't They Understand" by George Hamilton IV.
"Town Without Pity" was co-written by Dimitri Tiomkin and Ned Washington. Dimitri Zinovievich Tiomkin was born in 1894 in Kremenchuk, Russia, in what is now part of southern Ukraine. He learned piano and was classically trained from childhood. He studied classical music in St. Petersburg. Tiomkin supported the Russian Revolution, but moved to Berlin in 1921 when there was little work for classical musicians in the new Soviet Union. From Berlin he moved to Paris in 1924 and crossed the Atlantic for New York in 1925. While in New York City he gave recitals at both Town Hall and also Carnegie Hall. He moved to Hollywood after the stock market crash of 1929. His first major film score was the 1933 film Alice In Wonderland. In 1937 he began with with Frank Capra and scored Lost Horizon. In 1940 he was nominated for an Academy Award for Best Music, Scoring for Mr. Smith Goes To Washington. Other films with Capra included Meet John Doe and It's A Wonderful Life. He worked with other directors, for example Alfred Hitchcock beginning Shadow of a Doubt and Strangers On A Train.
Meanwhile, Dimitri Tiomkin continued to earn more Academy Award nominations. But it was his sixth nomination in 1953 that won him the Academy Award for Best Music, Scoring of a Dramatic or Comedy Picture for High Noon (1952). In the same film he shared an Oscar with Ned Washington for "Do Not Forsake Me, Oh My Darling" in the Best Music, Original Song category. In the film the song was sung by Tex Ritter. Tiomkin won another Academy Award in 1955 for Best Music, Scoring of a Dramatic or Comedy Picture for the film The High And Mighty. While his 1957 and 1958 Academy Award nominations for "Friendly Persuasion" (sung by Pat Boone) and "Wild Is The Wind" (sung by Johnny Mathis) didn't get him another Oscar, Tiomkin won his fourth Academy Award in 1959 for his scoring of The Old Man and The Sea. starring Spencer Tracey and based on the novel of the same name by Ernest Hemingway.
Other films Timokin scored in the '50s include Dial M For Murder and Giant. In 1962, when Tiomkin was nominated for an Academy Award for composing the music for "Town Without Pity", it was his 17th nomination. His final and 21st Academy Award nomination was in 1972 for Best Music, Scoring Adaptation and Original Song in the film Tchiakovsky. Spending his final twelve years in London and Paris, Tiomkin died at the age of 85 in 1979. The New York Times reported that Dimitri Tiomkin composed scores for over 160 films.
The other lyric writer for "Town Without Pity" was Ned Washington. Edward Michael Washington was born in Scranton, Pennsylvania, in 1901. He began his career as a vaudeville Master of Ceremonies. Washington both introduced acts and also was an agent for a number of them. His first success came in 1928 with the song "Singing in the Bathtub," which was included in the musical revue Earl Carroll Vanities of 1929. In 1932 he wrote "I Don't Stand A Ghost Of A Chance With You", a Top Five hit for Bing Crosby in 1933. In 1934 he got a contract with MGM studios. That year he wrote "I'm Getting Sentimental Over You", a hit for Tommy Dorsey. In 1938 Washington wrote "The Nearness Of You" which became a Top Five hit for the Glenn Miller Orchestra featuring vocals by Ray Eberle. In 1940 Ned Washington won an Academy Award for Best Song for "When You Wish Upon A Star". He also received an Academy Award for Best Original Music Score for Pinocchio.
Ned Washington received An Academy Award in 1952 (together with Dimitri Tiomkin) for "The Ballad Of High Noon" (Do Not Forsake Me, Oh My Darling). He and Tiomkin shared Academy Award nominations for "Wild Is The Wind"(1958) and Strange Are The Ways Of Love" from the 1959 film The Young Land. Though Tiomkin's score for The High And Mighty won an Academy Award in 1955, Ned Washington's song "The High And Mighty" got a nomination, but didn't win an award. Ned Washington also was nominated for Best Original Song in 1941 for "Baby Mine", in 1943 for "Saludos Amigos", in 1944 for "Rio De Janeiro", in 1949 for "My Foolish Heart" and in 1953 for "Sadie Thompson's Song (Blue Pacifc Blues)". Ned Washington died in 1976 at the age of 75.
"Town Without Pity" by the Wildroot Orchestra peaked at #12 in Vancouver (BC).
Though their debut album sold well, Attic Records dropped the Wildroot Orchestra in 1983. The band appeared in concert at the Orpheum, and managed to record a follow-up album despite having no major label. Wildroot Two included a swing version of "Hey Little One", a hit for Dorsey Burnette in 1960. Among the new musicians contributing on the album were Jane Mortifee on percussion and Kat Hendrikse on drums.
Canadianbands.com notes that after the band split up, Blaine "Dunaway moved to Kelowna and became a music teacher. [Peter] Padden formed Jupiter Productions. [Tom] Keenlyside hooked up with on-again off-again…over the years [with] Miles Black to form Altered States for one album. [Jim] McGillevary, Keenlyside, and [Kat] Hendrikse then formed Skywalk a few years later, also good for one jazz-oriented album. Faulkner left the business all together for nearly a decade, then returned with his new project, Dog Skin Suit. He passed away in the early '00s. Ian Berry succumbed May 2, 2008 to lung cancer."
August 12, 2020
Ray McGinnis
References:
Pattie Bessett, Wayne Hamilton, Shaun Mackey and Steve Newton, "Wildroot Orchestra," CanadianBands.com.
"Wildroot Orchestra," pnwbands.com.
Allen Hughes, "Dimitri Tiomkin Dies, Wrote Film Scores: Russian-Born Composer Won Four Oscars, Including 'High Noon' and 'High and Mighty'," New York Times, November 14, 1979.
Warren M. Sherk, "Dimitri Tiomkin Biography," dimitritiomkin.com.
"Dimitri Tiomkin Filmography," dimitritiomkin.com.
"Ned Washington Biography," Songwriters Hall of Fame.
"Town Without Pity," Wikipedia.org.
"CKLG Top 20," CKLG 730 AM, Vancouver, BC, January 20, 1982.
For more song reviews visit the Countdown.