#1412: Tricia Tell Your Daddy by Andy Kim
Peak Month: May 1969
6 weeks on CKLG chart
Peak Position #17
Peak Position on Billboard Hot 100 ~ #110
YouTube.com link: "Tricia Tell Your Daddy"
Lyrics: "Tricia Tell Your Daddy"
Andy Kim's father came from Lebanon to Pennsylvania and finally settled in Montreal, where Kim was born in December 1946. Around the age of 15 Andrew Youakimm became fascinated with the music business in New York City. He'd travel from Montreal to the Big Apple by bus or train and try to figure out how to break into the music industry. He bought copies of Billboard Magazine, Cashbox Magazine and other trade papers to see which record companies had hits on the pop charts. Kim recalls in an interview with Entertainment Week, September 21, 1974, "I figured those were the companies I would go to. I went to the A and R department of Paramount Records. I told the receptionist I had a meeting that afternoon but I just came by that morning to see the A and R man. She asked if I had a demo and I said yes. She sent me down a corridor to this man and I said 'I'm sorry, but I don't know what a demo is.' He asked if I wrote songs or played an instrument. (I said) no. He said what the business involved and I should not trick my way into places."
Andy Kim began to experiment with songs taking an uptempo tune and making it a ballad. "I'd rearrange songs figuring it would change the personality of the song. I would look up publishers and ask for songs from their top writers. I didn't get them (the songs from the top writers, so) I decided to write songs too. I discovered a talent I didn't know I had."
Andy Kim got his first record released in 1963 with "I Loved You Once" on United Artists Records. He had two more non-charting singles on two other record labels in the mid-60's. But when Andy Kim signed with Steed Records in 1968 his first single release, "How'd We Ever Get This Way", was a Top 30 hit. It would be the first of eleven releases with the record label between 1968 and 1971.
The fourth single release on the Steed label was Kim's most political, "Tricia Tell Your Daddy".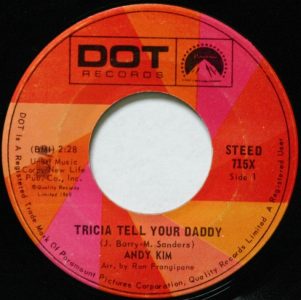 Tricia tell your daddy,
on a family Sunday morning,
when he comes downstairs a-yawning from his bed.
Tricia tell your daddy,
when there ain't no politicians,
and there ain't no competition for his head.
Tell him he's the man Tricia,
the world is in his hands Tricia.
Tell him that you're not his only child,
'cause he's everybody's daddy for awhile.
Tricia tell your daddy,
in a way he's never heard now,
use the little words like love and peace.
We're glad we reached the moon,
but didn't it cost a lot,
when some folks down here ain't got enough to eat.
Tricia tell your daddy,
it's gonna take more than trying,
to end the people dying needlessly.
Tell him he's the man Tricia,
the world is in his hands Tricia.
Tell him that you're not his only child,
'cause he's everybody's daddy for awile.
Tricia, tell your daddy,
Tricia, tell your daddy,
Tricia, tell your daddy.
Tricia Nixon was born in 1946 and was the daughter of Richard Nixon, a career politician who had been the Vice-President under President Dwight Eisenhower. She graduated from high school in 1968 and accompanied her father on campaign stops in the 1968 US Presidential election. Her public role was purely ceremonial in contrast to her younger sister, Julie, who was more involved in politics.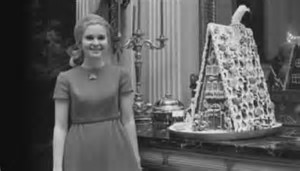 On January 20, 1969, Richard Milhouse Nixon was sworn in as the 37th President of the United States of America. At his inauguration he was sworn in by his onetime political rival, Chief Justice Earl Warren. Nixon's wife, Pat, held the Nixon family Bible open at Isaiah 2:4 and read its words: "They shall beat their swords into plowshares, and their spears into pruning hooks." In his inaugural address, which received almost uniformly positive reviews, Nixon remarked that "the greatest honor history can bestow is the title of peacemaker." That phrase that would later be placed on Nixon's gravestone. The newly elected president spoke about turning partisan politics into a new age of unity: In these difficult years, America has suffered from a fever of words; from inflated rhetoric that promises more than it can deliver; from angry rhetoric that fans discontents into hatreds; from bombastic rhetoric that postures instead of persuading. We cannot learn from one another until we stop shouting at one another, until we speak quietly enough so that our words can be heard as well as our voices. In the song "Tricia Tell Your Daddy", Andy Kim builds on Richard Nixon's own appeal to being a peacemaker at his inauguration, and suggests to his daughter, Tricia, that she speak to her father, the President of the USA, about love and peace.
Over the course of his presidency that ended in 1974 as a result of the Watergate scandal, Nixon reached detente with the Soviet Union and signed an anti-ballistic missile treaty with the USSR. He also opened diplomatic relations with China and ended the military draft in America. In March 1969 Nixon secretly gave the green light to begin carpet bombing the independent county of Cambodia in a U.S. military campaign called Operation Menu, drawing Cambodia into the Vietnam War. The bombing campaign began on May 18, 1969. The revelations of Operation Menu would not come to light until 1973. Though Andy Kim didn't know about Operation Menu there was enough information on the nightly news in 1969 about people dying in the Vietnam War calling into question the wisdom of war as a strategy to deal with international disputes.
In the spring of 1969 America's NASA space program launched several missions, Apollo 9 and Apollo 10. These launches on March 3 and May 18 captured the imagination of the American populace. The second space launch was preparation for an actual landing on the moon that was televised when the Apollo 11 lunar space craft landed on July 20. America was seen to be capable of amazing scientific and technological advances to help human progress. In Kim's song he sings "We're glad we reached the moon, but didn't it cost a lot, when some folks down here ain't got enough to eat." The sentiment reflected a common view that much as it was great that America had been the first nation to land a "man on the moon," beating the Soviets, there were still a lot of societal problems, like world hunger, that needed immediate attention back on planet earth. The song reminded listeners that the President of the United States was a uniquely powerful person whose nation had an incredible capacity for good if it marshaled its resources.
The same month "Tricia Tell Your Daddy" was climbing up the record charts in radio markets across Canada, a song Andy Kim co-wrote was released that would become the number one song of the year. That song was by a cartoon group named The Archies and the song was "Sugar Sugar", the polar opposite of a social commentary song like "Tricia Tell Your Daddy". Also in 1969, Kim charted his first song into the Top Ten on the Billboard Hot 100 called "Baby I Love You". Between 1968 and 1975 Andy Kim charted 13 singles into the Top 30 in Vancouver. His biggest hit was "Rock Me Gently", a #1 hit in the USA. It was seen as a come-back record. However, Andy Kim felt since his hit-making status had not been significant in terms of sales, especially in the USA, there was not much to come back from.
Since her father, Richard Nixon, resigned from the White House over the Watergate Scandal in August 1974, Tricia Nixon has led a private life outside of the eye of TV cameras and political events. She sits on the board of the Richard Nixon Foundation at the Nixon Library in Yorba Linda, California. In 1971 she married Edward Cox who is the current chairman of the New York State Republican Party. They live in Long Island.
In the 80's Kim recorded several albums under the pseudonym Baron Longfellow. Since the 90's Andy Kim had regularly performed in concert under his familiar hit-making name. Since 2003 he has added three more studio albums to his resume, for a total of eight.
July 14, 2017
Ray McGinnis
References:
Andy Kim, Canadian Bands.com
About Andy Kim, Andy Kim Music.com
Martin Melhuish, Andy Kim: 2016 Inductee to Canadian Music Industry Hall of Fame, FYI Music News, October 27, 2015.
Brad Wheeler, "Andy Kim and Kevin Drew: Musical Romantics," Globe and Mail, December 13, 2011.
President Richard M. Nixon, Inaugural Speech, Washington D.C., January 20, 1969.
Rolling Stone Editors, "The Making of the President's Daughter: The White House romance of Tricia Nixon and Edward Finch Cox," Rolling Stone, June 24, 1971.
"U.S Bombs Cambodia for the First Time – Mar 18, 1969," History.com, A&E Networks, New York, NY.
"Boss 30," CKLG 730 AM, Vancouver, BC, May 16, 1969.
For more song reviews visit the Countdown.