#1303: True Love by Richard Chamberlain
Peak Month: July 1963
7 weeks on Vancouver's CFUN chart
Peak Position ~ #11
Peak Position on Billboard Hot 100 ~ #98
YouTube: "True Love"
Lyrics: "True Love"
George Richard Chamberlain was born in 1934 in Beverly Hills, California. After high school graduation in 1952, he studied acting at a college in Pomona. But, he was drafted in December 1952, and sent to fight in the Korean War. He rose to the rank of sergeant. In 1959, Richard Chamberlain appeared in an episode of Alfred Hitchcock Presents. The following year, he made a guest appearance in the crime-drama series Rescue 8, about the Los Angeles County Fire Department. Other guest appearances in TV shows in the early '60s include Gunsmoke, the crime series Bourbon Street Beat, Thriller hosted by Boris Karloff, The Deputy starring Henry Fonda, and another western titled Whispering Smith. In 1960, Chamberlain starred opposite Richard Falk in The Secret of the Purple Reef. In 1961, Chamberlain starred with Charles Bronson, Slim Pickens, and Duane Eddy in the western A Thunder of Drums.
But, his big breakthrough was being cast in the role of a young medical intern named Dr. James Kildare in the TV series Dr. Kildare. The series was based on the 1937 film Interns Can't Take Money, which spawned nine Dr. Kildare films between 1938 and 1941. These included Calling Dr. Kildare and The Strange Case of Dr. Kildare. The TV series aired on September 28, 1961, and continued for 191 episodes until August 1966. NBC, at one point, promoted the show by having "Dr. Kildare" paged as if he were a real doctor on the public announcement system in airports, train stations, and bus stations across the United States. Dr. Kildare got as many as 12,000 letters from fans each week. Chamberlain as Kildare appeared in ads selling including the novel The Young Kildare. There was a Dr. Kildare comic book series from 1962 to 1965. Additionally, a Dr. Kildare comic strip lasted from October 1962 to April 1984. And there were toys and games, a Dr. Kildare chocolate candy bar, and records of Chamberlain singing songs featured on the show.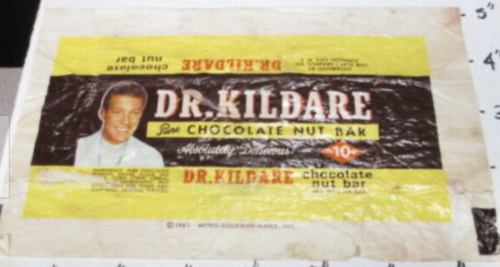 Dr. Kildare Chocolate Nut Bar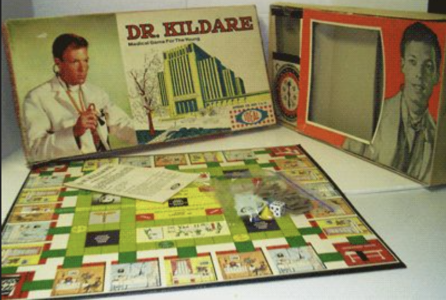 Dr. Kildare board game for ages 7 to 12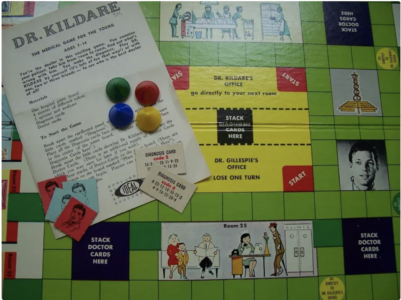 Dr. Kildare board game instructions and graphic of board

Dr. Kildare's Thumpy the Heartbeat Stethoscope
Richard Chamberlain had a hit single that made the Top Ten on the Billboard Hot 100 in July 1962 titled "Theme from Dr. Kildare (Three Stars Will Shine Tonight)". The single peaked at #7 in Vancouver in June 1962. In the fall of 1962, Chamberlain covered Elvis Presley's 1956 number-one hit "Love Me Tender", which climbed to #22 in Vancouver.
In 1962, Chamberlain appeared as a mystery guest in What's My Line. He was also a presenter at the 34th Academy Awards. In early 1963, Chamberlain's cover of the Everly Brothers number-one hit from 1958, "All I Have To Do Is Dream", climbed to #12 in Vancouver. Concurrently, in Toronto Richard Chamberlain's cover of "Hi-Lili Hi-Lo" climbed to #7. His next single release was "True Love".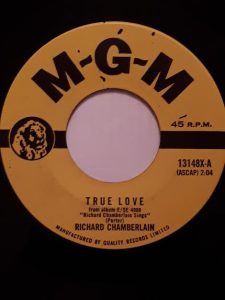 "True Love" was written by Cole Porter. The song was recorded by Bing Crosby and Grace Kelly and climbed to #3 on the Billboard pop chart in 1956. It was nominated for an Academy Award for Best Original Song, but lost out to "Que Sera Sera" from the film The Man Who Knew Too Much.
Cole Albert Porter was born in 1891 in Peru, Indiana, north of Indianapolis. He learned the violin at age six, the piano at eight, and wrote his first operetta (with help from his mother) at ten. After attending a Massachusetts boys private school, Worcester Academy, and being the class valedictorian, Cole Porter travelled to France, Germany and Switzerland in 1908. The following year, Porter went to Yale and majored in English, with a minor in music. He was a member of the a cappella Whiffenpoofs choral group in its inaugural year in 1909. Porter wrote 300 songs while at Yale, including student songs such as the football fight songs "Bulldog" and "Bingo Eli Yale" (aka "Bingo, That's The Lingo!") that are still played at Yale. During college, Porter became acquainted with New York City's vibrant nightlife, taking the train there for dinner, theater, and nights on the town with his classmates, before returning to New Haven, Connecticut, early in the morning.
In 1913, Porter enrolled in law school at Harvard. But, he wasn't interested and switched to music – a move that was kept secret from his grandfather J. O. Cole, coal baron on Indiana. In 1915, Porter's first song on Broadway, "Esmeralda", appeared in the revue Hands Up. The quick success was immediately followed by failure. His first Broadway production, in 1916, See America First, a "patriotic comic opera" modeled on Gilbert and Sullivan, ran only for two weeks. In 1917, when the United States entered World War I, Porter moved to Paris to work with the Duryea Relief organization.

Porter maintained a luxury apartment in Paris, where he entertained lavishly. His parties were extravagant and scandalous, with "much homosexual and bisexual activity, guests of the Italian nobility, cross-dressing, international musicians and a large surplus of recreational drugs." In 1918, he met Linda Lee Thomas, a rich, Louisville, Kentucky-born divorcée eight years his senior. She was beautiful and well-connected socially. The couple shared mutual interests, including a love of travel, and she became Porter's confidante and companion. The couple married the following year. She was in no doubt about Porter's homosexuality, but it was mutually advantageous for them to marry. For Linda, it offered continued social status and a partner who was the antithesis of her abusive first husband. It also gave Cole Porter cover in an era when same-sex attraction was taboo.
During his marriage, Cole Porter had relationships with Grenadian singer and film star Leslie "Hutch" Hutchison; Ukrainian writer Sam Spewack who collaborated with Cole Porter on Kiss Me Kate; Austrian composer Erich Wolfgang Korngold; American dancer Harold Lang (born 1920); American actors Jack Whiting and Monty Woolley; And Russian author Boris Kochno. Some of Porter's lyrics later hinted at his predicament. In "I've Got You Under My Skin," the note of sexual infatuation is cherished but not easily transmuted into domesticity. "I tried so not to give in. I said to myself this affair never will go so well….I'd sacrifice anything come what might for the sake of having you near. In spite of a warning voice that comes in the night, and repeats, repeats in my ear. Don't you know little fool, you never can win. Use your mentality. Wake up to reality."
In October 1919 Cole Porter's musical revue Hitchy-Koo of 1919, opened at the Liberty Theatre on Broadway. It was the third of four of his Hitchy-Koo revues, and most successful. But in the following years, Porter struggled to win critical acclaim and mostly put on performances at private parties for Manhattan's high society.
In 1928, Cole Porter's Broadway musical Paris was a hit. The show included "Let's Misbehave" and "Let's Do It, Let's Fall In Love". His 1929 Broadway musical Fifty Million Frenchmen included the song "You Do Something To Me". The 1930 production of The New Yorkers at the Broadway Theatre included the song "Love For Sale". In 1932, Porter wrote the songs for Fred Astaire's last stage musical The Gay Divorcee, which included "Night And Day". In 1934, the Alvin Theatre ran Anything Goes, featuring Porter's songs "I Get A Kick Out Of You", "Anything Goes", "All Through The Night" and "You're The Top". In 1935 Jubilee opened at the Imperial Theatre and featured "Begin The Beguine" and "It Was Just One Of Those Things". In 1938, his musical Leave It To Me included "My Heart Belongs To Daddy". And in 1939, Bert Lahr starred in DuBarry was a Lady, a risqué production that included the song "Well Did You Evah!". His 1941 musical Let's Face It ran for 547 nights at the Imperial Theatre, and featured the song "Ace In The Hole". The 1944 Broadway musical Seven Lively Arts featured "Everytime We Say Goodbye".
In Hollywood, Cole Porter's music appeared in Adios, Argentina (1934) with "Don't Fence Me In", and Born to Dance (1936) with "You'd Be So Easy To Love" and "I've Got You Under My Skin". In 1937 the film Rosalie featured "In The Still Of The Night".
Some thought by the mid-40s, Cole Porter's best years were behind him. But in 1948, the musical Kiss Me Kate featured more songs that became pop standards. These include "Always True To You In My Fashion", "Tom, Dick or Harry" and "Too Darn Hot". In 1949, Kiss Me Kate won the first Tony Award given for Best Musical. In 1950, the musical Out of This World featured the jazz standard "From This Moment On". In 1953, "It's Alright With Me" and "I Love Paris" were among the songs from the musical Can-Can. Cole Porter's last song in a film was "Ça, C'est L'amour" in the 1957 film Les Girls. It was a minor pop hit that year for Tony Bennett.
Over his career, Cole Porter wrote for nine films and 24 Broadway musicals. In October 1964 Cole Porter died of kidney failure at the age of 73. In 1965, Judy Garland performed a medley of Porter's songs at the 37th Academy Awards.
In "True Love" the romantic couple remark "Oh, how lucky we are." They have a "guardian angel on high with nothing to do" but to give them each "love forever true." And the trajectory just keeps unfolding toward that horizon of bliss, of love on top of love: "So on and on it will always be." But, the song is sung from the vantage point of "honeymooners at last alone." So, they are singing this song to each other just after the wedding and on their first holiday as a wedded couple. What song might they sing 5 years on? Or on their tenth anniversary? Or silver anniversary, assuming "it will always be" turns out to be true?
"True Love" peaked at #7 in Montreal, #11 in Vancouver, and #13 in Spokane (WA). "True Love" has also been recorded by Elvis Presley, Ricky Nelson, Jane Powell, Shelley Fabares, Patsy Cline, Jack Jones, George Harrison, Elton John & Kiki Dee, Al Hirt, the Everly Brothers, Nancy Sinatra, Neil Diamond, Anne Murray and others.
In the summer of 1963, Richard Chamberlain's song "I Will Love You" was a Top 20 hit in Montreal, and a Top 30 hit in Ottawa. And in the winter of 1963, Chamberlain had a #2 hit in Montreal with "Blue Guitar". The B-side was "They Long To Be Close To You". Chamberlain's B-side was covered as a breakout number-one hit for the Carpenters in 1970. "Blue Guitar" was from the film, Twilight of Honor. It featured Chamberlain in his first starring role opposite Claude Rains. The films' poster exclaimed, "Richard Chamberlain as a fearless trial lawyer in a drama of love, courage and murder!" In 1963, Chamberlain won a Golden Globe Award for Best TV Star – Male for: Dr. Kildare.
In 1965, Chamberlain was a presenter at the Academy Awards. He made guest appearances on The Bob Hope Show, The Andy Williams Show, The Carol Burnett Show, The Sammy Davis Jr. Show, Perry Como's Kraft Music Hall, The Joet Bishop Show, and The Eamonn Andrews Show. In 1966, Chamberlain was cast in a lead role opposite Mary Tyler Moore, and Larry Kert (Tony in 1957 Broadway production of West Side Story) in the Broadway production of Breakfast at Tiffany's. However, after four previews at the Majestic Theatre at 245 W. 44th Street, the show closed. On a daily basis, the cast was given new material hours before curtain time, and the piece was overly long, running nearly four hours.
In 1969, Chamberlain starred with Katherine Hepburn in The Madwoman of Chaillot. As well, in 1969, he played in the role of Hamlet at the Birmingham Repertory Theatre.
In the 1970s, Richard Chamberlain was a guest on The Dick Cavett Show, The David Frost Show, Dinah's Place, and The Mike Douglas Show. In 1971 he appeared opposite Glenda Jackson in the British film The Music Lovers. And in 1972, Chamberlain starred in another British film with Lawrence Olivier titled Lady Caroline Lamb. Other acting roles included The Three Musketeers and The Towering Inferno.
In the 1980s, Chamberlain began appearing in the 1980 mini-series Shōgun. In 1981, he won a Golden Globe award for Best Performance by an Actor in a TV-Series – Drama for: Shogun (1980). And in 1983, he won critical acclaim for his acting in another mini-series The Thorn Birds. In 1984, he won a Golden Globe award for Best Performance by an Actor in a Mini-Series or Motion Picture Made for TV for: The Thorn Birds (1983).
Later he appeared in the TV series The Bourne Identity (1988). On the movie screen, audiences saw Richard Chamberlain in starring roles in King Solomon's Mines, and Allan Quatermain and the Lost City of Gold. In the latter film, one of the other stars – Martin Rabbett – was in a relationship with Richard Chamberlain from 1977 to 2010.
In 1993, Richard Chamberlain returned to Broadway in the musical production of My Fair Lady. And in 1998, Chamberlain played Captain Von Trapp in a Broadway production of The Sound of Music. He also made guest appearances in the TV shows Will & Grace and The Drew Carey Show.
In 2007, Chamberlain was cast in the comedy I Now Pronounce You Chuck & Larry. The film was a 'buddy' story about two New York City firefighters who pretend to be a gay couple in order to ensure one of their children can receive healthcare. However, things go from bad to worse when an agent decides to verify their story. Chamberlain's co-stars included Steve Buscemi, Adam Sandler and Dan Aykroyd. And in 2011, Chamberlain appeared in the film The Perfect Family.
July 9, 2022
Ray McGinnis

References:
Steven McElroy, "At 80 Richard Chamberlain is Ready to Speak Volumes," New York Times, November 30, 2014.
Adam Gopnik, "The Pleasure and Pain of Being Cole Porter," New Yorker, January 13, 2020.
"Charles G. Dawes," Wikipedia.org.
"Cole Porter Is Dead, Songwriter was 72," New York Times, October 16, 1964.
"Dr. Kildare (TV series)", Wikipedia.org.
"C-FUNTASTIC FIFTY" CFUN 1410 AM, Vancouver, BC, June 29, 1963 – "True Love" peaked at #11
"C-FUNTASTIC FIFTY," CFUN 1410 AM, Vancouver, BC, June 16, 1962 – "Theme From Dr. Kildare" peaked at #7
For more song reviews visit the Countdown.