#626: True Grit by Glen Campbell
Peak Month: August 1969
6 weeks on CKLG's Vancouver Chart
Peak Position ~ #3
1 week Hit Bound
Peak Position on Billboard Hot 100 ~ #35
YouTube.com: "True Grit"
"True Grit" lyrics
Glen Travis Campbell was born in 1936 in the village of Billstown, Arkansas. His dad was a sharecropper. He moved to Albuquerque, New Mexico, and at the age of 18 joined his uncle's band, Dick Bills and the Sandia Mountain Boys. Campbell also had guest spots on a local KOB children's TV show, K Circle B Time. In 1958, Campbell formed the Western Wranglers. In 1960 he moved to LA and joined The Champs of "Tequila" fame. Campbell also became a session musician in a group that would become known as The Wrecking Crew. During this time Glen Campbell played on recordings for Bobby Darin, Ricky Nelson, Dean Martin, Nat King Cole, The Monkees, Nancy Sinatra, Merle Haggard, Jan and Dean, Elvis Presley, Frank Sinatra and others. He recorded his first single in 1961 titled "Turn Around Look At Me." In the mid-60's Campbell appeared as a regular on Shindig!and Hollywood Jamboree. He also was a studio musician for The Beach Boys 1966 album, Pet Sounds, and for four months was a member of The Beach Boys and went on tour with them when Brian Wilson was ill. That same year Campbell was part of a backing band for Rick Nelson on a tour of the Far East.
In 1965, Campbell appeared as part of a band in the film drama Baby The Rain Must Fall, starring Lee Remick and Steve McQueen. The film, concerning a rockabilly singer who goes to jail after stabbing a man in a bar during a drunken brawl, featured the Glen Yarborough Top 20 hit "Baby The Rain Must Fall". In 1967, Campbell appeared in The Cool Ones, a film concerning a millionaire rock promoter who teams up with a pop singer and a dancer in a romantic match as a publicity stunt for a new television series.
By 1967 Glen Campbell had his first song climb into the Top 30 of the Billboard Hot 100, "By The Time I Get To Phoenix," which peaked at #26. He won several Grammy Awards in 1968 for the song: Best Contemporary Male Solo Vocal Performance and Best Vocal Performance, Male. In addition, he won two Grammy Awards for "Gentle On My Mind": Best Country & Western Solo Vocal Performance, Male, and Best Country & Western Recording. With a handful of Grammy Awards Glen Campbell's next and twelfth album, Witchita Lineman, was highly anticipated. It included the title track and "Dreams Of The Everyday Housewife," as the two single releases from the album.
After he recorded "Dreams Of The Everyday Housewife," Glen Campbell gained more fame as both a country and pop singer. In October 1968, Campbell released "Wichita Lineman", which climbed to #1 on the Billboard Country chart, on CKLG in Vancouver and #3 on the Billboard Hot 100. He had a Top 20 duet with Bobbie Gentry titled "Let It Be Me". Next he recorded a Vietnam War protest song called "Galveston", written by Jimmy Webb. The song originally had the lyrics "Wonder if she could forget me/I'd go home if they would let me/Put down this gun/And go to Galveston." But Glen Campbell altered "Put down this gun" to "I clean this gun," connoting a soldier more content to remain at his post. The song climbed to #1 on CKLG in early April 1969 in Vancouver and #4 on the Billboard Hot 100. In June '69, Glen Campbell had a #7 hit in Vancouver with "Where's The Playground Susie." The tune stalled at #26 in the USA.
In the summer of 1969, Campbell starred opposite John Wayne and Kim Darby in the Western drama True Grit. The title song from the film was Glen Campbell's next Top 40 hit, debuting on July 18th on the CKLG Boss 30. It peaked at #3 in Vancouver on August 15, 1969, kept out of the #1 spot by the Rolling Stones "Honky Tonk Woman" and Jackie DeShannon's "Put A Little Love In Your Heart".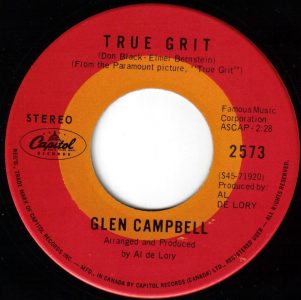 "True Grit" was performed by Glen Campbell with the Wrecking Crew as his backing band. The song was sung by Campbell as the opening credits began in the 1969 film. The Paramount Pictures film was based on the Charles Portis novel of the same name. The novel, True Grit, is narrated by Mattie Ross, churchgoing elderly spinster distinguished by intelligence, independence, and strength of mind. She recounts the story of her adventures many years earlier, at 14, when she undertook a quest to avenge her father's death at the hands of a drifter named Tom Chaney. She is joined on her quest by Marshal Reuben J. "Rooster" Cogburn and a Texas Ranger named LaBoeuf (pronounced "La-beef").
The hunt for Tom Chaney goes back to when Chaney was employed on the Ross's family farm in Arkansas, near the town of Dardanelle in Yell County. Chaney is not skilled at working on the farm. Mattie calls him "trash", pointing out that her well-meaning father, Frank Ross, only gave Chaney some work out of pity for him. It happens that Frank Ross and Chaney go to Fort Smith, on the Oklahoma border, to buy some horses. Ross takes $250 with him to buy the horses, plus two gold pieces that he always carried, but he ends up spending only $100 on the horses. Later, Frank Ross tries to intervene in a barroom confrontation involving Chaney. Chaney kills Frank Ross and takes from his corpse the leftover $150 and two gold pieces. Tom Chaney escapes into Indian Territory on horseback.
Mattie gets a report that Chaney has become a member of "Lucky" Ned Pepper's outlaw gang. She wants to find the man who killed her father. Once she makes her way to Fort Smith, she inquires who is the toughest deputy US Marshal in the district. She's advised its an old, one-eyed, overweight, trigger-happy, hard-drinking man named Reuben J. "Rooster" Cogburn. Mattie is certain Rooster has "grit" required to handle the assignment, given his credentials of violent apprehensions.
Mattie convinces Rooster Cogburn to go after Tom Chaney, telling him that part of the deal is she'll join him in the manhunt as part of the bargain. While they plan their journey, a Texas Ranger named LaBoeuf arrives at the boarding house in Fort Smith where they are lodged. LaBoeuf has been on Tom Chaney's trail for four months after Chaney killed a senator and his dog in Texas. LaBoeuf plans to return Tom Chaney to Texas, dead or alive, and get the cash reward. Cogburn and LaBoeuf decide to work together to track Chaney down. They try to leave Mattie behind, but after repeatedly trying to lose her, she stays on their trail, vowing to see justice.
The lyrics for "True Grit" also apply to anyone who has had a family member who's been a victim of violence, and is seeking justice. While there are many platitudes about seeking justice for those who've been victims, It is a rarer person who will have the 'grit' and determination to advocate for those seeking to get justice done. While "Rooster" Cogburn fits the bill for having 'True Grit' in the film, his resume: hard-drinking, trigger-happy, a reputation for violence and looking down on women, make him a less than ideal companion in many other contexts.
"True Grit" received both a Golden Globe and an Academy Award nomination for Best Song. Other nominees for films in 1969 included "Jean" from The Prime of Miss Jean Brodie and "Come Saturday Morning" from The Sterile Cuckoo. The winner was "Raindrops Keep Falling On My Head", a hit for BJ Thomas from the Best Picture film Butch Cassidy And The Sundance Kid.
Glen Campbell's follow up hit was "Try A Little Kindness", which peaked at #16 in Vancouver in November of '69.
The pinnacle of his career was his #1 hit in 1975 called "Rhinestone Cowboy". In 1980, Campbell starred alongside Clint Eastwood and Ruth Gordon in Any Which Way You Can. In 1986, Glen Campbell appeared in the role of Capt. Hazeltine, in the comedy-western Uphill All The Way, alongside Frank Gorshin, Sheb Wooley, Roy Clark, Mel Tillis and Burl Ives. In 2008, Campbell appeared as himself in the documentary film, The Wrecking Crew, about a group of studio musicians in L.A. who were featured on hundreds of Top 30 hits in the '60's. Glen Campbell died on August 8th, at the age of 81 after being diagnosed with Alzheimer's disease since 2011.
March 8, 2019
Ray McGinnis
References:
Petticoat Junction, CBS, January 4, 1969.
Skip Anderson, "Singer-Songwriter Chris Gantry Remains a Living Link to Music City's Raggedy and Rowdy Bohemian Heyday," Nashville Scene, January 9, 2014.
Dave Laing, "Glen Campbell Obituary," Guardian, August 8, 2017.
Jeff Gage, "Flashback: Watch Glen Campbell's Nimble Medley of Beach Boys Hits: Country Great Blazes Through "Good Vibrations," "Surfin USA," "California Girls" and more," Rolling Stone, August 9, 2017.
Roger Ebert, "True Grit Movie Review," Roger Ebert.com, July 1, 1969.
"Boss 30," CKLG 730 AM, Vancouver, BC, August 15, 1969.
For more song reviews visit the Countdown.