#1343: Truganini by Midnight Oil
Peak Month: June 1993
7 weeks on Vancouver's CKLG chart
Peak Position #17
Peak Position on Billboard Hot 100 ~ did not chart
YouTube: "Truganini"
Lyrics: "Truganini"
Peter Robert Garrett was born in 1953 in Sydney, Australia. He studied politics at the Australian National University, and later law at the University of New South Wales. According to the bands' website, it was in 1975 that Garrett was asked to join a Sydney-based rock band called The Oils. In 1972 drummer and singer Rob Hirst, bass guitar player Andrew "Bear" James, and guitar player, keyboard player and vocalist Jim Moginie, began playing music together at school. Their band played mostly Beatles covers. Robert George Hirst was born in Camden, New South Wales, in 1955. James Moginie was born in 1956 in Kalamuda, Western Australia. In 1976 guitar player Martin Rotsey joined the band around the time they officially became Midnight Oil. Martin Rotsey was born in Sydney in the mid-50s.
Founding bass player, Andrew "Bear" James, was replaced by Peter "Giffo" Gifford from 1980 until 1987 when Bones Hillman joined the band. Born Wayne Stevens in New Zealand, in 1958, Bones Hillman was in the latter 1970s – a member of the punk band the Masochists, the Suburban Reptiles and the Rednecks. In 1979 he joined a rock band named the Swingers with ex-Split Enz musician Phil Judd. After the Swingers spit up in 1983, Hillman pursued other musical interests until he joined Midnight Oil in 1987.
On the Midnight Oil website, the band recalls "Before they took it global, Midnight Oil's early spiritual home was the Royal Antler Hotel, Narrabeen on Sydney's northern beaches. It was there that 'the Oils' fan base swelled from a handful to a thousand – in a space intended for half that number. Between 1976 and the very early 80's, these five young men played out this blistering ritual almost 1000 times."
Midnight Oil released a self-titled debut album in 1978. Their first four albums got little notice outside of Australia. In 1983, the band's single "Power And Passion", from their fourth album 10, 9, 8, 7, 6, 5, 4, 3, 2, 1, climbed to #5 on the Alternative Rock station CFMB in Montreal. The single climbed to #4 in New Zealand and #8 in Australia.
In 1984 Midnight Oil released their fifth studio album Red Sails in the Sunset. It included a track about the Domesday Clock titled "Minutes to Midnight". The Domesday Clock is a symbolic timepiece published by the Bulletin of the Atomic Scientists, which represents the proximity of nuclear war (or more generally "catastrophic destruction"), designated as "midnight". Nuclear confrontation was pertinent at the time of this song, the clock having regressed to a mere "three minutes to midnight" in 1984 from some 12 minutes in the preceding decade.
American President Ronald Reagan, while running for re-election, was preparing to make his weekly Saturday radio address on NPR. As a sound check prior to the address, Reagan made the following 'joke' to the radio technicians: "My fellow Americans, I'm pleased to tell you today that I've signed legislation that will outlaw Russia forever. We begin bombing in five minutes." Reagans' words were caught on the radio and a song titled "Five Minutes" by a band named Bonzo Goes to Washington sampled Reagans' gaffe. In 1985 Sting released a track titled "Russians", whose lyric was a critical commentary the then-dominant Cold War foreign strategy and doctrine of mutual assured destruction (MAD) by the United States and the Soviet Union.
In 1986 Midnight Oil released their sixth studio album titled Dust And Diesel. The debut single release was "The Dead Heart", which climbed in 1988 to #7 in Calgary, though it stalled at #35 in Vancouver and #53 on the Billboard Hot 100. But the second single from the album, "Beds Are Burning" became a number-one hit in 1988 in Vancouver, and cracked the Top 20 nationally in the USA.
In 1990 the band released Blue Sky Mining. The album was "more defiant and outspoken" than their previous work; the single "Blue Sky Mine" describes asbestos exposure in the Wittenoom mine tragedy.
Then, in 1993, Midnight Oil released their eighth studio album Earth and Sun and Moon. The lead single on the album was "Truganini".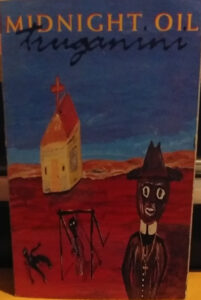 It was inspired by Truganini, a Tasmanian Aborigine. The song uses a recurring Australian issue—drought—to pose the question "what for?", meaning "why did Europeans bother to colonise this harsh place?" The song mentions two prominent indigenous Australians (Truganini and Albert Namatjira) whose lives were altered by European settlement and discusses current day sentiment towards the old country, namely the monarchy.
Truganini (c. 1812 – 8 May 1876) was a woman incorrectly considered by European colonists to have been the last Aboriginal Tasmanian. However, Aboriginal Tasmanians maintain their culture and identity till the present day.
Truganini was born about 1812 on Bruny Island (Lunawanna-alonnah), located south of the Van Diemen's Land capital Hobart and separated from the Tasmanian mainland by the D'Entrecasteaux Channel. She was a daughter of Mangana, Chief of the Bruny Island people. Her name was, in the Bruny Island language (Nuennonne), the name of the grey saltbush Atriplex cinerea.
In her youth Truganini took part in her people's traditional culture, but Aboriginal life was disrupted by European settlement. When Lieutenant-Governor George Arthus arrived in Van Diemen's Land in 1824, he implemented two policies to deal with the growing conflict between settlers and the Aboriginals. First, bounties were awarded for the capture of Aboriginal adults and children, and secondly an effort was made to establish friendly relations with Aboriginals in order to lure them into camps. The campaign began on Bruny Island where there had been fewer hostilities than in other parts of Tasmania.
When Truganini met George Augustus Robinson, the Chief Protector of Aborigines, in 1829, her mother had been killed by sailors, her uncle shot by a soldier, her sister abducted by sealers, and her fiancé brutally murdered by timber-cutters, who then repeatedly sexually abused her. In 1830, Robinson moved Truganini and her husband, Woorrady, to Finders Island with the last surviving Tasmanian Aboriginals, numbering approximately 100. Many of the group died from influenza and other diseases. In 1838 Truganini also helped Robinson to establish a settlement for mainland Aboriginals at Port Phillip.
After about two years of living in and around Melbourne, she joined other Tasmanian Aboriginals as outlaws, robbing and shooting at settlers around Dandenong. This prompted a long pursuit by the authorities. The outlaws moved on to Bass River and then Cape Paterson. There, members of the group murdered two whalers at Watson's hut. The group was captured and sent for trial for murder at Port Phillip, and a gunshot wound to Truganini's head was treated by Dr Hugh Anderson of Bass River. The two men of the group were found guilty and hanged on 20 January 1842. Truganini and most of the other Tasmanian Aboriginals were returned to Flinders Island several months later.
In 1856, the few surviving Tasmanian Aboriginals on Flinders Island, including Truganini, were moved to a settlement at Oyster Cove, south of Hobart. According to The Times newspaper, quoting a report issued by the Colonial Office, by 1861 the number of survivors at Oyster Cove was only fourteen: "…14 persons, all adults, aboriginals of Tasmania, who are the sole surviving remnant of ten tribes. Nine of these persons are women and five are men. There are among them four married couples, and four of the men and five of the women are under 45 years of age, but no children have been born to them for years. It is considered difficult to account for this… Besides these 14 persons there is a native woman who is married to a white man, and who has a son, a fine healthy-looking child…" The article, with the headline "Decay of Race", adds that although the survivors enjoyed generally good health and still made hunting trips to the bush during the season, after first asking "leave to go", they were now "fed, housed and clothed at public expense" and "much addicted to drinking".
"Truganini" climbed to #17 in Vancouver (BC). Internationally, the single peaked at #4 in New Zealand, #10 in Australia, and #11 on Canada's RPM singles chart.
Subsequent albums Breathe (1996), Redneck Wonderland (1998), and Capricornia (2002) were all Top Ten albums in Australia. However, they received little notice beyond New Zealand and Switzerland.
That year Midnight Oil released their first studio album since 2002. Titled The Makarrata Project, the album shot to number-one on the Australian album chart. Late in 2020, Bones Hillman died at the age of 62 of cancer.
July 3, 2021
Ray McGinnis
References:
Jackson Barron, "Legendary Midnight Oil Bassist Bones Hillman dies aged 62 after Battle with Cancer as his Bandmates Lead a Heartbreaking Tribute to the Man with 'the Beautiful Voice'," Daily Mail Australia, November 7, 2020.
Paul Cashmere, "Midnight Oil Prove Why They Are The Greatest Live Band On Earth," Noise11.com, Melbourne, Australia, March 22, 2021.
For more song reviews visit the Countdown.