#1282: Try Me by Margie Rayburn
Peak Month: January 1961
7 weeks on Vancouver's CFUN chart
Peak Position #12
Peak Position on Billboard Hot 100 ~ did not chart
Peak Position on Music Vendor ~ #107
YouTube.com: "Try Me"
In 1924, Marjorie Helen Orwig was born in the San Joaquin Valley in the central California town of Madera. As a recording artist and performer, she was known as Margie Rayburn. While still in her late teens, during World War II, she began singing with big bands and in that capacity entertained American soldiers. At the end of the war she was hired as a featured vocalist with Ray Anthony's Orchestra. Anthony had been part of the Glenn Miller band until he was drafted to serve in the US Navy in 1942, and at the end of the war formed his own band. Margie Rayburn went on tour with Gene Autry and got gigs at several nightclubs in San Francisco.

She recorded a number of singles for Alma Records, S&G Record and Capitol during 1954 into 1955. In 1954 Rayburn joined the Sunnysiders, a bluegrass quartet, formed by banjo players Freddy Morgan and Had Paul. The two were formerly members of Spike Jones's City Slickers, a band that performed in Los Angeles and appeared on NBC and CBS television shows. Jones' performances and recordings featured satirical lyrics, bird calls, gunshots, cowbells, dog barks, whistles and outlandish vocals. The Sunnysiders eschewed the outlandish theatrics playing bluegrass. The fourth member of their quartette was guitarist Roy McGinnis. It was Morman Malkin, Margie Rayburn's husband who co-wrote material with Freddy Morgan for The Sunnysiders. Malkin was also sometimes listed as a member of The Sunnysiders. The group had a hit on the Billboard pop charts in 1955 with "Hey Mr. Banjo" that climbed to #12. Kapp Records quickly decided to release an album, Hey Mr. Banjo!, to capitalize on the hit single. However, as The Sunnysiders had only recorded three of their songs, Kapp got a group called the Happy Harts recorded the other tracks featured on the album. In 1973 Roy McGinnis and The Sunnysiders released a bluegrass album called The Blue Hills of Kentucky.
In 1956 Rayburn chose to pursue a solo career again, not wanting to be identified as a Bluegrass singer. She was signed with Liberty Records. On her fifth single release Rayburn finally got a hit record in 1957 with "I'm Available." The record charted to #9 on the Billboard Hot 100 in December of that year. The tune was written and first recorded by Dave Burgess who went on to become a member of the instrumental group, The Champs. They had a number one hit in 1958 called "Tequila". Though Rayburn in 1957 was 33 years of age, her vocal style came across as an innocent but willing teenager open to dating a guy. Her hit song lyrically conveyed the openness of her sunny vocal style: "Well, I'm available to hold you tight/I'm available for Saturday night/I'm available and willing, it's true-ooh-ooh/Available to fall in lo-ove with you."
After "I'm Available" Liberty Records was hopeful that Rayburn would have a follow-up hit single. Between 1958 and 1960 Rayburn recorded six more singles with the label as well as her 1959 album, Margie. The album featured accomplished covers of pop standards like "Come Rain Or Come Shine", "Almost Like Being In Love" and "Blues In the Night".
On several of her Liberty singles during this period she sang rockabilly-rock 'n roll tunes. One of the songs pitched to Rayburn to record as a follow-up to "I'm Available" was a song by Ross Bagdasarian called "And He Told Me a Lie". Bagdasarian would soon have a a #1 hit with "Witch Doctor" under his stage name David Seville. And shortly after, as the creator of The Chipmunks (and all the voices), he had a #1 hit in December 1958 called "The Christmas Song". Rayburn recorded "And He Told Me A Lie", but nothing clicked.
She also recorded "I Would" written by the songwriting team and married partners Ricki Page and George Motola. Ricki Page had come from Fresno, not far from Margie Rayburn's hometown of Madera, to be discovered as a songwriter in Hollywood. Page was discovered by George Motola who was working for the songwriting team, Jerry Lieber and Mike Stoller, who were making hits for The Coasters and "Jailhouse Rock" for Elvis Presley. Page went on to record a successful cover of Jeannie C. Riley's 1968 country hit, "Harper Valley P.T.A".
Among the session musicians to appear, often uncredited, on a number of Margie Rayburn's singles with Liberty was Eddie Cochran. He was having his own hit records including his Top Ten hit in 1958, "Summertime Blues." Cochran appeared with guitar, including solos, on "Smoochin'", "I Would" and "Wait". The latter was written by Johnny Burnette of "You're Sixteen" fame. Numbers of her songs used a lot of echo and multi-tracked vocals effects to give her voice the suggestive quality Rayburn achieved on "I'm Available." Don Ralke and his Orchestra often were in the studio with Rayburn to record her singles.
Rayburn left Liberty in 1960 and signed on with Challenge Records, founded in 1957 by cowboy singer Gene Autry. Challenge had hits with Jerry Wallace ("Primrose Lane") and The Champs ("Tequila"). Margie Rayburn teamed up again with the songwriter who wrote "I'm Available", Dave Burgess of The Champs. He penned a new song called "Try Me" and suggested she make a recording. It was released in December 1960.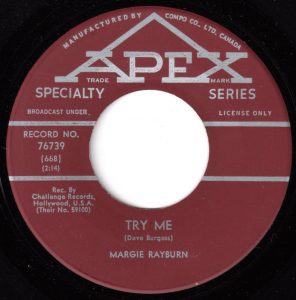 If you need some lovin', some kissin' and huggin'
Try me, try me, try me.
If you're thinking' 'bout dating, there's no need waitin'
Try me, try me, try me.
I got the kind of lips that'll kiss you tender.
I've got the kind of arms that'll make you surrender.
All you gotta do is give me a whistle.
I'm available, try me.
If you like going steady, ask me I'm ready.
Try me, try me, try me.
"Try Me" had almost identical guitar riffs between the verses as "I'm Available". The song's lyrics gave a nod to Dave Burgess' earlier hit with Margie for Rayburn's fans: I'm available, try me. The phrase sums up the invitation of Rayburn's song, apparently not to any boy in particular. Here is a young woman letting guys know she'd be available to date whoever comes along. The song caught on in Vancouver and peaked at #12, despite receiving next to no airplay south of the border. It didn't chart on the Billboard Hot 100 and it's best chart performance was in San Antonio, Texas, peaking at #46 on KTSA which had a Top 100 chart called the San Antonio Survey. Perhaps not that many women wanted to date a guy who gave them a whistle to alert them he wanted her to give her a hug.
In Los Angeles Rayburn's husband, Norman Malkin, went on to become a producer for Dot Records in the late 50s. He had success producing hits for Jack Ross and his Orchestra, including in 1962 "Happy Jose" and "Cinderella". Malkin also helped his spouse, Margie Rayburn, make the transition from Challenge Records to Dot Records. With Dot she recorded two songs aimed at the teen audience: "Hello, Mr. Heartache" and "Bobby Is My Hobby". In the latter single she explained to listeners that she didn't skate, play tennis, bake cakes and pies, knit sweaters, go to movies or watch TV anymore because Bobby is my hobby now. The singles flopped.
By 1965 Rayburn moved on to Capitol Records and recorded "Maker of Raindrops and Roses", written by Australian country singer Arthur Blanch. Like her other tunes since her brief limelight with "I'm Available", there was no interest. The pop charts were full of tunes by The Beatles, The Rolling Stones, The Dave Clark Five, The Animals, Petula Clark and The Kinks.
In addition to the competition for space on the airwaves of AM radio from the British Invasion, Motown kept releasing more hits by The Supremes, Marvin Gaye, The Miracles, The Four Tops, Jr. Walker and The Allstars and The Temptations. Record buyers wanted to get the latest hit by Jay & The Americans, The Beach Boys or Leslie Gore. They were not interested in the tribulations of a faltering career from a one-hit wonder who hadn't been heard of on most radio stations since 1957. Margie Rayburn retired from the music business in 1966 at the age of 42. She settled down in Los Angeles with her husband and fell back into obscurity. In 2000, after a heart attack, Margie Rayburn died at the age of 76.
November 18, 2016
Ray McGinnis
References:
Dik de Heer, Margie Rayburn, Black Cat Rockabilly.
Wayne Jancik, Margie Rayburn, One Hit Wonders – The Book, 1997.
The Champs, Sealsandcrofts.com
Sunnysiders, "Hey Mr. Banjo", 1955.
"C-FUN-Tastic 50," CFUN 1410 AM, Vancouver, BC, January 21, 1961
For more song reviews visit the Countdown.