#1332: Tupelo Honey by Van Morrison
Peak Month: February 1972
6 weeks on Vancouver's CKVN chart
Peak Position #10
Peak Position on Billboard Hot 100 #47
YouTube.com: "Tupelo Honey"
Lyrics: "Tupelo Honey"
Sir George Ivan "Van" Morrison, was born in Belfast on August 31, 1945. He is a singer, songwriter and musician. He has received six Grammy Awards, the 1994 Brit Award for Outstanding Contribution to Music, and has been inducted into both the Rock and Roll Hall of Fame and the Songwriters Hall of Fame. In 1996 he was given the Order of the British Empire for his service to music enriching the lives of people in the UK (and beyond). Since 1996 his formal title has been Sir "Van" Morrison, OBE. In 2016 he was knighted for his musical achievements and his services to tourism and charitable causes in Northern Ireland.
He is known as "Van the Man" to his fans. Morrison started his professional career when he variously played guitar, harmonica, keyboards and saxophone for a number of Irish bands while he was still in his teens. In 1964 Morrison formed the R&B garage band, Them, in Belfast, who played at The Maritime nightclub. They had hits with the garage band classics "Gloria" and "Here Comes The Night".
His solo career began with the release of the hit single "Brown Eyed Girl" in 1967. The song peaked at #10 in the USA, but climbed to #1 in Vancouver. Morrison's music mostly draws on the conventions of soul music and rhythm and blues. Examples of this are showcased in his hit singles "Brown Eyed Girl", "Domino" and "Wild Night".
Morrison's father, George, was an electrician. His mother, Violet, had been a singer and tap dancer in her youth. Van was an only child and grew up in Belfast. His father's record collection of American blues and country music artists led to Van Morrison learning the guitar when he was eleven.
Tupelo Honey is the fifth studio album by Van Morrison and released in October 1970. Griel Marcus of Rolling Stone Magazine said of the title track, it was "a kind of odyssey" evoking Elvis Presley (whose hometown was Tupelo, Mississippi), and "the most gorgeous number on the album" that "was too good not to be true." The title derives from an expensive, mild-tasting tupelo honey produced in the southeastern USA. The soulful melody was borrowed from Morrison's single "Crazy Love," released the previous year on the Moondance album. "Tupelo Honey" is an anthem to a relationship with a woman that is blissful, erotic and sublime.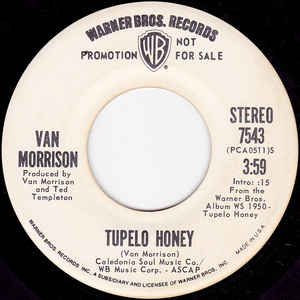 In the world of varieties of honey, Tupelo honey is the one variety that will not crystalize. Due to its properties, it is the one variety of honey that diabetics can safely consume. So, Van Morrison may have done his research to choose which variety to sing about when he made his recording.
"Tupelo Honey" was the second single from the album, after "Wild Night". "Tupelo Honey" has been recorded by countless numbers of musicians and singers. These include Ritchie Havens, Dusty Springfield, Cassandra Wilson, Billy Bragg and others.
"Tupelo Honey" peaked at #7 in Santa Rosa (CA), and West Palm Beach (FL), #9 in Endicott (NY), and Fort Lauderdale, #10 in Vancouver (BC), and Sioux Falls (SD), #11 in San Francisco, and New Haven (CT), #12 in Salinas (CA), #14 in Oklahoma City, and #15 in Cleveland. The song only reached #47 on the Billboard Hot 100.
October 17, 2016
Ray McGinnis
References:
Van Morrison biography, Van Morrison.com.
Hinton, Brian. Celtic Crossroads: The Art of Van Morrison. Sanctuary Publishing, London, 1997.
Mills, Peter. Hymns to the Silence: Inside the Words and Music of Van Morrison. Continuum, London, 2010.
Elizabeth Passarella, What's So Special About Tupelo Honey?, Kitchn.com, April 30, 2009.
"West Coast Music Survey," CKVN 1410 AM, Vancouver, BC, February 4, 1972.
For more song reviews visit the Countdown.