#1417: Turn Around by Dick and Dee Dee
Peak Month: November 1963
Peak Position #7
19 weeks on Vancouver's CFUN Chart
Peak Position on Billboard Hot 100 ~ #27
YouTube.com: "Turn Around"
Lyrics: "Turn Around"
Mary Sperling was born in Minneapolis, Minnesota, around 1942. At the age of 16 she began songwriting. She teamed up with Dick St. John who she met at junior high. The pair lost track of each other until DeeDee's first year at college when they both started working at See's Candies in Los Angeles. On their lunch breaks they discovered a mutual love of song writing and ended up collaborating on a song called, "I Want Someone." The flip side, "The Mountain's High", became their first gold record, storming up the charts in summer of 1961. The song spent two weeks at the #2 position on the Billboard Hot 100. "The Mountain's High" reached #1 in Vancouver and #37 on the UK Singles Chart. Dick and DeeDee played in the Los Angeles area for six months, backed by the new, upcoming surf band, The Beach Boys.
After the success of "The Mountains High", the duo searched to build on the hit. Of their next four single releases, three failed to crack the Billboard Hot 100. But one of these, "Tell Me", climbed to #22 on the Billboard Hot 100 and #32 on the Vancouver pop chart. In February 1963, Dick and Dee Dee had a second Top 20 hit with "Young And In Love". It peaked at #11 in Vancouver on the C-FUNTASTIC FIFTY. The next two single releases struggled to chart. But they bounced back into the Top 30 with "Turn Around".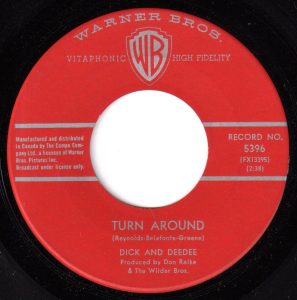 "Turn Around" was written by Malvina Reynolds, Harry Belafonte and Alan Greene.
Malvina Reynolds (born Malvina Milder) was born in 1900 in San Francisco to Jewish socialist immigrant parents from Hungary (father) and Russia (mother). Her parents opposed World War I and the United States entry into the war in 1917. Because of her parents pacifism, Malvina was denied a high school diploma. She persisted and was able to earn both Bachelor of Arts and Masters of Arts degrees. However, being both Jewish and female, she was unable to find a teaching position. In the late 40s she began writing folk songs. Her most notable include two in 1957: "Magic Penny" and "Morningtown Ride", the latter recorded by The Seekers in 1966 and became an international hit. In 1962 she wrote "What Have They Done To The Rain" which became a Top 30 hit for the Searchers, and "God Bless The Grass", both environmental protest songs. She also wrote "Little Boxes" in 1962, which was recorded by Pete Seeger. The song depicted conformity of mass produced houses in the suburbs. In 1958, her song "Sally, Don't You Grieve" was a #11 hit for Lonnie Donegan on the UK Singles chart. She died in 1978 at the age of 77.
Alan Greene was a vaudeville performer who had dropped out of high school. He later worked as a voice coach and wrote a number of songs as composer for the American Negro Theater in New York City.
Harry Belafonte (born Harold George Bellanfanti Jr.) was born in New York City in 1927. His parents were born in Jamaica. He first appeared in concert in 1949 appearing in several New York City clubs with the Charlie Parker Band to pay for acting classes. The band included jazz drummer Max Roach and trumpeter Miles Davis. His performances at The Village Vanguard got him a record contract in 1949 on the Roost label. He switched to RCA Victor in 1953 and released his first album the following year titled Mark Twain and other Folk Favorites. But it was his third album, Calypso, which became a million seller in 1956. It spent 31 weeks at the top of the Billboard album chart. The lead single from the album, "Banana Boat Song (Day O)", was a Top Ten hit in 1957, climbing to #3 on the Cashbox Best Selling Singles chart in January. Other songs that made the Top 20 were "Jamaica Farewell", "Mary's Boy Child" and "Mama Look at Bubu". And in 1959, he sang the theme song from Island In the Sun, which became a Top Ten hit in Belgium, the Netherlands, and the UK.
In film, Belafonte first appeared in 1953 as a school principal in Bright Road, a film about students struggling to apply themselves in school. The following year he played a lead role in Carmen Jones, an adaptation of the opera and novella Carmen. In 1957 he played a black politician trying to steer an island nation in a post-colonial world. In 1959, Belafonte starred in sci-fi film about a post-Atomic bomb planet where he plays a mine inspector. He emerges from a cave-in to discover a world with hardly any survivors. Belafonte supported a number of causes during the Civil Rights Era, including the 1961 Freedom Rides, voter registration in Mississippi, and the March on Washington on August 28, 1963, where Red. Dr. Martin Luther King Jr. delivered his "I Have A Dream" speech.
"Turn Around" is a song about a child who grows up: "turn around and you're two, turn around and you're four, turn around and you're a young girl goin' out of the door." "Turn Around" was also recorded by Harry Belafonte, the Brothers Four, Jimmie Rodgers, Sonny & Cher, Diana Ross, Freddie and the Dreamers, Eddie Albert, Rosemary Clooney, and Kenny Loggins.
"Turn Around" peaked at #4 in Pittsburgh, #5 in Tucson (AZ), #7 in Vancouver, #8 in Akron (OH), Portland (ME), and Milwaukee, #9 in San Bernardino (CA), Los Angeles, Denver, and Corpus Christi (TX), #10 in Buffalo, Newport News (VA), Norfolk (VA), and Fresno (CA), #11 Hamilton (ON) and Endicott (NY), #12 in Chicago, #13 in San Diego, Davenport (IA), and Minneapolis/St. Paul, and #14 in Boston.
Dick and DeeDee performed as semi-regulars on the hit television show, "Shindig" and in the original pilot for the television show, "Where the Action Is." The duo appeared numerous times on American Bandstand and in the movie, Wild, Wild Winter. They made one Scopitone (similar to today's music videos), shot at Santa Monica pier.
In March 1964 "All My Trials" peaked at #19 on the C-FUNTASTIC FIFTY. The single stalled at #89 on the Hot 100.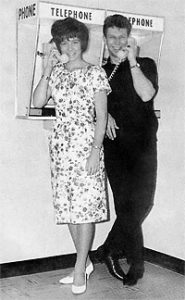 The duo had their last Top 20 hit in the fall of 1964 with "Thou Shalt Not Steal". But in Vancouver, "Be My Baby", which stalled at #87 on the Billboard Hot 100 climbed to #23 on the C-FUN chart in March 1965.
In a London recording session in 1964, produced by Rolling Stones producer Andrew Oldham, Dick and DeeDee added their voices to several tracks with instruments and back up vocals by the Rolling Stones. The songs "Blue Turns to Grey" b/w "Something's Just Stick in You Mind," were written by Mick Jagger and Keith Richards. Dick and DeeDee's recording was a Pick of the Week on Shindig. But after its release in February 1965, it never climbed the charts nationally. Yet, in Vancouver "Some Things Just Stick In Your Mind" charted to #22 in June '65. The duo also released a cover of the Rolling Stone's "Not Fade Away", though it didn't crack the Hot 100.
The duo disbanded in 1969. In the Eighties, Dick performed briefly as Dick and DeeDee with his wife Sandy. He passed away in 2003 after falling off a ladder outside his home. A headline in the Los Angeles Times indicated Dick St. John was 63 when he died in December 2003. However, at findagrave.com, the site assigns his birth in December 1941, making him 62 when he died.
In 2007 Dee Dee Phelps released her memoir, Vinyl Highway, Singing as Dick and Dee Dee. In 2008, DeeDee re-created the act Dick and DeeDee with her new partner, singing/actor Michael Dunn. After five years of performing in Doo Wop and Rock & Roll shows, Michael left for Indonesia and DeeDee started rehearsing with Jan (Deke) Detanna, lead singer of Deke and the Blazers. In 2015, DeeDee reunited with singer Michael Dunn. On February 21st, they performed in Houston at the Stafford Center for the Performing Arts Ultimate Doo Wop Show.
July 24, 2023
Ray McGinnis
References:
"About Dick and Dee Dee," dickanddeedee.com.
"Dick St. John, 63; Singer in Duo Dick and Dee Dee," Los Angeles Times, December 30, 2003.
Dee Dee Phelps, Vinyl Highway: Singing as Dick and Dee Dee," Altergate, 2007.
D Kelsen, "The Life and Times of Malvina Reynolds, Long Beach's Most Legendary (and Hated) Folksinger," OCWeekly, Orange County, CA, August 31, 2016.
Malvina Reynolds, "Magic Penny", 1957.
"Songs Written by Malvina Reynolds," musicvf.com.
"C-FUNTASTIC FIFTY," CFUN 1410 AM, Vancouver, BC, November 30, 1963.
For more song reviews visit the Countdown.