#826: Turn On Your Radar by Prism
Peak Month: February-March 1982
10 weeks on Vancouver's CFUN chart
Peak Position #11
Peak Position on Billboard Hot 100 ~ #64
YouTube.con link: "Turn On Your Radar"
Lyrics: "Turn On Your Radar"
In 1967 a new rock group appeared on the Vancouver scene called the Seeds of Time. They had several local hits including "My Home Town" and "Crying The Blues". There were a number of lineup changes, but the bands personnel included drummer Rocket Norton, guitarist Lindsay Mitchell, and bassist Al Harlow. These three reunited after the Seeds of Time disbanded in 1974. After a brief stint as an R&B band called Sunshyne, they became Prism under Lindsay Mitchell's initiative. In the band were new singer Ron Tabak, bassist Tom Lavin, keyboard player John Hall and drummer Rodney Higgs. Higgs was actually a pseudonym for Jim Vallance, the future songwriting partner of Bryan Adams. The band released a self-titled album in 1977 that included two local singles "Take Me To The Kaptin" and "It's Over". Anther single, "Spaceship Superstar", made the Top Ten in Ottawa, Hamilton and London (ON) in the winter of 1977-78.
As their line-up changed, their second studio album included ex-Seeds of Time drummer Rocket Norton, bassist Al Harlow and guitarist Lindsay Mitchell. "Take Me Away" was the first of two singles released on the band's second studio album, See Forever Eyes. The second single, "Flyin'" was the more commercially successful release peaking at #53 on the Billboard Hot 100. The album was produced by Vancouverite Bruce Fairburn who went on to produce successful albums by Loverboy, Strange Advance, Bon Jovi, Aerosmith, Poison, AC/DC, Chicago, Van Halen, Yes, KISS and other recording artists. Fairburn would produce Prism's first four studio albums.
On Prism's next album, Armageddon, had the title track climb to #7 in Vancouver. Local singer-songwriter, Bryan Adams, wrote (or co-wrote) three tracks on the album: "Jealousy", "You Walked Away Again" and "Take It Or Leave It". In 1980, Prism had another Top Ten hit in Vancouver with "Young And Restless", which peaked at #9 on CFUN in July of the year. Bryan Adams cowrote two songs for the bands sixth studio album, Small Change. The album featured hit singles "Don't Let Him Know" and "Turn On Your Radar". The former song climbed to #39 on the Billboard Hot 100, their best chart run south of the border to date. "Turn On Your Radar" climbed to #64 on the Hot 100. The song didn't chart well across Canada and missed cracking the Canadian RPM Top 100 singles chart. But in Vancouver the song climbed to #11.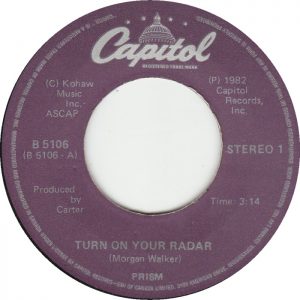 "Turn On Your Radar" is a song about alienation and an inability to connect with others socially. The character in this song had a pronounced sense of isolation from others in their community. At one point they ask, "Like an object in space, does anyone know who I am?" They feel like no one knows them and everyone looks through them, doesn't recognize them for who they are. They feel like they're from an "alien nation" and no one is "trying to reach" them. In short, they are on nobody else' radar. The solution is to ask others around them to "turn on your radar." This way, they'll get others to tune into who they are and hopefully find somebody to love.
In 1974 the Dutch band, Golden Earring, had a song titled "Radar Love." In that song when either of the lovers in the couple are feeling lonely, they send a message through their radar to let the other know they are tuned into them and sending them comfort and connection. Radar stands for RAdio Detection And Ranging. The origins of radar lie in the Prussian physicist Heinrich Hertz's experiments with radio waves in the late 1880's and early 1890's. Many advances in radar occurred over the following seventy years. In 1946, the United States Civil Aeronautics Administration began testing an experimental radar-equipped tower for control of civil flights. By 1952, the CAA had begun its first routine use of radar for approach and departure control of commercial flights. In 1960, it was required of all aircraft flying in an approach to an airfield to be equipped with a radar transponder to identify the plane and help improve radar synchronization with the control tower. As a metaphor, turning on your radar allows two people in a relationship to be like a control tower and an incoming flight. When the radar is turned on you can make a safe landing and arrive at the arrivals gate on time and with those on the ground ready to greet you.
Ron Tabak, Prism's lead vocalist would later die in a cycling accident when he was hit by a motor vehicle at night in Vancouver in 1984.
The band had a reunion concert in 1987 and included local musician, Paul Janz, offering back-up vocals. In 1993 the band released their first album in ten years, Jericho, that included vocals from Paul Janz and Bryan Adams. A number of studio and compilation albums have been released as well as numerous changes in the band's lineup.
On May 22, 2015 a "Local Legends of Rock" concert featuring Ab Bryant, John Hall, Al Harlow, and Rocket Norton, was held in Lynn Valley, North Vancouver. It was billed as a "Prism / Jet / Seeds of Time Reunion Concert." At the concert Al Harlow said, "Here's a disclaimer; this isn't the reunion of any one band, but it might be the reunion of 3 or 4 bands." Sunshyne would have been the fourth band implicit in the reunion given Prism's roots.
As of mid-April 2018, Prism has seven concert dates listed on their website between May and August, 2018, across Alberta, Saskatchewan and Ontario.
April 23, 2018
Ray McGinnis
References:
Xavier Diaz, Al Harlow and Lindsay Mitchell, "Prism," Canadian Bands.com
Prism – bios, Prism.ca.
"Secrets of Radar Museum," London, Ontario.
Radar, ob-ultrasound.net.
"C-FUN Top 30," CFUN 1410 AM, Vancouver, BC, March 6, 1982.
For more song reviews visit the Countdown.