#1011: Turned 21 by Fludd
Peak Month: December 1971
9 weeks on Vancouver's CKLG chart
Peak Position #15
Peak Position on Billboard Hot 100 ~ did not chart
YouTube.com: "Turned 21"
Lyrics: "Turned 21"
Fludd had its roots in a band called The Pretty Ones, formed by Ed Pilling and Greg Godovitz. The band was briefly part of Toronto's Yorkville scene in the 1960s, but broke up before achieving much commercial success. Pilling and his brother Brian then moved to Birmingham, England, where they formed a band called Wages of Sin and spent some time touring as a backing band for Cat Stevens in 1970. However, disagreement over musical direction with Stevens led the brothers to return to Toronto by the end of the year. Inspired by the then-emerging psychedelic blues rock sound of British acts such as Small Faces, they then reunited with Godovitz, and recruited drummer John Andersen and guitarist Mick Walsh to create Fludd.
Fludd's debut album was self-titled and they had their first hit with "Turned 21". The song peaked at #15 in Vancouver, edging out its climb on CHUM in Toronto at #16.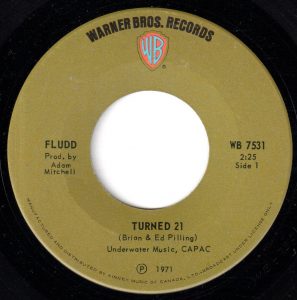 "Turned 21" was co-written by bandmates and brothers Brian and Ed Pilling. The narrator has lived, in their estimation, a sheltered life. They felt they'd found the key to the door, a way of living that was in the flow and carefree. But now they've met someone whose changed that with accompanying grey hairs, a sense that everything they do is wrong and that their life is over. It seems the narrator met someone who sucked the life out of them. They've shifted from being an "innocent" to an "orphan," having their eyes opened wide to some sort of an experience of being in relationship with someone else that was diminishing. Now their life is "almost gone." Now, the narrator considers their sheltered life of innocence only set them up for being a fool for the past twenty-one years. The singer is questioning the meaning in their tattered life now that they've had this setback. The experience of a significant relationship that left them feeling diminished causes them to reassess how they see the world, with their grey hairs and all. The melody of the song is in a major key providing an upbeat contrast to the disquieting subject matter in the lyrics.
After the record Mick Walsh was replaced by Mick Hopkins on guitar. He had been in the band, Wages of Sin, with Ed Pilling. Fludd's second single was the non-album single, "Get Up, Get Out, Move On", released in 1972 and climbed to #11 on the CKLG chart.
The band lost its new guitarist and instead added keyboardist Peter Csanky. They were able to get a contract with Daffodil Records. In the era of sexual liberation Fludd proposed to Daffodil Records that the title of their follow up album to be Cock On. The band members of Fludd thought it would be a good for promotion if they displayed a cover image of the band posing as flashers, wearing overcoats but naked underneath. Daffodil Records distributor, Capitol Records didn't think this was a good idea. Consequently, Fludd's second album was was released as …On!
That album's singles "Always Be Thinking of You", "Yes", and "C'mon, C'mon", were all minor hits in Canada. Daffodil agreed to let them make one more album and sent them to Mike Oldfield's studios in England to record. Since Oldfield was busy recording his forthcoming album, Tubular Bells, the band faced delays with getting time to record in the studio. The sessions ended up being cancelled. Daffodil Records went back to the …On! album and decided to release "Cousin Mary", a song that became their biggest single.
Fludd went on to record another album, but Brian Pilling got cancer and the group was unable to tour to support the new album. Brian Pilling later died of cancer in 1978.
In the 2000's Fludd reunited and went on to tour at a number of classic rock festivals and concert stages. Their reformed band was made up of Ed Pilling, his younger brother Steve Pilling, Scott Shelson on bass guitar, and Jim Crichton.
September 7, 2017
Ray McGinnis
References:
Frank Davies and Greg Godovitz, Fludd – profile, Canadian Bands.com
Dave Bidini, On a Cold Road: Tales of Adventure in Canadian Rock, (McClelland & Stewart, 1998).
Tristanne Connolly and Tomoyuki Iino, Canadian Music And American Culture: Get Away From Me, (Springer International Publishing, Basel. Switzerland, 2017).
"CKLG 'Thirty'," CKLG 730 AM, Vancouver, BC December 24, 1971.
For more song reviews visit the Countdown.