#648: Twisting By The Pool by Dire Straits
Peak Month: April-May 1983
11 weeks on CFUN's Vancouver Charts
Peak Position ~ #11
Peak Position on Billboard Hot 100 ~ did not chart
YouTube.com: "Twisting By The Pool"
Lyrics: "Twisting By The Pool"
Dire Straits is a band that formed in 1977 comprised of Mark and David Knopfler, John Illsley and Pick Withers. Mark Freuder Knopfler was born in 1949 in Glasgow, Scotland. His Jewish-Hungarian father fled Hungary in 1939 before the outbreak of World War II. He learned to play guitar when he was a child and appeared on a local TV station in 1965 as part of a duo. Mark was influenced by Django Reinhardt, Hank Marvin of The Shadows, B.B. King, Chet Atkins and others. He studied journalism and kept his hand in music playing in the Duolian String Pickers and the Café Racers. Younger brother, David, was born in 1952. He was playing guitar, drum and piano by age eleven. At the age of 14 David Knopfler was playing in folk clubs. He went into social work and was living in London in the mid-70's and sharing a flat with a promising guitarist named John Illsley. John Edward Illsley was born in Leister, England, in 1949. By the 1970's Illsley was involved with a timber firm, studying sociology and opening a record shop. David Knopfler was impressed with Illsley's talent and introduced him to Mark. Mark, David and John began jamming together, and Mark invited Illsley to join his band the Café Racers.

Pick Withers was a friend of John Illsley. David "Pick" Withers was born in Leister, England, in 1948. He played in a boys brigade as a child, and by age 17 he was a professional musician. He formed a band called The Primitives and in 1971 a progressive rock band named Spring. Spring released a self-titled album in 1971 and opened on tour for the Velvet Underground. In the 1970's Withers became the session drummer for Rockford Studios where Black Sabbath, Judas Priest, Mike Oldfield, Be-Bop Deluxe, Queen, Dave Edmunds and others recorded. Through the mid-70's Pick Withers played in a blues band named Brewers Droop. The pub band's name, Brewer's Droop, ended up in a list of maladies in the 1982 Dire Straits song "Industrial Disease". It was said you got this illness from drinking too much beer. Withers was also a drummer for Gerry Raferty who had two international hits in 1978: "Baker Street" and "Right Down The Line". Withers was the most seasoned musician of the four when Dire Straits formed in 1977.
In 1977 Dire Straits made a demo that included a song titled "Sultans Of Swing". The song broke out onto the pop charts in the UK in 1978 and Dire Straits went on tour with the Talking Heads. Bob Dylan saw the band play in Los Angeles and invited Mark Knopfler and Pick Withers to play on his 1979 album, Slow Train Running, which featured the single "Gotta Serve Somebody". Meanwhile, "Sultans Of Swing" became a Top Ten hit in North America and Australia in 1979. Subsequently, Dire Straits was nominated for two Grammy Awards at the 1980 ceremonies for Best New Artist and Best Rock Vocal Performance by a Duo or Group. Rickie Lee Jones won the Best New Artist award, largely on the strength of her "Chuck E.'s In Love" single; And the Eagles won Best Rock Vocal Performance by a Duo or Group for "Heartache Tonight".
In 1979 the band released their second album, Communique, followed in 1981 with Making Movies. During the recording of the album David Knopfler left the band and was replaced by Hal Lindes (born in Monterey, California, in 1953). Lindes had been part of a British new wave-pop band called Darling in 1979. In addition, Dire Straits added Alan Clark from Durham to play keyboards. Clark was a self-taught piano virtuoso. Making Movies featured a Top Ten hit in the UK titled "Romeo And Juliet". Their fourth album, Love Over Gold, featured the single "Industrial Disease". While it climbed to #16 for three weeks on the CFUN chart in Vancouver, it stalled on the Billboard Hot 100 at #75. The album also featured "Private Investigations", a #2 hit in the UK that missed most of the radio markets in North America. In 1983, their next single release was "Twisting By The Pool".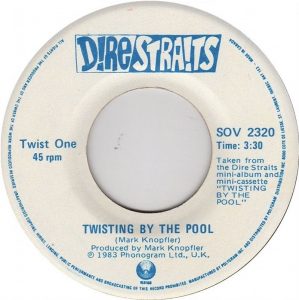 "Twisting By The Pool" was written by Mark Knopfler. He tells everyone he's going on a holiday and rent a small chalet in "Costa Del Magnifico." The fictional location was the inspiration for the name of a harness racing horse in New Zealand who won the Invercargill Cup in January 2016. On the holiday described in the song there are lots of things to do: sit in cafes, go to movies, cabarets, meet people at the disco, and especially twisting by the pool. Although the vacationers are living it up, they can always stay in touch with the news of the world, such as the price of inflation. There is a call-box on the beach in case anyone is needing to call home. Meanwhile, the guys can have the women in their lives wear bathing suits and sunglasses and look like "ladies in the magazines."
In the song the people are twisting by the pool as they "dance to the Euro beat." In the early 80's there was a new fusion of Euro dance, Italo disco, dance-pop and Hi-NRG musical styles. Dance-pop examples include Dead Or Alive who had a hit called "You Spin Me Around (Like A Record)" and Bananarama with "Shy Boy", "Cruel Summer" and "I Heard A Rumour". Examples of Italo Disco in the early to mid-80's include Ken Laszlo's "Tonight" and "Hey Hey Guy", Silver Pozzoli's "Around My Dream" and Baltimora's "Tarzan Boy". Raf (Raffaele Riefoli) had a huge hit in Europe in '84 titled "Self-Control" which was successfully covered by Laura Branigan. The musical style influenced British recording artists the Pet Shop Boys ("It's A Sin", "West End Girls", "Always On My Mind"), Erasure (A Little Respect") and New Order ("Blue Monday"). Interestingly, Quebec spawned three international Italo Disco hits by Trans-X ("Living On Video"), Lime's "Angel" and Rational Youth's "City Of Night". Italo Disco also spawned other bands across Europe. These included German recording artists Modern Talking and their huge hit in 1984 called "You're My Heart, You're My Soul", and Fancy with "Slice Me Nice" and "Chinese Eyes". Across the ocean, Jason Donovan was releasing "Too Many Broken Hearts" in Australia. Another variant of Euro beat music was the electronic beat music of Yellow from Switzerland with singles like "Oh Yeah" and "Vicious Games".
For Mark Knopfler's twisters by the pool in Costa Del Magnifico, it was the Euro beat they were twisting to and not Chubby Checker. However, Chubby Checker popularized "The Twist" which was a #1 hit for him in 1960 and again in 1962. In the midst of the 'Twist" craze in the early '60's there were many songs recorded to cash in on the fad. These include Kissin' and Twistin'" (Fabian), "Twistin' USA" and "Twistin' All Night Long" (Danny and the Juniors), "Dear Lady Twist" and "Twist, Twist Senora" (Gary "U.S." Bonds), "Let Me Do My Twist" (Jo Ann Campbell), "Let's Twist Again" (Chubby Checker), "Oliver Twist" (Rod McKuen), "The Peppermint Twist" and "Hey, Let's Twist" (Joey Dee and the Starliters), "Spanish Twist/Twist Español" and "Florida Twist" (all by Bill Haley & His Comets), "Tequila Twist" (The Champs), "Twist And Shout" (Isley Brothers and later The Beatles), "The Alvin Twist" (The Chipmunks), "Arkansas Twist" (Bobby Lee Trammell), "The Basie Twist" (Count Basie), "Bo's Twist" (Bo Diddley), "Bristol Twistin' Annie" (The Dovells), "Do You Know How To Twist?" (Hank Ballard and The Midnighters), "Everybody's Twistin'" (Frank Sinatra), "Jungle Twist" (The Fortune Tellers), "Kissin' Twist (Kiss 'n' Twist)" (Connie Francis), "Percolator (Twist)" (Billy Joe & the Checkmates), "Slow Twist" (Chubby Checker and Dee Dee Sharp), "Soul Twist" (King Curtis) "Twist-Her" (Bill Black's Combo), "Twistin' Matilda (And The Channel)" (Jimmy Soul), "Twistin' Postman" (The Marvelettes), "Twisting Bells" (Santo and Johnny), "Twisting The Night Away" (Sam Cooke) and "Little Miss Twist" (Beau Marks). While in film there were several 'Twist' movies: Twist All Night, Twist Around The Clock, (Hey) Let's Twist and Don't Knock The Twist.
"Twisting By The Pool" didn't chart on the Billboard Hot 100. The song peaked at #5 in Halifax, #6 in Regina, #7 in Ottawa and London (ON), #11 in Vancouver, #16 in Toronto and #18 in Montreal. In the USA "Twisting By The Pool" made the Top 40 in Portland (OR) and the Top 30 in Brattleboro (VT).
Internationally, "Twisting By The Pool" peaked at #1 in New Zealand, #2 in Australia, #5 in the Netherlands, #6 in Belgium and Norway, #7 in Finland, #11 in Switzerland, #13 in Sweden and Ireland, and #14 in the UK.
While "Twisting By The Pool" was climbing the charts in Vancouver, Alan Clark was playing on Bob Dylan's new album, Infidels. And in 1984, he arranged and Tina Turner's hit written by Mark Knopfler titled "Private Dancer". Clark was also joined in the studio for "Private Dancer" by John Illsley, Terry Williams and Hal Lindes.
While Pick Withers was featured on the ExtendedancEPlay which included "Twisting By The Pool", the drummer on the single was Terry Williams. As Withers bowed out of the band in the winter of 1982-83, Williams took over from Withers. Williams was born in 1948 in Swansea, Wales. He was a drummer for a number of bands in Wales in the '60's until he played for Dave Edmunds. Williams also was the drummer for Rockpile with Dave Edmunds and Nick Lowe. In 1981-82 Williams was a member of the backing band for Meatloaf called the Neverland Express. Terry Williams went on tour with Dire Straits for their Love Over Gold Tour. This was a 61-city tour from November 30, 1982, until July 23, 1983. Twenty-five of the tour dates were in the UK, seventeen in Australia, eleven in France, seven in Germany, five in Italy, the Netherlands and Switzerland, and four in Japan.
In 1984 Dire Straits released a live album titled Alchemy: Dire Straits Live. The album contained many reworked versions of tracks from their first four albums. In 1985 Dire Straits had their biggest international hit on the album charts with Brothers In Arms. The album climbed to #1 on the album charts in the Australia, Austria, Canada, Germany, the Netherlands, New Zealand, Norway, Spain, Sweden, Switzerland, the UK and USA. The album contained their most commercially successful single, "Money For Nothing", as well as "So Far Away" and "Walk Of Life".
In 1988 Dire Straits headlined the Nelson Mandela 70th Birthday Tribute on June 11, 1988. This was broadcast to over 600,000,000 viewers across 67 nations. The event featured many recording artists including Miriam Makeba, Hugh Masekela, Harry Belafonte, Peter Gabriel, Sting, Natalie Cole, Al Green, Tracy Chapman, Joan Armatrading, Phil Collins, Youssou N' Dour, UB40, Whitney Houston, Stevie Wonder, George Michael and Simple Minds. After the event Terry Williams left Dire Straits.
In 1991 Dire Straits released their sixth and final studio album, On Every Street. The key personnel for the album were Mark Knopfler on vocals and guitar, John Illsley on bass guitar, Alan Clark on piano, organ and synthesizer, and Guy Fletcher on backing vocals and synthesizers. Fletcher had joined Dire Straits in 1984 before the recording of Brothers In Arms. He'd previously toured in 1981 with Roxy Music. Between 1991 and 1994 Dire Straits released six singles from the album including "Heavy Fuel" and "Calling Elvis". The latter charted to #16 in Vancouver, while both songs made the Top Ten in Hamilton, Ontario.
With the release of On Every Street, Dire Straits launched the On Every Street Tour. The tour took them to 19 countries, taking to the stage in 229 performances between August 23, 1991, and October 9, 1992. However, personal relationships were strained with the mammoth fourteen month tour. It signaled the end for the band, though they didn't officially split until the start of 1995.
Since the band split, Mark Knopfler has released ten studio albums between 1996 and 2018. Of these, Guy Fletcher has been a studio musician on nine of these. And most of Knopfler's studio albums have made the Top Ten on the album charts in the UK, Austria, Finland, Switzerland, Sweden, New Zealand, Norway, the Netherlands and France. Meanwhile, between 1984 and 2016 John Illsley released eight studio albums. Over the years Alan Clark had contributed on many studio recordings since the band split. These include George Harrison, Billy Joel Mark Knopfler, Al Green, Van Morrison, Elton John and Phil Collins. Hal Lindes has won awards for music in film and TV and wrote several songs for the Scottish progressive rock singer Fish on his 1990 album Vigil in a Wilderness of Mirrors. Terry Williams ran a blues club in Swansea, Wales, from 2000 to 2007.
February 18, 2019
Ray McGinnis
References:
Dire Straits Bio, Dire Straits Blog.com, February 4, 2017.
Jamie Searle, "Costa Del Magnifico Wins Cup in Close Finish," Stuff.co.nz, Wellington, NZ, January 30, 2016.
Robin Denselow, "Dire Straits: straight on up from Deptford to Dylan – archive, 1979," Guardian, June 20, 1979.
Paul Sexton, "I Get The Same Buzz I Had As A Kid": Mark Knopfler Talks 'Down The Road Wherever'," UDiscoverMusic.com, November 15, 2018.
Andy Greene, "Dire Straits Bassist John Illsley on Rock and Roll Hall of Fame, Reunion: 'It throws up more questions than answers,' he says about the Hall of Fame induction and a potential performance. 'But it's very exciting.'," Rolling Stone, December 24, 2017.
Paul Rees, "Sultans Of Swing: The Untold Story Of Dire Straits," Louder Sound.com, April 17, 2015.
"C-FUN Top Thirty," CFUN 1410, Vancouver, BC, May 7, 1983.
For more song reviews visit the Countdown.