#1296: Two Girls In One by Pursuit Of Happiness
Peak Month: July 1990
9 weeks on Vancouver's CKLG chart
Peak Position #19
Peak Position on Billboard Hot 100 ~ did not chart
YouTube: "Two Girls In One"
Lyrics: "Two Girls In One"
Murray Kevin "Moe" Berg was born in Edmonton, Alberta, in 1959. He watched his father play in country bands while he grew up, and spent his time admiring guitarists like Eddie Van Halen, Jeff Beck and Johnny Winter. From his late teens, Berg was in the Edmonton bands Troc '59, The News, Modern Minds and Facecrime. The Pursuit of Happiness were launched in 1985 when he and Troc '59 drummer Dave Gilby moved to Toronto. They soon met bassist Saskatoon native Johnny Sinclair and formed the band, adding Winnipeg-born sisters Tamara and Natasha Amabile as backing vocalists. Their debut single, "I'm an Adult Now", quickly became a Top 30 hit across Canada in 1986, sparked by a low-budget video (made by Berg's director friend Nelu Ghiran) which made it onto the Canadian music video channel MuchMusic. In the spring of 1987, "I'm An Adult Now" peaked at #14 on CKOC in Hamilton, Ontario.
The Amabile sisters left to concentrate on their own band, and were replaced by Kris Abbott (guitar and backing vocals) and Leslie Stanwyck (backing vocals) in early 1988.
In 1988 The Pursuit of Happiness released "Killed By Love". But the single was a commercial flop. That year the band released their debut studio album Love Junk. In 1989 "She's So Young" climbed to #19 in Hamilton, and made the Top 30 in Vancouver. Subsequently, "Beautiful White" made the Top 40 in Vancouver later that year.
In 1990 "I'm An Adult Now" was re-issued and made it to #6 on the Alternative Airplay chart on Billboard, as well as #39 on the Australian pop singles chart. And in 1990 Brad Barker joined the band on bass guitar and backing vocals, after Stanwyck and Sinclair left. While Susan Murumets was added on backing vocals.
In the spring The Pursuit of Happiness released the studio album One Sided Story. The debut single from the album was "Two Girls In One".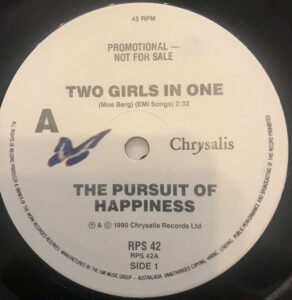 "Two Girls In One" is a song written by Moe Berg. The song is about a woman who has different sides of herself: The part of her who is a feminist, and the side of her who wears makeup; The person she wants to be and one she's become; The one who doesn't want to get married, but who wears a nose ring so some man can "pull her around;" Someone who likes her men "sensitive and vulnerable," but also wants he man to have "muscles" and "a lot of hair on his chest."
When you get to know most people, male or female, you discover there are different sides to them. So, while on the surface, "Two Girls In One" may seem insightful, it isn't telling us anything we don't discover about any of the people we get to know. In "Two Girls In One" this woman uses "her ignorance to paint the world black and white." She also uses "sex as a weapon." The woman being described in the song is a bundle of contradictions. But, most of us are. As the song's lyrics advise: "Don't even bother trying to figure it out."
"Two Girls In One" peaked at #19 in Vancouver (BC).
In 1993 The Pursuit of Happiness released their third studio album, The Downward Road. Two singles from the album, "Cigarette Dangles" and "I'm Ashamed of Myself", were minor hits in a few Canadian record markets. In 1995, Where's the Bone featured the minor single release "Young and In Love". In 1996 Renee Suchy joined the band on backing vocals and percussion. A final and fifth studio album, The Wonderful World of the Pursuit of Happiness, was released in late 1996.
In 2000, Moe Berg published a short story called The Green Room. Berg has worked as a part-time as a professor teaching music production for the Music Industry Arts Program at Fanshawe College in London, Ontario.
In 2005 TPOH released a compilation album, When We Ruled: The Best of The Pursuit of Happiness, which included a cover of the Prince hit single "When Doves Cry". In 2006 TPOH was inducted into the Canadian Indies Hall of Fame.
In 2017, Berg toured across Canada as part of The Trans-Canada Highwaymen. Other bandmates were Chris Murphy from Sloan, Steven Page of the Barenaked Ladies, and Craig Northey of The Odds.
The Pursuit of Happiness has remained active as a band since 1985. The current lineup, persisting despite pandemic restrictions, consists of Moe Berg, Dave Gilby, Brad Barker, Kris Abbott and Renee Suchy. They have performed only sporadically over the past two decades.
January 29, 2022
Ray McGinnis
References:
"The Pursuit of Happiness – Bio," toph.net.
Gregory Adams, "Chris Murphy Introduces His New Supergroup the Trans-Canada Highwaymen," Exclaim!, July 21, 2016.
"30 years Later, the Pursuit of Happiness is Back on its Feet," Globe & Mail, Toronto, January 4, 2019.
Dave Wild, "TPOH Declares Its Independence," Rolling Stone, February 23, 1989.
"CKLG Top 40" CKLG 730 AM, Vancouver, BC, July 23, 1990.
For more song reviews visit the Countdown.