#70: Under My Thumb by Streetheart
Peak Month: January 1980
16 weeks on Vancouver's CFUN Chart
Peak Position #2 ~ CKLG
Peak Position on Billboard Hot 100 ~ did not chart
YouTube.com: "Under My Thumb"
Lyrics: "Under My Thumb"
Kenny Shields was from Nokomis, Saskatchewan in 1947. When he was six years old he won an amateur talent contest. Once he graduated from high school he pursued music and in 1967 formed a band in Saskatoon named Witness Inc. The band had several Top Ten hits in local radio markets in the Canadian Prairies and in Ontario. These include "I'll Forget Her Tomorrow", "Jezebel" and "Harlem Lady". In 1969 Sheilds had a near fatal car accident and had to undergo therapy and rehab for a number of years. This meant he had to quit the band. In 1975 Shields was back with Witness Inc. and by that time he was the only original member in the band. But the pseudo-psychedlic sound that Witness Inc. was known for was no longer in vogue. The band changed its name to Streetheart and with it got a newer rock 'n roll sound. Bass player Ken "Spider" Sinnaeve and keyboard player, Daryl Gutheil, made the transition from Witness Inc. As Streetheart, they were joined by Paul Dean and Matt Frenette who both moved on to form Loverboy.
Now based in Regina, Streetheart released several singles that charted in the Top Ten in many Canadian record markets. In 1979 they released a cover of a song from 1965 by Them called "Here Comes The Night". It made the Top 20 in Victoria, Vancouver, Toronto and Ottawa. Their next hit was a cover of the 1966 song by the Rolling Stones called "Under My Thumb."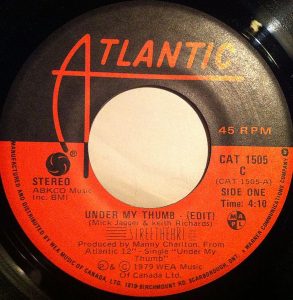 "Under My Thumb" was written by Mick Jagger and Keith Richards. Michael Philip Jagger was born in Dartford, Kent, England, in 1943, some 18 miles east of London. Though his father and grandfather were both teachers by profession, and he was encouraged to be a teacher, the boy had different aspirations. "I always sang as a child. I was one of those kids who just liked to sing. Some kids sing in choirs; others like to show off in front of the mirror. I was in the church choir and I also loved listening to singers on the radio–the BBC or Radio Luxembourg –or watching them on TV and in the movies." In 1950 Mick Jagger met Keith Richards while attending primary school. They became good friends until the summer of 1954 when the Jagger family moved to the village of Wilmington, a mile south of Dartford. The pair bumped into each other at a train station in 1961 and resumed their friendship.
Keith Richards was also born in Dartford, Kent, England, in 1943. From the age of two Keith sang along with his mother to songs on the radio in perfect pitch. Richards maternal grandfather, Augustus Theodore "Gus" Dupree, led a jazz band named Gus Dupree and His Boys. Dupree played saxophone, fiddle and guitar. It was his maternal grandfather who gave young Keith his first guitar. He also introduced Keith to the British Music Hall genre, a cousin of American Vaudeville. Keith took an interest in music while attending Dartford Technical High School for Boys from 1955 to 1959. He was recruited to be part of a trio of boy sopranos who performed at Westminster Abbey as part of a special concert for Queen Elizabeth II.
Jagger and Richards went on to form the Rolling Stones. Since 1964, the band had charted over seventy Top Ten singles internationally in one or more country on the globe. Of their many hit records, their biggest remain "(I Can't Get No) Satisfaction", "Honky Tonk Women", "Miss You", "Brown Sugar", "Ruby Tuesday", "Paint It Black", "Get Off My Cloud", "Angie", "Jumping Jack Flash" and "Start Me Up".
Jagger and Richards may have been familiar with William Shakespeare's play, The Taming of the Shrew, concerning an unyielding, unbending, headstrong and contrary minded woman. The archetype was certainly seen in pop culture at the time as Elizabeth Taylor and Richard Burton were cast in roles for the 1967 movie, and Cole Porter's long running 1948 Broadway play, Kiss Me Kate.
"Under My Thumb" expresses the view that the singer has achieved dominance in his relationship with his girlfriend. The term "under someone's thumb" means to be submissive to someone. It was coined by English politician Arthur Maynwaring in his 1715 book, The Life and Posthumous Works of Arthur Maynwaring, which was printed (as the book title suggests) after his death: "The French King having them under his Thumb, compell'd them to go at his Pace." The phrase was well enough established by the 19th century for it to spawn the verb form 'thumbing'. This was defined in James Halliwell's Dictionary Of Archaic And Provincial Words, 1847, as: "Thumbing: A Nottingham phrase, used to describe that species of intimidation practiced by masters on their servants when the latter are compelled to vote as their employers please."
The lyrics in "Under My Thumb" describe a number of ways the singer is now able to control his girlfriend. He states that she talks when she is spoken to suggesting that she is polite and compliant in response to whatever he says. We learn that she has changed her ways, and now does just what she's told. In the song the phrase down to me suggests that whatever is down to him is left for him to decide. This includes the difference in the clothes she wears, indicating that the girlfriend now seeks approval from her boyfriend regarding how to dress in public.
Another aspect of the relationship is that now her eyes are just kept to herself while, simultaneously, the singer boasts that he can still look at someone else. This is an interesting agreement to reach, or be coerced into accepting, in a relationship. Here the boyfriend can check out and glance at other women while the girlfriend passively accepts his ogling while refraining from any flirtations herself. The singer also has a range of descriptions for his girlfriend: Siamese cat could be a flattering compliment. Siamese cats are understood in the cat world as having a number of traits including being slender, muscular, social, intelligent, playful and having attractive, fine features.
However, the singer also refers to his girlfriend as the squirmin' dog who's just had her day. Perhaps he experienced his girlfriend previously like untamed an untamed dog that squirms in the sense of being easily agitated and impatient. He also refers to her as "the sweetest pet in the world." Depending on how the tone of voice accompanied the phrase in the relationship this could be understood as a term of endearment or a reminder of who wore the pants in the relationship.
"Under My Thumb" peaked at #1 in Regina (SK), #2 in Vancouver, #5 in Ottawa (ON), #6 in Toronto, and Saskatoon (SK), #7 in Hamilton (ON), and #9 in Sherbrooke (PQ).
In 1980 the band won the Juno Award for most promising group of the year. In 1981 they released a "Best of" album.
In 1982 they released a self-titled album, Streetheart. It included "What Kind Of Love Is This". By this time their lineup also included Jeff Neil on guitar and vocals, Herb Ego on drums, as well as Sinnaeve, Gutheil and Shields.
After six studio albums and a double-live album, Streetheart dissolved in 1983. Sheilds continued to perform with the Kenny Shields Band. In the 1990's Streetheart saw some of its' old bandmates regroup for reunion tours. The band was inducted into the Western Canadian Music Association Hall of Fame in 2003. The band planned a 40th Anniversary tour that was disrupted when Kenny Sheilds took ill and died at age 69 after undergoing cardiac surgery. A tribute concert in remembrance of Kenny Sheilds in Winnipeg, on August 28, 2017, featured the Canadian bands, Loverboy, Harlequin and Honeymoon Suite.
January 16, 2023
Ray McGinnis
References:
Mick Dalla-Vee, Bob Deutscher, Herb Ego, Streetheart bio, Canadian Bands.com.
David Friend, "Streetheart lead singer Kenny Shields Dies," Globe and Mail, Toronto, July 21, 2017.
Kenny Shields bio, Crazy 4 Streetheart blogspot, February 16, 2008
Darren Bernhardt, "He Was Magic": Canadian Rock Legend Kenny Sheilds Dies," CBC, July 21, 2017.
"Loverboy to Join Kenny Shields Tribute 8/29," Broadway World.com, July 28, 2017.
Daniel Kreps, "The Rolling Stones Bio," Rolling Stone.
Marc Meyers, "The Rolling Stones at the Altamont Speedway," Wall Street Journal, November 16, 2010.
Victor Bockris, Keith Richards: The Biography, (Da Capo Press, 2003).
David Fricke, "100 Greatest Guitarists: Keith Richards #10," Rolling Stone, December 3, 2010.
"C-FUN Top Thirty," CFUN 1410 AM, Vancouver, BC, January 26, 1980.
For more song reviews visit the Countdown