#1266: Under My Thumb by The Rolling Stones
Peak Month: September 1966
6 weeks on Vancouver's CFUN chart
Peak Position #8
Peak Position on Billboard Hot 100 ~ did not chart
YouTube.com: "Under My Thumb"
Lyrics: "Under My Thumb"
Michael Philip Jagger was born in Dartford, Kent, England, in 1943, some 18 miles east of London. Though his father and grandfather were both teachers by profession, and he was encouraged to be a teacher, the boy had different aspirations. "I always sang as a child. I was one of those kids who just liked to sing. Some kids sing in choirs; others like to show off in front of the mirror. I was in the church choir and I also loved listening to singers on the radio–the BBC or Radio Luxembourg –or watching them on TV and in the movies." In 1950 Mick Jagger met Keith Richards while attending primary school. They became good friends until the summer of 1954 when the Jagger family moved to the village of Wilmington, a mile south of Dartford. The pair bumped into each other at a train station in 1961 and resumed their friendship.
Keith Richards was also born in Dartford, Kent, England, in 1943. From the age of two Keith sang along with his mother to songs on the radio in perfect pitch. Richards maternal grandfather, Augustus Theodore "Gus" Dupree, led a jazz band named Gus Dupree and His Boys. Dupree played saxophone, fiddle and guitar. It was his maternal grandfather who gave young Keith his first guitar. He also introduced Keith to the British Music Hall genre, a cousin of American Vaudeville. Keith took an interest in music while attending Dartford Technical High School for Boys from 1955 to 1959. He was recruited to be part of a trio of boy sopranos who performed at Westminster Abbey as part of a special concert for Queen Elizabeth II. Keith became interested in rock 'n roll, skiffle and rhythm and blues. Richards remembers playing tunes by Johnny Cash and "Blue Moon Of Kentucky".
When Richards and Jagger met each other one spring morning in 1961 at the Dartford Train Station, Jagger was at the London School of Economics. Mick was studying to become a journalist or a diplomat. But Richards noticed what Jagger was carrying with him on his way to school, two record albums. One was The Best of Muddy Waters, and the other Rockin' At The Hops by Chuck Berry. Keith was impressed and invited Mick to his home for tea that afternoon. Richards and Jagger were part of a cohort of young men who were not being drafted into the British Army. In 1957 the British Government decided that men born after October 1, 1939, would not be drafted into the National Service. And by November 1960 the last men were called up for service. Dave Clark of the Dave Clark Five would comment "We were the first generation that wasn't drafted. The thing about getting drafted when you were eighteen was that's the most important time of your life for freedom of expression. For so many, that period was cut short, and you were told what to do, where to go, what to be. Then you got out of the service, got married, and worked a job in a factory. That was it. Had the government not stopped the draft there would have been no Dave Clark Five, no Beatles, no Stones."
The Rolling Stones first gig was at the Marquee Club in London on July 12, 1962. At that first show, the group was billed as the Rollin' Stones and, of what would become the band's original lineup, only Mick Jagger, Keith Richards, Brian Jones and keyboardist Ian Stewart performed. Bill Wyman and Charlie Watts would formally join in January of 1963, and Stewart officially left the band in May. Though Stewart continued on as the Stones' road manager and occasionally played with them both on stage and in the studio until his death in 1985. When the nascent Rolling Stones began playing gigs around London in 1962, the notion that a rock & roll band would last five years, let alone fifty, was an absurdity. After all, what could possibly be more ephemeral than rock & roll, the latest teenage fad? Besides, other factors made it unlikely that such a momentous occasion would ever come to pass. "I didn't expect to last until fifty myself, let alone with the Stones," Keith Richards says with a laugh. "It's incredible, really. In that sense we're still living on borrowed time."
In 1966 the Rolling Stones released their sixth studio album, Aftermath. The album had a number of tracks on it whose subject concerned females. On the British release, side one began with "Mother's Little Helper", "Stupid Girl", "Lady Jane" and followed by "Under My Thumb". "Mother's Little Helper" is a song that dealt with the sudden popularity of prescribed calming drugs at the time, like valium, among housewives. The lyrics warned about the potential hazards of overdose and addiction. The lyric in "Lady Jane" depicted the humble, reverent, devoted and monogamous fiancé of Lady Jane. The North American release of Aftermath replaced "Mother's Little Helper" with "Paint It Black".
"Paint It Black" was the first single from the album and peaked at #1 in June 1966. "Mother's Little Helper" followed with a peak at #8 on the Billboard Hot 100 and #5 in Vancouver. "Lady Jane" climbed to #24 on the Billboard Hot 100 and #5 in Vancouver. In 1966 the Rolling Stones continued to be a dominant recording act on the airwaves in Vancouver and elsewhere.
Another song they released in 1966 was "Under My Thumb". It was not released as a single in English speaking countries. But in 1968 it was released as a single in Japan, The Philippines and elsewhere in Asia.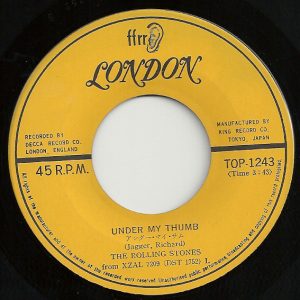 Nonetheless, in Vancouver, based on listener requests in the summer of 1966, the hand-clapping, marimba infused "Under My Thumb" began to chart as the fourth track on side one of Aftermath on CFUN's FUNTASTIC FIFTY. This made it the fourth charted song for the Rolling Stones to debut on the CFUN charts between the May 7th debut of "Paint It Black" and the August 20 debut of "Under My Thumb". The track from Aftermath peaked at #8 in Vancouver on September 10th. CFUN was one of only a few radio stations to chart "Under My Thumb" in North America. Coincidentally, KJR in Seattle, charted "Under My Thumb" where it peaked at #3 on August 12, the week before CFUN began to chart the song.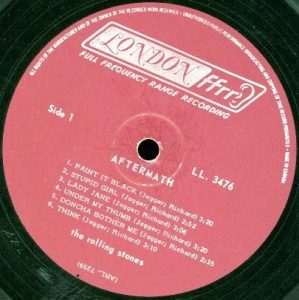 "Under My Thumb" features Mick Jagger who sings about a relationship where the tables have turned concerning the power dynamics. Previously the female was in charge: The girl who once had me down. And the man was being bossed around: The girl who once pushed me around. Jagger may have been familiar with William Shakespeare's play, The Taming of the Shrew, concerning an unyielding, unbending, headstrong and contrary minded woman. The archetype was certainly seen in pop culture at the time as Elizabeth Taylor and Richard Burton were cast in roles for the 1967 movie, and Cole Porter's long running 1948 Broadway play, Kiss Me Kate.
"Under My Thumb" expresses the view that the singer has achieved dominance in his relationship with his girlfriend. The term "under someone's thumb" means to be submissive to someone. It was coined by English politician Arthur Maynwaring in his 1715 book, The Life and Posthumous Works of Arthur Maynwaring, which was printed (as the book title suggests) after his death: "The French King having them under his Thumb, compell'd them to go at his Pace." The phrase was well enough established by the 19th century for it to spawn the verb form 'thumbing'. This was defined in James Halliwell's Dictionary Of Archaic And Provincial Words, 1847, as: "Thumbing: A Nottingham phrase, used to describe that species of intimidation practiced by masters on their servants when the latter are compelled to vote as their employers please."
The lyrics in "Under My Thumb" describe a number of ways the singer is now able to control his girlfriend. He states that she talks when she is spoken to suggesting that she is polite and compliant in response to whatever he says. We learn that she has changed her ways, and now does just what she's told. In the song the phrase down to me suggests that whatever is down to him is left for him to decide. This includes the difference in the clothes she wears, indicating that the girlfriend now seeks approval from her boyfriend regarding how to dress in public.
Another aspect of the relationship is that now her eyes are just kept to herself while, simultaneously, the singer boasts that he can still look at someone else. This is an interesting agreement to reach, or be coerced into accepting, in a relationship. Here the boyfriend can check out and glance at other women while the girlfriend passively accepts his ogling while refraining from any flirtations herself. The singer also has a range of descriptions for his girlfriend: Siamese cat could be a flattering compliment. Siamese cats are understood in the cat world as having a number of traits including being slender, muscular, social, intelligent, playful and having attractive, fine features.
However, the singer also refers to his girlfriend as the squirmin' dog who's just had her day. Perhaps he experienced his girlfriend previously like untamed an untamed dog that squirms in the sense of being easily agitated and impatient. He also refers to her as "the sweetest pet in the world." Depending on how the tone of voice accompanied the phrase in the relationship this could be understood as a term of endearment or a reminder of who wore the pants in the relationship.
Some feminists took issue with the song, though Camile Paglia defended the song. Jagger later reflected on the track in a 1995 interview: "It's a bit of a jokey number, really. It's not really an anti-feminist song any more than any of the others… Yes, it's a caricature, and it's in reply to a girl who was a very pushy woman."
Two tracks earlier on Side One of Aftermath, "Stupid Girl" amplifies a teenage boys complaint about his female peers. In that song Jagger snarls about a girl who powders her nose, the way her vanity shows, the way she digs for gold and the way she grabs and holds. The Rolling Stones performed "Under My Thumb" in 1966 on the UK show, Ready Steady Go.
Jagger, who co-wrote the song with Keith Richards, commented about "Stupid Girl" in a December 14,1995, interview with Rolling Stone, "Yeah, it's much nastier than 'Under My Thumb'… Obviously, I was having a bit of trouble. I wasn't in a good relationship. Or I was in too many bad relationships. I had so many girlfriends at that point. None of them seemed to care they weren't pleasing me very much. I was obviously in with the wrong group."
By the following summer "Under My Thumb" was still extremely popular in Vancouver. So popular it was enough in July 1967 to be ranked at #15 for the CFUN JULY 1967 Soundathon. Soundathon was C-FUN's semi-annual extravaganza of hits from the past. Listeners voted for their favorite "flashbacks" and these were tallied and played in countdown order near the year's end or in mid-summer. The July 1967 Soundathon of CFUN listener voted favorite "flashbacks" was a list of 300 songs. In addition to "Under My Thumb" being ranked at #15, The Rolling Stones were featured on the Soundathon countdown at #240 "Have You Seen Your Mother Baby Standing In the Shadows", #200 "Paint It Black", #74 "It's All Over Now", #58 "19th Nervous Breakdown," #28 "Lady Jane"/"Mother's Little Helper" and #5 "Satisfaction".
"Under My Thumb" peaked at #3 in Syracuse (NY), Worcester (MA), and Seattle, #6 in Los Angeles, and Medford (OR), and #8 in Vancouver.
The Rolling Stones appeared as the final act at the Altamont Speedway Free Festival Concert on December 6, 1969, near Livermore, California. The concert headliners who performed on stage that night were Santana, Jefferson Airplane, The Flying Burrito Brothers, Crosby, Stills, Nash & Young and The Rolling Stones.
During the performance by The Rolling Stones, an 18-year old African-American youth, Meredith Curly Hunter Jr. approached the stage. He was violently driven off by members of the Hells Angels motorcycle club who had been contracted to serve as security guards. An eyewitness reported that Hunter was stabbed by one of the Angels at this point. Hunter later returned to the stage area, drew a revolver. He was then stabbed and beaten to death by Hells Angel Alan Passaro.
The Hells Angels stood directly in front of the bands performing on stage in an effort to keep people off the unusually low stage set up at the bottom of a low slope. During their security detail the Hells Angels became very intoxicated as they performed security. The crowd became restless and unpredictable. The drunken Hells Angels began hurling full cans of beer from their stockpile and striking concert-goers with sawed-off, weighted pool cues and motorcycle chains to drive the crowd back from the stage. By the time the Rolling Stones took the stage in the early evening, the mood had taken a decidedly ugly turn, as numerous fights began to erupt between Angels and crowd members.
Earlier Mick Jagger had been punched by a concertgoer prior to the Rolling Stones set on stage. Jagger urged the audience to "Just be cool down in the front there, don't push around." Within a minute of starting their third song, "Sympathy for the Devil", a fight erupted in the front of the crowd, at the foot of the stage. After another appeal for calm, the band restarted their song. Their set continued their with little incident until they began to play "Under My Thumb". It was then two of the Hells Angels began to brawl with Hunter when he tried to get onstage with other fans. One of the Hells Angels grabbed Hunter's head, punched him, and chased him back into the crowd, where four Angels descended upon him. The stabbing that was later caught on the film Gimmie Shelter.
"Under My Thumb" has been recorded by numerous recording artists. Del Shannon, of "Runaway" fame, did a cover version of the song in 1966. The Kingsmen, who had a hit with "Louie Louie" in 1963-64, also made a recording of in 1966. Tina Tuner did a cover version of the song on her 1975 album Acid Queen.
November 29, 2016
Ray McGinnis
References:
Daniel Kreps, "The Rolling Stones Bio," Rolling Stone.
Marc Meyers, "The Rolling Stones at the Altamont Speedway," Wall Street Journal, November 16, 2010.
Manchester-by-the-Sea ~ Fire scene
"Mick Jagger On The Apocalyptic 'Gimme Shelter'," NPR, November 16, 2012.
CFUN SOUNDATHON #14, CFUN 1410 AM, Vancouver, British Columbia, July 1967.
The Life and Posthumous Works of Arthur Maynwaring, 1715.
Halliwell, James. Dictionary Of Archaic And Provincial Words. 1847.
Victor Bockris, Keith Richards: The Biography, (Da Capo Press, 2003).
David Fricke, "100 Greatest Guitarists: Keith Richards #10," Rolling Stone, December 3, 2010.
Bill Wyman, Rolling With The Stones, (Dorling Kindersley, 2002) 19.
"C-FUNTASTIC FIFTY," CFUN 1410 AM, Vancouver, BC, September 10, 1966.
For more song reviews visit the Countdown.