#1192: Walk On by Neil Young
Peak Month: August 1974
7 weeks on Vancouver's CKLG chart
Peak Position #12
Peak Position on Billboard Hot 100 #69
YouTube.com "Walk On"
Lyrics: "Walk On"
In 1945 Neil Young was born in Toronto, Ontario, and then lived most of his years growing up in the town of Omemee in the Kawartha Lakes region near Peterborough. As boy Neil Young was diagnosed with epilepsy, Type 1 diabetes and polio. By the age of six he was not able to walk. Despite his health challenges, he developed an interest in music and was taught to play the banjo and ukulele. After playing clubs in Toronto in the early 60s Young moved to Los Angeles by the time he turned twenty and became a member of the Buffalo Springfield.
In an article by TIDAL, it's pointed out that "Neil's dad, journalist, sportswriter and author Scott Young, is considered to be a national icon in Canada. He wrote over 30 books in his career, amongst others the 1952 schoolboy favorite, Scrubs on Skates. The book was dedicated to his sons: "To Neil and Bob, whose greatest games are still ahead of them." Neil's mother, Edna Blow Ragland "Rassy" Young, divorced Scott Young in 1960. She took Neil with her to Winnipeg. That year, Neil Young formed a band called The Jades. In order to get around to performances, Neil purchased a 1948 Buick Roadmaster hearse. He nicknamed his hearse Mortimer Hearseburg, or Mort, for short.
Buffalo Springfield released their self-titled debut album in December 1966. Their first two single releases from the album got little attention. But their third single, "For What It's Worth" caught on spending 15 weeks on the Billboard Hot 100 and peaking at #7 in the USA and #1 in Vancouver. The song was about an incident during August 1966 on the Sunset Strip in Hollywood. Residents of the area had attempted to get rid of the hippies near the Pandora's Box club, who they saw as a threat to local tourism, by having the police enforce curfew laws. A riot ensued and police began to wield night-sticks on the long-haired youth.
Stephen Stills had seen the riot after returning from a trip to Nicaragua. Stills was inspired: "All the kids on one side of the street, all the cops on the other side – in Latin America that meant there'd be a new government in about a week. " The song became an anthem for a generation wary of the status quo who began wearing buttons that read "question authority." Near the peak of its chart run of "For What It's Worth" Buffalo Springfield had an appearance on The Smothers Brothers Comedy Hour was taped on February 26, 1967.
Their second album, Buffalo Springfield Again, was released in November 18, 1967. It was not an easy album to record due to tensions between band members. Neil Young, who had his first epileptic fit while performing with the band in 1966, was often absent. Bass guitarist, Bruce Palmer, was detained on drug charges and was sent back to Canada on several occasions delaying the deadlines for the albums release.
Among the notable tracks are Young's minor hit, "Mr. Soul", which was the B-side to the Buffalo Springfield's debut single from the album, "Bluebird". Stephen Stills contributed four tunes, among them "Rock and Roll Woman". Simultaneous tension in Buffalo Springfield, The Byrds, and The Hollies would eventually result in the formation of Crosby, Stills & Nash." In 2003, Buffalo Springfield Again was ranked number 188 on Rolling Stone magazine's list of the "500 greatest albums of all time." A final album, Last Time Around, was released in 1968. It included the single, "On The Way Home".
In 1969 Young got a contract with Reprise Records. He released two albums that year, Neil Young and Everybody Knows this is Nowhere, backed by his band called Crazy Horse. The singles that emerged from these first two albums provided a glimpse into his creative lyric-writing and musicianship. These included "Sugar Mountain", "Cinnamon Girl" and "Down by the River".
In the midst of his emerging solo career, Young was invited by Stephen Stills to join a new group with David Crosby of the Byrds and Graham Nash of the Hollies. When Young joined the group it was renamed Crosby, Still, Nash & Young. They played at the Woodstock Festival in August 1969, and toured with their new album The band's subsequent tour and album, Déjà Vu, the following year. But Young's involvement with the band was short-lived as tensions over musical direction surfaced and Young went solo.
Young went onto be part of the supergroup, Crosby, Stills, Nash and Young. But again, Neil Young found himself at odds with members of the band. He focused more on his solo career.
In 1970 he released the album, After the Gold Rush which included "Only Love Can Break Your Heart" and "Southern Man". Then between January and September 1971 Young recorded his Harvest album and released it in 1972. The album included his classic songs "The Needle and the Damage Done", "Old Man" and "Heart of Gold". Harvest went on to be the best-selling album in America in 1972.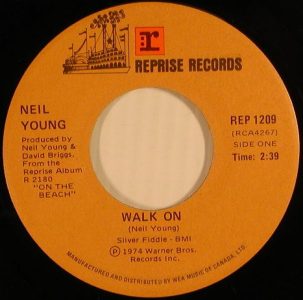 "Walk On" is the only single release from Young's seventh studio album, On the Beach. The album was a musical statement from Young about moving beyond despair and not getting overwhelmed by it. In the song "Walk On" Young recognizes that when you participate in any community it will include people who badmouth you. Young writes "I hear some people been talkin' me down/ Bring up my name, pass it 'round." Listeners could imagine a setting where they were not in the room and the people gathered around took turns at making disparaging remarks about the person who is absent. There could be the choice to speak about the good memories, the happy times. Instead the gang just keeps on bashing away at the absent person's reputation. And when a circle of friends, a neighborhood or wider community turn on individuals there are a range of coping skills.
Young says, "some get stoned, some get strange." Tuning out the news, the animosity, the gossip by doing drugs is one way to get by. Others, perhaps more sensitive people get strange: the clothes they wear, eccentric behaviors, isolating themselves from community, or being aloof. Some get hostile or threatening, posting signs outside their home and property indicating they want to be left alone. How each person feels ends up being quite different from the person next to them. The discomforting and fractured society becomes all too real and for many people very broken with no solution in sight. Young's advice: walk on. If you're not welcome, if there's no hospitality offered, kick the dust off your sandals and keep on moving. To keep on walking allows for the possibility that there may be a more receptive setting. There may be people in the next town won't talk you down, or maybe they will. The promise of really living remains by not settling for what just doesn't fit anymore.
"Walk On" peaked at #12 in Vancouver and #69 on the Billboard Hot 100, but did not appear on the Canadian RPM singles chart. Neil Young would not enjoy a Top 40 hit in Canada after his 1972 single "War Song", until "Harvest Moon" climbed to #5 on the Canadian RPM charts in 1992 (a song that did not chart in the USA).
In 2003, Young had a biography penned by James McDonough titled Shakey. Over the decades, Neil Young has expressed his politics in song. A critic of the Bush family in America, Young's 1989 hit "Rockin' in the Free World" criticized the policies of George H.W. Bush and the epidemic of drug use and homelessness. Young's 2006 album, Living With War had one track after the other lambasting President George W. Bush and his administration. Some of the song titles included "Looking for a Leader" and "Let's Impeach the President".
February 6, 2017
Ray McGinnis
References:
"Neil Young bio," Rolling Stone.
"Buffalo Springfield bio," Rolling Stone.
70 Facts You Might Not Know About Neil Young, TIDAL, June 17, 2016
James McDonough, Shakey: Neil Young's Biography, (Vintage, 2003).
"CKLG 'Thirty'," CKLG 730 AM, Vancouver, BC, August 2, 1974.
For more song reviews visit the Countdown.