#704: What Do You Want by Adam Faith
Peak Month: March 1960
7 weeks on Vancouver's CFUN chart
Peak Position #7
Peak Position on Billboard Hot 100 ~ did not chart
YouTube.com link: "What Do You Want"
Lyrics: "What Do You Want"
Terence Nelhams-Wright was born in Acton Vale, in west London, in 1940. When he was twelve he got a job as a paperboy. He wanted a better life than his bus driver father and cleaning services mother had, so Terrance left school in 1955 and got a position with Rank Studios as a messenger. In 1957, he formed a skiffle band called The Worried Men. His first three single releases all were commercial failures. However, in 1959, going by the name Adam Faith, he got a regular spot on a BBC TV rock 'n roll show named Drumbeat. Faith became one of the regular stars to appear, along with Petula Clark, Cliff Richard, Billy Fury, Dickie Valentine, the Lana Sisters (including Dusty Springfield) and Canadian pop idol Paul Anka. The TV exposure gave Adam Faith a following.
His fourth single release, "What Do You Want", climbed to #1 in on the UK singles chart.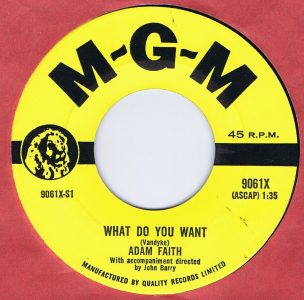 "What Do You Want" was the first of two singles in a row that peaked at #1 for Adam Faith. The other was his follow up hit, "Poor Me". The writer of "What Do You Want" was Les Vandyke, who also went by the pseudonyms Johnny Worth and John Worth. Vandyke also wrote Adam Faith's other #1 hit, "Poor Me". Vandyke additionally wrote "Somebody Else's baby" (#2), "How About That" (#4), "Who Am I" (#5), "The Time Has Come" (#4), "As You Like" (#5) and "Don't That Beat All" (#8). Between 1959 and 1962, Les Vandyke wrote eight songs for Adam Faith. All of these made the Top Ten on the UK singles chart. Vandyke also wrote two Top Ten hits for Eden Kane in the early '60's, "Well You Ask" (#1), and "Forget Me Not" (#3). Les Vandyke also gave British singer, Jimmy Justice, one of his few hits, "Ain't That Funny" (#8). In 1963, a hit titled "Applejack" went to #4 written by Les Vandyke and recorded by Jet Harris and Tony Meehan. Les Vandyke also wrote the title song from the film short, Les Bicyclettes de Belsize, which Engelbert Humperdinck recorded as a hit single. Vandyke's last songwriting success was with the #4 hit in 1971 sung by Clodagh Rodgers titled "Jack In The Box". Meanwhile, between 1961 and 1963, Les Vandyke wrote scores for numbers of low budget British films, including the comedy What A Whopper, a drama titled The Kitchen, the crime drama Mix Me A Person, the musical Some People, and the neo-noir crime movie Johnny Cool.
"What Do You Want" concerns a guy trying to figure our what his girlfriend wants. She doesn't want money, gold, ermine or pearls. He wants her to hunger after his kisses and his love. However, she chooses to play it cool. She refuses his offer of a diamond ring. It's clear that she doesn't need his love at this point. Yet, the guy in the song is confident that he is too sexy for her to keep on resisting. He predicts, "One of these days when you need my kissing/One of these days when you want me too/Don't turn around coz I'll be missing/Then you'll want-a my love baby." Nearly six decades later, Ellie Mae O'Hagan would pen an article for the Guardian with the headline, Apologies to You Dating Men: but You're Not As Irresistible as You Think. In the article she describes the dilemma for women who are stereotyped as all wanting a relationship. Consequently, the guy can think whoever his date is, the "gal" is crazy about him. O'Hagan advises that not all women are like Glenn Close's character, Alex, in the film Fatal Attraction.
Adam Faith sounded like a a Buddy Holly sound-alike. "What Do You Want" was #1 on the UK charts for three weeks from late November 1959 into December. Buddy Holly had died, along with Ritchie Valens and the Big Bopper (JP Richardson) on February 3, 1959. Faith's rendition of "What Do You Want" appealed to the still grieving Buddy Holly fans in the UK. Faith's annunciation of the word "baby," as "bay-beh," had the girls screaming. Aside from Vancouver, where "What Do You Want" climbed to #7, the song was given a pass by DJ's across the USA and Canada.
Between 1959 and 1965, Adam Faith charted twenty songs into the Top 30 in the UK. Of these, eleven made the Top Ten. But his next #1 hit in the UK, "Poor Me", stalled at #48 on CFUN in April 1960. Elsewhere in North America, Adam Faith didn't catch on. Even though he appeared on American Bandstand and was interviewed on the TV show by Dick Clark.
Faith also had an acting career appearing in What A Whopper in 1960, Mix Me A Person in 1962. In 1969, Faith appeared as part of the touring company for the play Billy Liar. In 1970, Adam Faith was cast in the role of Ronald 'Budgie' Bird in the TV series Budgie. In the '70's Adam Faith managed Leo Sayer and David Essex. The former pop singer had a near fatal car accident and nearly lost a leg. In 1986 he had open heart surgery. When he recovered, Adam Faith became a financial adviser and had a Column in the Daily Mail. Meanwhile, Faith continued to take on roles, including one in th emid-90's as part of the cast in Alfie.
He was part of a touring company as a performer in the production of Love And Marriage. After a performance at Stoke-on-Trent, he retired for the evening and suffered a massive heart attack in the middle of the night. Adam Faith died in March 2003.
October 16, 2018
Ray McGinnis
References:
Charlotte Edwardes and Chris Hastings, "Adam Faith dies at 62," Telegraph, London, UK, March 9, 2003
Dick Clark, Adam Faith Interview, American Bandstand, ABC TV, January 2, 1965
Hunter Davies, "So What's It All About, Adam? Now 53, a Philosophical Adam Faith has Come Out as an Artist… Returning to the Stage in 'Alfie.'" Independent, May 3, 1994
Geoff Leonard and Pete Walker, Adam Faith – Biography, John Barry.org
Ellie Mae O'Hagan, "Apologies to You Dating Men, but You're not as Irresistible as You Think," Guardian, April 3, 2014.
"Hi-Fi Forty," CFUN 1410 AM, Vancouver, BC, March 26, 1960.
For more song reviews visit the Countdown.