#1251: War Song by Neil Young
Peak Month: July 1972
6 weeks on Vancouver's CKVN chart
Peak Position #10
Peak Position on Billboard Hot 100 ~ #61
YouTube.com "War Song"
"War Song" lyrics
In 1945 Neil Young was born in Toronto, Ontario, and then lived most of his years growing up in the town of Omemee in the Kawartha Lakes region near Peterborough. As a boy Neil Young was diagnosed with epilepsy, Type 1 diabetes and polio. By the age of six he was not able to walk. Despite his health challenges, he developed an interest in music and was taught to play the banjo and ukulele. After playing clubs in Toronto in the early 60s Young moved to Los Angeles by the time he turned twenty and became a member of the Buffalo Springfield.
In an article by TIDAL, it's pointed out that "Neil's dad, journalist, sportswriter and author Scott Young, is considered to be a national icon in Canada. He wrote over 30 books in his career, amongst others the 1952 schoolboy favorite, Scrubs on Skates. The book was dedicated to his sons: "To Neil and Bob, whose greatest games are still ahead of them." Neil's mother, Edna Blow Ragland "Rassy" Young, divorced Scott Young in 1960. She took Neil with her to Winnipeg. That year, Neil Young formed a band called The Jades. In order to get around to performances, Neil purchased a 1948 Buick Roadmaster hearse. He nicknamed his hearse Mortimer Hearseburg, or Mort, for short.
Young drove to Los Angeles in his second hearse, a 1953 Pontiac, after Mort broke down. Stuck in traffic on Sunset Boulevard, Stephen Stills recognized him and flagged him down. They two soon after formed Buffalo Springfield.
After the Buffalo Springfield's single, "For What It's Worth", became a Top Ten hit in the USA in early 1967, all the bandmates including Neil Young became celebrities. The record-buying public got to listen to songs Young wrote like "Mr. Soul" and "I Am a Child".
Their second album, Buffalo Springfield Again, was released in November 18, 1967. It was not an easy album to record due to tensions between band members. Neil Young, who had his first epileptic fit while performing with the band in 1966, was often absent. Bass guitarist, Bruce Palmer, was detained on drug charges and was sent back to Canada on several occasions delaying the deadlines for the albums release.
Among the notable tracks are Young's minor hit, "Mr. Soul", which was the B-side to the Buffalo Springfield's debut single from the album, "Bluebird." Stephen Stills contributed four tunes, among them "Rock and Roll Woman." Simultaneous tension in Buffalo Springfield, The Byrds, and The Hollies would eventually result in the formation of Crosby, Stills & Nash. In 2003, Buffalo Springfield Again was ranked number 188 on Rolling Stone magazine's list of the "500 greatest albums of all time." A final album, Last Time Around, was released in 1968. It included the single, "On The Way Home".
In 1969 Young got a contract with Reprise Records. He released two albums that year, Neil Young and Everybody Knows this is Nowhere, backed by his band called Crazy Horse. The singles that emerged from these first two albums provided a glimpse into his creative lyric-writing and musicianship. These included "Sugar Mountain", "Cinnamon Girl" and "Down by the River".
In the midst of his emerging solo career, Young was invited by Stephen Stills to join a new group with David Crosby of the Byrds and Graham Nash of the Hollies. When Young joined the group it was renamed Crosby, Still, Nash & Young. They played at the Woodstock Festival in August 1969, and toured with their new album The band's subsequent tour and album, Déjà Vu, the following year. But Young's involvement with the band was short-lived as tensions over musical direction surfaced and Young went solo.
In 1970 he released the album, After the Gold Rush which included "Only Love Can Break Your Heart" and "Southern Man". Then between January and September 1971 Young recorded his Harvest album and released it in 1972. The album included his classic songs "The Needle and the Damage Done", "Old Man" and "Heart of Gold". Harvest went on to be the best-selling album in America in 1972.
While Harvest was still in the Top Ten of the Billboard album chart he released "War Song". This was a 1972 single credited to Neil Young & Graham Nash, backed by The Stray Gators. It was released in support of George McGovern's 1972 presidential campaign, who was running against incumbent President Richard Nixon. McGovern had been a member of the US Congress as a representative of the 1st District in South Dakota from 1957 to 1961. In 1961 he became Director of the Food for Peace program initiated by President John F. Kennedy. According to authors, James W. Douglass and John M. Newman, Kennedy had begun to initiated a plan to withdraw from Vietnam by October 1963, but his proposals were reversed by President Lyndon Johnson within days of his assassination.
From 1963 to 1981 George McGovern was a United States Senator from South Dakota. In the 1972 election, McGovern was the Presidential candidate for the Democratic Party. He ran on a platform that advocated withdrawal from the Vietnam War in exchange for the return of American prisoners of war and amnesty for draft evaders who had left the country. McGovern's platform also included an across-the-board, 37-percent reduction in defense spending over three years. In shifting priorities away from defense spending, McGovern proposed a program that would give a $1,000 payment to every citizen in America.
Neil Young had already put his songwriting skills to effect with his social commentary about the killing of four students at Kent State University in Ohio in 1970 with the Crosby, Stills, Nash & Young single "Ohio". In the 1972 presidential campaign Young tried again to make an impact with a protest song. Despite his and Nash's intentions, the single was drowned out on the radio with an avalanche of Republican ads endorsing Richard Nixon's re-election.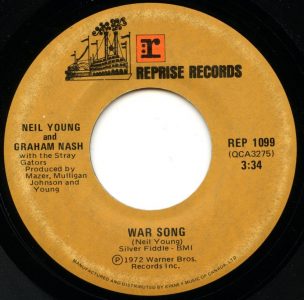 The song begins with a verse about Richard Nixon. The bridge between the first and second verses comments on an assassination attempt on Democratic presidential candidate and segregationist, George Wallace, and the destruction of Vietnamese people and the nation's infrastructure from the ongoing onslaught of the Vietnam War. By 1972, the Vietnam War was 17 years old and US involvement had ramped up from an initial thousand personnel in the late 50s to over half a million in 1968. In 1972 there were under 300,000 US troops in Vietnam and a strong opposition to the war among US citizens.
In the years following Neil Young has had a number of Top 40 hits in Canada. Among these are "Walk On" from 1974's On The Beach album.
One place Neil Young would prefer nations spend their money instead of war is to help children with severe disabilities. Knowing firsthand his own struggles with epilepsy and his children's cerebral palsy, in 1986 he and his wife Pegi co-founded the Bridge School in Hillsborough, California, that is dedicated to offering education for children with severe disabilities.
In 1993 he had his first Top Ten hit in Canada since 1972, "Harvest Moon". In 2003, James McDonough wrote an autobiography about Neil Young. After Young broke his toe in 2012, he wrote his own biography, Waging Heavy Peace: A Hippie Dream.
December 15, 2016
Ray McGinnis
References:
"Neil Young bio," Rolling Stone.
Neil Young Bio, Neil Young.eu (unofficial website)
70 Facts You Might Not Know About Neil Young, TIDAL, June 17, 2016
"Buffalo Springfield bio," Rolling Stone.
James McDonough, Shakey: Neil Young's Biography, (Vintage, New York, 2003).
Neil Young, Waging Heavy Peace: A Hippie Dream, (Plume, New York, 2012).
James W. Douglass, JFK and The Unspeakable: Why He Died And Why It Matters, (Simon & Schuster, New York, 2008).
Robert S. McNamara, In Retrospect: The Tragedy And Lessons of Vietnam, (Vintage Books, 1995).
Daniel Ellsburg, Secrets: A Memoir of Vietnam And The Pentagon Papers, (Penguin Books, 2003).
John M. Newman, JFK and Vietnam: Deception, Intrigue, And The Struggle For Power, (Create Space, North Charleston, South Carolina, 2016).
George McGovern, Grassroots: The Autobiography of George McGovern, (Random House, 1977).
"The Top 40 Hits," CKVN 1410 AM, Vancouver, BC, July 17, 1972.
For more song reviews visit the Countdown.