#6: Wasn't That A Party by the Rovers
Peak Month: November-December 1980
Peak Position #1
19 weeks on Vancouver's CKLG chart
Peak Position on Billboard Hot 100 ~ #37
YouTube.com: "Wasn't That A Party"
Lyrics: "Wasn't That A Party"
The Irish Rovers is a group of Irish musicians that originated in Toronto, Canada. They formed in 1963 and were named after the traditional song "The Irish Rover" they are best known for their international television series, contributing to the popularization of Irish Music in North America, including for their breakthrough song in 1968 called "The Unicorn". Founding members and brothers, George Millar and Will Millar, were both born in Ballymena, County Antrim, Northern Ireland. Will Millar was born in 1940, and George in 1947. The children grew up in a musical household as their father Bob played button-key accordion for several bands throughout the years. Their cousin Joe Millar, who also sang, took part in the family kitchen parties playing button-key accordion and harmonica. As children, George and Will performed with their sister, Sandra Beech as "The Millar Kids" in Ireland, before the family emigrated to Canada.
Around 1958, Will Millar formed a Calypso Band, Kalypso Kews, that performed for two years in Toronto's Yonge Street at the Calypso Club. Millar moved to Calgary, Alberta, and hosted Just 4 Fun, a children's television show as well as forming an Irish folk trio. Meanwhile, in 1963, George Millar had met Jimmy Ferguson at an Irish themed event. They began playing as The Irish Rovers and were soon joined by George's cousin Joe Millar who also emigrated to Canada. They toured around Ontario playing in cafes, clubs and hotels. Later, in 1963, Will Millar invited his fifteen-year-old brother George, his cousin Joe Millar and Jimmy Ferguson to stay with him in Calgary. He brought them on his Just 4 Fun children's television show and started performing with them at Calgary's first folk club, The Depression Coffee House.
Will Millar provided backing vocals, guitar, banjo, mandolin, and tin whistle. George Millar was mostly the lead vocalist for the group, and regularly plays guitar and bouzouki. Cousin Joe Millar also added vocals, and played accordion, harmonica, and bass guitar. Jimmy Ferguson also added vocals. Ferguson was born in Belfast in 1940 and moved to Canada after graduating from school in Ireland.
Local Torontonians, Vic Marcus and Doug Henderson, were also members of the group in 1963-64.
In 1968, Wilcil McDowell joined the group contributing accordion. In 1974, Will Millar published a book titled Children of the Unicorn: The Story of the Irish Rovers. In 1968 the Irish Rovers single, "The Unicorn" was a number-one hit Vancouver on April 13th on the CKLG Boss 30. The single earned the group a Grammy Award nomination in the "Folk Performance of the Year" category. In the summer of 1968, the Irish Rovers had a Top 30 hit in Vancouver titled "Whiskey On A Sunday". In 1969, the Irish Rovers covered the Scaffold novelty song "Lily the Pink".
In 1971 their sixth studio album, On the Shores of Americay, became their first album to chart on the RPM Album chart, peaking at #73. The album contained the single releases "Rhymes and Reasons" and "Years May Come, Years May Go". On September 3rd and 4th, 1971, the Irish Rovers appeared in back-to-back concerts at the Pacific Coliseum.
In 1975, the Irish Rovers received a JUNO Award nomination for Best Album Cover, "Emigrate! Emigrate!"
By 1979 the Irish Rovers had released a total of 13 albums, including studio, live and "best of" collections. But they were in need of a new look in the age of disco. So in 1980, the group rebranded themselves and released an album titled The Rovers. They dropped "Irish" from their promotional material for a year. From The Rovers came the debut single "Wasn't That A Party".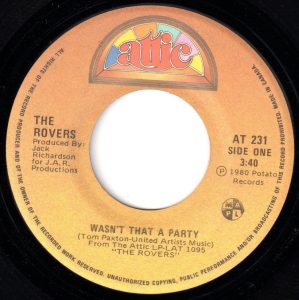 "Wasn't That A Party" was written by Tom Paxton. Born in 1937 in Chicago, Thomas Richard Paxton moved with his family to Arizona after his father's health began to fail. It was in Arizona he learned to ride horses and was introduced to the music of Burl Ives. At the age of 11, Paxton's family moved to Bristow, Oklahoma. His father died of a stroke, and Tom Paxton was given a ukulele at the age of 15. Later, at the University of Oklahoma in Norman, he was in a group known as the Travellers, which sang in an off-campus coffeehouse.
After graduating in 1959 with a B.F.A. degree, Paxton acted in a theatre for a summer, and briefly tried graduate school before joining the United States Army. He attended the Clerk Typist School in Fort Dix, New Jersey, and began writing songs on his typewriter and spent almost every weekend visiting Greenwich Village in New York City. This coincided with the emerging folk revival. After serving in the U.S. Army, Paxton auditioned for the Chad Mitchell Trio in 1960. At first he was hired, but his voice did not blend well enough with the other group members. He subsequently became the first writer signed to Cherry Lane Music Publishing.
Paxton soon began performing at The Gaslight Cafe at 116 MacDougall Street in Greenwich Village. Paxton soon became a fixture at the folk club. In 1962, he recorded a privately produced live album at the Gaslight entitled, I'm the Man That Built the Bridges. While in Greenwich Village, Paxton published some of his songs in the folk magazines Broadside and Sing Out! He performed shared the stage with Bob Dylan, Phil Ochs, Eric Andersen, Dave Van Ronk, and Mississippi John Hurt.
In 1963, Pete Seeger recorded two Paxton songs, "Ramblin' Boy" and "What Did You Learn In School?" That summer, Tom Paxton appeared at the Newport Folk Festival in Rhode Island. In 1965 he went on tour across the United Kingdom. In 1968, his song "The Last Thing On My Mind" became at Top Ten Hot Country Singles hit for Porter Wagoner and Dolly Parton in the USA. As well, the Fireballs cover of Paxton's song "Bottle of Wine" became an international Top Ten hit on the pop charts.
Over the decades, songs written by Tom Paxton have been recorded by Joan Baez, Harry Belafonte, Johnny Cash, Judy Collins, Bobby Darin, John Denver, Neil Diamond, Dion, Bob Dylan, Marianne Faithfull, José Feliciano, Noel Harrison, Mary Hopkin, Jim and Jean, The Kingston Trio, Anne Murray, Peter, Paul and Mary, The Seekers, Simon & Garfunkel, Hank Snow, Bobby Vinton, The Weavers, Glen Yarborough and many others.
Tom Paxton has received four Grammy Award nominations after 2002. Two of these for Best Traditional Folk Album, once for Best Contemporary Folk Album, and once for Children's Album. But in 2009 Paxton received a Grammy Lifetime Achievement Award at the 51st Grammy Award ceremony.
"Wasn't That A Party" is a song about people that get very drunk at a party. The narrator tells us "my head is like a football, I think I'm gonna die." One of the guests at the party wears a grapefruit like a hat, and sits under a table talking to a tomcat. Another guest is in a tree in the neighbours yard. While another started chopping wood at a wood pile, and maybe swinging an axe at the neighbours door. As well, there was a "track meet," with numbers of guests at the party trying to run away from the police. While other guests in the front yard triggered the siren in the police car (while the police were chasing after other partygoers). The host of the party explains to a judge that things went "a little too far." And so, he doesn't mind being thrown in jail for "thirty days."
"Wasn't That A Party" peaked at #1 in Vancouver (BC), Presque Isle (ME), Ottawa (ON), Hamilton (ON), Winnipeg (MB), Toronto, Windsor (ON), Bangor (ME), Fredericton (NB), Detroit, and Lindsay (ON), #2 in Regina (SK), #3 in St Cloud (MN), #5 in Halifax (NS) and Montreal.
The Irish Rovers received two JUNO Award nominations in 1981 for Single of the Year, "Wasn't That A Party", and for Folk Artist of the Year. And in 1982 the Irish Rovers were nominated again in the Folk Artist of the Year category. In addition, they received two more JUNO Award nominations for Country Group of the Year and Group of the Year. In 1983 the Irish Rovers were nominated again in the Country Group of the Year category.
The Irish Rovers continue to perform and George Millar is the remaining original member of the group. In 1994 Will Millar left the Irish Rovers to pursue other musical projects. He formed a new band called Some Mad Irishmen and released two CDs and toured extensively with his creation of the stage production of "Ireland..where the song and dance began". He built a recording studio with his friend John Ellis and recorded a children's CD on the Attic label. He also appeared semi-regularly on The Red Green Show as Jimmy McVeigh, a postman who was trying to repair a boat.
Jimmy Ferguson, whose baritone voice was featured prominently in "Wasn't That A Party", died of a heart attack at the age of 57 while the Irish Rovers were on tour in 1997 in Worcester, Massachusetts. On March 28, 1998, the Irish Rovers appeared in concert in the Vancouver suburb of New Westminster at the Massey Theatre. On March 17, 2016, the Irish Rovers appeared in concert in Vancouver at the Vogue Theatre.
Joe Millar spent his final few years living with Alzheimer's disease. On February 10, 2023, Joe Millar died in Langley, British Columbia.
July 10, 2023
Ray McGinnis
References:
"Our Story," Irishrovermusic.com.
"Irish Rovers – Canada – concert dates" setlist.fm.
"Folk icon Tom Paxton leaving road, but not retiring," New Jersey Herald, February 26, 2015.
"US Folk Legend To Get UK Parliamentary Honour," Uncut, January 15, 2007.
"Joseph Millar – January 17, 1936 – February 10, 2023," A simple cremation.ca.
"Jimmy Ferguson," Prabook.com,
"CKLG Top 20," CKLG 730 AM, Vancouver, BC, December 3, 1980.
For more song reviews visit the Countdown.