#978: We're On Our Way by Chris Hodge
Peak Month: July 1972
6 weeks on Vancouver's CKVN chart
Peak Position #3
Peak Position on Billboard Hot 100 ~ #44
YouTube.com: "We're On Our Way"
Lyrics: "We're On Our Way"
Ringo Starr was responsible for signing Chris Hodge with Apple Records. Hodge was 22-years-old when signed. Hodge had been living in Rome as a fashion photographer, but had come back to London and signed a music publishing deal with Robert Mellin Publishing. At the time he'd been given money to record some demos. Hodge called Apple's A&R man Tony King and described his composition about UFO's and later met with King and played him a demo. Tony played the demo tape for Ringo later and Ringo wanted to meet Chris Hodge. Ringo suggested some lyrical changes, but let Hodge record "We're On Our Way" and "Supersoul" as he wished.
In the Stefan Granados' book, Those Were The Days – An Unofficial History Of The Beatles Apple Organization 1967-2002, Hodge explained that Tony King was a former member of '60s band The Young Idea. King's production of "We're On Our Way" was changed by Apple in New York by Phil Spector's people. Apple bought full page ads in Billboard and Cashbox promoting the single. King described Hodge as a nightmare and a bit of a headache, bugging King. He was gregarious and outgoing and would visit Apple wearing satin jackets and silver boots with stars on them.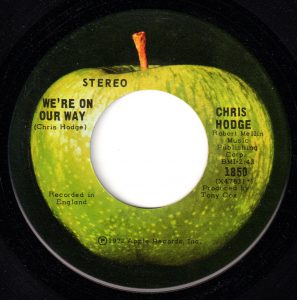 "We're On Our Way" is a song with flying saucers and spaceships who are going to bring the truth to planet earth. The singer has a woman who's a sexy lady that makes love like a dream, sending fireballs to eternity. This woman rides on astral moonbeams and shines in the sky like a god up high. Since he spends some time in the song relating the celestial qualities of his lover, it seems the song about UFO's is also making the point that his lovemaking is "out of this world."
"We're On Our Way" peaked at #3 in Vancouver (BC), #7 in Saginaw (MI), #8 in Syracuse (NY) and #9 in Manchester (NH).
After the modest success of "We're On Our Way" in the USA, Hodge went back into Apple Studios to record an album. He recorded "The Year 2000", "Karma Is Going To Get You" and "Goodbye Sweet Lorraine". But only that last tune was released. Hodge composed a lot about UFO activity and Stonehenge, but Apple felt that some of his lyrics were too heavy.
"Goodbye Sweet Lorraine" was released in only the US and a few European countries, but didn't sell well. Hodge felt Apple didn't promote it much or give him much guidance. He said that Apple's problems were what caused his plans to record an album to fall through. In December 1973 Chris Hodge got a letter from Apple describing changes the record label was going through. Apple informed Hodge it was releasing him from his contract and he was free to sign with another label. Hodge recorded two singles for RCA in 1973-74, and one single for DJM Records in late 1974. In the mid-70's Chris Hodge moved to America and worked in the film industry.
October 18, 2017
Ray McGinnis
References:
Stefan Granados, Those Were The Days – An Unofficial History Of The Beatles Apple Organization 1967-2001, (Cherry Red Books, UK, 2002).
"The Top 40 Hits," CKVN 1410 AM, Vancouver, BC, July 10, 1972.
For more song reviews visit the Countdown.