#1090: We Love You by Rolling Stones
Peak Month: September 1967
6 weeks on CKLG chart
Peak Position #9
Peak Position on Billboard Hot 100 ~ #50
YouTube.com: "We Love You"
Lyrics: "We Love You"
Michael Philip Jagger was born in Dartford, Kent, England, in 1943, some 18 miles east of London. Though his father and grandfather were both teachers by profession, and he was encouraged to be a teacher, the boy had different aspirations. "I always sang as a child. I was one of those kids who just liked to sing. Some kids sing in choirs; others like to show off in front of the mirror. I was in the church choir and I also loved listening to singers on the radio–the BBC or Radio Luxembourg –or watching them on TV and in the movies." In 1950 Mick Jagger met Keith Richards while attending primary school. They became good friends until the summer of 1954 when the Jagger family moved to the village of Wilmington, a mile south of Dartford. The pair bumped into each other at a train station in 1961 and resumed their friendship.
Keith Richards was also born in Dartford, Kent, England, in 1943. From the age of two Keith sang along with his mother to songs on the radio in perfect pitch. Richards maternal grandfather, Augustus Theodore "Gus" Dupree, led a jazz band named Gus Dupree and His Boys. Dupree played saxophone, fiddle and guitar. It was his maternal grandfather who gave young Keith his first guitar. He also introduced Keith to the British Music Hall genre, a cousin of American Vaudeville. Keith took an interest in music while attending Dartford Technical High School for Boys from 1955 to 1959. He was recruited to be part of a trio of boy sopranos who performed at Westminster Abbey as part of a special concert for Queen Elizabeth II. Keith became interested in rock 'n roll, skiffle and rhythm and blues. Richards remembers playing tunes by Johnny Cash and "Blue Moon Of Kentucky".
When Richards and Jagger met each other one spring morning in 1961 at the Dartford Train Station, Jagger was at the London School of Economics. Mick was studying to become a journalist or a diplomat. But Richards noticed what Jagger was carrying with him on his way to school, two record albums. One was The Best of Muddy Waters, and the other Rockin' At The Hops by Chuck Berry. Keith was impressed and invited Mick to his home for tea that afternoon. Richards and Jagger were part of a cohort of young men who were not being drafted into the British Army. In 1957 the British Government decided that men born after October 1, 1939, would not be drafted into the National Service. And by November 1960 the last men were called up for service. Dave Clark of the Dave Clark Five would comment "We were the first generation that wasn't drafted. The thing about getting drafted when you were eighteen was that's the most important time of your life for freedom of expression. For so many, that period was cut short, and you were told what to do, where to go, what to be. Then you got out of the service, got married, and worked a job in a factory. That was it. Had the government not stopped the draft there would have been no Dave Clark Five, no Beatles, no Stones."
The Rolling Stones first gig was at the Marquee Club in London on July 12, 1962. At that first show, the group was billed as the Rollin' Stones and, of what would become the band's original lineup, only Mick Jagger, Keith Richards, Brian Jones and keyboardist Ian Stewart performed. Bill Wyman and Charlie Watts would formally join in January of 1963, and Stewart officially left the band in May. Though Stewart continued on as the Stones' road manager and occasionally played with them both on stage and in the studio until his death in 1985. When the nascent Rolling Stones began playing gigs around London in 1962, the notion that a rock & roll band would last five years, let alone fifty, was an absurdity. After all, what could possibly be more ephemeral than rock & roll, the latest teenage fad? Besides, other factors made it unlikely that such a momentous occasion would ever come to pass. "I didn't expect to last until fifty myself, let alone with the Stones," Keith Richards says with a laugh. "It's incredible, really. In that sense we're still living on borrowed time."
"You have to put yourself back into that time," Mick Jagger says about those early days when he and Keith and guitarist Brian Jones roomed together and were hustling gigs wherever they could find one. "Popular music wasn't talked about on any kind of intellectual level. There was no such term as 'popular culture.' None of those things existed. But suddenly popular music became bigger than it had ever been before. It became an important, perhaps the most important, art form of the period, after not at all being regarded as an art form before."
The Rolling Stones' first US tour in June 1964 was, in Bill Wyman's words, "a disaster." "When we arrived, we didn't have a hit record [in the USA] or anything going for us." Their #3 single in February '64 in the UK, "Not Fade Away", only climbed to #48 on the Billboard Hot 100 and stalled for two weeks at #13 in Vancouver in May of that year. But in November 1964 "Time Is On My Side" climbed to #6 in the USA and #1 in Vancouver for two weeks. In April 1965 "The Last Time" climbed to #2 in Vancouver and #9 on the Billboard charts. The Rolling Stones were finally establishing a following in North America. Their next two singles, "(I Can't Get No) Satisfaction" and "Get Off My Cloud," were both #1 hits here in Vancouver and in the 'States. The hits kept coming through 1966-67 with #1 songs in Vancouver like "Paint It Black" and "Ruby Tuesday".
Their follow up to "Ruby Tuesday" was "We Love You". It was written by Jagger and Richards.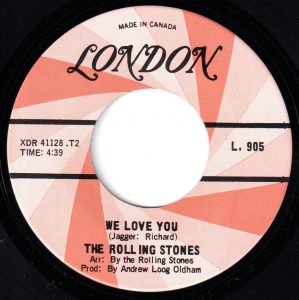 "We Love You" was recorded on in early August 1967. Jagger and Richards had just spent a night in jail for their charges on July 31st. The song is a droning Moroccan influenced anthem of resistance. Outwardly, it was a message from the band to its fans, expressing appreciation for support in the wake of their recent drug busts. Earlier that year on February 12, Sussex police raided Keith Richards' home where he was having a party. While there were no arrests that day, Mick Jagger and Keith Richards were soon after charged with drug offenses. They were arraigned on May 10th. That same day bandmate, Brian Jones, had police raid his house where he was arrested and charged with being in possession of cannabis. Rolling Stones fans certainly knew about these headline stories in the papers. The News of the World, ran a headline "Pop Stars and Drugs: Facts That Will Shock You."
"We Love You" was full of irony, expressing the Rolling Stones tongue in cheek lyrics towards the Bobbies (nickname for police in the UK after Sir Robert "Bobby" Peel who began modern policing in England in 1829). In the song "We Love You" is a kaleidoscopic mesh of jail cell doors clanging shut, ominous piano riffs, otherworldly tape-delayed vocal effects, and the high harmonies of Lennon and McCartney in the background. American beat poet, Allen Ginsberg, was in London at the time and served as a conductor during the recording. Ginsberg waved his Shiva beads and a Tibetan oracle ring while he conducted the singers. He wrote later "They looked like little angels," he wrote later of the Stones and Beatles, "like Botticelli Graces singing together for the first time." All the while the lyrics seem to be saying something about reciprocal love, and was seen as a spoof on the Beatles' "All You Need Is Love." But the anti-establishment sentiment is also there: proclaiming "we don't care if you hound we and lock the doors around we" and "you will never win we, your uniforms don't fit we."
Released in August '67, "We Love You" climbed to #8 in the UK, #10 in France, #2 in Germany and #1 in the Netherlands. In North America the song was the B-side to "Dandelion" which charted to #14 on the Billboard Hot 100. On the Billboard Hot 100 "We Love You" stalled at #50. The song includes Paul McCartney and John Lennon providing backing vocals. In Vancouver, "We Love You" climbed to #9. It also did well in Toronto (#1), Madison, WI (#2), San Diego (#3), Denver (#4) and Boston (#5).
The Rolling Stones appeared as the final act at the Altamont Speedway Free Festival Concert on December 6, 1969, near Livermore, California. The concert headliners who performed on stage that night with them were Santana, Jefferson Airplane, The Flying Burrito Brothers and Crosby, Stills, Nash & Young.
During the performance by The Rolling Stones, an 18-year old African-American youth, Meredith Curly Hunter Jr. approached the stage. He was violently driven off by members of the Hells Angels motorcycle club who had been contracted to serve as security guards. An eyewitness reported that Hunter was stabbed by one of the Angels at this point. Hunter later returned to the stage area, drew a revolver. He was then stabbed and beaten to death by Hells Angel Alan Passaro.
The Hells Angels stood directly in front of the bands performing on stage in an effort to keep people off the unusually low stage set up at the bottom of a low slope. During their security detail the Hells Angels became very intoxicated as they performed security. The crowd became restless and unpredictable. The drunken Hells Angels began hurling full cans of beer from their stockpile and striking concert-goers with sawed-off, weighted pool cues and motorcycle chains to drive the crowd back from the stage. By the time the Rolling Stones took the stage in the early evening, the mood had taken a decidedly ugly turn, as numerous fights began to erupt between Angels and crowd members.
Earlier Mick Jagger had been punched by a concertgoer prior to the Rolling Stones set on stage. Jagger urged the audience to "Just be cool down in the front there, don't push around." Within a minute of starting their third song, "Sympathy For The Devil," a fight erupted in the front of the crowd, at the foot of the stage. After another appeal for calm, the band restarted their song. Their set continued their with little incident until they began to play "Under My Thumb". It was then two of the Hells Angels began to brawl with Hunter when he tried to get onstage with other fans. One of the Hells Angels grabbed Hunter's head, punched him, and chased him back into the crowd, where four Angels descended upon him. The stabbing that was later caught on the film Gimmie Shelter.
The Rolling Stones became synonymous with the rebellious attitude of that era. Songs like "(I Can't Get No) Satisfaction", "Street Fighting Man", "Sympathy for the Devil" and "Gimme Shelter" captured the violence, frustration and chaos of that time. For the Stones, the Sixties were not a time of peace and love; in many ways, the band found psychedelia and wide-eyed utopianism confusing and silly. The Stones always were – and continue to be – tough-minded pragmatists. Against the endless promises of Sixties idealism the Stones understood that "You Can't Always Get What You Want".
The band celebrated fifty years in 2012. They kept charting Top Ten hits through to 1989. These have included "Jumping Jack Flash", "Honky Tonk Women", "Brown Sugar", "Angie", "Miss You", "Start Me Up" and "Emotional Rescue".
May 16, 2017
Ray McGinnis
References:
Marc Meyers, "The Rolling Stones at the Altamont Speedway," Wall Street Journal, November 16, 2010
Daniel Kreps, "The Rolling Stones Bio," Rolling Stone,
Wells, Simon. Butterfly On A Wheel: The Great Rolling Stones Drug Bust. Omnibus Press, 2011
Sanchez, Tony. Up and Down with The Rolling Stones: My Rollercoaster Ride With Keith Richards. John Blake, 2011
Cohen, Rich. The Sun, The Moon & The Rolling Stones. Spiegel & Grau, New York City, 2017
Michiko Kakutani, "A Writing Stone: Chapter And Verse," New York Times, October 25, 2010.
Victor Bockris, Keith Richards: The Biography, (Da Capo Press, 2003).
David Fricke, "100 Greatest Guitarists: Keith Richards #10," Rolling Stone, December 3, 2010.
Bill Wyman, Rolling With The Stones, (Dorling Kindersley, 2002) 19.
"Boss 30," CKLG 730 AM, Vancouver, BC, September 30, 1967.
For more song reviews visit the Countdown.