#224: Weekend by Wet Willie
Peak Month: October 1979
14 weeks on Vancouver's CFUN chart
Peak Position #4
Peak Position on Billboard Hot 100 ~ #29
YouTube: "Weekend"
Lyrics: "Weekend"
Drummer Lewis Ross assembled the musicians for a group called "Fox" in the summer of 1969. The first "gig" was a booking in Panama City, Florida at a club called the Oddessy, a geodesic dome right on the beach. Later, they relocated from Mobile, Alabama to Macon, Georgia. By 1970 the band changed its name to Wet Willie. That summer they appeared at the Love Valley Rock Festival in Love Valley, North Carolina. And in August 1970, the band travelled to San Antonio to perform at the Municipal Auditorium. Though they played numerous concerts in Atlanta, Wet Willie got wider exposure touring with The Allman Brothers Band in 1971-72. In the early 70s, their concert dates included stops in Chicago, Nashville, Boston, Cincinnati, Minneapolis, St. Louis, Columbus (OH), New Orleans, New York City, Pittsburgh, Tampa, Memphis, Louisville, Washington D.C., Toronto, Montreal, Detroit, Long Beach, West Hollywood, and elsewhere. On August 16, 1975, Wet Willie appeared in concert in Vancouver at the Pacific Coliseum. Wet Willie made its name playing Southern rock from 1971 until 1978, producing a number of albums and several charting singles, one of them achieving Top Ten success.

From 1969 to 1976, the band's lineup remained multi-instrumentalist John Anthony on keyboards, Jack Hall on bass guitar, Jimmy Hall on lead vocals, saxophone and juice harp, Ricky Hirsch on guitar, and Lewis Ross on drums and percussion. While the band's first two albums failed to chart on the Billboard 200 Album chart, in 1974 Keep On Smilin' was a success. It was spurred on by the title track "Keep On Smilin'", which climbed to #10 on the Billboard Hot 100, and #16 in Vancouver. Subsequent album releases, Dixie Rock (1975) The Wetter the Better (1976), and Mannorisms (1977), kept the band before FM station listeners.
A final seventh studio album, Which One's Willie?, was released in 1979. By 1979 the Wet Willie lineup consisted of lead vocalist, harmonica and saxophone player Jimmy Hall, guitarist Larry Berwald, bass guitar and backing vocalist Jack Hall, drummer and percussionist Theophilus Lively, guitarist Marshall Smith, and keyboard player Mike Duke.
The album included backing singer Venetta Fields, who had earlier added vocals on "Are You Ready" for Pacific, Gas & Electric; "Don't Pull Your Love Out" for Hamilton, Joe Frank & Reynolds; "Stoney End" and "My Heart Belongs To Me" for Barbra Streisand; "Sing A Song" for David Clayton-Thomas; "Tumbling Dice" for the Rolling Stones; "Hollywood Nights" for Bob Seger & The Silver Bullet Band; the Soundtrack for Grease, and many other recordings. Among the session musicians was trumpeter, Steve Madaio, who has been featured on "Superstition", "Sir Duke" and "I Wish" for Stevie Wonder; "Getaway" and "Serpentine Fire" for Earth, Wind & Fire; "Undercover Angel" for Alan O'Day; "Best Of My Love" for the Emotions; "Do You Think I'm Sexy?" for Rod Stewart; "Grease" for Frankie Valli, and others. As well, sideman Victor Feldman provided percussion, as he had on "Let's Get It On" for Marvin Gaye; "Get Together" for the Youngbloods; "Sailing" for Christopher Cross; "Rhumba Girl" and "Lotta Love" for Nicolette Larson; "Chuck E.'s In Love" for Rickie Lee Jones; "Do It Again". "Rikki Don't Lose That Number", "Josie" and "Reelin' In The Years" for Steely Dan; "Shower The People" for James Taylor; The Hissing of Summer Lawns and Hejira for Joni Mitchell, and others.
Included on Which One's Willie?, was the track "Weekend".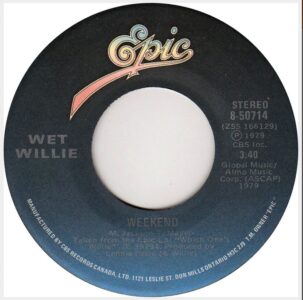 "Weekend" was written by Mick Jackson and Tommy Mayer. Jackson was born in Yorkshire in 1947, and raised in a musical family and all the children singing and playing instruments. Mick's father, who was a Champion army boxer, used to play the piano while the kids were singing harmonies. This musical up bringing eventually led to Mick, and his brothers Pete and Dave, to form a band in 1968 called Jacko. The band went on tours and in 1975 Jacko released two singles, "Disco Dancer" and "Germany". In 1977 Mick Jackson decided to go solo. But when his first single, "You Turn Me On", was released on Jupiter Records, the label misspelled his name as Nick Jackson. A favorite recording artist of Mick Jackson was Stevie Wonder. He penned "Blame It on the Boogie" in 1978 as a tribute to the Motown recording artist. The song picked up at the 1978 MIDEM Music Festival in Cannes by a manager scouting hits for The Jacksons, who covered the song. Since Mick Jackson was born Michael Jackson, it was an angle in the press – given that Michael Jackson of the Jacksons was singing a cover of a song written by his namesake. Mick Jackson recalls some funny mix-ups as a result. "People would call my hotel for him [Michael Jackson] and that could be confusing, as we would chat for a minute before everyone realized…. A lot of flowers got sent to me as well, [meant for Michael Jackson of the Jacksons] that was nice!"
"Weekend" emphasizes the importance of fun and relaxation following a busy work week. The lyrics also express the urgent need to make the most of life during youth: "Spendin' all my hard-earned pay, weekend. With crazy nights and lazy days…" The chorus intersperses the word 'weekend' eleven times. The theme in the song was echoed in 1981 by Loverboy's "Working For The Weekend". As well, the song's instrumental backing drew on the popular disco craze in its final gasp in the fall-winter of 1979. Among the few disco hits that sold well at this time were "Don't Stop 'til You Get Enough" and "Rock With You" by Michael Jackson, "Dim All The Lights" by Donna Summer, "Born To Be Alive" by Patrick Hernandez, and "No More Tears" by Barbra Streisand and Donna Summer.
"Weekend" peaked at #2 in Atlanta, #3 in Lethbridge (AB), #4 in Vancouver (BC), #5 in Toronto, #6 in Honolulu, #10 in Buffalo, and #12 in Portland (OR).
After "Weekend", Wet Willie released just one more single titled "Ramona". Over the decades Wet Willie has continued to perform in concert. The current lineup of Wet Willie consists of Jimmy Hall, Jack Hall, Donna Hall Foster, T.K. Lively, Bobby Moble, Ric Seymour, Ricky Chancey.
Writer of "Weekend", Mick Jackson, subsequently sang the title track "Married Men", as well as playing the part of night-club singer in the movie – The World is Full of Married Men, based on the Jackie Collins novel. He also did work producing and arranging for David Knopfler (Dire Straits). In 1985 Mick wrote the Austrian entry in the Eurovision Song Contest – "Children of the World". Mick Jackson has also written songs for Eric Burdon and others. In 2010 a British documentary was made about Mick Jackson titled The Other Michael Jackson: Battle of the Boogie.
From Wet Willie bandmate, Mike Duke, lives and performs in Northern California, while continuing to write songs.
December 15, 2021
Ray McGinnis
References:
"Wet Willie bio," ktb.net.
"Wet Willie – Vancouver concert date," setlist.fm.
"Mick Jackson," disco-disco.com.
"C-FUN Top Thirty," CFUN 1410 AM, Vancouver, BC, September 22, 1979.
For more song reviews, visit the Countdown.