#228: Werewolves Of London by Warren Zevon
Peak Month: June 1978
12 weeks on Vancouver's CFUN chart
Peak Position #4
Peak Position on Billboard Hot 100 ~ #21
YouTube: "Werewolves Of London"
Lyrics: "Werewolves Of London"
Warren Zevon was born in Chicago in 1947. His father, William Zivotovsky, was a Jewish immigrant from Russia. Once in America, the surname was changed from Zitovsky to Zevon. William Zevon worked as a bookie who handled volume bets and dice games for the notorious Los Angeles mobster Mickey Cohen. He worked for years in the Cohen crime family, in which he was known as Stumpy Zevon, and was best man at Cohen's first wedding. Young Warren Zevon studied classical music from age 13 with Igor Stravinsky, from time to time. But when his parents divorced when he was 16-years-old, Warren moved to Los Angeles and became a folk singer. In 1965 he formed a folk duo named Lyme (his mother's maiden surname) & Cybelle. The single "Follow Me" became a Top Ten hit in San Jose and San Bernardino (CA), as well as climbing to #11 in Los Angeles.

A followup release by Lyme & Cybelle was a cover of the Bob Dylan song "If You Gotta Go, Go Now". It climbed to #1 in Orlando and #9 in Miami in the summer of 1966. However, elsewhere the single got little notice beyond half a dozen states across the USA. Soon after Zevon left the folk duo. Subsequently, Zevon worked as a session musician with White Whale and other labels. He also wrote jingles. As well, Zevon wrote two B-sides for The Turtles: "Like the Seasons" (the B-side to "Happy Together") and "Outside Chance". In 1969 Zevon's song "She Quit Me" was included in the soundtrack for Midnight Cowboy, but recorded by Leslie Miller as "He Quit Me". That year Zevon released his debut album, Wanted Dead or Alive. It received little commercial success.
During the early 1970s, Zevon toured regularly with the Everly Brothers as keyboard player, band leader, and musical coordinator. Into the mid-70s, Zevon toured with Don Everly and Phil Everly separately, as they tried to launch solo careers after their breakup. Zevon worked closely with Phil, arranging and playing keyboards on his first and third solo albums – Star Spangled Springer (1973) and Mystic Line (1975). He also co-writing tracks on Phil Everly's second and third albums Phil's Diner and Mystic Line. Zevon also penned "Carmelita", which was recorded by Murray MacLauchlan in 1972.
Warren Zevon moved to Spain for most of 1975. Upon his return to the USA, he wrote "Poor, Poor Pitiful Me". The song was recorded by Linda Ronstadt, peaking at #31 on the Billboard Hot 100. In 1976, his self-titled album, Warren Zevon, was released. It was produced by Jackson Browne and charted on the Billboard Album chart.
In 1975 Warren Zevon cowrote a song titled "Werewolves of London". The song was recorded in several years later for his third album Excitable Boy.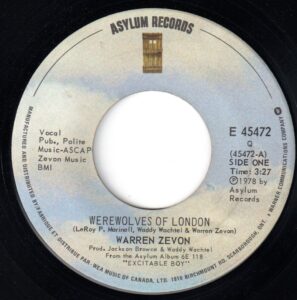 "Werewolves of London" began as a joke by Phil Everly (of The Everly Brothers) to Zevon in 1975, over two years before the recording sessions for Excitable Boy. Everly had watched a television broadcast of the 1935 film Werewolf of London and "suggested to Zevon that he adapt the title for a song and dance craze."
In the 1935 film, Werewolf of London ,Wilfred Glendon is a wealthy and world-renowned English botanist who journeys to Tibet in search of the extremely rare selentropic plant known as mariphasa lupine lumina. While there, he is attacked and bitten by a creature later revealed to be a werewolf, although he succeeds in acquiring a specimen of the mariphasa. Once back home in London he is approached by a fellow botanist, Dr. Yogami, who claims to have met him in Tibet while also seeking the mariphasa. Yogami warns Glendon that the bite of a werewolf would cause him to become a werewolf as well, adding that the mariphasa is a temporary antidote for the disease. Glendon does not believe the mysterious Yogami. That is, not until he begins to experience the first pangs of lycanthropy, first when his hand grows fur beneath the rays of his moon lamp (which he is using in an effort to entice the mariphasa to bloom), and later that night during the first full moon. Driven by an instinctive desire to hunt and kill, he dons his hat and coat and ventures out into the dark of London, killing an innocent girl. Stricken by what he has become he rents a room at an inn, and locks himself in. But the pull of the moon proves too strong to keep him restrained.
Zevon was hanging out with record producer, session musician and composer Robert "Waddy" Wachtel, and LeRoy Marinell. Zevon and the others played with Phil Everly's idea, and wrote the song about Werewolf of London in about 15 minutes. They collaborated on writing the lyrics that were written down by Crystal Zevon, his wife at the time. However, none of them took the song seriously. Soon after, Zevon's friend Jackson Browne saw the lyrics and thought "Werewolves of London" had potential. Browne started singing the song at his concerts.
Cowriter of "Werewolves of London", Waddy Wachtel, was born in Queens, New York, in 1947. Raised in a Jewish family, by the age of nine he started to play guitar. He began writing songs at the age of 14. Within a few years he formed a band called The Orphans. And around 1967 formed a band named Twice Nicely. In 1968, Bud Cowsill of The Cowsills suggested Wachtel move with his band to Los Angeles. Wachtel ended up as a session musician on Bill Cowsills' 1970 solo album, Nervous Breakthrough. In 1972, he made an appearance in the film The Poseidon Adventure with the actual band on stage in the dining room when the ship capsizes.Over the following years, Wachtel was a session musician on recordings with Lindsay Buckingham and Stevie Nicks, Dory Previn, Jackie DeShannon, John Stewart, Carole King (Thoroughbred, 1975), and others.
"Werewolves of London" begins with a werewolf on a rainy night in London, with a Chinese restaurant menu in his hand. He is in Soho, an historically fashionable district inhabited by the aristocracy. Though, in the 20th Century, Soho had a reputation for sex shops – which would have been its primary association in the minds of radio listeners in the 1970s. In the song we learn "He was looking for the place called Lee Ho Fook's. Gonna get a big dish of beef chow mein." This refers to Lee Ho Fook, a Chinese restaurant on 15 Gerrard Street in London's Chinatown, which is in the West End of London.
People are warned in the song that if they hear the werewolf howling, they need to keep their doors locked. He is dangerous, as the lyrics detail "Little old lady got mutilated late last night." The werewolf in the song gets around: "He's the hairy handed gent who ran amuck in Kent. Lately he's been overheard in Mayfair." Kent is a county to the east of London, stretching to the White Cliffs of Dover in the east, includes heritage sites like the city of Canterbury, and features scenic views along its' southeast coast of the English Channel. While Mayfair is a district in the West End of London, which borders Hyde Park, features Berkeley Square, Grosvenor Park, and the historic Brown's Hotel (1837), Claridge's Hotel (1812) and Flemings' Mayfair (1851), and the Dorchester where The Duke of Edinburgh held his stag night the night prior to his wedding to Princess Elizabeth. Mayfair also boasts international auction houses Bonham's, Christies', and Sotheby's. Mayfair is the most expensive property on the standard British Monopoly board at £400. It commands the highest rents of all properties. While playing Monopoly, landing on Mayfair with a hotel costs £2,000. Given the werewolf in "Werewolves of London" is running amuck in the countryside in county Kent, and in upscale neighborhoods like Mayfair, there is no place locals can be certain the werewolf won't be prowling.
In the song, Lon Chaney Jr. is sighted walking with Queen Elizabeth "doing the werewolves of London." This line may be picking up on the suggestion by Phil Everly of making Werewolf of London into a dance. Hopefully, this is what is meant by "doing." Otherwise, it is plausible that "doing the werewolves of London" means Lon Chaney Jr. is ripping out the lungs of Queen Elizabeth, and mutilating her. But, I'll opt for the more playful interpretation, building on Phil Everly's original suggestion to Warren Zevon.
Creighton Tull Chaney was born in 1906 in Oklahoma City. He is the son of actor Lon Chaney Sr. Chaney Sr. and wife divorced when Chaney Jr. was seven-years-old in 1913. Shortly afterword, Frances Cleveland Creighton attempted suicide. Chaney Jr. began to work in Hollywood after his father died of cancer at the age of 47 in 1930. Lon Chaney Jr. told an interviewer he "Had to do stunt work to live. I bulldogged steers, fell off and got knocked off cliffs, rode horses off precipices into rivers, drove prairie schooners up and down hills." Between 1930 and 1935 he appeared in a dozen films billed as Creighton Chaney. After that he was billed as Lon Chaney Jr. in over 150 films. His final film in 1971 was in Dracula vs. Frankenstein. But it was his leading role as Larry Talbot in The Wolf Man (1941) that gave Lon Chaney Jr. his most notable role. From 1941 to 1971 he was cast as a wolf man in six films. As well, Chaney Jr. appeared variously as Frankenstein, Dracula, the Mummy or other classic horror roles in another half a dozen films.
Queen Elizabeth II has been the queen of England, and of the British Commonwealth countries, since 1952. At the time the song was recorded, she had recently celebrated her 25th anniversary since her ascension to the throne, her Silver Jubilee. At this time of writing, Queen Elizabeth II had been on the throne for 69 years, making her the longest reigning monarch in British history.
In a final verse, the werewolf of London is spotted at a Trader Vic's, located in Mayfair at 22 Park Lane. Trader Vic's is a tiki bar Polynesian-themed restaurant founded in Emeryville, California, in 1934. Originally named Hinky Dink's, it was soon renamed Trader Vic's. There was a Trader Vic's located at the Bayshore Inn in Vancouver from 1961 to 1996. In "Werewolves of London", the werewolf at the Trader Vic's is having one of those tropical cocktails, a Pina Colada.
Jackson Browne said of "Werewolves of London" in 2003, that he thought it described an upper-class English womanizer: "It's about a really well-dressed, ladies' man, a werewolf preying on little old ladies. In a way it's the Victorian nightmare, the gigilo thing."
"Werewolves Of London" peaked at #3 in Toronto, and Bangor (ME), #4 in Vancouver (BC), #5 in Springfield (MA), #6 in Pittsburgh, Carbondale (IL), and Harrisburg (PA), #7 in Houston, Lakeland (FL), and Kansas City (MO), #8 in Saskatoon (SK), and Los Angeles, #9 in Burbank (CA), #10 in Windsor (ON), and Springfield (IL). In half the states across the USA, "Werewolves Of London" charted, and the other half it got little airplay. The single stalled at #21 on the Billboard Hot 100. But in Australia the single climbed to #8, and in New Zealand it peaked at #11.
While "Werewolves of London" was on the local charts, Warren Zevon gave a concert in Vancouver on June 25, 1978, at the Queen Elizabeth Theatre.
In 1986, "Werewolves of London" had a resurgence in popularity due to its use in a scene in The Color of Money, where Tom Cruise dances and lip-synchs to the song in a scene in which Cruise "displayed the depths of his talents at the billiards game of 9-ball."
Stories of werewolves date back to the ancient Greek historian Herodotus. He wrote The Histories in 440 B.C. In Book IV of his series Herodotus describes the Neuri, a tribe northeast of Sythia (in present day Central Russia and northern Kazakhstan) in an area extending across the Kazakh Steppe. The Neuri, according to Herodotus, were all transformed into wolves once every year for several days, and then changed back to their human shape. Indeed the Neuri peoples wore wolf skins to keep them warm during the winter. They also snuck up on wolves while wearing wolf skins to enhance the chance of clubbing a wolf for dinner instead of ending up being the wolves dinner. Matt Simon writing for WIRED writes that once the men returned from the hunt, "the wolf-man would participate in ceremonies, dancing and crying and further assuming the demeanor of the wolf." In North America, "The Pawnee were called "wolves" by neighboring tribes for their spies' habit of wearing" a wolf hide and approaching other tribes in a time of battle, or hunting prey, like a wolf.
L. Illis, wrote an article in 1963 suggesting that the rare disease of porphyria may have been a catalyst for stories about werewolves. A person afflicted with porphyria developed red teeth, their urine turned red, their skin turned pale and yellowish, they wandered at night, and their face, ears and nose began to rot away. Persons with porphyria also became manic-depressive, hysterical and delirious. They also have to avoid sunlight. When individuals were afflicted with this rare disease it would have frightened village folk in Ancient times and the Middle Ages.
Over time there emerged Roman, Greek, German and British tales of werewolves. Meanwhile, in Africa there were stories of men turning into leopards. And in South America there were stories of men turning into jaguars.
In pop music there are a number of songs about werewolves. In 1974 the Five Man Electrical Band recorded "Werewolf", which became a Top Ten hit in Vancouver. In 1982 Duran Duran recorded "Hungry Like The Wolf", which lead singer Simon Le Bon said his lyrics were inspired by the fairy tale Little Red Riding Hood, which features the Big Bad Wolf. So, though not about werewolves, it was a song about wolves. And in 1987 the Tragically Hip recorded "I'm A Werewolf Baby".
In 1980 Warren Zevon released his fourth studio album, Bad Luck Streak in Dancing School. It made the Top 20 on the Billboard Album chart. A track from the album, "A Certain Girl", a cover of a 1961 song by Ernie K. Doe, was released as a single and peaked nationally at #57. In 1982 Zevon's album The Envoy, was a commercial underachiever which led to his contract with Elektra Records being terminated. Zevon was divorced in 1983 and subsequently checked himself into a rehab center in Minnesota to deal with his addiction to both drugs and alcohol.
In 1987 Zevon was back with another album titled Sentimental Hygiene. The recording artist continued to release five more albums between 1989 and 2002 with little success. However, he continued to tour, and in 1991 he had the alternative rock band, The Odds, as his opening act. They toured across the USA, Australia, New Zealand and Europe. Zevon appeared in concert at the 86th Street Music Hall in Vancouver in on February 12, 1992.
Between 1981 and 20002, on numerous occasions Warren Zevon filled in for bandleader Paul Schaffer on Late Night with David Letterman and Late Show with David Letterman. In October 2002, he spoke at length about his diagnosis of cancer. His advise about dying: "Enjoy every sandwich." On July 29, 2001, Warren Zevon performed in concert at the Commodore Ballroom in Vancouver.
He would gain popularity again with his twelfth studio album, The Wind, which was released two weeks before he died in September 2003, at the age of 56. The album won a Grammy Award in 2004 for Best Contemporary Folk Album. In 2004 a tribute album was released titled Enjoy Every Sandwich: The Songs of Warren Zevon. It featured covers of his songs by Bob Dylan, Bruce Springsteen, Don Henley, Steve Earle, The Wallflowers, Jackson Browne, Bonnie Rait and others.
December 6, 2021
Ray McGinnis
References:
Werewolf of London, Universal Pictures, 1935.
"Lon Chaney Jr., Actor, Is Dead at 67," New York Times, July 14, 1973.
"Queen Elizabeth II," Wikipedia.org.
"Trader Vic's," Wikipedia.org.
Enjoy Every Sandwich: The Songs of Warren Zevon, (Artemis, 2004).
Andrew Dansby, "Warren Zevon Dies: Cancer Claims Singer-songwriter Two Weeks after Last Album," Rolling Stone, September 8, 2003.
Tanika Koosman, "The Ancient Origins of Werewolves," The Conversation.com, October 28, 2018.
Matt Simon, "Fantastically Wrong: The Strange Real-Life Origins of the Fiendish Werewolf," WIRED.com, July 23, 2014.
L. Illis, "On Porphyria and the Aetiology of Werwolves," National Center for Biotechnology Information, October 2, 1963.
"Warren Zevon concerts – Canada," setlist.fm.
"C-FUN Top Thirty," CFUN 1410 AM, Vancouver, BC, June 17, 1978.