#926: What About Now? by Robbie Robertson
Peak Month: November-December 1991
11 weeks on Vancouver's CKLG chart
Peak Position #14
Peak Position on Billboard Hot 100 ~ did not chart
YouTube.com: "What About Now?"
Lyrics: "What About Now?"
In 1943, Jaime Royal "Robbie" Robertson was born in Toronto. His biological father was a Jewish and a professional gambler named Alexander David Klegerman. He had impregnated Robertson's mother, Rosemarie Dolly Chrysler, a Cayuga and Mohawk woman from the Six Nations Reserve, near Hamilton, Ontario. Dolly soon after met James Patrick Robertson at a jewelry plating factory in Toronto where they both worked. Dolly and James married in late 1942. And Alexander David Klegerman was killed in a hit-and-run accident just prior to their marriage. It wasn't until "Robbie" Robertson was 14 that he was told who his real biological father was.

In his childhood, Dolly often took Robbie to the Six Nations Reserve to visit her extended family. It was in that setting that Robbie learned to play the guitar and developed an interest in rock 'n roll. He recalls "They knew if it was going to rain tomorrow. They could run up a tree. I had cousins that could snap off a branch and turn it into a beautiful spear. They didn't have any entertainment coming though on the res, so they made their own. Everyone sang or danced. I was about 12 or 13 and thought — I wouldn't mind getting my hands on a guitar."
After turning 14 in July 1957, Robertson got work at the Canadian National Exhibition and was influenced by the carnival atmosphere. He started a band named Robbie and the Rhythm Chords. After seeing the sci-fi film Forbidden Planet, that included a robot named Robby, the band changed its name to Robbie and the Robots. Next, Robertson joined a local Toronto band called The Consuls, which included Gene MacLellan. By 1959 Robertson was with a band called the Suedes. They were the opening act for Ronnie Hawkins and the Hawks at a concert that year at the Dixie Arena in Dixie, Ontario. Hawkins was so impressed with Robertson he invited him to join his road crew. Robbie was also invited to join Hawkins for a trip to the Brill Building to select songs for the 1959 album Mr. Dynamo, which included "My Gal Is Red Hot", a cover of a 1957 song by Billy Riley. Robbie Robertson ended up joining The Hawks on bass and later on guitar.
Other members of The Hawks were drummer Levon Helm, bass player Rick Danko, pianist Richard Manuel, and organist and saxophone player Garth Hudson. Ronnie Hawkins and The Hawks toured across the United States and Canada in the late 50s and early 60s. They recorded a number of singles, including "Bo Diddley" and "Who Do You Love". "Bo Diddley" climbed to #7 on the pop charts in Toronto in May of 1963.
Tired of playing rockabilly with Ronnie Hawkins, The Hawks struck out on their own in 1964. Eventually they called themselves Levon and The Hawks. They played on stage with Conway Twitty, and became session musicians for the So Many Roads album with blues singer John Hammond. In 1965 Levon and The Hawks released "The Stones I Throw" which became a Top 30 hit in Toronto. In August '65, Robbie Robertson was invited by Bob Dylan to be part of his band. Robertson refused, but suggest Dylan hire The Hawks. They became most of the backing musicians for Dylan's October to December 1965 tour in the USA. And subsequently for a world tour from February to May 1966, with 47 concerts across the United States, Canada, Australia, Sweden, Denmark, Ireland, Northern Ireland, Wales, England, Scotland and France. Meanwhile, Robbie Robertson and Rick Danko were among the session musicians on Dylan's Blonde On Blonde album, released in June '66.
Later in 1966 Bob Dylan had a motor cycle accident. As he recovered he went to a house in upstate New York. Between June and September 1967, Dylan and with Robertson, Helm, Danko, Manuel and Hudson, recorded The Basement Tapes. The bandmates added additional recordings for the album into 1968. Dylan had the band play at two Woody Guthrie memorial concerts at Carnegie Hall in January 1968. Meanwhile Levon and The Hawks became dubbed as The Band and released their debut album, Music From The Big Pink, in August. It featured the single "The Weight", written by Robbie Robertson. The song was included in the film Easy Rider. The album reached #30 on the Billboard album chart.
The Band didn't tour to support Music From The Big Pink. They also didn't take any interviews for a year. However, they did perform at the Woodstock Festival in mid-August 1969, and the Isle of Wight Festival (August 30-31, 1969) with Bob Dylan. Other performers included The Who, Joe Cocker, The Moody Blues and Free. In September 1969 The Band released their second album, self-titled The Band. The album was a critical success and climbed into the Top Ten on the Billboard album chart. Its tracks included "Up On Cripple Creek" and "The Night They Drove Old Dixie Down". In November '69 The Band appeared on the Ed Sullivan Show. And on January 12, 1970, The Band became the first rock 'n roll group to appear on the cover of Time magazine.
In 1970 The Band released their third album titled Stage Fright. It featured the single "The Shape I'm In". It was their second album to reach the Top Five on the Billboard album chart. Their next album, Cahoots, was released in 1971. It featured Robbie Robertson's song "Life Is A Carnival", with its references to impressions from Robertson's carnival experiences when he was 14. The Band kept on releasing more albums in the 70s. These included Moondog Matinee, perhaps a nod to pioneering rock 'n roll deejay Alan Freed whose Moondog show in Cleveland beginning in 1951 put R&B music on the radar for the white teen audience.
In 1973 Robbie Robertson contributed guitar on the studio recording of Ringo Starr's Ringo album. It featured the hit singles "You're Sixteen" and "Photograph". Robertson also played guitar on Carly Simon's "Mockingbird", and Joni Mitchell's "Raised On Robbery" from Court And Spark. Robertson also was a session musician on Eric Clapton's No Reason To Cry and produced Neil Diamond's Beautiful Noise and Love At The Greek.
From January 3 to February 14, Bob Dylan and the Band went on a tour of 21 cities where they gave 30 concerts. This included a concert in Seattle where Vancouverites would travel on an itinerary where Dylan and the Band skipped Vancouver. On January 17, 1974, Dylan released his album Planet Waves which featured all members of the Band as session musicians. The album spent four weeks on the top of the Billboard 200 album chart beginning on February 16, 1974. Subsequently, the live album Before the Flood, was recorded at the January 30 concert in New York City and February 13-14 concerts in Los Angeles. Before The Flood was released in June 1974.
The Band's 1975 album Northern Lights – Southern Cross featured the track "Ophelia" with vague references to the Shakespearian character. In 1976 the Band performed a concert at the Winterland Ballroom in San Francisco on November 25. In addition to the Band, other performers on stage included Paul Butterfield, Eric Clapton, Neil Diamond, Bob Dylan, Ronnie Hawkins, Dr. John, Joni Mitchell, Van Morrison, Muddy Waters and Neil Young. The concert was made into a film titled The Last Waltz.
In 1980 Robbie Robertson appeared as an actor in the film Carny, opposite Gary Busey and Jodie Foster. In the 80s Robertson scored music for the Martin Scorsese films Raging Bull, The King of Comedy and The Color Of Money. In 1987 a Chuck Berry documentary film Robertson worked as a creative consultant for, Hail! Hail! Rock 'n' Roll, was released, In 1987 Robbie Robertson released a self-titled album. It won two Juno Awards subsequently for Album of the Year and Producer of the Year, which Robertson co-produced with Daniel Lanois. The album track, "Somewhere Down The Lazy River", was a regional hit single which climbed to #11 on CKOC in Hamilton, Ontario. And on the Billboard Mainstream Rock chart the album track "Showdown At Big Sky" reached #2, and "Sweet Fire Of Love" peaked at #7.
In 1991 Robbie Robertson released his album Storyville. It contained a track titled "Go Back To The Woods" which climbed into the Top Ten in Hamilton, Ontario. While in Vancouver, the track "What About Now" peaked at #14.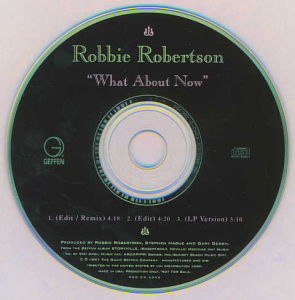 In 1992 the posthumous Roy Orbison album, King Of Hearts, was released which included the track "Love in Time" which Robbie Robertson produced. Through the 90s Robbie Robertson released several solo albums: Music For The Native Americans and Contact From The Underworld Of Redboy. For the latter album Robertson received a Juno Award in 1998 for Best Music of Aboriginal Canada Recording. And for the former album he received a Juno for Producer of the Year in 1994. In 1999 he wrote and scored the music for Oliver Stone's film Any Given Sunday. Robertson has been involved in writing or scoring music for over twenty films.
In 1989, the Band, including Robbie Robertson, was inducted into the Canadian Juno Hall of Fame. In 1994, The Band was inducted into the Rock and Roll Hall of Fame. And in 2008, Robertson and the Band received the Grammy Lifetime Achievement Award. And individually, Robertson received in 2006 Lifetime Artistic Achievement Governor General's Performing Arts Award.
In 2011 he released another album titled How To Become Clairvoyant. And in September 2019, Robbie Robertson released his sixth solo studio album titled Sinematic. Robertson is also an author, most recently of a children's book Hiawatha and the Peacemaker.
November 9, 2019
Ray McGinnis
References:
Sebastien Robertson and Adam Gustavson, Rock and Roll Highway: The Robbie Robertson Story, (Henry Holt and Company, 2014).
Robert Everett Green, "At 67, Robbie Robertson has Nothing Left to Prove," Globe and Mail, April 1, 2011.
Sarah Grant, "Robbie Robertson Talks Native American Heritage, New Children's Book," Rolling Stone, September 4, 2015.
"100 Greatest Guitarists," Rolling Stone, December 18, 2015.
Joel Selvin, "The Day the Music Lived / Rereleased 'Last Waltz' Documents Amazing Night in 1976 when Rock's Royalty Bid Farewell to the Band," SFGate, San Francisco, April 4, 2002.
Rob Bowman, "Life Is A Carnival," Goldmine magazine, July 26, 1991, Vol.17, No.15, Issue 287.
Nevin Martell, "In Woodstock, N.Y., Taking a Load Off at a Former Band Crash Pad," Washington Post, November 21, 2013.
"CKLG Top 40," CKLG 730 AM, Vancouver, BC, December 2, 1991.
For more song reviews visit the Countdown.