#1347: What Does A Girl Do by Marcie Blane
Peak Month February 1963
6 weeks on Vancouver's CFUN chart
Peak Position #13
Peak Position on Billboard Hot 100 #82
YouTube.com: "What Does A Girl Do?"
Lyrics: "What Does A Girl Do?"
Marcie Blane's actual name was Marcia Blank and she was raised in Brooklyn, New York. She was the second oldest of four children living with her parents, Ernest and Muriel. Marcie had music in her blood. Ernest Blank made his salary as a professional musician and music teacher. He'd been working as a pianist in the Catskill Mountains when he met and fell in love with 16-year-old Muriel Shalit. Her parents only gave their blessing to their daughter's marriage on the condition that Ernest graduate from college. After he graduated from New York University with a degree in music education the couple were married.
Marcie enjoyed singing folk songs for her family and friends and accompanying herself on piano and guitar. While at Jamaica High School in Queens, Long Island, she joined the school band on flute. She added to this becoming captain of the cheerleaders, secretary of the dance corps and playing violin in the high school orchestra. Over the summer Marcie attended summer camp at Camp Diana in Glen Spey, New York. There she often sang for the other campers.
During the month of her high school graduation in June 1962, Marcie was asked by a friend who was a songwriter to record a demo of some of his compositions. "It wasn't supposed to lead to anything," she recalled many years later. "I was just doing someone a favour. I was only supposed to go in and cut the demo and leave." When Marv Holtzman, A & R man at Seville Records, heard the demo discs, he was convinced Marcie Blane had the right stuff to make a hit record. "The fellow at the record company liked me and offered me a contract. How could I say no to that? I don't think I ever gave it much thought. The first song they came up with was "Bobby's Girl." That was the first recording session." She was about to start her career as a recording artist. Yet, Blane recalls, "I went away to camp that summer to be a counsellor. No one at school even knew I had recorded that ("Bobby's Girl")."
Written by Hank Hoffman and Gary Klein, Marcie Blane's "Bobby's Girl" was soon on sale. The song had a spoken word introduction "When people ask of me what do you want to be, now that you're not a kid anymore?" Together with the backing refrain "You're not a kid anymore," the disc struck a chord with North American teenagers almost instantly. It entered the Billboard Hot 100 in mid-October and rocketed into the Top 10 within a month. By December it was at #3 on the Billboard Hot 100, a position it maintained for four weeks. Over on the Cash Box chart, "Bobby's Girl" was even bigger news, peaking at #2 during an impressive 19-week run, nine of those spent in the Top 10. For awhile the 18-year-old was the best-selling female singer in the USA.
In the winter of 1962 the airwaves had numbers of female teen recording artists. Brenda Lee sang, "All Alone Am I", while Dee Dee Sharp urged everyone to "Ride". Mary Wells sang about her "Two Lovers" and Little Eva warned other girls to "Keep Your Hands Off My Baby". The girl group the Orlons charted with "Don't Hang Up". But "Bobby's Girl" was the favorite "girl" song at the time on the radio . Marcie Blane was kept out of the #1 spot on the Billboard Hot 100 for three weeks by "Big Girls Don't Cry", by the Four Seasons, and "Return To Sender" by Elvis Presley. And later by the Tornadoes "Telstar" and Chubby Checker's "Limbo Rock". In all "Bobby's Girl" spent eight weeks in the Top Ten on the Billboard Hot 100, seven of these respectively at #3 and #4. In Vancouver her debut release spent seven weeks in the Top Ten on CFUN, peaking at #2. In the case of the CFUN chart it was Elvis and the Tornadoes that kept "Bobby's Girl" out of the #1 spot.
Meanwhile, the answer-record phenomenon was common. "Bobby's Girl" produced at least two answer-records: the Sherry Sisters' "Stay Away From Bobby" and "She Wants To Be Bobby's Girl" by Dickey Lee.
As was common practice back then, Seville Records rush-released Marcie's follow-up while "Bobby's Girl" was still on the charts. Seville Records didn't want Blane's fans to forget her. The Hoffman/Klein team again wrote to channel the mind of a teenage girl, and came up with "What Does A Girl Do."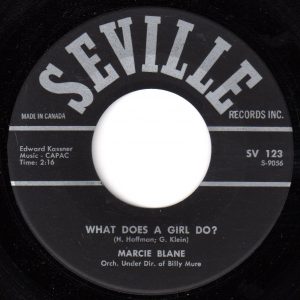 Yet for teens going out on a date, communication could get mixed up. The returned attraction from a "girl" for a guy who had only known her for a short time was problematic. It could have been taken as an invitation to go much further then she'd any intention of going. And there were other songs on the Vancouver charts like "No", by Dodie Stevens that advised "oh, don't you know that a girl means yes when she says no." While Patti Page in "Boys Night Out" advised "what the boys are out after the girls are out after too." Sorting out "What Does a Girl Do" was one half of the equation. There could have been an answer song by another recording artist titled "What Does a Boy Do". But as Blane's follow-up single was a flop, that answer song was never written.
Seville Records had Marcie record a German version of "What Does A Girl Do" title "Wer A Einmal Gesagt" for the German market.
When "What Does A Girl Do?" entered the Hot 100 in February they anticipated another smash hit like "Bobby's Girl".
However, raising matters of sexual attraction and arousal, as well as the possibility of a "girl" liking a "boy's" expressions of interest while parking a car "where it's awfully dark" rang alarm bells. While instant romantic attraction was portrayed everywhere in movies and popular songs, the risk that a "boy" would put a girl "to shame" was too risqué. We learn from the lyrics that although she's only known the boy a short time, she loves him.
"What Does A Girl Do?" stalled at #82 on the Billboard Hot 100, dropping off the chart after just two weeks. The song's lyrics were deemed too risqué for radio play. "What Does A Girl Do" peaked at #8 in Saskatoon (SK), #12 in Chicago, #13 in Vancouver (BC), #20 in Santa Maria (CA), and Erie (PA), and #23 in Boston.
Seville kept Marcie's releasing new singles at a steady pace through 1963. However, "Little Miss Fool," "You Gave My Number To Billy" and "Why Can't I Get A Guy" each failed to chart. Blane's position as the nation's top-selling female singer was soon filled by Little Peggy March ("I Will Follow Him") and then Lesley Gore ("It's My Party" and "Judy's Turn To Cry"). By the summer of '63 Marcie Blane had other things than the whims and changing musical tastes of fans on her mind. She registered as a music major at Queens College. Still, Blane did set aside time to travel to the UK, where she performed on TV's Thank Your Lucky Stars. Interestingly, it was the UK where Blane's version of her debut hit, "Bobby's Girl" faired the poorest. This was due to a cover version by British singer Susan Maughan taking her cover version of the song to #3 on the UK singles chart.
Marcie's only release of 1964 was "Bobby Did", a song co-written by the then unknown Neil Diamond. The song reveals that the reasons for the subsequent break-up in the songs about wanting to be Bobby's Girl, had to do with a decision Bobby made to break things off. 1965's "She'll Break The String" marked the end of her recording career. It turns out the whole experience was one Marcie didn't care for. She loved music, but she didn't enjoy the record industry. She kept making records in 1963 because of her record contract. Yet, she didn't spend time promoting them. Instead she gave her attention to her music degree, friends and family.
After graduating from Queens College, Marcie got married, had two children, and went on to enjoy a career in education. In a December 30, 1988, interview in Goldmine Magazine with Bob Shannon and Jeff Tamarkin, Blane recalled: "The music business was impossible for me to deal with. Everything changed. I felt very isolated and very lonely. I decided not to continue. I couldn't. It was too difficult. I didn't feel comfortable in front of a lot of people, with everyone making a fuss. I didn't have the sense of myself that I needed. It's taken all these years to be able to enjoy what there was."
October 18, 2016
Ray McGinnis
References:
Mick Patrick, Bobby's Girl: The Marcie Blane Story, Spectropop.com
Marcie Blane, "Wer Einmal A Gesagt", 1963.
"C-FUNTASTIC FIFTY," CFUN 1410 AM, Vancouver, BC, February 9, 1963.
For more song reviews visit the Countdown.