#1006: My Wheels Won't Turn by Bachman-Turner Overdrive
Peak Month: May 1977
8 weeks on Vancouver's CKLG chart
Peak Position #11
Peak Position on Billboard Hot 100 ~ did not chart
YouTube.com: "My Wheels Won't Turn"
Lyrics: "My Wheels Won't Turn"
Randolph Charles Bachman was born in 1943 in Winnipeg, Manitoba. When he was just three years old he entered the King of the Saddle singing contest on CKY radio, Manitoba's first radio station that began in 1923. Bachman won the contest. When he turned five years he began to study the violin through the Royal Toronto Conservatory. Though he couldn't read music, he was able to play anything once he heard it. He dropped out of high school and subsequently a business administration program in college. He co-founded a Winnipeg band called The Silvertones with Chad Allan in 1960. In 1962 the band became Chad Allan and the Expressions, and was renamed The Guess Who? in 1965 with the release of "Shakin' All Over". The Guess Who dropped the question mark in their title a few years later.
Burton Cummings replaced Chad Allan and the band went on to score major international hits like "American Woman" and "These Eyes". While "American Woman" was #1 in May 1970, Randy Bachman left The Guess Who. He released a solo album called Axe, and formed a band called Brave Belt. This included his brothers Robbie and Tim and Chad Allan. Fred Turner then replaced Chad Allan. By 1973 they were billed as the Bachman-Turner Overdrive. In the mid-70s the BTO would have a half a dozen Top Ten hits in Canada and a #1 internationally with "You Ain't Seen Nothing Yet". In the 1970's BTO sold over 7 million albums. Their 1970s catalog included five Top 40 albums and six Top 40 singles. Over the years the band has sold nearly 30 million albums worldwide.
Freeways, BTO's sixth studio album was released in 1977. It would signal the initial unraveling of the band. The song "My Wheels Won't Turn" was BTO's first single since their first album that didn't chart in the U.S. Fred Turner was so unhappy with Freeways that he refused to have his photograph taken face-on for the cover art because he felt he had become a sideman. Randy Bachman left BTO after the release of Freeways. "My Wheels Won't Turn" did, however, appear on the charts in Vancouver, climbing to #11. It also appeared on the charts in Toronto (#17), Ottawa (#10), Houston, TX (#26) and London, UK (#36).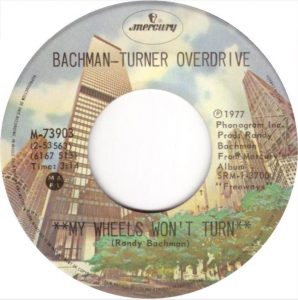 "My Wheels Won't Turn" is a song about being in a stuck place and unable to manifest and make things happen. Opportunities come his way including an invitation to visit a wealthy man's farm with horses in El Paso, and to see a woman in Los Angeles whose invited him to stay with him for eight days. However, his focus is not on making it happen. Instead, he doesn't know how he can get himself to either Texas or LA. Though he went to college and got a degree, he recognizes that having a lot of knowledge and knowing how to memorize information in order to pass exams isn't the key to having a breakthrough. He doesn't know how to switch up his way of being in the world in order to thrive.
In the final verse there is a reference to a man in white who did things right while they lived on earth. Now the man in white "watches from above," in heaven. As a Mormon, Randy Bachman may have in mind not Jesus Christ but Joseph Smith, the founder of the Mormon religion. "No man or woman in this dispensation will ever enter into the celestial kingdom of God without the consent of Joseph Smith…every man and woman must have the certificate of Joseph Smith, Junior, as a passport to their entrance into the mansion where God and Christ are… Joseph Smith reigns there as supreme a being in his sphere, capacity, and calling, as God does in heaven. Many will exclaim"Oh,that is very disagreeable!…But it is true." Whether this verse in BTO's song is a reference to Joseph Smith or not, they are pointing to someone who lived the life of an avatar while on earth who incarnated divinity. And in the case of the narrator of the song, they figure they aren't going to get to heaven when their life is through since their wheels won't turn.
It isn't uncommon, unless we're living a charmed life, to wake up one day and accept that everything you've been setting goals and planning dreams for hasn't unfolded. You've studied books and attended courses and personal development events. You may have attempted to sort out unresolved dynamics among your friends and family. You've meditated and kept a journal. You've even followed through with the exercises in all the programs you've bought and taken back home with you. The dynamics in your life may have shifted a bit or not at all. Still, you feel beaten, baffled and at your wits end as you swim in circles and get more exhausted with revisiting your stuck place. The question is, what are you going to do about it?
You can take a personal inventory:
Past results – What have you done in the past that worked? Why? What hasn't worked? Why?
Reactions – What have you done that others notice? What feedback have they given you?
Relationships – How has what you've done affected your relationships? How do others describe you?
Emotions – Where do you feel the most stress and resistance in your body and in your life?
As you gather this information it is likely you'll notice some patterns of what helps and what hinders your own progress. But examining what isn't working on our own won't likely move the dial very much. At some point we have to stop trying to figure things out on our own. Working with someone whose attained a lot of what we've been looking for helps broaden our imagination and discover what others have done to manifest what we haven't been able to so far. This will require that once you find someone who has achieved some of the things in life your after, to be receptive to their suggestions and counsel. Sometimes we don't see what is blocking our path. It helps to have another person help us connect the dots. Often, it is staring us right in the face and we wonder how we couldn't have seen it ourselves. Yet, we'd might never have become aware of what was undermining our own quest to manifest something in our life if we didn't have a mentor lending us needed insight.
In the case of the narrator of the song, if he can't get himself to Texas or California, maybe he needs to talk to someone he knows who often travels for business or pleasure. Find out how that person gets from place to place. We don't know what the inertia exactly is in "My Wheels Won't Turn". Is the guy overwhelmed at the thought of buying an airplane ticket or driving a short (or great) distance to get to El Paso or LA? Being specific about the actual perceived obstacles is a way forward. In his own life, Bachman would end a marriage in divorce and find himself one million dollars in debt by 1982.
In 1977 Bachman went solo and released an album called Survivor in 1978. From the album came the single release "Is The Night Too Cold For Dancin'?"
After his solo release, Bachman went on to form the band Ironhorse in 1979. Bachman subsequently went on reunion tours with The Guess Who in the 1980s and played with them at the Pan-Am Games in Winnipeg in 1999 and, more recently, in 2003. Bachman also toured almost continuously with BTO from 1983 to 1991. He's also released over a half a dozen solo albums between 1992 and 2015.
In 2002, as a member of The Guess Who, Bachman was one of the former bandmates who received The Governor General's Performing Arts Award, a Canadian award noting excellence in the performing arts. Bachman has also received the distinction of being made an Officer of the Order of Canada in 2008.
Since 2005 Randy Bachman has hosted a pop music retrospective show on the CBC called Vinyl Tap. Songs like BTO's "Taking Care Of Business" have been referenced in the TV show The Simpsons.
September 14, 2017
Ray McGinnis
References:
Randy Bachman bio, Randy Bachman.com
Michael Heatley, "From Rags to Riches and Back: The Turbulent Story of Bachman-Turner Overdrive," Team Rock.com, Bath, UK, December 17, 2016.
Randy Bachman, Vinyl Tap, CBC, Toronto, Ontario.
LDS PROPHET Brigham Young, JoD, vol.7, pp. 289-91.
John Amodeo, "If You're Feeling Stuck, This May Be Why," Psychology Today, New York, NY, October 30, 2016.
"Vancouver's Official Music Survey," CKLG 730 AM, Vancouver, BC, May 10, 1977.
For more song reviews visit the Countdown.