#19: Whenever You Need Somebody by Rick Astley
City: Calgary, Alberta
Radio Station: CFCN
Peak Month: April 1988
Peak Position in Calgary ~ #1
Peak position in Vancouver ~ did not chart
Peak Position on Billboard Hot 100 ~ did not chart
YouTube.com: "Whenever You Need Somebody"
Lyrics: "Whenever You Need Somebody"
Richard Paul Astley was born in 1966 in Newton-le-Willows, a market town in Merseyside, England. He began to sing in a church choir at the age of ten. After graduating from school, he formed a band called FBI who played covers of the Beatles and the Shadows. Astley was the band's drummer, but became the lead vocalist. He was noticed by producer Pete Waterman, and signed to a record contract. His first release was in 1987 titled "When You Gonna", with Lisa Fabien. It made the Top 20 in Belgium and the Netherlands. Astley released his first solo single later that year titled "Never Gonna Give You Up". It topped the pop charts in 16 nations around the world from Australia to Zimbabwe.
Rick Astley's followup was "Whenever You Need Somebody".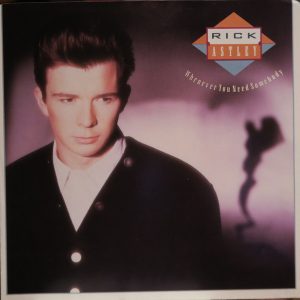 "Whenever You Need Somebody" was written by Mike Stock, Matt Aitken, and Pete Waterman.
Pete Waterman was born in Coventry, England, in 1947. In 1962 he took work with British Railway, having left school at 15 years of age. He subsequently worked as a coal miner, and for General Electric. He started to work as a DJ in clubs at Coventry. And from there worked as an A&R man, introducing the Three Degrees to the UK. Stock, Aitken and Waterman went on to produce "Whatever I Do (Wherever I Go)" by Hazell Dean, a #4 hit in the UK in 1984. Their big breakthrough internationally was with Dead Or Alive's "You Spin Me Round (Like A Record)", a Top Ten hit internationally in a dozen nations, and #11 on the Billboard Hot 100. Then in 1986, Bananarama recorded a cover of the 1970 hit by Shocking Blue titled "Venus". The single went Top Ten in 18 nations, including number-one in Australia, Belgium, Canada, France, Italy, New Zealand, South Africa, Spain, Switzerland and the USA.
Later, Stock, Aitken & Waterman wrote and produced a #1 hit for Mel & Tim in 1987 titled "Respectable". The trio had a number of hits for Kylie Minogue, including producing her cover of the 1962 Little Eva tune "The Loco-Motion". Another charting domino was Jason Donovan, who Stock, Aitken & Waterman wrote and produced for, including "Too Many Broken Hearts". They also wrote and produced hits for Donna Summer, "This Time I Know It's For Real" and "I Don't Want To Get Hurt". Stock, Aitken & Waterman split as a songwriting-production trio later in 1993 due to a dispute over finances.
'Whenever You Need Somebody" is a song about a guy who is rooted in his love for someone. He wants to spend some time with her, and console her when she's feeling down. He has a lot of love to give and lets her know.
Due to the record labels challenges in stocking physical vinyl discs in American record stores, "Whenever You Need Somebody" did not crack the Billboard Hot 100.
"Whenever You Need Somebody" peaked at #1 in Calgary and #18 in Burnaby (BC). Internationally, "When Ever You Need Somebody" peaked at #1 in Italy, West Germany, Sweden and Switzerland, #2 in Denmark, Norway and Spain, #3 in Australia, Finland, Ireland and the UK, #4 in Austria and #11 in France.
Astley's next release was a cover of the pop standard, "When I Fall In Love". It topped the pop charts in Belgium, and made the Top Ten in another half dozen countries. In early 1988, Rick Astley was back on the top of the pop charts around the world, and in Canada and the USA with "Together Forever". Later in 1988, "It Would Take A Strong Strong Man" topped the pop charts in Canada and peaked at #10 on the Billboard Hot 100. He also had a Top Ten hit with "She Wants To Dance With Me". A Top Ten hit across Europe and in Australia in 1988 was "Take Me To Your Heart".
In 1989, Rick Astley received a Grammy Award nomination for Best New Artist. Rick Astley's third album, Free, featured the single "Cry For Help", which was his last notable Top Ten international hit in 1991. Though his fourth album, Body & Soul, included "Hopelessly", a Top Ten hit in Canada in 1993.
In 1992, Rick Astley became a father and went into retirement from the music industry from 1994 to 2000 to focus on his family. Over his career, Rick Astley has released nine studio albums. The last is his forthcoming Are We There Yet?, to be released in October 2023.
September 8, 2023
Ray McGinnis
References:
Craig McLean, "Rick Astley interview: 'Being an Eighties pop star was like being a travelling salesman'," Telegraph, October 29, 2020.
"Rick Astley: The Raw and Uncut Interview," VOXPOP, 1988.
Miranda Siwak, "Rick Astley: 25 Things You Don't Know About Me ('I'm Good at Building Sheds')
," US Magazine, February 12, 2022.
Cheer Up Pop Parties, "Stock Aitken Waterman Show featuring Josselyne, Kimberly & Ruth Ann of Boy Krazy," Mixcloud, October 2020.
Tim Jonze, "I Crawled On My Knees to Kylie' – the Inside Story of Stock, Aitken and Waterman," Guardian, March 28, 2017.