#101: Whip It by Devo
Peak Month: January 1981
15 weeks on Vancouver's CFUN chart
Peak Position #2
Peak Position on Billboard Hot 100 ~ #14
YouTube.com: "Whip It"
Lyrics: "Whip It"
Mark Allen Mothersbaugh was born in 1950 in Akron, Ohio. He attended Kent State University in Ohio and met fellow students Gerald Casale and Bob Lewis. Mothersbaugh played in a rock band called Flossy Bobbitt. Gerald Vincent Pizzute was born in 1948 in a suburb of Akron. Gerald's father had changed his name to his foster parents whose surname was Pizutte. But when Gerald was four-years-old, his dad changed his name back to his birth name Robert Casale, and Gerald Pizutte became Gerald Casale. Gerald grew up in Kent, Ohio, and attended the university.
In the late 1960s, Gerald Casale was a self-described hippie. In 1969 he played in a blues-rock band nicknamed "the Numbers Band" due to their name 15-60-75. Casale's identification as a hippie ended on May 4, 1970 with the shootings at Kent State University. Casale was involved with Freshman orientation at the KSU Honors College. He personally knew two of the four victims, Jeffrey Miller and Allison Krause. Gerald Casale was near Krause when she was shot. Casale described that day in multiple interviews as being "the day I stopped being a hippie." Together with Bob Lewis, Casale used the shooting as a catalyst to explore and reflect on the concept of De-evolution, forming the band Devo in 1973. Robert "Bob" Curtis Lewis was born in 1947 in Akron.
Robert Edward Pizzute, Jr. was born in 1952 in Kent, Ohio. Like his older brother Gerald, his name was changed at a young age and he became Robert "Bob" Casale Jr. After graduating from high school, Bob Casale trained as a radiographer. He was invited to join Devo as they were forming in 1973. In 1974 the younger brother of Mark, Bob Mothersbaugh, became the band's lead guitarist. As a result, Bob Lewis became the band's manager. Bob Mothersbaugh was born in Akron in 1952. The early lineup of Devo was fluid and for a time another brother, Jim Mothersbaugh, played in the band. When Jim left the band in 1975, a new drummer joined Devo named Alan Myers. From 1975 to 1985, the lineup in Devo remained Gerald and Bob Casale, Mark and Bob Mothersbaugh and Alan Myers.
In 1977 the band released the EP Be Stiff. It featured a cover of the Rolling Stones' "(I Can't Get No) Satisfaction". The single peaked at #41 on the UK singles chart.
In 1978 Devo released their first album Q: Are We Not Men? A: We Are Devo! The album was produced by David Bowie and Brian Eno, with Eno doing most of the work due to Bowie's being cast in the film Just A Gigilo. As part of a tour to support the album, on January 12, 1979, Devo came to the Commodore Ballroom for a concert in Vancouver. Q: Are We Not Men? A: We Are Devo! was most successful in the UK where it climbed to #12, and in New Zealand where it peaked at #7.
A single from the album, "Jocko Homo" charted in the UK. The verses in "Jocko Homo" primarily concern themselves with the view of de-volution, noting foibles in human society. Most versions include a bridge that begins with "God made man, but he used the monkey to do it. Apes in the plan we're all here to prove it…" This is a response and reference to the Uncle Dave Macon song "The Bible Is True", an anti-evolution song: "I'm no evolutionist that wants the world to see. Ain't no man from anywhere born can make a monkey out of me!" "Jocko Homo" also contains several call and response choruses, including the repeated chant "Are we not Men? / We are Devo!" Mark Mothersbaugh recalls "When I wrote the song, some of the theory and thought came out of reactionary Christian, anti-evolution propaganda. There was a pamphlet put out by someone in the late '30s called "Jocko Homo, Heaven-Bound King of the Apes," and it was attacking and ridiculing evolution. In the process, it was celebrating de-evolution, or at least supporting de-evolution, which we found amusing and entertaining."
In the spring of 1979, Devo released their next album titled Duty Now for the Future. A tour to support the album included a second visit in six months to Vancouver on June 24, where Devo gave a concert at the PNE Garden Auditorium. A cover of the Johnny Rivers song "Secret Agent Man" failed to chart.
In May 1980, Devo released their third album titled Freedom of Choice. The first single release, "Girl U Want" got some attention in the UK and Australia, but was largely overlooked in the North American record and radio market. The second single from the album was "Whip It".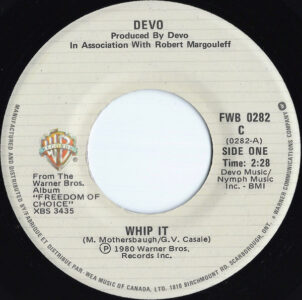 The lyrics of "Whip It" are disjointed and nonsensical. For example, its central theme revolves around the ability to solve one's problems by "whipping it." Other lines include motivational statements like "Go forward! Move ahead!" and "It's not too late." Casale wrote the lyrics, which were intended to satirize American optimism. He took inspiration from communist propaganda posters and Gravity's Rainbow by Thomas Pynchon, a 1973 novel that contains satirical limericks about capitalist can-do clichés. Casale incorporated lyrics that would sound like motivational clichés if taken out of context.
Another element in "Whip It" was the 1980 American Presidential election. Mark Mothersbaugh states they were written in the form of a subtle pep talk for United States President Jimmy Carter during the 1980 election campaign. The members of Devo supported Carter and feared the Republican candidate Ronald Reagan would win the election. Mothersbaugh jokingly once said in an interview: "Come on Jimmy, get your shit together". AllMusic critic Steve Huey notes that despite the song's novelty, there are violent undertones in the lyrics. He describes the process of whipping it to solve one's problems as "a sardonic portrait of a general, problematic aspect of the American psyche: the predilection for using force and violence to solve problems, vent frustration, and prove oneself to others."
Devo performed in concert at the Kerrisdale Arena in Vancouver (BC) on August 13, 1980. This was the date Devo released "Whip It" as a single.
The title song from the album "Freedom Of Choice" still resonates today says Mark Mothersbaugh. The song "was talking about how we were in an amazing situation where we had freedom to vote, freedom to make choices, freedom to say no to war, and freedom to say yes to taking care of the children in our country or on our planet. And instead, we didn't. I felt like it addressed those issues, where we did have freedoms that we didn't even bother using. That was part of the message for "Freedom of Choice." I thought that was a good message: to use it before you lose it." "Freedom Of Choice" was released as a single but stalled at #103 beneath the Billboard Hot 100.
In 1981 Devo recorded a track for the animated film Heavy Metal titled "Working In The Coal Mine". Other recording artists who contributed to the soundtrack include Blue Oyster Cult, Stevie Nicks, Donald Fagen, Cheap Trick, Black Sabbath and Nazareth. "Working In The Coal Mine" was a Top Ten hit in London (ON) and Toronto.
In August 1981, Devo released the album New Traditionalists. Both singles "Beautiful World" and "Through Being Cool" failed to crack the Billboard Hot 100.
On November 30, 1981, Devo came back to Vancouver to perform at the Pacific Coliseum.
In 1982 Devo released Oh No! It's Devo. The singles "Peek-a-Boo!" and "That's Good" added to their list of singles that missed the Billboard Hot 100. In 1983 the band had one last single that cracked the Billboard Hot 100. This was "Theme from Doctor Detroit" from a comedy film starring Dan Aykroyd and a guest appearance by James Brown. The single stalled at #59 on the Hot 100.
Mark Mothersbaugh wrote some commercials in the 80s. "I got offered this Hawaiian Punch commercial, and when I wrote the music, the commercial had one line of dialogue: Hawaiian Punch hits you in all the right places. It was robots dancing along with humans dancing. It looked like it was based on the Devo live show."
In 1985 Devo had a dance club hit in Vancouver titled "Here To Go". It stalled at #44 on the Hot Dance Music Billboard chart, and #40 on the Australian pop singles chart. In 1986 Alan Meyers left the band.
On October 20, 1988, Devo appeared in convert at the 86 Street Music Hall in Vancouver. This was in conjunction with their Total Devo tour to promote the album Total Devo. From the album, "Disco Dancer" made a modest chart run on the Billboard US Dance Club Songs chart. peaking at #45. It was a spoof on Saturday Night Live and a disco dancer waking up to culture shock fifteen years after the twilight of disco. In 1990, Smooth Noodle Maps failed to crack the Billboard 200 album chart. Though a single from the album, "Post Post-Modern Man", made it to #26 on the Billboard US Dance Club Songs chart.
In 1991 Devo had a five-year hiatus and regrouped in 1996.
In 2007 Devo made a recording for a Dell computer commercial. The track was titled "Watch Us Work It" and released as a single. In 2010, an album titled Something For Everybody climbed to #30 on the Billboard 200 album chart.
On February 22, 2010, Devo performed a concert north of Vancouver at the Whistler ski resort. Later that year on September 4, Devo appeared in concert north of Vancouver at the Logger Sports Grounds in Squamish, BC. On September 18, 2011, Devo gave a concert at the Vogue Theatre in Vancouver.
In 2013 former drummer Alan Meyers died at the age of 58 of stomach cancer. Josh Freese, who joined Devo as a drummer in 1996, tweeted that Myers was "1 of [his] all time favs. An underrated/brilliant drummer. Such an honor playing his parts w/Devo. Godspeed Human Metronome." Devo returned to Vancouver on June 26, 2014, for a concert at the Commodore Ballroom.
In addition to Devo, since the late 1980s Bob Mothersbaugh has written and performed on soundtracks for both a dozen TV shows and five films. Brother Mark Mothersbaugh has written and performed for soundtracks in over thirty TV shows and eighty films.
October 26, 2022
Ray McGinnis
References:
Devon Ivie, "The Most Progressive and Perverse of Devo, According to Mark Mothersbaugh," Vulture, April 12, 2022.
Jason Brow, "Band's 'Original' Sound Deserves The Hall Of Fame's "Recognition'," Hollywood Life, April 13, 2022.
"Devo's Gerald Casale: "People that end up Being Called Creative, All they did was Stay True and in Touch with Their Ability," Gimmiezine, May 28, 2020.
Eric R. Danton, "Alan Myers, Devo Drummer on 'Whip It,' Dead at 58. Percussionist played on the band's most successful albums," Rolling Stone, June 26, 2013.
"Devo – Our 1988 Interview," SPIN, October 27, 2019.
Uncle Dave Macon, "The Bible Is True", 1925.
Simon Reynolds, Rip It Up and Start Again: Postpunk 1978–1984, Penguin, 2006.
"Devo concert dates – Canada," setlist.fm.
"C-FUN Top Thirty," CFUN 1410 AM, Vancouver, BC, January 10, 1981.
For more song reviews visit the Countdown.