#447: Whirly Girl by OXO
Peak Month: May 1983
9 weeks on Vancouver's CKLG chart
Peak Position #4
Peak Position on Billboard Hot 100 ~ #28
YouTube.com: "Whirly Girl"
Lyrics: "Whirly Girl"
Ismael Angel Ledesma was born in 1952 in Cuba and migrated to Miami as a child. He was influenced by the Latin sounds that pervaded his Cuban culture. Ismael also thrived on pop and rock and roll music that he first heard in Cuba and later coming to Florida in the late 50's. Ledesma recalls, "My education has come from 'Hands On' experience which started at T.K. Records in Miami, FL and continued on through all the recording studios I worked at as a recording artist, record producer and sound engineer." He began his work with T.K. Records in 1971. In the early 1970s, Ledesma was hired by as a session musician. Ledesma's credits include guitar on Gwen McCrae's 1975 disco hit "Rockin' Chair". In 1976 he formed a disco band based in the Miami suburb of Hialeah, Florida, named Foxy. They had a number one hit on the Billboard R&B chart in August 1978 titled "Get Off". The song was co-written by Ledesma. "Get Off" made the Top Ten on the Billboard Hot 100 that November. Foxy appeared on American Bandstand, the Midnight Special, The Joey Bishop Show and The Mer Griffin Show. Foxy also toured as an opening act with The Jackson 5, Rick James, Natalie Cole and Sister Sledge.

In early 1979 Foxy were backing musicians for ABBA in the recording of "Voulez-Vous". The single was a number one hit for ABBA in Belgium, and went Top Ten in Ireland, Netherlands, Switzerland and the UK. The single recorded in Miami was the one occasion where ABBA recorded outside of Sweden. Foxy managed just one more Top 30 hit of their own with "Hot Numbers" in 1979 before breaking up in 1980.
In 1983 Ledesma formed a dance-rock/new wave band named OXO. His bandmates were guitarist Orlando Nuñez, bass guitarist Frank Garcia, and drummer Freddy Alwag. Three of the bandmates were from Florida and Alwag was from southern California. Frank Garcia had previously written one track for a 1973 album by hispanic pop singer Tata Vazquez Y Su Cucumay.
OXO released one self-titled album in 1983 with the single "Whirly Girl".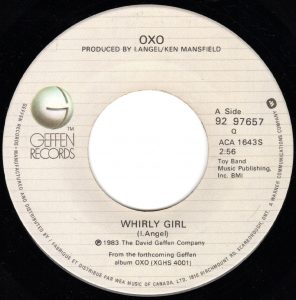 The track was originally titled "Worldly Girl". The credits were attributed to "I. Angel". On the TopOneHitWonders website, Michael Waterman comments "but adding that 'd' to the mix made the chorus too chunky and difficult to sing. So they abbreviated it to 'Whirly Girl' and pop music history was made with the only song to ever use the phrase 'Whirly Girl'." OXO sing the word "whirly" 33 times during the song. The root word "whirl" is a synonym for twirl, spin, twist, pirouette, rotate and pivot.
"Whirly Girl" is a song about a guy who knows a "really hip" girl who can "go go go." The guy hopes he might be able to get her phone number and call her at home. However, she's "so whirly." Her "whirly" qualities include flying off to Paris, France, where she can "dance, dance, dance." She has "been with the Rolling Stones, on their tours and in their homes." All of her whirling around has resulted in her being "lost" and not wanting to be "found." When it comes to romantic partners "she picks you up and lets you drop." She is more preoccupied with living a first class life that includes taking her "tea with millionaires."
A millionaire is someone who is worth at least one million dollars, taking into account purchases that haven't been paid off, such as a boat, house, car etc. In inflation adjusted dollars one million dollars in 1983 is equal to almost $2,700,000 in 2020. So the millionaires who the whirly girl is having tea with are flush with cash, and apparently interested in young women. In 2017 there were 9.4 million millionaire households in the USA, which was 7.5% of all households.
In the OXO made for MTV, the whirly girl appears from out of a giant sized crate. She wears a tight black and white stripped top and a very short leather skirt. This whirly girl who goes on tours with the Rolling Stones and goes with them to their private residences seems to be a groupie. Led Zeppelin bandmate Robert Plant is quoted in the Led Zeppelin biography, Hammer of the Gods, as making a distinction between fans who wanted brief sexual encounters, and "groupies". The latter, in Plants' view, traveled with musicians for extended periods of time, acting as a surrogate girlfriend, and often taking care of the musician's wardrobe and social life. Was the whirly girl in the OXO song supposed to be a fan who wanted brief sexual encounters, a surrogate girlfriend or something else? One can infer any of the above from the songs' lyrics.
"Whirly Girl" peaked at #3 in Winnipeg (MB), #4 in Vancouver (BC), #7 in Minneapolis/St. Paul, Regina (SK) and Bangor (ME), #8 in Tacoma (WA) and St. Cloud (MN). In 1983 OXO toured as opening act with Hall & Oates.
OXO's success was not to last. In their book, Rock And A Heart Place. A Rock 'n Roller Coaster Ride from Rebellion to Sweet Salvation, Ken Mansfield and Marshall Terrill, detail the rupture between OXO and Geffen Records. The moment "Whirly Girl" made the Top 30 on the Billboard Hot 100, OXO began to split up. The catalyst was due to the politics and power struggles erupted between OXO's management and Geffen Records. The band didn't officially break up until around 1986.
OXO drummer Freddy Alwag appeared as a session musician later in the 80s with Smokey Robinson, Stacy Lattisaw and the Four Tops. Meanwhile, in 1986 Ish "Angel" Ledesma formed a freestyle girl group named Company B that included his spouse, Lori Ledesma. They had a #1 hit on the Billboard Dance Chart in 1987 titled "Fascinated". The song also made the Top 30 on the pop charts in the USA and the Netherlands. Company B had three more Top 20 Dance Chart hits in the late 80s. They split up in 1998, and reunited in 2006. In 2017 Company B did a cover of the 1980's hit for Bananarama titled "Cruel Summer".
Since 1992, Ledesma writes about a new focus on video production. "My video education again has come from 'Hands On' field experience when I began working for Exired S.A. in Mexico City as the event producer / director. I have continued to produce videos, events and media for the same owner since then, to date."
Over the decades Ismael Ledesma has been in the recording studio with many recording artists. In addition to ABBA, Ledesma has been a session musician/vocalist with Gloria Estefan and Miami Sound Machine for "Bad Boy", Bone Thugs-n-Harmony, Mo Thug Family, Sergio Mendes, New Order, Ronnie Wood (of Jeff Beck Group, Faces and Rolling Stones), Ringo Starr, Terry Nunn (of Berlin), Alvin & The Chipmunks, Puff Daddy, Betty Wright, Timmy Thomas, 2 Live Crew, Fred Schneider (of the B 52's), The Dazz Band, KC and The Sunshine Band, Foxy, Company B, Oxo, Louis Martinee (producer for 1980s girl group Exposé), Wizzard, Michelle Goulet, Latimore, Gwen McCrea, George McCrea, Noel, Santa Esmeralda, Junior Walker and many more. His songs have appeared in seven films, including "Whirly Girl" in the 1984 film Just the Way You Are, starring Kristy McNichol.
Between 1978 and 2017, Ismael 'Angel' Ledesma won 27 RIAA (Recording Industry Association of America) Gold & Platinum Awards. He has also had "20 years experience as head event sound engineer/designer, producer/director for live industrial events ranging from 2,500 to 70,000 in attendance." He also appeared in an acting role as a criminal on one episode of Miami Vice.
May 18, 2020
Ray McGinnis
References:
Carl Magnus Palm, "Liner notes, part 1: A Matter Of Blood, Sweat And Tears – The Making Of Voulez-Vous," carlmagnuspalm.com, May 6, 2011.
Ismael Ledesma, "Music/Video/Sound Production: Work History," visualcv.com, June 25, 2019.
"Bad Boy (Song) – Miami Sound Machine," Wiki2.org.
Michael Waterman, "Whirly Girl – OXO," TopOneHitWonders.com, October 9, 2010.
Dick Clark, "OXO Interview," American Bandstand, April 9, 1983.
"Freddy Alwag," Discogs.com.
Ken Mansfield and Marshall Terrill, Rock And A Heart Place. A Rock 'n Roller Coaster Ride from Rebellion to Sweet Salvation, (BroadStreet Publishing, 2015) 147.
Stephen Davis, Hammer of the Gods: The Led Zeppelin Saga, (William Morrow & Co., 1985).
Stacy Rapacon, "What Being a Millionaire Means Today," US News, February 12, 2018.
"CKLG Top 20," CKLG 730, Vancouver, BC, May 4, 1983.
For more song reviews visit the Countdown.