#1072: Why'd You Lie by Colin James
Peak Month: March-April 1989
10 weeks on CKLG chart
Peak Position #15
Peak Position on Billboard Hot 100 ~ did not chart
YouTube.com: "Why'd You Lie"
Lyrics: Why'd You Lie"
Colin James Munn was born in Regina, Saskatchewan, in 1964. He is a neo-swing artist who mixes swing, jump blues, rockabilly, ska and contemporary rock 'n roll into his performances and recordings. In 1984 he was playing with a Regina. As luck would have it American rocker, Stevie Ray Vaughan, was in town to appear in concert. Vaughan was fresh from the releases of his 1983 album, Texas Flood, and his 1984 album, Couldn't Stand The Weather. Vaughan had also been given a spotlight as a guitarist playing numbers of songs on David Bowie's 1983 Let's Dance album. The opening act for Stevie Ray Vaughan was unable to perform, and with just a few hours to prepare, Colin James Munn was asked to be the opener for the Regina concert with members of a local band called Flying Colours. James knocked it out of the ballpark and was asked by Stevie Ray Vaughan to join him for the rest of the tour as the opening act. James played the rest of the tour with his backing band, the Hoodoo Men. But it was Stevie Ray Vaughan who suggested that Munn drop his last name and just go by Colin James. Munn sounded too much like "mud" over the distortion from the loudspeakers at the concert venues.
By 1988 James released his own self-titled album, Colin James. The album featured the hit single "Why'd You Lie", and won him a Juno Award for Most Promising Artist.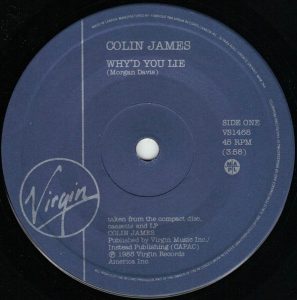 In Colin James' song, "Why'd You Lie" puts the listener in the position of identifying with the lover who has been cheated on. The song raises issues of trust and deception, two consequences of being lied to. Once we've been lied to by our girlfriend, boyfriend or marriage partner, our faith is shattered and the next time around, we find it harder to trust. The bigger the lie the steeper the climb back onto a plateau of restored trust. A lie involves two factors: intent and lack of notification of the other person. In telling a lie, liars make a deliberate decision to fabricate the truth and do not let others know that they are doing this. An example is making up a reason to go out on an errand while secretly planning to "sleep in another man's bed." In James song, he what he wants to know once he's found about about her sleeping in another man's bed is why she lied. The decision to sleep with someone else can be complex. And the catalyst that led to the decision provide a place for a couple to have an honest conversation about what is going on and if they can repair the trust that has been broken. In James' song the lover finds out. But sometimes this doesn't happen and the other partner creates a false reality of lies and fabrications to excuse themselves in order to arrange to meet their lover on the side. A specific outcome of a partner not telling the other that they are sleeping with someone else can be a lack of intimacy. The one partner may already be satisfied with their affair on the side and not "in the mood" to have sexual intimacy with the partner they are living with.
If you've been lied to there are several strategies for regaining balance. Find someone you can admire and whose integrity is beyond question. Learn again what it is to trust someone who you can look up to. Another strategy is to spend some time with people who make you feel good. Hanging around people who broke their vows to you often just builds resentment. The liar may be someone you can't avoid, but don't let that person make you feel miserable. Make a space to seek out people you not only admire, but who you actually like and learn from what it's like to be in the company of people you trust.
Another track from Colin James was "Voodoo Thing" which made the Top 30 on the Billboard Hot 100. His second album, Sudden Stop, was released in 1990. It contained the Top Ten single, "Just Came Back", which won a Juno Award for Single of the Year. A second single "Keep On Loving You Baby", also sold well in Canada. His third single from Sudden Stop featured Bonnie Rait on "Give It Up". The song peaked in Vancouver at #18 during a ten week chart run in February 1991. That same year Bonnie Rait would have a Top Ten hit called "Something To Talk About". For the tracks on Sudden Stop, Colin James won the 1991 Juno Award for Male Vocalist of the Year. (A feat he would repeat in 1996 for his blues album, Bad Habits).
Since Sudden Stop, Colin James has released four neo-swing albums between 1993 and 2007 by Colin James and the Little Big Band. Of these, James won a 1998 Juno Award for Best Producer for a number of tracks on Colin James and the Little Big Band II. That year he also won a Juno Award for Best Blues Album for National Steel. James backing band has included several members of the Vancouver indie-rock band The Odds. As of 2017, Colin James has released fifteen studio albums and one live album. He has also made a guest appearance in 2005 in the Canadian TV sitcom Corner Gas.
June 7, 2017
Ray McGinnis
References:
Colin James bio, Colin James.com
Colin James, Colin James bio, Canadian Bands.com
Dirk Johnson, Stevie Ray Vaughan Killed, Blues Guitar Player Was 35, NY Times, August 28, 1990
Colin James, Corner Gas, CBC, 2005
Darlene Lancer, How Secrets and Lies Destroy Relationships: These are the costs of deception that partners rarely consider. Psychology Today, 2018.
Sheri Meyers, For the Betrayer: 8 Things You Must Do to Rebuild Trust After an Affair, Huffington Post, May 14, 2013.
"Vancouver's Top 40 Hot Hits," CKLG 730 AM, Vancouver, BC, April 5, 1989.
For more song reviews visit the Countdown.