#533: Wild Eyes by The Stampeders
Peak Month: August 1972
10 weeks on Vancouver's CKVN chart
Peak Position #6
Peak Position on Billboard Hot 100 ~ did not chart
YouTube.com: "Wild Eyes"
Lyrics: "Wild Eyes"
The Stampeders are a rock trio from Calgary named after that city's football team, The Calgary Stampeders. Although, it could be argued that the yearly Calgary Stampede was also an inspiration for their name. During the band's most successful chart run from 1968 to 1976, it was made up of guitarist Rich Dodson, bass player Ronnie King (born Cornelius Van Sprang) and drummer Kim Berly (born Kim Meyer). All three provided vocals. Originally, the band was a group of five formed in 1964 called The Rebounds. The Rebounds had five members: Rich Dodson, Len Roemer, Brendan Lyttle, Kim Berly, and Race Holiday. They renamed themselves The Stampeders in 1965 and Len Roemer was replaced with Ronnie King and Van Louis, making them a band of six for a few years. But after a temporary move to Toronto in 1966 the band was down to three members, Dodson, King and Berly by 1968. Between 1967 and 1976 The Stampeders charted 15 singles into the Canadian RPM Top 40.
They were originally outfitted with cowboy hats, T-kay denim pants, shirts and jackets and cowboy boots. By the early 70's the Stampeders kept only cowboy boots as mandatory attire. Their first single as a trio was called "Carry Me." While the song got some air play in Vancouver, it did not chart here. However, it climbed to #2 nationally. Their cache only increased with the release of their debut album and a #1 hit across Canada called "Sweet City Woman." It also made the Top Ten in the USA. The band won four Juno Awards for "Best Composer," "Best Producer," "Best Single" and "Best Vocal Instrumental Group."
On the strength of their success, their UK label, EMI, sponsored a tour to the UK and continental Europe. While on tour in 1972 they found themselves booked at the same hotel in Amsterdam overlapping with The Eagles. Back in North America, The Stampeders flew to Los Angeles where they performed at the iconic Whisky A-Go-Go, and were guests on the TV shows Don Kirshner's Rock Concert and The Dating Game. It was in Hollywood that the band met The Who's drummer, Keith Moon, who invited them to attend his birthday party at the Beverly Hills' Wiltshire Hotel. In addition The Stampeders toured extensively in the early 70's and on either side of the Canada-U.S. border found themselves variously sharing the billing with Black Oak Arkansas, Santana, Joe Cocker, Steve Miller, The James Gang, Robin Trower, Steely Dan, Sonny & Cher, The Beach Boys, ZZ Top, The Eagles, Earth, Wind And Fire, Mountain, America, Tower Of Power, Blood, Sweat and Tears and Genesis. The Stampeders also traveled to Brazil to perform at a song festival in Rio in front of 90 million TV viewers.
Among the singles that charted well in Vancouver were "Monday Morning Choo Choo". The Stampeders next single release was "Wild Eyes".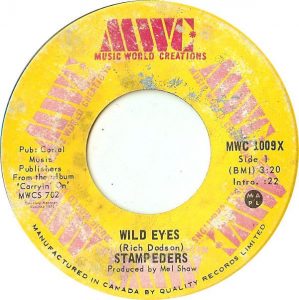 In "Wild Eyes" the singer is "hypnotized," unable to see daylight, "can't look away" and his "soul cries" for the wild eyes of the sexually attractive stranger. Yet, this powerful attraction that he's "burning with fire" and "filled with desire" for is a "wicked disguise" and an "evil spell." Consequently, his body moves toward an encounter so they can be alone together after he takes this blue-eyed stranger home.
There is a centuries old battle in Western thought that views the body and its desires as bad, even evil. And so, when feelings of sexual arousal and desire manifest, an individual raised with this construct is vulnerable to framing all their feelings, and everything that unfolds as wrong and sinful.
In the 18th-century, philosopher Immanuel Kant wrote that it was a common trajectory for humans to behave in ways that result in evil actions. Specifically, Kant was concerned about people shifting their focus away from doing things for the greater common good toward sexual gratification. Kant urged citizens of his time to adopt a strong moral code and resist our "darker, desiring selves." Kant recognized that sexual desire is very powerful. He was concerned especially by the way that the objects of sexual desire became reduced from their humanity to being simply objects, avenues for the pleasure of another. In so doing, we see them as mere tools for our own satisfaction. Raja Halwani summarizes in an article about Kant's thought, "In so doing, we see them as mere tools for our own satisfaction."
It may be that the person responding to the 'Wild Eyes' of another as they are filled with desire, has only the urge to have a sexual release and nothing more. Maybe the grip of the sexual desire has no love connection at all. However, many couples who've ended up getting married have pointed to a powerful sexual attraction as a catalyst for a growing commitment and falling in love with each other.
"Wild Eyes" was written by bandmate Rich Dodson. "Wild Eyes" peaked at #5 in Akron (OH) and #6 in Vancouver (BC). It is likely the song did well in their native home of Calgary (AB), but I don't have any chart information from Top 40 radio stations in Calgary (or Edmonton) for the time period overlapping the songs' likely chart run.
In early 1973 the Stampeders released "Oh My Lady". Another release from The Stampeders third album, "Minstrel Gypsy", made the Top Ten in many radio markets across Canada, but failed to chart in Vancouver. In 1975 the band released their fifth album featuring the rocker, "Ramona". Another studio album followed with two covers. One was the old Ray Charles hit, "Hit The Road Jack", while the other was a former hit for Gary U.S. Bonds, "New Orleans". The former cover by The Stampeders featured the DJ of American Graffiti fame, Wolfman Jack. The single won The Stampeders another Juno.
But the days were numbered for The Stampeders as a hit-making machine. They had some modest success again in 1976 with several singles off their Hit The Road album. One of these was "Playin' In The Band".
After 1976, in most Canadian radio markets the Stampeders were off the radar. The disco onslaught on Top 40 AM radio was pervasive and the Stampeders weren't doing disco. By degrees the band was breaking up as Rich Dodson left, followed by Kim Berly. They were replaced by numerous other musicians, with King the only original Stampeder. The larger line-up of Stampeders made the cost of touring impractical and the reformed band finally split up in 1980.
In 2019, The Stampeders trio of King, Berly and Dodson began a tour in April of 33 concert dates across British Columbia, Alberta, Saskatchewan, Manitoba, Ontario, New Brunswick, Nova Scotia and Prince Edward Island. The tour lasted into September. At this time of writing they have no upcoming concerts in 2020.
November 11, 2019
Ray McGinnis
References:
The Stampeders – About, Stampeders.net.
Rich Dodson and Ronnie King, "The Stampeders," Canadian Bands.com.
Raj Halwani, "Immanuel Kant said Sexual Desire is Morally Wrong – he May have Had a Point: The Philosopher Implicitly Acknowledged the Unusual Power of Sexual Urges and their Capacity to Divert us from Doing What is Right," Scroll.in, December 31, 2016.
"The Top 40 Hits," CKVN 1410 AM, Vancouver, BC, August 14, 1972.
For more song reviews visit the Countdown.