#648: Wild Horses by Gino Vannelli
Peak Month: April 1987
9 weeks on CKLG's Vancouver Charts
Peak Position ~ #5
Peak Position on Billboard Hot 100 ~ #55
YouTube.com: "Wild Horses"
Lyrics: "Wild Horses"
Gino Vannelli was born in Montreal in 1952. During his childhood he was exposed to jazz music and cabaret. His father was a cabaret singer and his mother had a good ear for music. Gene Krupa, Buddy Rich and Ed Thigpen were among the drummers that inspired young Gino. At the age of eleven, Gino was one of a group of elementary school-age drummers trying to audition for a Montreal band named The Cobras. He arrived home from school later than usual to announce he had been picked to be the new drummer for the band after impressing them with his rendition of "Wipeout". In 1964, five years prior to the Jackson 5's debut hit "I Want You Back" on Motown, Gino Vannelli happened to join a band in Montreal called the Jacksonville Five. And that Montreal band happened to tailor itself to Motown-sound-alike tunes when The Supremes, The Miracles, The Temptations, The Four Tops, Stevie Wonder and Mary Wells were all topping the charts. By 1966, Gino Vannelli became the lead singer of the Jacksonville Five when he replaced the current lead singer who couldn't hit the high notes on Tom Jones' "It's Not Unusual". He was fourteen.

In 1969, at the age of 17, Vannelli signed a record deal with RCA and released a single titled "Gino Bold" credited to Vann-Elli. The song was a minor hit in several radio markets in Canada in 1970. Over the next few years Vannelli lived in New York City and Montreal, performing and learning the ropes in the music industry. In 1972 he and his brother, Joe, moved to Los Angeles. They were living from hand to mouth and desperate to make a living as recording acts. They got a record deal with A&M after Gino Vannelli saw Herb Alpert in the record companies' parking lot and ran up to him with a demo. Alpert waved away the security guards and took the demo. In 1973, A&M Records released Gino Vannelli's album Crazy Life. In 1974 he appeared on the variety show Soul Train, a rare occurrence for a Caucasian singer, and toured with Stevie Wonder. His hit single from his second album, Powerful People was "People Gotta Move". It made the Top 30 on the Billboard Hot 100. Joe Vannelli played electric piano and synthesizer on all the tracks for Powerful People.
He released a new studio album each year and his sixth album, Brother To Brother, featured his biggest selling single "I Just Wanna Stop". The song peaked at #1 on the Canadian RPM singles chart and #4 on the Billboard Hot 100 in 1978. In 1975, Vannelli won the Juno Award for the Most Promising Male Vocalist of the Year. In 1976, and again 1979, he won the Juno Award for the Best Male Vocalist. He and his brother Joe Vannelli shared the Juno Award in 1979 for Best Production for Brother to Brother.
His seventh studio album, Nightwalker, was released in 1981. It featured the hit single "Living Inside Myself" which climbed to #6 on the Billboard Hot 100 and made #13 on CKLG in Vancouver. Vannelli released a "Best Of" album later that year. His eighth studio album, Black Cars, was released in 1984. The title track climbed to #4 in Vancouver in 1985, but stalled on the Billboard Hot 100 at #42. Perhaps this was due in part to Gino Vannelli's choice not to tour to support his album and single releases. From 1978 to 1990 Vannelli didn't launch any concert tours.
In 1987, Gino Vannelli released his eighth studio album which included the single release "Wild Horses".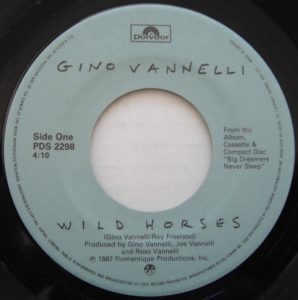 "Wild Horses" is a song about a guy who is irresistibly attracted to the love of his life. There is nothing his lover can do to dissuade him from being one hundred percent into the relationship. The lyrics tell us "I'm gonna follow my heart instead of good advice." Clearly, there could be prudent reasons for backing off of the relationship. But the heart has reasons that the mind doesn't understand. His lover can cut him down, cut him loose, kick and scream, slap his face, call him a fool and "blind." None of these things has, or could, cool the flame he has for his beloved. The song takes place with the couple driving across Arizona in a flatbed truck.
In an article titled "7 Things To Do Immediately if You Feel Your Partner Pulling Away," Kristine Fellizar writes that it is important to remain calm and take time to reflect on what you are noticing when your partner is pulling away. There can be many reasons why a partner tries to distance themselves from someone else. She suggests it is important to name exactly what is going on and be direct and specific about what you are noticing and wondering. It is also helpful to do something that is thoughtful for your partner. Remember to value the connection you have and don't freak out. The guy in "Wild Horses" seems to be running into a lot of resistance and has been, or worries he might be "cut loose."
The Sufi poet Hafiz writes "Fear is the cheapest room in the house. / I would like to see you living / in better conditions." It may be that the partner in the song "Wild Horses" is afraid of intimacy or being loved by someone who loves them one hundred percent. For some people there is a script in their mind that they feel they just don't deserve to be loved, at least not that much. So the person who wild horses couldn't drag away must be crazy. Trying to sabotage the relationship by slapping the guy in the face, kicking, screaming and name-calling may only create suffering for both partners if they break up. Maybe the guy who is hooked on his partner needs to give his partner a bit more space, in case the other person feels smothered. And maybe the partner who is resisting the romantic adventure needs to decide what they want and if this guy in the flatbed truck is good enough and has the right stuff.
"Wild Horses" climbed to #1 in Minneapolis/St. Paul, #5 in Vancouver and Calgary, #7 in Hamilton and #9 in Melbourne, Australia.
Gino Vannelli and his brother Joe shared won the Juno Award for Recording Engineer of the Year in 1986, 1987 and 1991. Gino Vannelli has been nominated for times for a Grammy Award.
In the early 2000's Gino Vannelli's recording of "Parole Per Mio Padre" (Words For My Father) caught the attention fo Pope John Paul II. He was flown to the Vatican to perform for the pontiff. BGM Records next approached him to make a record and his multi-lingual Canto in 2003 featured songs in French, Italian, English and Spanish. In 2010 he wrote a 132-page book, Stardust In The Sand, to accompany a CD release.
In 2015 Gino Vannelli released Live In LA, taken from live performances of his greatest hits at the Saban Theatre in Beverly Hills. He lives in Oregon and continued to teach music and perform in concert.
January 7, 2019
Ray McGinnis
References:
Gino Vannelli biography, Ginov.com
Eric Apalategui, Gino Vannelli Avoids Spotlight in Oregon Where he Lives, but Draws Crowds Elsewhere, Oregonian, August 28, 2013.
Kristine Fellizar, 7 Things To Do Immediately if You Feel Your Partner Pulling Away, Bustle.com, April 24, 2018.
"CKLG Top Thirty," CKLG 730 AM, Vancouver, BC, April 8, 1987.
For more song reviews visit the Countdown.