#506: Wild Night by Van Morrison
Peak Month: November 1971
11 weeks on Vancouver's CKVN chart
Peak Position #5
Peak Position on Billboard Hot 100 ~ #28
YouTube.com: "Wild Night"
Lyrics: "Wild Night"
Sir George Ivan "Van" Morrison, was born in Belfast on August 31, 1945. He is a singer, songwriter and musician. He has received six Grammy Awards, the 1994 Brit Award for Outstanding Contribution to Music, and has been inducted into both the Rock and Roll Hall of Fame and the Songwriters Hall of Fame. In 1996 he was given the Order of the British Empire for his service to music enriching the lives of people in the UK (and beyond). Since 1996 his formal title has been Sir "Van" Morrison, OBE. In 2016 he was knighted for his musical achievements and his services to tourism and charitable causes in Northern Ireland.
He is known as "Van the Man" to his fans. Morrison started his professional career when he variously played guitar, harmonica, keyboards and saxophone for a number of Irish bands while he was still in his teens. In 1964 Morrison formed the R&B garage band, Them, in Belfast, who played at The Maritime nightclub. They had hits with the garage band classics "Gloria" and "Here Comes The Night".
Morrison's father, George, was an electrician. His mother, Violet, had been a singer and tap dancer in her youth. Van was an only child and grew up in Belfast. His father's record collection of American blues and country music artists led to Van Morrison learning the guitar when he was eleven.
His solo career began with the release of the hit single "Brown Eyed Girl" in 1967. The song peaked at #10 in the USA, but climbed to #1 in Vancouver. It was the title track from Morrison's debut album. Morrison's music mostly draws on the conventions of soul music and rhythm and blues. Examples of this are showcased in his hit singles "Brown Eyed Girl," "Domino" and "Wild Night."
In 1968, Morrison released a concept album titled Astral Weeks. While some music critics applauded his efforts, the album sold poorly. In January 1970, Van Morrison released his third studio album titled Moondance. It included "Come Running", which climbed to #38 on the Billboard Hot 100.
Morrison's fourth studio album was titled His Band and the Street Choir. Released in November 1970, it included the hit singles "Domino" and "Blue Money". The first of these peaked at #9 on the Hot 100, becoming his highest charting song nationally in America. While in Vancouver (BC), "Domino" climbed to #5 and "Blue Money" made it to #9.
Tupelo Honey is the fifth studio album by Van Morrison and released in October 1971. The debut single was "Wild Night", written by Van Morrison in 1968.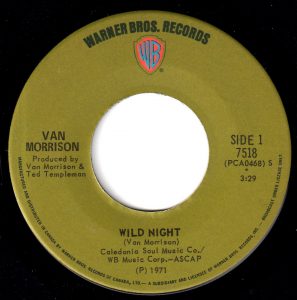 "Wild Night" is a song written by Van Morrison. In the opening verse a man is standing in front of the mirror combing his hair, brushing his shoes with shoe polish, putting on his coat and hat. As he heads out onto the streets he tries to remember all the wild nights in his memory. His memory goes back to the girls dressing up, and the boys on the street corner doing the boogie-woogie. There is a juke-joint where a juke-box is playing real loud. The folks who pass by where the dance is happening stare "in wild wonder." Morrison's song is about teens out at a dance on a weekend, and the dating rituals and budding romances that would ensue.
In 1948 there was a musicians strike in the USA and recording studios across the USA sat mostly empty when the American Federation of Musicians insisted that record companies pay a percentage of sales into a fund to assist unemployed musicians. The union of musicians eventually won after almost a year. When the recording studios went back into business in December 1948 they introduced both the 33 1/3 LP (long play) and the 45 RPM disc. Juke boxes up until December 1948 contained 78 RPM records. While the juke-boxes that contained the 78 RPM discs were perfectly fine, the general public, and especially teenagers were drawn to the 45 RPM juke-boxes. And the 45 was more affordable for recording studios, especially for the new independents recording R&B. The explosion of R&B 45 RPM's onto the record market was a catalyst for the advent of rock 'n roll.
Prior to the 1950s jukeboxes were wooden and found in adult settings, including brothels. But with the emergence of the 45 RPM, jukeboxes began to appear in diners and restaurants. Teenagers swarmed these establishments to hear the latest rock 'n roll and R&B hits. There were some degree of uneasy toleration of this new fad by regular adult customers of these restaurants and diners. For the owners of these places, the teenagers brought dollars to play the jukeboxes, and buy sodas, shakes, burgers, grilled cheese sandwiches and more. The jukebox was a hallmark of teen culture in the 50s. If a new place had a jukebox, teenagers were sure to learn about the place and spread the word, making it a new hangout. In addition, jukeboxes, formerly wooden, were now resembling the cars of the 1950s. No longer wooden, the 50s jukebox sported chrome, brightly-coloured plastics, bubble tubes, steel castings, grills, and tailfins.
And beginning in 1950 Billboard magazine began to publish its pop singles charts in three formats: Best Sellers in Stores, Most Played by Disc Jockeys and Most Played in Jukeboxes. At that time, the Most Played in Jukeboxes chart used to be one of the most important channels for measuring the popularity of a song among the younger generation of listeners. This was because most American radio stations resisted adding rock 'n roll music to their playlists for many years. So, each jukebox was able to record which songs on its menu were getting the most plays during a given week. Billboard maintained its Most Played in Jukeboxes chart until June 17, 1957. From January 1950 to the summer of 1957, the jukebox was ahead of the emerging musical trends, with radio pitching to an older crowd. The jukebox had become a fad, a mania, a craze, and it was seen as romantic to meet your date at a diner or a restaurant and dance to the latest hits.
"Wild Night" peaked at #3 in San Francisco and San Bernardino (CA), #4 in Modesto (CA), #5 in Vancouver (BC) and Olympia (WA), #6 in Denver, Chicago, Honolulu, Columbus (OH) and Waterbury (CT) and Fresno (CA), #7 in Bakersfield (CA), and #8 in Buffalo and Portland (OR).
The title track from the album also became a hit on the pop charts in Vancouver in early 1972. Another track from the album that was released as a single was "(Straight to Your Heart) Like A Cannonball". In Vancouver Van Morrison has charted six singles into the Top Ten, while in the USA he's managed to chart only two singles into the Top Ten. In his native country of Ireland, Van Morrison waited until his 1989 duet with Cliff Richard, "Whenever God Shines His Light", to crack that nations Top Ten singles chart.
At this time of writing, Van Morrison has 17 upcoming concerts between January 31 and July 16, 2020. He will appear on stage in America, the UK, Belgium, France and Germany.
Over the course of his career, Morrison has released 39 studio albums, 6 live albums and 71 singles. He has been quite prolific of late, releasing five albums in the past three years. His most recent album, You're Driving Me Crazy, was released in April 2018. It includes tunes from the Great American Songbook and a number of his own compositions.
January 6, 2020
Ray McGinnis
References:
Van Morrison biography, Van Morrison.com.
Brian Hinton, Celtic Crossroads: The Art of Van Morrison, (Sanctuary Publishing, 1997).
Peter Mills, Hymns to the Silence: Inside the Words and Music of Van Morrison, (Continuum, 2010).
Marc Myers, "The Silence That Sparked New Sounds," Wall Street Journal, December 26, 2012.
Scott, "Jukeboxes: The Complete History," Home Leisure Direct.com, October 7, 2015.
"West Coast Music Survey," CKVN 1410 AM, Vancouver, BC, November 19, 1971.
For more song reviews visit the Countdown.