#875: He Will Break Your Heart by The Righteous Brothers
Peak Month: June 1966
8 weeks on Vancouver's CKLG chart
Peak Position #7
Peak Position on Billboard Hot 100 ~ #91
YouTube.com: "He Will Break Your Heart"
Lyrics: "He Will Break Your Heart"
Robert Lee Hatfield was born in Beaver Dam, Wisconsin, in 1940. Growing up, he worked at his parents dry-cleaning store. He was very athletic and considered becoming a professional basketball player, but decided to pursue a career in music after graduating from high school in 1958. He moved to Long Beach where he entered university at California State. He was in a group named the variations when he met Bill Medley, a member of a quartet called the Paramours. Hatfield joined the vocal group in 1962. However, they decided to change change their name based on a response by an audience member at the end of a concert in Orange County. During a set by the Paramours, Bobby Hatfield and Bill Medley stepped forward on stage to perform a duet dripping with emotion. As the song ended a black Marine stood up and yelled, "That's righteous, brothers."

Bill Medley was born in Santa Ana, California, in 1940. His parents had a swing band and their was always music being played in the family home. In his late teen's Medley and a friend, Don Fiduccia, formed a duo called The Romancers. They wrote a number of songs, two which were recorded by the Canadian pop band, The Diamonds, who'd recently had a hit called "The Stroll". Medley and Fiduccia added others to form The Paramours. Their vocal group got a record contract with Mercury Records and three singles were released in 1961-62 with some minor attention, especially in San Bernardino.
From audience responses like the one from the Black Marine, Bill Medley and Bobby Hatfield seized the moment, left the Paramours and pursued a career as a duo. When Medley was 19, in 1959, he had dated a girl named Lupe Laguna. He wrote a song about her titled "Little Latin Lupe Lu". Hatfield liked the song when Medley introduced him to it, and they decided to included it on their debut album, Right Now! The song stalled at #49 on the Billboard Hot 100, but it climbed to #4 in July 1963 on the CFUN charts in Vancouver. In California their song made it to #4 in Los Angeles, #3 in San Bernardino, #2 in Indio and Palmdale, and #8 in San Francisco.
While their debut single got them some attention in California and Vancouver, the song didn't capture the essence of what the Righteous Brothers were about. Their next five single releases drew on R&B sounds with uptempo tunes like "Try To Find Another Man" and "This Little Girl Of Mine". None most these were hits. Both Bill Medley and Bobby Hatfield were capable of exceptional vocal talent. Both had mastery of their vocals, combining an excellent vocal range with control and tone. As a duo and as soloists, they were able to stand out from other vocal duos of the era. Medley's baritone voice and Hatfield's tenor were a unique combination. But they were still waiting for a breakthrough hit.
That breakthrough hit came in 1965 with the release of a song penned in 1964 for the duo by Cynthia Weil and Barry Mann titled, "You've Lost That Lovin' Feelin'". In 1964, Weil and Mann heard The Four Tops sing "Baby, I Need You've Lovin'", and it inspired them to use it as a template for composing a song for The Righteous Brothers. Medley and Hatfield asked Phil Spector to produce the song. Spector added suggestions to the lyrics and helped Weil and Mann with a bridge in the song that began, "Baby, baby, I'd get down on my knees for you, if you would only love me like you used to do…" Spector also proposed that Bill Medley sing the first verse solo. Bobby Hatfield was upset with the suggestion and wondered what he was supposed to do while Medley sang a solo of the first verse. Spector replied, "You can go directly to the bank." The song went to #1 across North America and in the UK. Over the decades "You've Lost That Lovin' Feelin'" had become the most played song in radio history with over eight million broadcasts. Cher, of Sonny & Cher, was one of the backup singers on the recording.
Initially, all the lead vocals for the duos' songs were by Bill Medley. Radio listeners got used to hearing Bill Medley's deep voice as signature of the Righteous Brothers. Then "Unchained Melody" became a hit. Bobby Hatfield recalled, "It was the B side of a Carole King/Gerry Goffin song "Hung on You", and all of a sudden the disc jockeys flipped it over and I had an accidental hit. It was kind of cool because Bill was singing lead on all of the songs then, so it was like, 'Wow, who's that little shit with the high voice?'"
Several top selling singles later the Righteous Brothers were looking for a follow-up to their number 1 hit, "(You're My) Soul & Inspiration". They chose to do a cover of "He Will Break Your Heart", a #7 hit for Jerry Butler in 1960. In addition, Butler's recording spent seven, non consecutive, weeks at #1 on the U.S. R&B singles chart. Subsequent cover versions of "He Will Break Your Heart" were released by artists Freddie Scott and by Tony Orlando & Dawn who had a #1 hit with their version in 1974. The Righteous Brothers version peaked at #91 on the Billboard Hot 100 in 1966 and at #7 in Vancouver. The song climbed to #6 in Wilmington, Delaware, and made the Top 20 in Oklahoma City, Cincinnati and Flint (MI).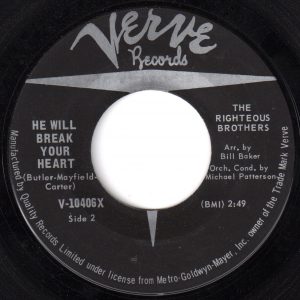 "He Will Break Your Heart" was written by Jerry Butler, Calvin Carter, and Curtis Mayfield. Jerry Butler was born in Sunflower, Mississippi, in 1939. As America entered World War II in December, 1941, Butler's parents moved for work in a defense industry plant in Chicago. In his teens Butler worked as a waiter at a restaurant and singing songs. He began attending the Traveling Souls Spiritualist Church, and formed a gospel group named the Northern Jubilee Gospel Singers. A guitar player named Curtis Mayfield joined the group. At the age of 18, Butler formed an R&B group called The Roosters, and Curtis Mayfield joined the group. This resulted in a record contract, and Butler released a solo single, "For Your Precious Love", which climbed to #11 on the Billboard Hot 100 in 1958. The next four single releases were commercial failures, however, "He Will Break Your Heart" became his first Top Ten hit in America, in 1960.
Butler charted several other songs into the Top 30 in the following years. In 1961, Butler's solo of "Moon River" jostled with The Impressions' single, "Gypsy Woman", for the #2 spot in December of that year. Butler was lead vocalist of The Impressions. In 1964 he and Betty Everett had a Top 5 hit titled, "Let It Be Me", which peaked at #1 on the R&B charts and spent eleven weeks in the Cashbox R&B chart Top Ten. Butler also had a #2 song that year on the Cashbox R&B charts titled "Need To Belong," which spent eight weeks in the Top Ten. As lead vocalist for the R&B group, The Impressions, Butler was heard on the radio singing "It's All Right", a song that spent 15 weeks in the Top Ten on the Cashbox R&B charts in the winter of 1963-64. The Impressions had two #1 R&B hits in 1964 "Keep On Pushing" and "Amen". Jerry Butler had a number of hits throughout the 60's, including "Only The Strong Survive", in 1969. After a long music career, Butler ended up in civic politics serving for many years where he still serves, as of 2018, on the Cook County Board of Commissioners.
Curtis Mayfield, co-writer of "He Will Break Your Heart", was born in Chicago in 1942. Mayfield penned many of the hits for The Impressions, including "Keep On Pushing", Woman's Got Soul" and "We're A Winner". His songs, like "Move On Up", became part of the Civil Rights and Black Power movement in the 60's and into the 70's. His recordings of "Freddie's Dead" and "Superfly", in the early 70's, gave listeners a vivid picture of life in Black ghetto's in America. Mayfield also penned songs that became big hits on the R&B charts for other recording artists. These include "Mama Didn't Lie" for Jan Bradley, "Um, Um, Um, Um, Um, Um, Um" for Major Lance, "Nothing Can Stop Me" for Gene Chandler, "On And On" for Gladys Knight & The Pips, "Let's Do It Again" for The Staple Singers, "Something He Can Feel" for Aretha Franklin and "Give Me Your Love" for Barbara Mason. In 1990, during a concert in Brooklyn, he was struck by lighting equipment that fell down on him. It left him paralyzed from the neck down. While he continued to sing and record, he developed Type 2 diabetes and died from complications of the disease in 1999.
Calvin Carter, the other co-writer of "He Will Break Your Heart", was a record producer at Vee-Jay Records and later at Liberty Records. He wrote a number of blues tunes and gave Burt Bacharach his first break when he arranged to have Jerry Butler record "Make It Easy On Yourself" in 1962. Carter died at the age of sixty-one in 1986.
In her article, "When It's Not You, It's Them: The Toxic People That Ruin Friendships, Families, Relationships," Karen Young writes about 15 types of toxic people. One of these she names as The Manipulator. Young writes, "Manipulators will steal your joy as though you made it especially for them. They'll tell half-truths or straight out lies and when they have enough people squabbling, they'll be the saviour. 'Don't worry. I'm here for you.' Ugh. They'll listen, they'll comfort, and they'll tell you what you want to hear. And then they'll ruin you. They'll change the facts of a situation, take things out of context and use your words against you. They'll calmly poke you until you crack, then they'll poke you for cracking. They'll 'accidentally' spill secrets or they'll hint that there are secrets there to spill, whether there are or not. There's just no reasoning with a manipulator, so forget trying to explain yourself. The argument will run in circles and there will be no resolution. It's a black hole. Don't get sucked in."
In the song, "He Will Break Your Heart", the handsome guy is dating the woman in order to break up her current relationship. Her current boyfriend isn't happy that she's decided to let herself get pulled in by this con artist who rehearses his lines and has a stack of quotations to impress his dates with his wisdom, poetry. But it's all just theatrics. He breaks up relationships for kicks only to dump his date, once she's broken off with her former boyfriend. This relates to a second type of toxic person Karen Young writes about: The Bullshitter. This is the type who'll "talk themselves up, they talk others down and… always have a reason for not doing what they say. They'll lie outright or they'll give you versions of the truth – not a lie, not the truth, just that feeling in your gut that something is off. You can't believe a word they say. There's no honesty, which means there's no intimacy. At worst bullshitters are heartbreakers." The handsome guy in "He Will Break Your Heart" didn't love the woman in this song from the start. His predatory game was easy for the ex-boyfriend to see, but the woman was spellbound by this handsome guys approach. Of course, the woman in the song has let herself start dating another guy when she already had a solid boyfriend who adored her. She let herself be seduced by the presentation of someone who convinced her that she could switch up her fortune, as this smooth talking guy cast his spell. There's a saying, "if it seems too good to be true, it probably is."
"He Will Break Your Heart" was the B-side to "He." While "He" made the Billboard Hot 100's Top 20, it was the last to do so while The Righteous Brothers remained a duo. Between the fall of 1966 and 1968, the duo released ten more singles. Six of these failed to chart and the other four were marginal hits. In 1968 Hatfield and Medley split up. Bobby Hatfield was joined by Jimmy Walker to carry on with The Righteous Brothers as a performing and recording act. They released an album in 1969 titled Re-Birth and two singles from the album. But neither the album or the singles made the pop charts. And the duo split up. Meanwhile, Bill Medley embarked on a solo career. He released "Brown Eyed Woman" and "Peace Brother Peace". The tunes made the Top 20 in Vancouver and the Top 50 on the Billboard Hot 100.
In 1974, Bill Medley and Bobby Hatfield reunited and released "Rock And Roll Heaven". The song climbed to #3 in the 'States an #4 in Canada. By the end of 1974 Medley had mysteriously lost his voice. It would take ten years of therapy before he was able to sing in public again. Once he had recovered his voice, Bill Medley recorded a duet with Jennifer Warnes titled, "(I've Had) the Time of My Life", for the 1987 film Dirty Dancing. It became a #1 hit.
In November, 2003, The Righteous Brothers were on tour. Some hours before a concert in Kalamazoo, Michigan, Bobby Hatfield died in his sleep in his hotel room. An autopsy revealed he died of a heart attack. At his funeral in Irvine, California, the service closed with a taped recording of The Righteous Brothers last big hit, "Rock And Roll Heaven". Since Bobby Hatfield died in 2003, Bill Medley has continued to perform. Hatfield has been replaced by Bucky Heard where he, with Bill Medley, perform as the Righteous Brothers based at Harrah's in Las Vegas. The duo has ten upcoming shows in March and April, 2018, across four states in the USA.
February 26, 2018
Ray McGinnis
References:
Righteous Brothers, Tour Dates, Righteous Brothers.com.
Bill Crandell, "Righteous Bros' Hatfield Dies: Rock and Roll Hall of Fame Singer was Sixty-Three," Rolling Stone, November 6, 2003.
Bill Medley, The Time of My Life: A Righteous Brother's Memoir, (DeCapro Press, 2014).
Mike Anton, Remembering a Blue-Eyed Soul Brother, LA Times, Los Angeles, CA, 2003.
Scott Iwasaki, Righteous Brother Bill Medley will share stories with Park City, Park Record, Park City, Utah, June 24, 2014.
Bill Medley, "The Story of Little Latin Lupe Lu," Music Starts Here.org. June 23, 2010.
Hinkley, David. Boxed set booklet liner notes, Phil Spector: Back to Mono (1958-1969, ABKCO, New York, NY, 1991.
The Diamonds, History of Rock.com
Ted Cox, Jerry Butler: Soul Survivor, Chicago Reader, Chicago, IL, April 7, 2011.
Butler, Jerry with Smith, Earl. Only the Strong Survive: Memoirs of a Soul Survivor (Black Music and Expressive Culture), (Indiana University Press, 2000).
Mayfield, Todd, with Atria, Travis. Traveling Soul: The Life of Curtis Mayfield, (Chicago Review Press, 2017).
Karen Young, "When It's Not You, It's Them: The Toxic People That Ruin Friendships, Families, Relationships," Hey Sigmund.com, Australia, November 10, 2015.
"Silver Dollar Survey," CKLG 730 AM, Vancouver, BC, June 26, 1966.
For more song reviews visit the Countdown.