#556: I Will Play A Rhapsody by Burton Cummings
Peak Month: December 1978
15 weeks on CFUN chart
Peak Position #14
Peak Position on Billboard Hot 100 ~ did not chart
YouTube.com: "I Will Play A Rhapsody"
Lyrics: "I Will Play A Rhapsody"
Burton Cummings is the former lead singer and keyboardist for the Winnipeg, Manitoba, based rock 'n roll band The Guess Who. He was with the band from 1965 to 1975. Cummings sang, wrote or co-wrote many hit songs. These include "American Woman", "Clap For The Wolfman", "Hand Me Down World", "Laughing", "No Time", "Share The Land", "Star Baby" and "These Eyes". His solo career includes many hit singles, including "I'm Scared", "My Own Way To Rock" and "Fine State Of Affairs". His first solo hit single was "Stand Tall" in 1976, which was his biggest hit as a solo recording artist.
Cummings was born in Winnipeg, Manitoba, in 1947. When he was sixteen he dropped out of high school. In 1962, while only fifteen, Cummings founded a band named the Deverons. All members of the band learned to play by ear. Cummings played piano, saxophone and lead vocals. Their high school dance concerts comprised of covers of songs from the late 50's and early 60's including "This Time" by Troy Shondell, "Wild Weekend" by The Rebels, "Sheila" by Tommy Roe and "Only Love Can Break A Heart" by Gene Pitney. The Deverons released a couple of singles and Cummings got some positive word-of-mouth and reviews in the local Winnipeg papers. This was pretty exciting for bandmates who still all lived in their parents homes.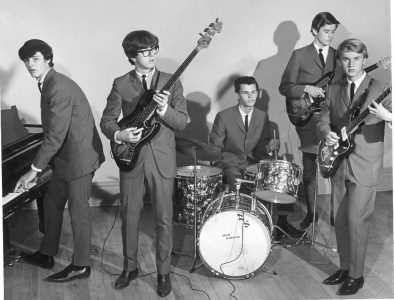 Above: Burton Cummings on piano as The Deverons pose for a promotional photo
In January 1966 Cummings was asked to join another Winnipeg band, The Guess Who, when keyboardist Bob Ashley left the group. By May 1966 Burton Cummings became the lead vocal for the group when Chad Allen left to pursue solo work and host the CBC TV show Let's Go. While Cummings was with The Guess Who the band scored twenty-one Top 20 hits in Canada, including three number one singles. In 1975 Cummings began a solo career after The Guess Who disbanded. In 1975 Cummings began a solo career after The Guess Who disbanded. That year he added backing vocals for Eric Carmen's track, "Marathon Man", from his Boats Against The Current album.
Cummings first two solo albums all went double-platinum in Canada, and his third solo album, Dream of A Child, went triple-platinum. From this album came four single releases. The first was "Break It To Them Gently" and the second was "I Will Play A Rhapsody".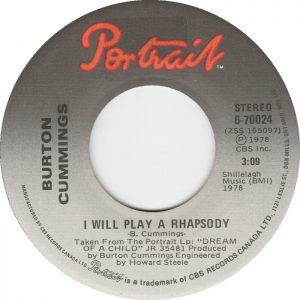 In a world where so often appearances matter and are a key factor in choosing who to form a relationship with, Burton Cummings invites listeners to not judge a book by its cover. He tells us that we won't know who he is by looking at him, but by noticing what he is doing. In his case, Cummings is playing on the piano. He's not playing just anything, but a rhapsody. A rhapsody is a free instrumental composition in one extended movement, typically one that is emotional or exuberant in character. The word also connotes an effusively enthusiastic or ecstatic expression of feeling. In ancient Greece the word rhapsody meant an epic poem. In any case, Cummings is alerting listeners that what he is doing is not playing some little ditty. This music has substance and can move its hearers to spaces that draw them emotionally closer to the piano player.
In Cummings song he also mentions that he will play a lullaby. A lullaby is typically a cradle song that is a soothing song (or piece of music), usually played for or sung to children, often at bedtime or nap time. If someone sings a lullaby to an adult who their in relationship with it evokes these connections with the one partner offering the protection that a parent offers a child, as well as love and affection. In that moment there is tenderness, closeness, intimacy, vulnerability, safety. A lullaby is not something shared between two adults unless there is a bond strong enough to let the couple relax with one another and be open to being soothed and a recipient of the other's care. "I Will Play A Rhapsody" climbed to #16 in Vancouver, though it didn't chart in the USA. It was most successful in Fredericton, New Brunswick, where it peaked at #5.
Since "I Will Play A Rhapsody" Burton Cummings has charted 15 more singles either on the Canadian RPM singles chart, Adult/Contemporary chart or Canadian or US Country charts between 1978 and 2004. Cummings has lived in both California and Winnipeg. The Guess Who have toured from time to time on reunion tours since 2000. He has performed in concert with the Bachman-Cummings Band and also gone on tour as a solo act. Cummings has received the Order of Canada and published a book of poetry titles The Writings of B.L. Cummings.
July 5, 2017
Ray McGinnis
References:
The Writings of B.L. Cummings. Rock Paper Merchandise.com, 2017.
Burton Cummings – Bio, Burton Cummings.com
The Deverons, Manitoba Music Museum.com.
"Weekly Survey," CFUN, 1410 AM, Vancouver, BC, December 23, 1978.
For more song reviews visit the Countdown.