#977: Willyam, Willyam by Dee Dee Sharp
Peak Month: February 1964
8 weeks on Vancouver's CFUN chart
Peak Position #9
Peak Position on Billboard Hot 100 ~ #97
CFUN Twin Pick ~ January 18. 1964
YouTube.com: "William, Willyam"
Dione LaRue was born in Philadelphia in 1945. She began singing as a child at her grandfather's church. She answered a newspaper ad at age 13 for a girl who could read music, play piano and sing. From 1959 on she was singing background vocals on records by Frankie Avalon, Freddie Cannon, Bobby Rydell and Chubby Checker. In 1962 she took center stage at Cameo-Parkway Records when she was asked to record her first solo record, "Mashed Potato Time" which climbed to #2 on the Billboard Hot 100 and #5 in Vancouver. The hits kept on coming in 1962 in the midst of a dance craze and record buyers keen to scoop up the latest song about the latest dance. Sharp had the following hits make the Top Ten on the Billboard Hot 100 from March 1962 to March 1963, "Slow Twistin'" (with Chubby Checker) (#3),"Gravy" (#9), "Ride" (#5) and "Do The Bird" (#10). In Vancouver, it was "Ride" that actually charted the highest at #4.
Within a year Dee Dee Sharp had became an international star. In 1962, 1963 and 1964 she toured the US and Europe as part of Dick Clark's Caravan of Stars. She toured with numerous recording acts at the time including Ben E. King, Little Anthony & The Imperials, Bobby Rydell, The Shirelles, Len Barry, Little Eva, Chuck Jackson, The Temptations, Jerry Butler, Johnny Kidd and The Pirates, Gary U.S. Bonds, Joey Dee and The Starliters and others.
But by 1964 the dance craze of the early Sixties had been replaced by the British Invasion. Dee Dee Sharp and many other American recording artists struggled to repeat their earlier chart successes. "Willyam, Willyam" barely made the Billboard Hot 100.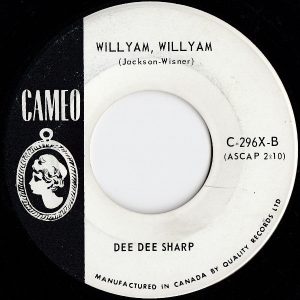 Willyam, Willyam, when we gonna marry?
You been a tarrying much too long.
Shall I run right home and tell my mom, boy.
Shall I run right home and tell my pa?
Willyam, Willyam, when we gonna marry?
You been a tarrying much too long.
Are you just a turkey in the straw, boy?
Don't you wanna have a mother-in-law?
(You better run boy, you better run,
Because her pop, boy, has got a gun).
Willyam, Willyam, I just saw the parson.
He'll be available any time.
Got my wedding dress hung on the line, boy,
You can buy the ring some other time.
(You better run, boy, you better run.
Because her pop, boy, has got a gun).
Remember all those nights beneath the apple tree?
And all those pretty promises you made to me?
Well, ma and pop were listening behind the hill.
If we don't marry you can make your will.
(You better run, boy, you better run.
Because her pop, boy, has got a gun).
Willyam, Willyam, what do you say?
Better get married some time today.
Better hurry up and come around, boy,
it was the hardest step to go downtown.
(You better run, boy, you better run.
Because her pop, boy, has got a gun).
(You better run, boy, you better run.
Because her pop, boy, just shoots a gun).
"Willyam, Willyam" is a song about a female who is impatient for her boyfriend, Willyam, to marry her. She's got a wedding dress, It's possible they're already engaged or she's jumping the gun and rushing things. She's met with the parson (minister) to discuss his availability to conduct a wedding service. Willyam seems to be stalling after making promises to her under an apple tree. He's learned that going back on promises to marry her will cost him his life. She's warned him if he backs out of marrying her that he can make his will. Her pa has got a gun and knows how to shoot. There is every indication her pa will be happy to put a bullet though his daughter's boyfriend if he doesn't go ahead and marry her. By the end of the song she's telling him they "better get married today."
What could be the rush? The unstated backstory may be that he got her pregnant and she's going to deliver a baby. If she was pregnant and starting to show that could explain the line in the song, it was the hardest step to go downtown. The parents, as well as the bride could be putting on the pressure for a shotgun wedding before it becomes their daughter's reputation is damaged. In America, a shotgun wedding is a marriage arranged to avoid embarrassment due to premarital sex leading to an unintended pregnancy, rather than out of the desire of the participants. Often it was the father of the pregnant daughter who was insisting on the boyfriend marrying his daughter to avoid causing the family embarrassment. In the song, her pop having a gun would makes the scenario a literal shotgun wedding, as the groom has a gun to the head to go through with the marriage. And back in the early 60's it was a mark of shame if a young woman or teenage girl was known to be unmarried and pregnant.
In the song the consequence for the boyfriend, or fiancé, bailing on wedding plans is that he'll be shot to death. Uttering threats of violence to harm or kill another person is a criminal offense. In the state of Alaska a criminal statute reads "A person commits the crime of coercion if the person compels another to engage in conduct from which there is a legal right to abstain or abstain from conduct in which there is a legal right to engage, by means of instilling in the person who is compelled a fear that, if the demand is not complied with, the person who makes the demand or another may inflict physical injury…" However, in the song "Willyam, Willyam," the song isn't appealing to notions of the law. The song reflects a popular notion that still persists among some people that if you threaten someone you can get your way. Moreover, that threatening violence is a risk worth taking since one can always deny they threatened to shoot someone with a gun. In America in 1964 the National Riffle Association was not politicized and focused on sportsmen and target shooting. Nonetheless, gun violence occurred and when used as a threat it was often a way to get others to bend to the will of the one making the threat.
"Willyam, Willyam" climbed to #9 in Vancouver and across the border in Seattle and #11 in Miami. Otherwise, the song pretty much was given a pass by local DJ's across North America.
After "Willyam, Willyam" Dee Dee Sharp had one more song chart on the CFUN-tastic Fifty Vancouver pop charts titled "Never Pick A Pretty Boy" The song gave advice similar to Jimmy Soul's #1 hit in 1963, "If You Wanna Be Happy". In Jimmy Soul's hit the lyrics advised "A pretty woman makes her husband look small, and very often causes his downfall…" while "An ugly woman cooks her meals on time, she'll always give you peace of mind." Dee Dee Sharp's song was very much an answer song to Jimmy Soul's hit a year earlier. In Sharp's case, she advised women, "If you want save your dignity and grace, never fall for a handsome face. Never never pick a pretty boy, there'll be trouble more than joy." Unfortunately, for Dee Dee Sharp, it seemed women did want to find a guy with a handsome or pretty face. The song was a commercial failure stalling at #131 beneath the Billboard Hot 100.
In 1967 Dee Dee Sharp married Kenneth Gamble, co-founder of the Philadelphia International record label. In association with her husband's Philadelphia International, Dee Dee Sharp helped guide Harold Melvin & The Blue Notes, The O'Jays, Billy Paul and Teddy Pendergrass on the path to hit making success. In 1968 Dee Dee Sharp teamed up with Ben E. King to release a minor double-sided hit on the R&B charts titled "We Got A Thing Going On" and "What'cha Gonna Do About It". The latter tune charted best in Florida, North Carolina and Connecticut, while "We Got A Thing Going On" also did best in Connecticut, Pennsylvania and Louisiana. In 1972 Sharp teamed up with Bunny Sigler for another minor R&B hit titled "Conquer The World Together". Sharp also wrote the gospel hit in 1972, "I Wanna Go Where Jesus Is", for Gloria Spencer. (Spencer, who suffered from a thyroid glandular condition was 5'3″ and 797 pounds when she died at age 39 in 1976).
From 1962 to 1981 Dee Dee Sharp released 31 singles. Of these five made the Top 30 in the USA and six made the Top 30 in Vancouver. One of her better releases was in 1976 with a cover of the 1975 hit by 10cc, "I'm Not In Love" which became a minor R&B hit in the USA. In 1977, going by the name Dee Dee Sharp-Gamble, she released a cover of the song "I'd Really Love To See You Tonight" which was a #2 hit for England Dan and John Ford Coley in 1976. In the spring of 1981 Dee Dee Sharp-Gamble had a #1 song on the Billboard Dance Play chart for four weeks titled "Breaking And Entering".
In 1992, Sharp's 1962 hit "Gravy (For My Mashed Potatoes)" was featured in a scene in the comedy film Sister Act which starred Whoopi Goldberg. Sharp holds a PhD in Psychology from the University of Pennsylvania. According to her Facebook page, Dee Dee Sharp will be performing in concert at the World Cafe in Philadelphia on November 18, 2017.
October 19, 2017
Ray McGinnis
References:
David Nathan, Dee Dee Sharp 2001 Interview, Soul Music.com.
Dee Dee Sharp – First Black Teen Idol, Hooked On Everything.com.
Shotgun Wedding, Gramamarist.com.
"C-FUNTASTIC FIFTY," CFUN 1410 AM, Vancouver, BC, February 1964.
For more song reviews visit the Countdown.