#1076: The Wind Cries Mary by Jimi Hendrix
Peak Month: August 1967
5 weeks on CKLG chart
1 week Hitbound
Peak Position #8
Peak Position on Billboard Hot 100 ~ did not chart
YouTube.com: "The Wind Cries Mary"
Lyrics: "The Wind Cries Mary"
In 1942 Johnny Allen Hendrix was born in Seattle, Washington. His grandparents, Nora and Ross Hendrix immigrated from America to Vancouver in 1911. There they raised Jimi's father, James Allen Hendrix, who moved to Seattle in 1941 where he met Lucille Jeter, Jimi's mother. In 1946, Johnny Allen Hendrix's name was changed to James "Jimmy" Marshall Hendrix. As a child when he was asked to sweep the floor with a broom, his parents and grandparents would find him in his room strumming the broom like he was playing a guitar. He was given a guitar when he was 15 years old. Despite a limited mainstream exposure of four years while billed as Jimi Hendrix, he is widely considered one of the most influential electric guitarists in the history of popular music and one of the most celebrated musicians of the 20th century.
Before the Georgia Viaduct in Vancouver was expanded in 1972, the neighborhood of Hogan's Alley housed Vancouver's Afro-Canadian population. At the heart of this community was Vie's Chicken and Steak House where locals and visitors would stop to get a warm bite of soul food. Nora Hendrix, Jimmy's grandmother, worked as a cook for many years and lived nearby. Jimmy spent much of his childhood in Vancouver, as his parents often dumped him under the care of relatives. In addition to numerous summer vacations, Jimmy attended school in Vancouver for a brief time. Vie's hosted a number of visiting black performers such as Nat King Cole, Billie Holiday, Ella Fitzgerald and Louis Armstrong. These artists would eat at Vie's after concerts once the restaurant had closed to the general public. Jimmy and his cousins would stay up late helping their grandmother serve these famous musicians. James "Jimmy" Marshall Hendrix joined the US Army in 1961, and after being discharged from the Army, he returned to Vancouver during the winter of 1962- 1963 to practice his music. He played in a couple of shows on Granville Street during this time.
In 1963, Hendrix moved to Clarksville, Tennessee, and began to play numerous gigs on the Chitlin' Circuit. The next year he joined the backing band for The Isley Brothers, and later in '64-'65 was part of the band for Little Richard. By the end of 1965, Hendrix was fronting his own band called Jimmy James and the Blue Flames. He shed the role of backing guitarist for the spotlight of lead guitar.
Throughout the latter half of 1965, and into the first part of 1966, Jimmy played the rounds of smaller venues throughout Greenwich Village, catching up with Animals' bassist Chas Chandler during a July performance at Cafe Wha? Chandler was impressed with Jimmy's performance and returned again in September 1966 to sign Hendrix to an agreement that would have him move to London to form a new band. Switching gears from bass player to manager, Chandler persuaded Hendrix to change his name from Jimmy to Jimi. With drummer Mitch Mitchell and bassist Noel Redding, the newly formed Jimi Hendrix Experience quickly became the talk of London in the fall of 1966.
Chandler arranged for The Animals manager, Michael Jeffrey to co-manage Jimi Hendrix, as Jeffrey could get Hendrix a recording contract. This arrangement also allowed Chandler to focus on producing Hendrix's recordings. After Hendrix's rave reviews of his concert at the Monterey Pop Festival in June 1967, Jeffrey booked the Jimi Hendrix Experience for a concert tour with The Monkees. The tour opened in Jacksonville, Florida, on July 8, 1967. Hendrix played at eight of the first 29 scheduled concerts, in the first nine days of the tour. But, during the July 16 concert in Queens, Hendrix walked off stage when crowds of Monkees fans kept singing "Foxy Davy" to the Hendrix tune "Foxy Lady".
That July "The Wind Cries Mary", written by Hendrix, became his third single.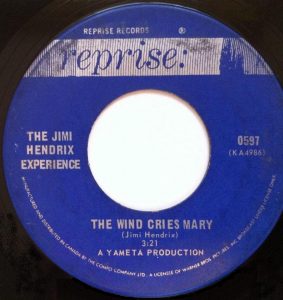 The song is said to have been inspired when Hendrix and his then girlfriend, Kathy Etchingham, had an argument over her cooking. Then she stormed out of their apartment. Mary was Etchingham's middle name. "Somewhere a queen is weeping" and, apparently, not in the mood to return to the kitchen to complete the meal she and Hendrix were going to sit down to eat. When couples have heated arguments the tension can linger past bedtime and the bed, even with someone else lying next to you, can become a place of emptiness. Happiness often does stagger down street once a couple has had a blow-out. Maybe after Kathy Mary Etchingham stormed out of the room, Hendrix contented himself with sweeping the kitchen floor. All fragments from an argument ripe for artistic expression. If an argument in the kitchen was the catalyst for Hendrix's song, the portrait of a muted life resonated. All the adjectives used evoke weariness of life. An island sags downstream, a broom is drearily sweeping, happiness staggers down the street, jacks have come out of their boxes (and have nothing to do now since they've done their one trick), queens are weeping, kings are unmarried.
"The Wind Cries Mary" was listed as song #379 on Rolling Stone Magazine's 2011 list of the 500 greatest songs of all time. The song peaked at #6 in the UK and #8 in Vancouver. It did not chart nationally in the USA, though it climbed to #1 in Orlando, Florida, and #2 in Sacramento, California. It is considered a classic example of psychedelic blues-rock.
"Purple Haze", the a-side of "The Wind Cries Mary", also was given a lot of airplay in Vancouver. But it was not listed on the singles chart in Vancouver. "Purple Haze" peaked at #65 on Billboard and #3 on the UK singles chart. On Labour Day weekend, 1970, "Purple Haze" was listed as #15 in the All Time Top 300 Vancouver Countdown on 1410 CKVN AM radio. CKVN played their Countdown list several times through over that 1970 Labour Day weekend. In 1968, "All Along The Watchtower" was another hit for Hendrix. It reached #5 in England, #6 in Vancouver and #20 on the Billboard Hot 100. In May of 1968 Hendrix's co-manager, Chas Chandler, withdrew from management involvement to let Michael Jeffrey be Jimi's sole manager.
Hendrix was supportive of Civil Rights and Peace Movement efforts in the late '60's. In 1969, Hendrix headlined a concert in support of Jerry Rubin, Abbie Hoffman, Tom Hayden, Bobby Seale and the other defendants of the Chicago Seven conspiracy trial. In January 1969, he told Jacoba Atlas for Teenset Magazine, "Get [the] Black Panthers not to kill anybody, but to scare [federal officials]….I know it sounds like war, but that's what's gonna have to happen. It has to be a war….You come back to reality and there are some evil folks around and they want you to be passive and weak and peaceful so that they can just overtake you like jelly on bread….You have to fight fire with fire."
Hendrix was featured a headliner at the 1969 pop festival in Woodstock. Hendrix played "The Star Spangled Banner" during the set and used feedback and sustain to replicate the sound of rockets. The media quickly branded Hendrix's treatment of the national anthem as a political manifesto against the Vietnam War. Jimi Hendrix was put on file by the FBI in the late 60s. In 1979, college students at the campus newspaper of Santa Barbara University (USB) were able to confirm as much after they filed for release of FBI files on Hendrix. Six heavily inked-out pages from Executive Order 11652 were released to the student reporters, with deletions "in the interest of national defense of foreign policy." On appeal, seven more pages were reluctantly turned over to the UCSB students. The file revealed that Hendrix had been placed on the federal "Security Index," a list of "subversives" to be rounded up and placed in detainment camps in the event of a national emergency.
In May 1969, Jimi was arrested at Toronto's International Airport for possession of drugs. He believed his manager, Michael Jeffrey, had used a third person to plant heroin on him—as a warning, to teach him a lesson.
 Jeffrey knew that Hendrix was trying to get out of his contract with him. Furthermore, knowing he didn't pack any drugs in his luggage, Jimi Hendrix was suspicious that the Toronto arrest was calculated to distract Hendrix from following through with his plan to replace Jeffrey with a new manager. The charges were dropped after Hendrix successfully argued that the unopened container of dope had been dropped into his travel bag upon departure by a female who claimed that it was cold medicine.
According to John McDermott and Eddie Kramer on page 180 of their 1992 biography Hendrix: Setting the Record Straight, Jimi learned from Mike Jeffrey about his prior work for British Intelligence. In Harry Shapiro and Ceasar Glebbeek's 1990 biography, Jimi Hendrix, Electric Gypsy, Jeffrey boasted "about his undercover work against the Russians, of murder, mayhem and torture in foreign cities."
"Jimi Hendrix was upset that large amounts of his money were missing," reports rock historian R. Gary Patterson in his 2004 book Take A Walk on the Dark Side: Rock and Roll Myths Legends, and Curses. Hendrix had discovered the financial diversions and had taken legal action to recover them.
 But there was another factor also involving funds.
 Some of Hendrix's friends concluded that "Jeffrey stood to make a greater sum of money from a dead Jimi Hendrix than a living one. Patterson references a million dollar insurance policy covering Hendrix's life made out with Jeffrey as the beneficiary." The manager of the Jimi Hendrix Experience had constructed "a financial empire based on the posthumous releases of Hendrix's previously unreleased recordings." The week before he died Jimi Hendrix was in the process of getting himself a new deal with PPX Records to manage his affairs in the UK. According to Monika Dannemann, Hendrix spoke to his lawyer, Harry Steingarten, on September 17. Hendrix told his lawyer on the phone that he wanted to him to pursue legal steps to split from his manager, Mike Jeffrey, and start immediately.
Dannemann, who first met Hendrix in Germany in January 1969, at times described herself as Jimi Hendrix's fiancé to the press in September 1970. Simultaneously, Copenhagen's SE go HOR magazine ran this headline on September 11, 1970, "World Exclusive: World Star Gets Engaged to Danish Model," describing Jimi Hendrix's proposal of marriage to Danish model, Kristen Nefer, who he'd met for the first time in London on August 28, 1970, having just returned to the UK after extensive touring in the USA.
On the evening of September 1970, in London, UK, Dannemann and Hendrix were spontaneously invited to a stranger's apartment on Clarke's Mews (Philip Harvey, son of a prominent British politician) for a few glasses of wine and a vegetarian dinner that included lots of rice. They left after 10:40 p.m. From there Hendrix went to a party at Peter Cameron's where there was Chinese Food on hand. Angie Burdon, Mike Nesmith and Devon Wilson (a love interest of Hendrix who lived in the USA) were also among those at the party. However, in a 1975 interview with Cesar Gebbeck, Monika Dannemann told Gebbeck that she and Hendrix had gone shopping on the afternoon of September 17th and then stayed home at her hotel room all night. She said in the interview that "Jimi got sick" and they went to a hospital in an ambulance. It was at the hospital Dannemann insisted in this interview that Hendrix was "poisoned" and "was murdered….It was the Mafia." Dannemann would later make an official statement to the Coroner's Office that on September 17th she and Jimi Hendrix were at home all day and that "I cooked a meal of spaghetti and we talked until about 2 a.m."
Gary Stickell recalls talking to Hendrix late afternoon on September 17 about coming over to Hendrix's Cumberland Hotel suite on September 18th to sign contracts for his German tour in October, 1970, and to confirm a number of dates in the USA. Stickell invited Hendrix to attend a Sly Stone concert late that evening and play with the Family Stone. Stickell's was surprised Hendrix didn't turn up. He recalls he got home around 6 a.m. on September 18th and shortly afterward received a call to let him know Hendrix was dead. Contradicting Stickell's statements, Monika Dannemann told Police Sgt John Shaw, in the immediate investigation into Jimi Hendrix's death, that on September 18 she woke up at 11:00 a.m. and found Hendrix lying in a pool of vomit. While in his autobiography, I Used To Be An Animal, Eric Burdon writes that he got a phone call from Monika Dannemann about Hendrix being unresponsive "as the first light of dawn was coming through the window." (For reference, on September 18, 2017, sunrise in London, UK, will take place at 7:08 a.m.)
Official records show an ambulance was finally called at 11:18 a.m. At 11:27 a.m. on September 18, 1970, the ambulance staff, Reg Jones and John Saua, came to the hotel room of the Samarkand Hotel and found the room empty, except for Hendrix's fully clothed body (in street clothes, not pajamas). They took Hendrix's body with them in the ambulance to the hospital. Though Monika Dannemann insists she rode in the ambulance with Hendrix, both Jones and Saua insist "there was no one else but the deceased in the ambulance." Later that day the papers reported Hendrix died from a drug overdose. Contradicting the news coverage of the cause of Hendrix's death, the Inquest found that only extractions of the sleeping pill, Vesparax, were present in Hendrix's blood. In answer to a question from the press, former manager/producer Chas Chandler told the press, "I don't believe for one minute that he killed himself. That was out of the question."
On September 24, 1970, an interview of Dannemann with reporter, Egon Freiheit, in the German magazine, Bild, ran a story with the headline "I Gave Jimi the Tablets." Dannemann's story changed again, this time she stated she was certain Hendrix died from the sleeping tablets. "He died from that," she told the interviewer. After the interview was published Dannemann denounced the interview as a total fabrication. The article was accompanied by a photograph of Hendrix and Dannemann during their first meeting in Duseldorf in January 1969, which Bild said had been supplied by Dannemann herself.
Meanwhile, Hendrix's manager, Michael Jeffrey disappeared for a week after Jimi Hendrix died. McDermott and Kramer's Hendrix: Setting The Record Straight, provides a conversation reported by Hendrix's merchandizing manager, Bob Levine, that he finally had with Michael Jeffrey.
Levine: "A full week after Hendrix's death, he (Jeffrey) finally called. Hearing his voice, I immediately asked what his plans were and would he be going to Seattle."
"What plans?", he asked.
I said, "The funeral."
"What funeral?" he replied.
I was exasperated: "Jimi's!"
"The phone went quiet for awhile and then he hung up. The whole office was staring at me, unable to believe that with all this coverage on radio, print and television, Jeffrey didn't know that Jimi had died. He called back in five minutes and we talked quietly.
He said, "Bob, I didn't know."
"While I didn't confront him, I knew he was lying," said Bob Levine.
Eighteen months later, on March 5, 1973, Michael Jeffrey died as one of 61 passengers in a DC-9 flight from Palma de Majorca to London that crashed into a Spantax Coronado military plane over France during an air traffic controllers strike.
Professor Robert Donald Teare was the Consultant Pathologist and Professor of Forensic Medicine at the Department of Forensic Medicine at St. George's Hospital, Westminster. He performed a post mortem examination on Jimi Hendrix's body on September 21, 1970, which found no injection tracks on the body and Hendrix's blood alcohol level was moderate. Teare did not bother to determine the time of Hendrix's death in his report to the Coroner's Inquest into the rock star's death. Coroner Gavin Thurston's inquest did not obtain statements from ambulance service staff at the scene or from the Surgical Registrar, Dr, John Bannister, or the Medical Registrar, Dr. John Seifert, who received Hendrix's body in the casualty room of St. Mary Abott's Hospital.
Consultant Pathologist, Professor Teare, retired shortly after Hendrix's death from. He was replaced by his student at the Department of Forensic Medicine, Dr. Rufus Crompton. It was Crompton who, noticing some omissions in the Teare's post mortem, started his own investigation. Crompton observed that rice remains in Hendrix's stomach would take 3 to 4 hours to empty. Crompton deduced that since Hendrix had eaten at a dinner party (Peter Cameron's) between 11:00 p.m. and 12:00 a.m., Jimi Hendrix's time of death would have occurred between 3 a.m. and 4 a.m.
Based on Crompton's investigation and the work of Hendrix biographer, Tony Brown, the UK Attorney-General ordered Scotland Yard in 1992 to have their detectives conduct their own investigation into Jimi Hendrix's death. The attending St Mary Abott's Resuscitation Room physician and surgical registrar, Doctor Bannister, testified in 1992 to say he had witnessed lungs and stomach full of wine in Hendrix like he'd never seen in his medical career. Bannister concluded that, instead of choking on vomit, Jimi Hendrix had died from being drowned in red wine. Bannister estimated the amount of wine he witnessed in Jimi to be "bottles worth." In the apartment where Hendrix died numbers of bottles of red wine were spilled on the bedsheets and clothes, as well as soaking a scarf tied around Jimi's neck. Bannister estimated that there was "a half bottle of wine saturating his (Jimi Hendrix's) hair alone." (Tony Brown, The Final Days, p. 143). After months of research and interviews with all those concerned, Scotland Yard was quite confident that the inquest into Jimi Hendrix's death would be re-opened. However, when the results were sent back to Sir Nicholas Lyle in the Attorney General's office, it was decided that it was no longer "in the public interest" to re-open the original inquest as it was judged too much time had elapsed since Jimi's death.
In a September 10, 1995, BBC Radio One installment of Wink Of An Eye, Dr. Bannister stated that Hendrix "did not have an obstruction of the airways….What he had, was… a drowning of the airways. His lungs were completely overcome by fluid. One does a tracheotomy to get better access to the trachea and to the airways. But his problems were below that. The body was cold, there were no signs of circulation and my overall impression was that he'd been dead for some hours before." The minimal 5mg/100ml blood alcohol content in Hendrix's body, recorded at the autopsy, could not account for the volumes of red wine at the scene or in Hendrix's lungs and stomach. It was suggested Hendrix was restrained and forced to consume bottles of red wine until he drowned.
Days after Jimi Hendrix died, Monika Dannemann told journalist and author, Sharon Lawrence, that the presence of red wine on Hendrix's body could be explained because she used red wine to dab away the vomit on his face. Between 1982 and 1996 Monika Dannemann was involved in numerous lawsuits with publishers who she felt portrayed her unfairly in relation to Jimi Hendrix's death. Dannemann lost every lawsuit she launched. In late March 1996, she lost a heavily publicized libel suite brought by Kathy Page, nee Etchingham. Dannemann died a week later, by suicide, on April 5, 1996.
On page 393 of his 1996 biography, 'Scuse Me While I Kiss the Sky, David Henderson wrote "the abstract morbidity of Hendrix's body upon discovery may indicate a more complex scenario than has been commonly held. Hendrix was not a red wine guzzler, especially in the amounts found in and around his body. He was known to be moderate in his consumption. If he was 'sleeping normally,' then why was he fully clothed?…. The garment or towel around his neck is totally mysterious…. but it is consistent with the doctor's statement that he drowned. Was he drowned by force?"
In 2009 a roadie with the Hendrix band, James "Tappy" Wright, released his autobiography, Rock Roadie: Backstage and Confidential with Hendrix…. In it he claimed that Hendrix's manager, Michael Jeffrey, after a few drinks had confided in Wright one night in early February 1973 that he'd killed Hendrix. Unfortunately, Wright didn't go to the police or Scotland Yard the next day and make a statement. Such a statement could have been a catalyst for re-opening the inquiry into Hendrix's death. It could have put Michael Jeffrey under more scrutiny to determine what credibility there could be to Wright's allegations, to determine if there was a murder and a prime suspect. However, James "Tappy" Wright chose to wait for 39 years to publish his account. If the UK Attorney-General's office thought too much time had elapsed by 1992 to reopen the inquiry into Hendrix's death, it was beyond past time by 2009 to helpfully make allegations of murder. Many people come forth, perhaps frightened for their lives, and make timely statements to the authorities regarding a prime suspect in a plausible case of murder. The time to make those statements to the authorities is when something can be done before the matter is closed.
The official view regarding Hendrix's death is reflected in the August 7, 2010 article, "Jimi Hendrix: 'You Never Told Me That He Was That Good'," by Guardian columnist Ed Vulliamy who wrote of Hendrix's death, "speculations about suicide and murder are too ridiculous to contemplate."
In the years since Jimi Hendrix died on September 18, 1970, a museum called The Jimi Hendrix Shrine was opened at 796 Main Street in Vancouver, where Vie's Chicken and Steak House was previously located. The Jimi Hendrix Shrine has been relocated to 432 Homer Street. It is open each year to the public from June to September. It features old pictures and memorabilia of Jimi Hendrix, his family and the Vancouver neighborhood he frequented in his childhood trips to Canada.
June 5, 2017
Ray McGinnis
References:
Jacoba Atlas, "Jimi Hendrix, Black Power and Money," Teenset Magazine, January 1969.
Tony Brown, Hendrix, The Final Days, (Omnibus Press, Oxford, UK, 1997).
Cafewha.com
FBI Records:The Vault, "James Marshall "Jimi" Hendrix," FBI, Washington D.C., (files from 1968-1991)
David Henderson, 'Scuse Me While I Kiss the Sky, (Atria Books, NY, 2008).
Sharon Lawrence, Jimi Hendrix: The Intimate Story of a Betrayed Music Legend, (HarperCollins, New York, 2006).
Adrian Mack, "Jimi Hendrix Haunts Vie's Chicken and Steak House," Georgia Straight, Vancouver, BC, July 15, 2009.
John McDermott and Eddie Kramer, Hendrix: Setting The Record Straight, (Grand Central Publishing, NY, 1992).
Jimi Hendrix Shrine, Jimi Hendrix Shrine Webpage.
Gary R. Patterson, Take a Walk on the Dark Side: Rock and Roll Myths, Legends, and Curses, (Touchstone, New York, 2004).
Harry Shapiro and Ceasar Gleebbeek, Jimi Hendrix, Electric Gypsy, (St. Martin's Griffin, New York, 1995).
Harry Shapiro, "Who Killed Jimi Hendrix?," Classic Rock Magazine, London, UK, September 18, 2015.
Vie's Chicken and Steak House, Black Strathcona.com
Chitlin' Circuit, Wikipedia.com.
James Tappy Wright, Rock Roadie: Backstage and Confidential with Hendrix, Elvis, the "Animals", Tina Turner, and an All-star Cast, (JR Books Ltd., London, UK, 2009).
Jimi Hendrix The Star Spangled Banner American Anthem Live at Woodstock 1969, YouTube.com.
"Boss 30," CKLG 730 AM, Vancouver, BC, August 26, 1967.
For more song reviews visit the Countdown.