#1385: I Wish I Knew by Solomon Burke
Peak Month: May 1968
5 weeks on CKLG chart
Peak Position #13
1 week Hitbound
Peak Position on Billboard Hot 100 ~ #68
YouTube.com link: "I Wish I Knew" Solomon Burke
"I Wish I Knew"Billy Taylor Trio
In 1940 James Solomon McDonald was born in his grandmother's home in a row house in West Philadelphia. Burke was the child of Josephine Moore and an absentee father. His mother Josephine was a nurse, schoolteacher, concert performer and pastor. Burke was consecrated a bishop at birth by his grandmother in the Solomon's Temple, a congregation of the United House of Prayer for All People, which she founded at her home in Black Bottom, West Philadelphia. When Burke was nine, his mother married rabbi and butcher Vincent Burke and had James Solomon McDonald had his name changed to Solomon Vincent McDonald Burke.
His grandmother taught him how to sing. Burke began preaching at the age of 7 at the Solomon's Temple. Child evangelist, Burke, was a "frantic sermonizer" and "spellbinding in his delivery." He got the nickname the "Boy Wonder Preacher" and became a pastor of the congregation at age 12 and he hosted a gospel radio show from Solomon's Temple in Philadelphia. In addition to his Sunday preaching, young Solomon variously had a grocery wagon, a newspaper boy, a car wash jockey and a hot dog seller at Eddie's Meat Market where he worked along Ernie Evans. Evans later took the stage name Chubby Checker. Burke became a father at the age of 14, the first of fourteen children. Though he appeared on the Steve Allen Show in 1957, an argument with the manager of the Apollo Theatre in Harlem short circuited his chances for getting gigs. Burke ended up homeless for awhile when he was just 17 years old.
Solomon Burke released 67 singles between 1955 and 2002. Only three of these made the Top 30 in the Billboard Hot 100, though twenty of these made the Top 30 on the Billboard R&B charts. Burke's first Top Ten hit on the R&B charts was "Just Out of Reach (Of My Two Open Arms)" in 1961. His hit, "Cry To Me", later that year peaked at #5 on the R&B charts. He climbed even higher to #2 in 1963 with "If You Need Me". The pinnacle of his success was in 1965 when he peaked at #1 on the Billboard R&B charts with "Got To Get You Off My Mind" and followed up with "Tonight's The Night" which climbed to #2.
As his star was starting to fade by 1968, Solomon Burke recorded a tune written in 1952 by African-American Billy Taylor and Dick Dallas called "I Wish I Knew". In 1952 the Tuskegee Institute reported that, for the first time in the 71 years it has been keeping records, there were no lynchings of African-Americans during the calendar year. Though written in 1952, jazz pianist Billy Taylor didn't record it until 1963, and included it as a track on his 1964 album, Right Here, Right Now! Billy Taylor told interviewers, "I wrote this song, perhaps my best-known composition, for my daughter Kim." Taylor's 1967 instrumental version was later used as the theme music for the BBC movie review program Film, from 1971 to the present. Taylor's lyrics for the song were as follows:
I wish I knew how it would feel to be free.
I wish I could break all the chains holdin' me.
I wish I could say all the things that I should say.
Say 'em loud, say 'em clear for the whole wide world to hear.
I wish I could share all the love that's in my heart.
Remove all the bars that keep us apart.
I wish you could know what it means to be me.
Then you'd see, and agree, that every man should be free.
I wish I could give all I'm longin' to give.
I wish I could live like I'm longin' to live.
I wish I could do all the things that I can do.
Oh, I'm way overdue I'd be startin' anew.
Oh, I wish I could be like a bird in the sky.
How sweet it would be if I found I could fly.
I'd soar to the sun and look at the sea
And I'd sing 'cause I'd know,
and I'd sing 'cause I'd know,
I'd sing 'cause I'd know,
I know how it feels to be free (fade)
Taylor was born in Greenville, North Carolina, and raised in Washington, D.C. As a child he learned to play guitar, drums, saxophone and piano. He was taught classical piano by Duke Ellington's piano teacher, Henry Grant. Taylor played piano for an audience at the age of 13 and was paid one dollar. In college he began to study sociology, but graduated with a degree in music in 1942.
Taylor moved to New York City after graduation and started playing piano professionally from 1944, first with Ben Webster's Quartet on New York's 52nd Street. The same night he joined Webster's Quartet, he met Art Tatum, who became his mentor. Among the other musicians Taylor worked with was Machito and his mambo band, from whom he developed a love for Latin music. He toured for eight months with the Don Redman Orchestra in Europe. Upon return to New York later that year Taylor was among the musicians supporting Billie Holiday in a successful show called Holiday on Broadway. A year later, he became the house pianist at the Birdland jazz club and performed with Charlie Parker, J. J. Johnson, Stan Getz, Dizzy Gillespie and Miles Davis. Taylor played at Birdland longer than any other pianist in the history of the club.
In the 50s and 60s Taylor made dozens of recordings, including the album with Cuban percussionist Candido Camero, entitled Billy Taylor Trio with Candido, as well as My Fair Lady Loves Jazz, Cross Section and Taylor Made Jazz. In 1958, Taylor became the Musical Director of NBC's The Subject Is Jazz, the first ever television series focusing on jazz. The 13-part series was produced by the new National Educational Television Network (NET) and hosted guests including Ellington, Aaron Copland, Bill Evans, Cannonball Adderley, Jimmy Rushing and Langston Hughes.
Taylor's broadcast career also thrived. In 1961, he founded New York's Jazzmobile, which provided an arts education program via workshops, master classes, lecture demonstrations, arts enrichment programs, outdoor summer mobile concerts, special indoor concerts and special projects. Taylor also worked as a DJ and program director on radio station WLIB in New York in the 1960s. During the 1960s, the Billy Taylor Trio was a regular feature of the Hickory House on West 55th Street in Manhattan. In 1967 Nina Simone recorded his tune titled as "I Wish I Knew How It Would Feel To Be Free", which music critics gave rave reviews. Solomon Burke was among a few recording artists to release the song as a single in 1968. Burke's version strays from the original lyrics at times, as Burke riff's off of the song in his recording.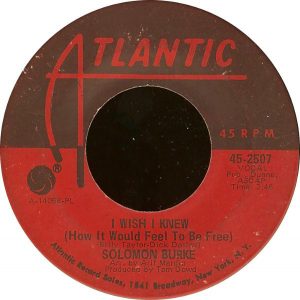 (Have you ever wished upon a star,
and all your hopes seemed so far?
Well, here's a wish that will come true,
and all these wishes are just for you).
I wish I knew how it would feel to be free.
I wish I could break all the chains holding me.
I wish I could say all the things that I should say, every day.
Say 'em loud say 'em clear, for the whole round world to hear.
I wish I could share all the love that I have in my heart today.
Remove all the bars that keep the people in the world astray.
I wish I could give all the joy that everybody could see.
Then they'd know every man in this world should be free.
I wish I could give all the love that I have in my heart today.
I wish I could I could help someone who was sad somewhere going astray.
And most of all, I wish I had the answer and the secret to peace.
I'd give this to every leader of the world.
And then I wish I had the secret of love,
for I'd share this with every man, every woman, every boy, every girl.
Oh, I wish I could fly like a bird in the sky.
And wake up one morning to find for myself,
it don't even have to die.
I'd fly up to the sun, and then down to the deep blue sea
Than I'd sing about freedom
(sing, sing, sing about peace…)
"I Wish I Knew" stalled at #68 on the Billboard Hot 100, though it climbed in Vancouver to #13. The song had its chart run in the aftermath of the assassination of Civil Rights leader Dr. Martin Luther King Jr. on April 4, 1968. In this context the song became one of the anthems of the American Civil Rights movement. At the time "I Wish I Knew" was on the pop charts, the Black Panther Party had chapters across the USA including Atlanta, Baltimore, Boston, Chicago, Cleveland, Dallas, Denver, Detroit, Kansas City, Los Angeles, Newark, New Orleans, New York City, Omaha, Philadelphia, Pittsburgh, San Diego, San Francisco, Seattle, Toledo, and Washington, D.C. It's membership was 10,000. Their newspaper, edited by Elridge Cleaver, had a circulation of 250,000. The Black Panther Party created a Ten-Point Program, that called for "Land, Bread, Housing, Education, Clothing, Justice and Peace," as well as exemption from conscription for black men.
Since Solomon Burke made his single release, "I Wish I Knew How It Would Feel To Be Free" has been recorded by numerous performers including Nina Simone, Harry Belafonte, John Denver, Mary Travers, The Ray Charles Singers, Glenn Yarbrough, Illinois Jacquet, Leontyne Price, Emeli Sande and John Legend & Roots.
After "I Wish I Knew" Solomon Burke had little commercial success. Though he recorded "Proud Mary" in 1969, the original version by Creedence Clearwater Revival and cover by Ike & Tina Turner hogged the sales. In 2002, Burke signed with Fat Possum Records and released the album, Don't Give Up On Me. The album contained another song about the struggle to be free in America called "None Of Us Are Free." The album became critically acclaimed and later resulted in Burke's first Grammy Award. Burke died as a result of a pulmonary embolism in October 2010.
From 1969 to 1972, Billy Taylor served as the music director for The David Frost Show and was the first African American to lead a talk-show band. Louis Armstrong, Count Basie, Benny Goodman and Buddy Rich were just a few of the musicians who played on the show. In 1981, Jazzmobile produced a jazz special for National Public Radio, and the program was awarded the Peabody Award for Excellence in Broadcasting Programs. In 1997, Taylor received the New York state governor's art award. He died after a heart attack in December 2010, in Manhattan, at the age of 89.
June 3, 2017
Ray McGinnis
References:
Adam Sweeting, "Solomon Burke obituary: One of the all-time great American soul singers and songwriters, he scored a huge hit with Everybody Needs Somebody to Love," Guardian, October 10, 2010
Anderson, Sheila E. How to Grow as a Musician: What All Musicians Must Know to Succeed. Allworth Communications, Inc., New York, 2005.
Michael J. West, "A Grand Night for Swinging: Billy Taylor's Memorial Service," Washington City Paper, January 11, 2011.
Peter Keepnews, "Billy Taylor, Jazz Pianist, Dies at 89," New York Times, December 29, 2010.
"Boss 30," CKLG 730 AM, Vancouver, BC, May 1968.
For more song reviews visit the Countdown.